Oliver Askew: Onward and Upward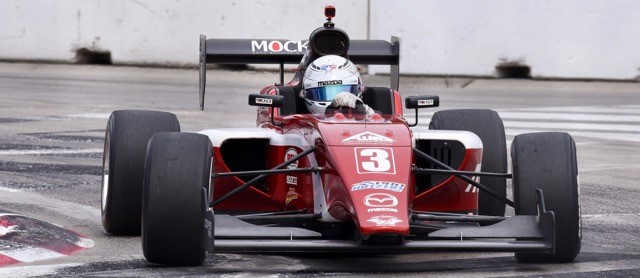 Oliver Askew
As we find ourselves past the mid-point of the season in the Pro Mazda Championship Presented by Cooper Tires and charging towards the finish in Portland, our Soul Red Mazda Racing machine is tied for fourth in the points standings, with a solid shot at completing the season on the championship podium.
We ultimately haven't been in the position to win races at our most recent events, but I think that, compared to past season, this adversity has caused me to look at racing through a different lens, and has taught me more than I had first realized. Throughout my debut season of auto racing last year in the Cooper Tires USF2000 Championship Powered by Mazda, I didn't start a race further back than the second row on the grid.
"This year has been quite the contrast, starting from the third row on the grid or further back on seven different occasions. This was frustrating at first, but I quickly began to realize how much I needed this experience. Coming from a long career in karting, and as much as that experience helped prepare me to race cars, the style of race-craft is very different between the two auto formulas. Having people around me like the Dominic Cape, Nicholas Cape and my coach Jonatan Jorge, all with a wealth of experience, has helped tremendously with my progression. Looking back at these hurdles, I can say that it's all part of the plan of becoming the most well-rounded driver that I can be. If I were to take one thing from my experience with Cape Motorsports over the past couple of years, it would be to always carry a positive, hard-working mindset into every hurdle or task that lies ahead. Every race day is a new beginning and you're only as good as your last event.
The past couple of race weekends at Toronto and Mid-Ohio were overall good stops for us, finishing with a podium on Sunday at both events, closing the gap to the championship podium. Toronto was a very progressive weekend, as we made big improvements to the car after every practice, qualifying and race. Both events were action packed with plenty of passing. On Sunday, after starting from sixth place, we moved forward with the fastest car on track to finish second after several restarts to equal our best finish of the season. Street races are always a huge variable, as anything can happen, but I enjoy the driving aspect of always having to be in a rhythm to make it around the track inches from the wall for 45 minutes straight.
Oliver Askew (L)
Mid-Ohio was our most recent championship stop. The 13-corner 2.258-mile road course is one of my favorite circuits and I think many other drivers can say the same. One thing that is evident among tracks that we go to on the Mazda Road to Indy calendar, is that no two tracks are similar. Every circuit has a unique surface, layout, undulation, bump, curb, etc. Surface temperature is also a big factor among most tracks we go to, with Mid-Ohio being an extreme case. In 2006 new sealant was put down on top of the asphalt to prevent deterioration and without heat this surface is very slick. Even with some track temperature, it usually takes over five laps for our Cooper Tires to start producing their peak performance.
Like our weekend in Toronto, Mid-Ohio was also a very progressive event for us, saving our best result for Race Two on Sunday. After starting from the third row, we passed a couple of cars on the opening sequence of corners which positioned us in fourth place for most of the race. It is very hard to pass at Mid-Ohio so unless there is a full-course caution not much action takes place. Fortunately for us, one of the cars ahead had a mechanical failure gifting us a third-place podium result to end the day. Mechanical failures are not the preferred way to make the podium, but that's racing.
Shortly after the Mid-Ohio race weekend we all heard about the sad news of Mazda Motorsports parting ways with Andersen Promotions and the Road to Indy. Mazda has made the biggest impact on my career by far. Without its involvement in driver development, I would not be in the position I am in today. I will always cherish the memories and opportunities that Mazda has provided with the Road to Indy; thank you, Mazda.
I'd also like to add that I have joined forces with Young Adventurers, a national charity from my hometown in Jupiter, Fla. Young Adventures is based on the slogan "Be Something, See Something, Do Something" and has given the opportunity to kids all over America to build character and vision. I am excited to become a future ambassador for their program.
Nearing the end of this racing season has brought along the question of where I will be competing next year. I am keeping my options open, but at this point, budget is a variable. I will do the best job I can to have the chance at continuing to compete and grow in this sport that I love. Until then, we have a job to finish this season on a high note, with three races remaining – one at the Gateway Motorsports Park oval and then a road course double-header at Portland International Raceway.
To end, a special shout-out to my mechanics Will Paul and Jeremy Brawner for their continued hard work on our #3 machine, and a big thanks to all my supporters, Mazda Motorsports, Doug Mockett & Co., the Team USA Scholarship, Bell Helmets, Sparco USA, Cape Motorsports, JJRD, Cooper Tires, SAFEisFAST.com <http://safeisfast.com>, Young Adventurers, Palm Beach Cross Fit, On Track Promotions, Soundcue Audio, Wavelength Images, Allied Buildings, and the Mazda Road to Indy.
Thank you for reading,
Oliver