Nine in a Row for Kirkwood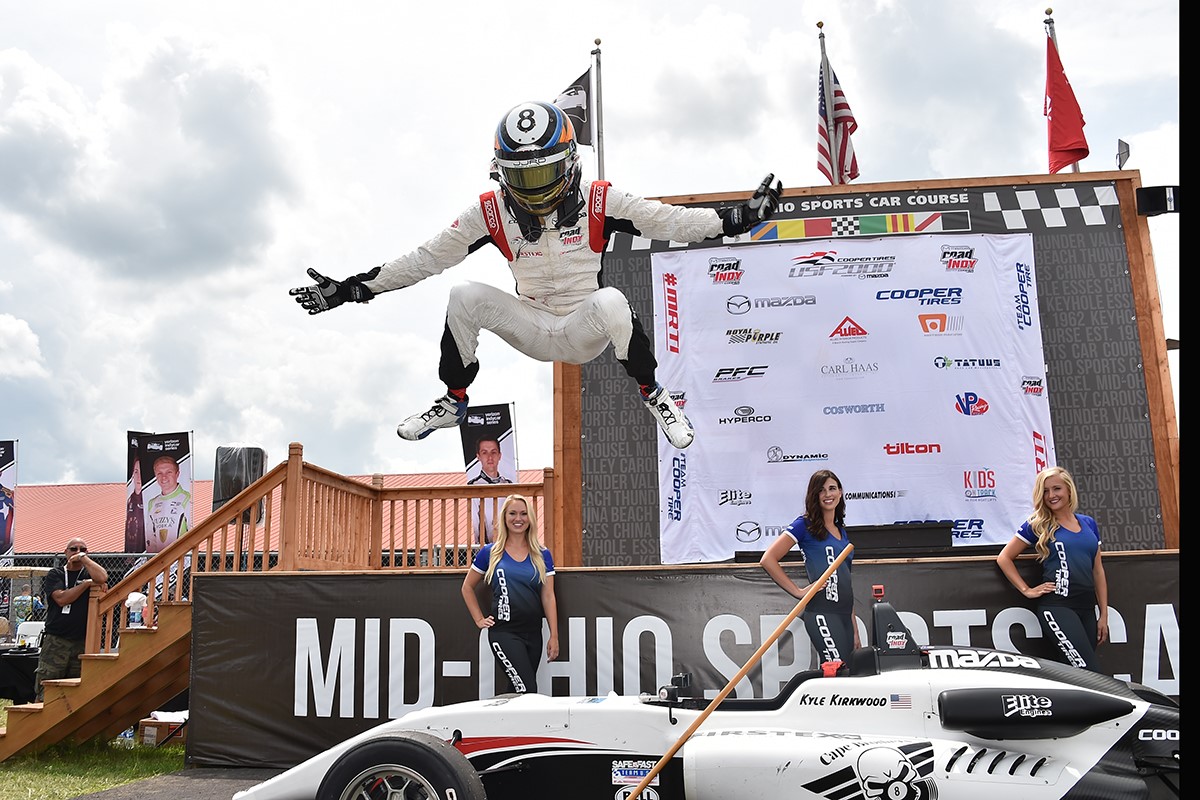 Kyle Kirkwood
Kyle Kirkwood underscored his dominance in this year's Cooper Tires USF2000 Championship Powered by Mazda by taking another flag-to-flag victory in this morning's Cooper Tires USF2000 Mid-Ohio Grand Prix Powered by Mazda. He posted a new record fastest race lap for good measure on his final tour around the 2.258-mile Mid-Ohio Sports Car Course. After putting the championship crown beyond the reach of his rivals on Friday – and clinching a $325,000 Mazda Scholarship to progress onto the next step on the Mazda Road to Indy, the Pro Mazda Championship Presented by Cooper Tires in 2019 – Kirkwood, from Jupiter, Fla., has now won nine consecutive races for the Cape Motorsports team.
James Raven, from Portsmouth, England, capped an impressive first weekend in USF2000 by finishing second for DEForce Racing, while Swedish rookie Rasmus Lindh strengthened his grip on second place in the championship by finishing third for Pabst Racing.
Raven started on pole position by virtue of posting the fastest lap – fractionally slower than the existing USF2000 lap record set way back in 2012 by current Verizon IndyCar Series driver Spencer Pigot – during yesterday's second of three races this weekend. But his hopes of translating that into a victory were thwarted on the drag race away from the start line when outside front row starter Kirkwood edged ahead into the first corner. Raven remained tucked underneath the newly crowned champion's rear wing for the opening eight laps, only for Kirkwood to seemingly kick into another gear as he edged away to an eventual winning margin of 6.1014 seconds after 20 laps.
Kirkwood's final lap at 1:21.2979, an average speed of 99.988mph, was fractionally quicker than Pigot's previous mark of 1:21.328.
Raven finished well clear of Lindh, who shadowed Irishman Keith Donegan (BN Racing) for the majority of the race before pulling off a fine overtaking maneuver in Turns Four and Five with three laps remaining to snatch the final podium placing.
Raven's teammate, Mexican Jose Sierra, ran fifth until serving a penalty for a jump-start. South African F1600 Champion Julian Van der Watt (Team Pelfrey) then held the position until he was punted into a spin at Turn Four by Kaylen Frederick (Pabst Racing) just after the halfway mark.
Frederick, who had charged up from a lowly 22nd starting position following two separate incidents in yesterday's race, was obliged to serve a drive-through penalty for avoidable contact, dropping him once again to the tail of the field.
Brazilian Igor Fraga eventually emerged in fifth for Exclusive Autosport. He held onto the position despite the close attentions of Pabst Racing teammates Lucas Kohl, also from Brazil, and Guyanan Calvin Ming, plus Team BENIK's Michael d'Orlando, from Hartsdale, N.Y. Ming claimed the Tilton Hard Charger Award after starting in the 16th position.
Exclusive Autosport teammates Danial Frost, from Singapore, and impressive 15-year-old rookie Yuven Sundaramoorthy, from Guilderland, N.Y., completed the top 10, narrowly ahead of Louisville, Ky.'s Jacob Abel (Abel Motorsport).
Although winning car owners Dominic and Nicholas Cape took home their 10th PFC Award of the season, the coveted Team Championship remains undecided. Pabst Racing currently holds a slender seven-point edge, 291-284, prior to the final two races of the season which will take place at Portland International Raceway, Ore., on September 1-2.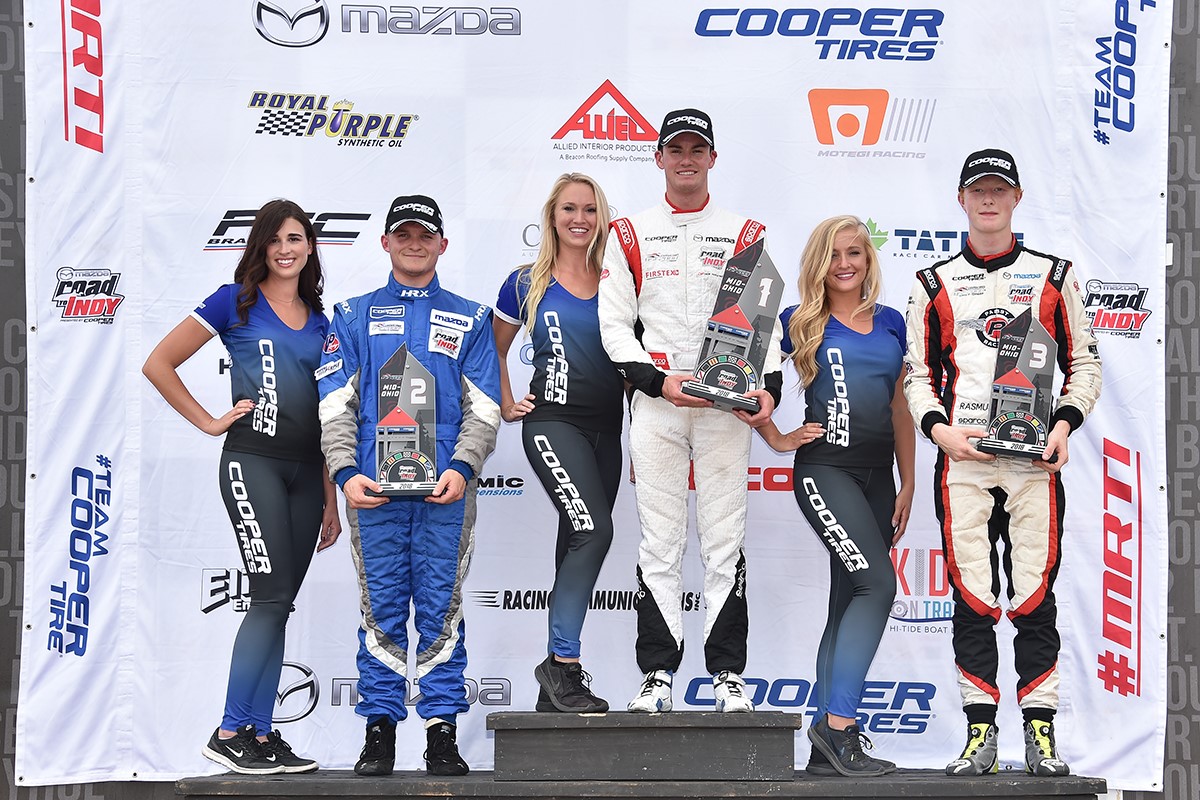 Top-3
Kyle Kirkwood (#8 Firstex/SAFEisFAST.com/Bell Helmets/Sparco-Cape Motorsports Tatuus-Mazda USF-17): "I got a little bit of a jump on James after the green came out at the start and had the momentum going into Turn One. I had two tires onto the preferred line so I slid a little, but I was able to hang on and keep the lead. We have the sweep and the championship, so this is the best weekend of the year. I'm glad that I'm able to get in the car and forget everything happening outside of the car and focus on the moment. I think that's why we've been able to do so well this year. There's so much swirling around me now that could distract me, but it doesn't. Honestly, it still hasn't hit me. I need some time to absorb everything that happened this weekend."
James Raven (#7 DEForce Racing Tatuus-Mazda USF-17): "I messed up the start and Kyle got around the outside in Turn One. Considering I'm not in the championship, I didn't fight really hard. At that point, I put my head down and went with him. Near the end, I lost a lot of front grip and the balance completely went so I just wanted to bring it home in second for the DEForce team. It's not bad for my first weekend in the series. I've had a good time, especially in this race, as I had some bad luck in the first two races, but it's been fun."
Rasmus Lindh (#23 Chicago Pneumatic-Pabst Racing Tatuus-Mazda USF-17): "My plan had been to follow Kirkwood, but I didn't have a good start so I was back to fourth at the start. It took quite a few tries, but I was able to get around Donegan on the outside of Turn Four. I'm very happy because this is my first year in open-wheel cars, so I have to perform now so I can get better next year. I'm second in the championship now and that's quite good."