O'Ward sweeps Mid-Ohio Indy Lights races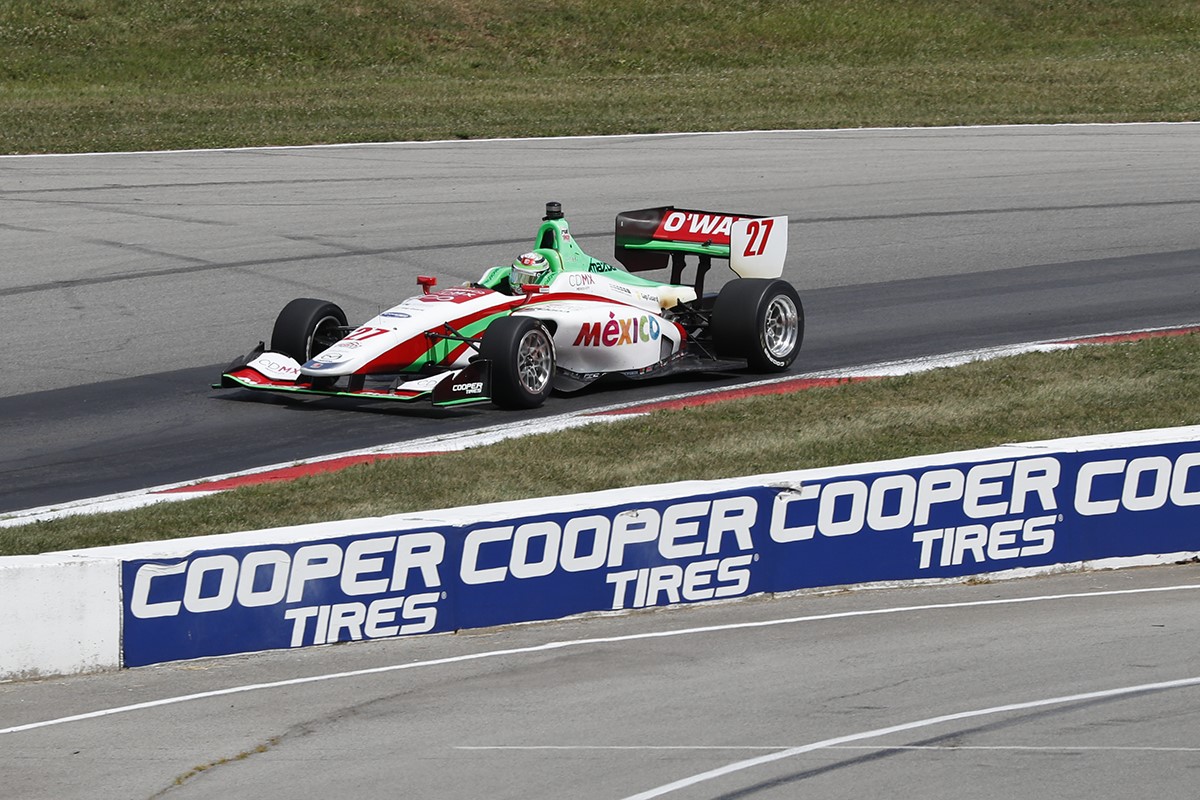 Mexican-driver Patricio O'Ward
Patricio O'Ward and Andretti Autosport tightened their grip on the Indy Lights Presented by Cooper Tires championship – and a Mazda Scholarship valued at $1 million to guarantee entry into at least three Verizon IndyCar Series races in 2019, including the 103rd Indianapolis 500 – during a weekend of perfection at the Cooper Tires Mid-Ohio Grand Prix Powered by Mazda.
O'Ward, 19, from Monterrey, Mexico, this afternoon held off a race-long challenge from championship rival and teammate Colton Herta (Andretti-Steinbrenner Racing) to secure his seventh win of the season.
Herta finished second for the second day in succession for Andretti-Steinbrenner Racing, despite driving with a broken left thumb, sustained in a crash two weeks earlier. Ryan Norman, from Aurora, Ohio, thrilled his hometown crowd by completing another podium sweep for Andretti Autosport.
O'Ward made another exemplary start from his eighth pole position of the season to hold a commanding lead over outside front row starter Aaron Telitz (Belardi Auto Racing) by the completion of the opening lap around the 2.258-mile Mid-Ohio Sports Car Course. The margin over second had grown to over three seconds by the time Herta found a way past Telitz's wayward-handling machine after just two laps, although that margin was eradicated at a stroke on Lap 10 by a full–course caution after Telitz, from Birchwood, Wis., was nudged into a spin by Victor Franzoni (Juncos Racing) in Turn Five.
The unfortunate Telitz resumed a lap behind, while Franzoni was obliged by the race officials to serve a drive-through penalty for his part in the incident.
Herta never relented in his pursuit of fellow teenager O'Ward after the restart. Twice he took advantage of his Mazda/AER engine's push-to-pass feature to draw alongside the Mexican on the main straightaway that leads downhill toward Turn Four, but on each occasion O'Ward was able to maintain his lead. After a slight slip by Herta in Turn Nine with three laps remaining, O'Ward was able to edge clear and take the win by a margin of 4.3680 seconds.
Telitz's teammate, Santiago "Santi" Urrutia, from Uruguay, ran third but couldn't hold a candle to the two Andretti cars ahead of him. Nor, indeed, could he hold off the attentions of Norman, who started seventh but made good progress as he found a way past teammate Dalton Kellett on Lap Five, then was elevated two more positions following Telitz's assisted spin and Franzoni's penalty.
Norman stalked Urrutia doggedly before using the push-to-pass and making his move for third even before the braking area for Turn Four on Lap 20. Norman then drove away from Urrutia to confirm his third podium – and his third Tilton Hard Charger Award – of the season.
The weekend's double victory for Andretti Autosport was enough to clinch the Team Championship over Belardi Auto Racing with just three races remaining.
The driver's championship remains up for grabs, with O'Ward and Herta separated by 32 points, 395-363, as the contenders head to the third and final oval race of the season at Gateway Motorsports Park in Madison, Ill., on August 25.
Patricio "Pato" O'Ward (#27 Mexico #AWorldOfItsOwn Mazda-Andretti Autosport Dallara-Mazda IL-15): "My plan was to get out to at least a two-second lead so the guys behind me couldn't use the push-to-pass. But then the yellow came out so once Colton could engage it, he was able to stay behind me. I just had to stay in front and try to make him use all of them early. He got close to me once but I made sure I was fast in Turns One and Two, because that's really the only place you can pass. At that point, it's about keeping everything focused and tidy. I did have a mistake early, locking it up in Turn Two, so I was just hoping I hadn't damaged the tires. I'm happy to get the sweep, it's great momentum for the championship."
Colton Herta (#98 Andretti Steinbrenner Racing Curb Mazda Dallara-Mazda IL-15): "After yesterday, I knew it would be tough at the start, because it's easier to hold second around the outside than it is coming from the inside. I didn't want to risk anything right at the start – the chance of getting pinched on the inside. I got alongside Aaron but backed out. He was struggling so I got by early but Pato and I were running such similar lap times that I couldn't get to him. I had massive understeer over the last few laps and it's tough around here if you're in that situation. I used the push-to-pass to keep up, but he was just a little bit quicker today. We're good about leaving each other room: we take what we can and give what we have to. But I am looking forward to three weeks off, to get the hand to a place that it needs to be. As long as I don't do anything stupid, the doctor says I should be 90 percent at Gateway."
Ryan Norman (#48 Journey Andretti Autosport Dallara-Mazda IL-15): "We showed pretty well yesterday, solidly in second place before the restart, so I knew we had a good race car. We just tweaked the car for today, some very small things. I knew I'd have to be pretty aggressive on the start. I wasn't able to get around at first, but I chipped away slowly. The yellow saved me, because Santi had pace over me and Franzoni. I was able to catch up to him, though getting around was difficult. I couldn't get to Pato and Colton but I felt good with the car and am so happy to be on the podium here. This is the best one yet – I felt like I proved myself yesterday, that I can consistently run up front and compete for wins and to put it together here at my home track feels really good."
Results
| | | | | | | | | |
| --- | --- | --- | --- | --- | --- | --- | --- | --- |
| Pos | SP | Car | Driver | Lap | Behind | Best Time | Pts | Status |
| 1 | 1 | 27 | O'Ward, Patricio (R) | 30 | –.—- | 01:12.1898 | 32 | Running |
| 2 | 3 | 98 | Herta, Colton | 30 | 4.3680 | 01:12.0883 | 25 | Running |
| 3 | 7 | 48 | Norman, Ryan | 30 | 10.8640 | 01:12.1013 | 22 | Running |
| 4 | 5 | 5 | Urrutia, Santi | 30 | 15.7157 | 01:12.5174 | 19 | Running |
| 5 | 6 | 28 | Kellett, Dalton | 30 | 20.1273 | 01:13.0876 | 17 | Running |
| 6 | 4 | 23 | Franzoni, Victor (R) | 30 | 24.8635 | 01:12.3294 | 15 | Running |
| 7 | 2 | 9 | Telitz, Aaron | 29 | – | 01:13.0595 | 14 | Running |