Latest F1 news in brief – Sunday
Wolff cheers an all-Mercedes front row in Hungary Saturday

FIA has 'no concerns' about Ferrari engine

Force India racing on amid administration
Stoddart backs Liberty to improve F1
Tires sets available for race
FIA has 'no concerns' about Ferrari engine
(GMM) Charlie Whiting says the FIA has "no concerns" about Ferrari's power unit.
After years of Mercedes dominance in the 'power unit' era, it is now widely agreed that Ferrari is clearly ahead with controversial technology in the hybrid area.
But Kleine Zeitung quoted F1 race director Whiting as saying "There are no concerns from our side" regarding the legality of the Ferrari engine.
It means Mercedes has been left to catch up off its own back.
"Ferrari has left everyone else behind," said team boss Toto Wolff.
"They have a very good chassis and an exceptionally good engine."
He revealed that the team is hard at work on countermeasures, which would have to appear as the forthcoming 'Spec 3' engine.
"It's difficult to find more power without sacrificing reliability," Wolff warned. "A failure kills you more than a missed tenth of a second.
"We will look at how much power we can bring to Spa or Monza and then decide if we can change our plan or not."
Force India racing on amid administration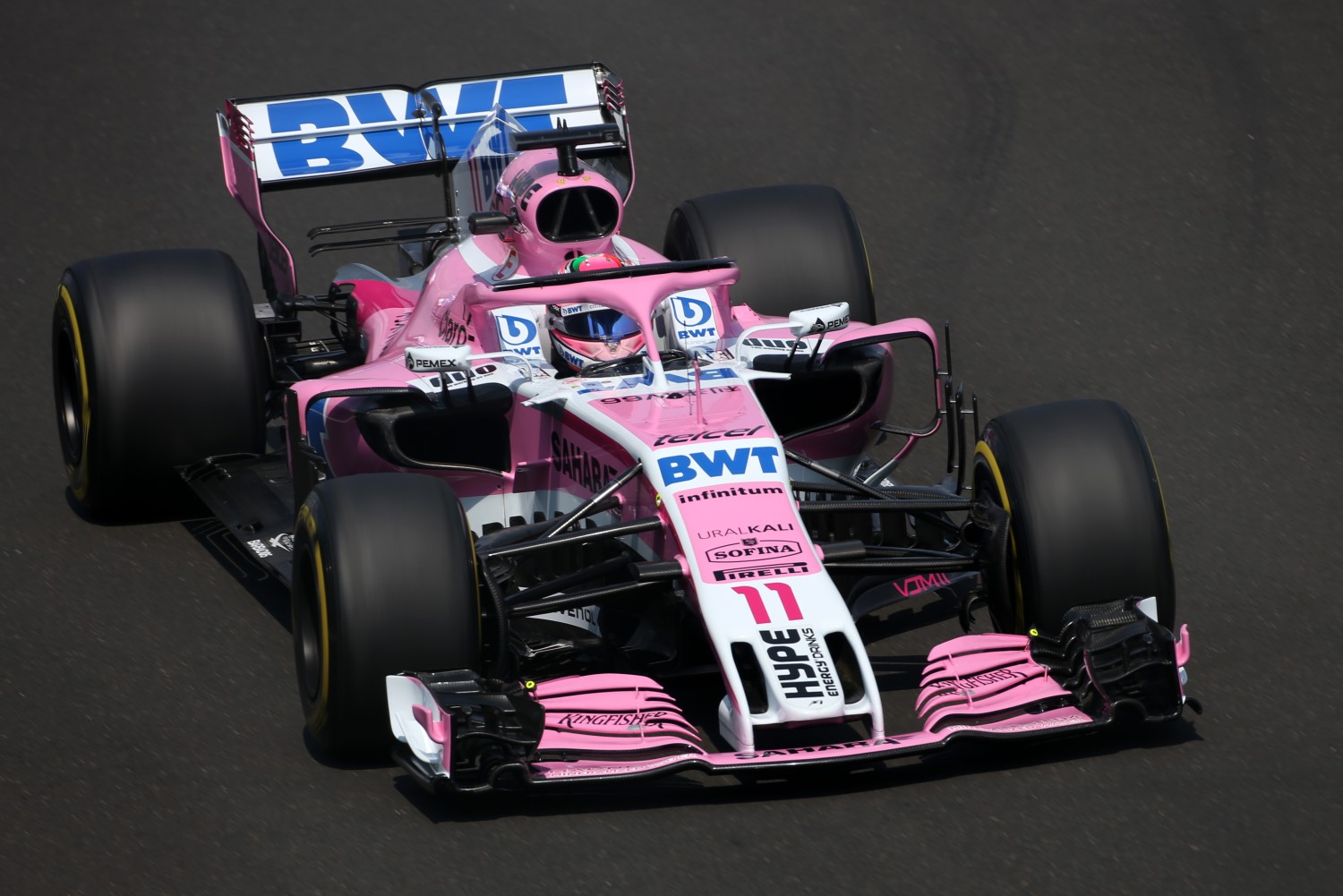 Perez races on in Hungary
(GMM) Force India is racing ahead in Hungary, even though it has been placed into financial administration.
The news from a London court arrived in Hungary that action taken by Sergio Perez, Mercedes and sponsor BWT had meant the F1 team is now being run by FRP Advisory.
"The team will continue to operate as normal, including racing in Hungary this weekend," joint administrator Geoff Rowley said in a statement.
Force India owes millions to creditors, including a reported $4 million to Mexican driver Perez.
Team owner Vijay Mallya is furious.
"They've driven us to bankruptcy," the former Indian billionaire said.
But Perez defended his actions, saying he and manager Julian Jakobi acted not for personal reasons but to "protect the 400 people working in the team".
"Several team members asked me to take action to protect 400 jobs," he said in Hungary.
"It's such a difficult situation that I cannot concentrate on driving. But one of the creditors had already prepared a petition, and if it was filed, the team would simply be closed.
"That's why I was asked to pull the trigger," Perez said.
The administrators will now assess parties interested in buying Force India, including Lawrence Stroll, Dmitry Mazepin, a US consortium, sponsor BWT, Indycar team boss Michael Andretti, and Rich Energy.
Perez hopes there is a good outcome.
"If they are serious people, I'll stay with Force India. The guys in the team are still the same and still the best in the midfield.
"Without financial worries, we'll get even stronger," he said.
Stoddart backs Liberty to improve F1
Paul Stoddart
(GMM) Former Minardi boss Paul Stoddart says he hopes formula one can up its game for 2021.
Over a decade ago, the Australian owned and ran a small backmarker team, and he says even then there were efforts to bring the costs down.
"Then in 2010 there was still talk of a budget cap of 40 million but it came to nothing," he told De Telegraaf newspaper in Hungary.
Stoddart, 63, is still involved in formula one through its official two-seater car program.
But he remains a critic of modern F1.
"Since 2014 with these hybrid engines … frankly it's not for me," he said.
"Formula one needs three things. It has to be affordable, it has to be a business and it has to be exciting. And you know, it really shouldn't be too hard to recognize that."
Stoddart backed Liberty Media to get the job done for the new commercial contract period beyond 2020.
"From 2021 there has to be a healthier situation for the sport," he insisted. "If Liberty Media manage to do that, we have a bright future. If the money is properly divided between the teams, the competition will be really good.
"But do Mercedes and Ferrari want that?" he wondered.
Tire sets available for race today
Tires sets remaining for each driver