O'Ward Beats Herta at Mid-Ohio to Extend Indy Lights Points Lead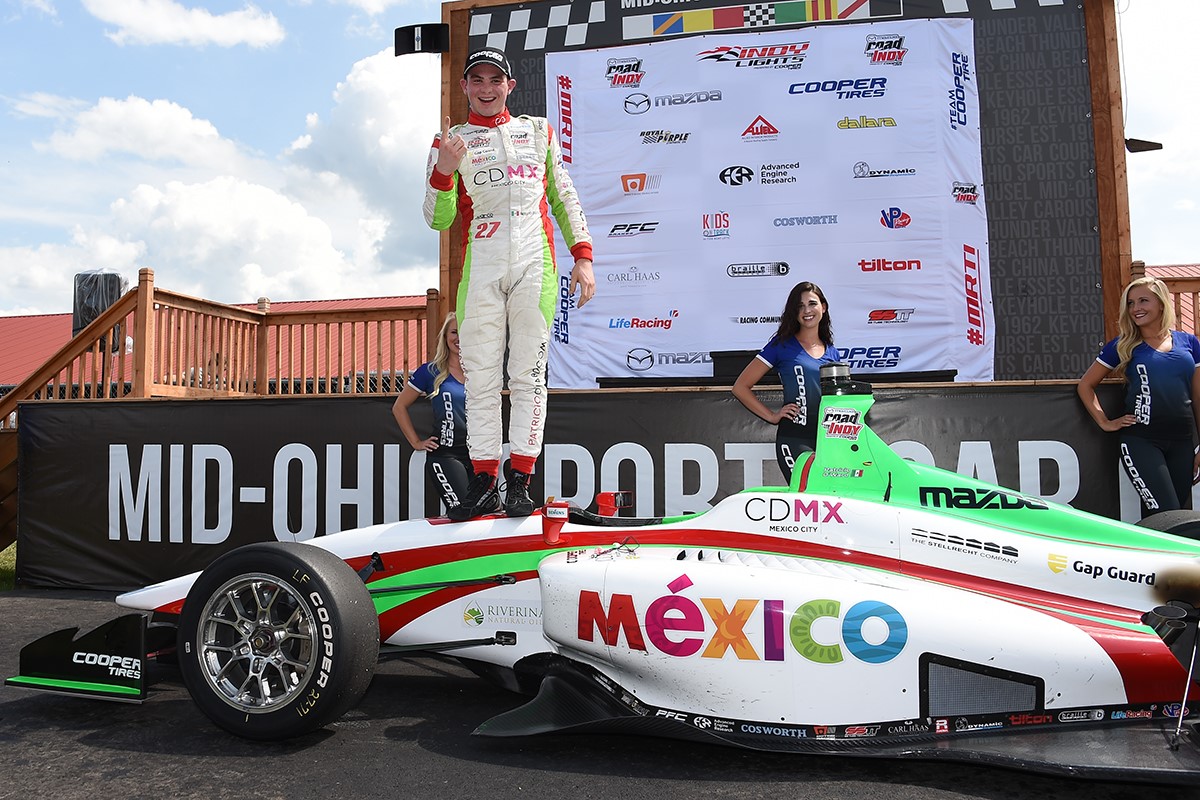 Patricio O'Ward
Patricio O'Ward produced another textbook performance for Andretti Autosport to win this afternoon's Cooper Tires Indy Lights Mid-Ohio Grand Prix Powered by Mazda. The 19-year-old from Monterrey, Mexico, led every one of the 30 laps from pole position to claim his sixth win of the Indy Lights Presented by Cooper Tires season and extend his championship lead over chief rival Colton Herta (Andretti-Steinbrenner Racing) to 25 points with four races remaining.
At stake is a Mazda Scholarship valued at $1 million to guarantee entry into at least three Verizon IndyCar Series races in 2019, including the 103rd Indianapolis 500.
Herta finished hot on O'Ward's heels in second place, followed by Dalton Kellett, from Toronto, Ont., Canada, who earned his second podium finish of the season for Andretti Autosport.
After posting the fastest lap in qualifying yesterday afternoon by a relatively comfortable margin of four-tenths of a second, O'Ward took off into the lead this afternoon at the challenging 2.258-mile Mid-Ohio Sports Car Course. But he was unable to shake off the attentions of locally based teammate Ryan Norman, from Aurora, Ohio, who had qualified a career-best second. Herta also pursued closely in third place as the top trio soon began to edge away from Belardi Auto Racing teammates Aaron Telitz, from Birchwood, Wis., and Uruguayan Santiago "Santi" Urrutia.
O'Ward, Herta and Norman all traded fastest laps during the early stages, although even with a remarkably consistent sequence over the course of the next eight laps, all within 0.1 second of each other, O'Ward was unable to pull away.
The caution flags waved for the one and only time on Lap 18 when Telitz spun into the gravel trap at Turn Nine.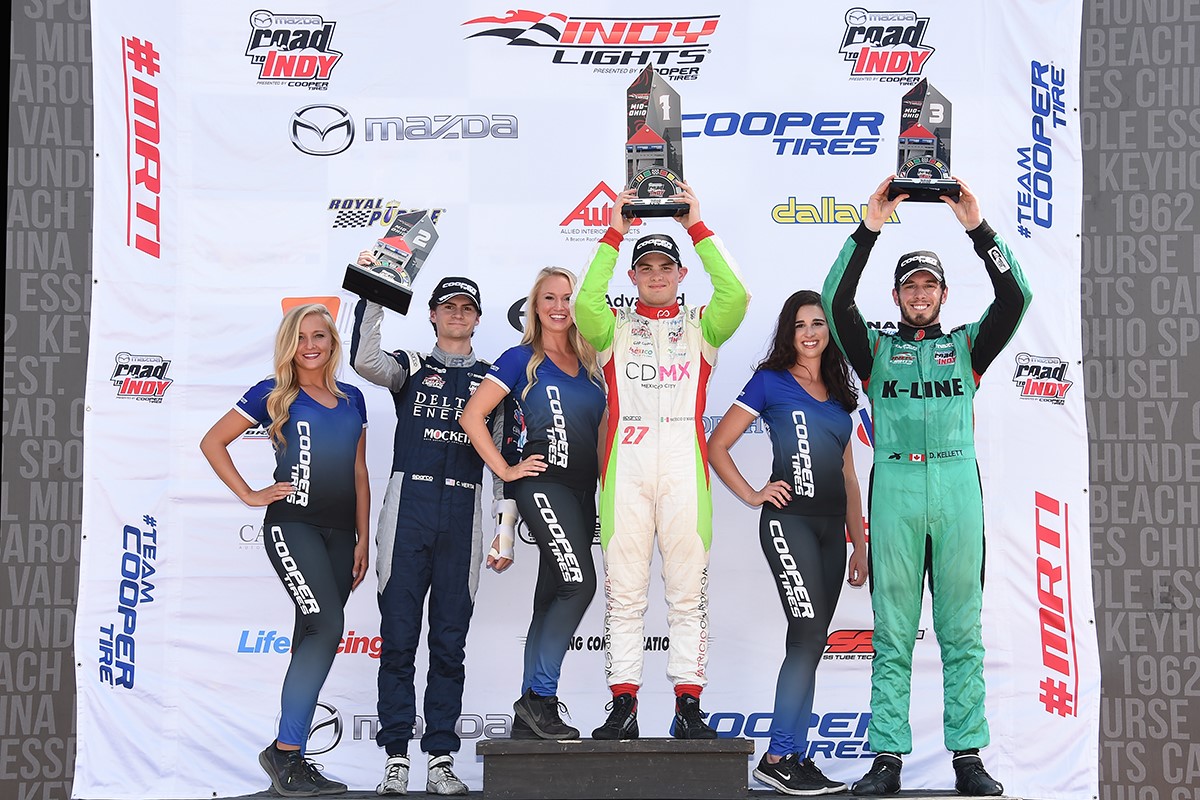 Podium
Right away after the restart, Norman's hope of victory evaporated when he slid wide under braking for Turn Two. A close-following Herta lost no time in nipping past into second, whereupon the loss of momentum allowed Kellett also to pounce at the end of the back straightway.
Then Victor Franzoni (Juncos Racing) seized his chance by driving around the outside of Norman at Turn Five before sealing fourth place with a neat out-braking maneuver at Turn Six. In little more than a few blinks of the eye, the unfortunate Norman had plummeted from second to fifth. But worse was to come one lap later when Urrutia also made a pass for position around the outside under braking for Turn Four.
Norman tried his best to hold on, but instead clipped the inside curb, ran wide at the exit and inadvertently nudged the passing Uruguayan into a spin. The contact earned Norman a drive-through penalty.
Herta chased as hard as he could after O'Ward, posting the fastest lap of the race just one lap from the finish, but the Mexican held on to claim a well-judged victory by just 0.6361 of a second.
Kellett also enjoyed a close battle with Franzoni for third, earning himself the Tilton Hard Charger Award after having started in sixth.
A separate qualifying session this morning saw O'Ward continue his recent run of success by securing his second pole position of the weekend. He will begin his quest for another victory when the green flag flies at 1:20 p.m. tomorrow, immediately before the Headline Verizon IndyCar Series event.
Patricio "Pato" O'Ward (#27 Mexico #AWorldOfItsOwn Mazda-Andretti Autosport Dallara-Mazda IL-15): "We've carried some good momentum since Iowa and I'm trying to make it better and better each weekend. It's just tough to keep people behind you when they can engage the push-to-pass, so it's nice to get more than a second-and-a-half gap, then stretch it out from there. It was a good race. I had pressure from behind the whole way, so to get the win means a lot. There are four more races still to go but these wins definitely help. It was hard after the yellow because the track was like ice, but I did a good job managing the gap to Colton to the checkered. You don't want to get passed, especially late in the race, so I need to keep doing what I'm doing. The goal is to win every race."
Colton Herta (#98 Andretti Steinbrenner Racing Curb Mazda Dallara-Mazda IL-15): "It's tough to pass here, especially when you're starting third, because you get cooped up on the inside of Turn One and don't get a good run. And once everyone fans out and the tires come up to temp, it's difficult to pass here. This is not a track that's known for overtaking. I got a chance on the yellow and was able to get inside Ryan, who didn't defend it too harshly. We did touch but at that point, the pass was done. I think that if I'd had more time, I could have caught Pato. I can feel my [injured] hand during the race, but it is what it is."
Dalton Kellett (#28 K-Line Insulators USA Inc.-Andretti Autosport Dallara-Mazda IL-15): "I had a good start and was battling with Santi and Aaron, but I had contact with Santi early and got shuffled back. Once I settled into a rhythm, I gained a free spot when Aaron spun out and Santi came in. I took advantage of the pass Colton made on Ryan to get into third, so it's nice to get back on the podium. But the track changed so much today, especially after all the IndyCar rubber went down and with the higher temperatures this afternoon. It got challenging when Victor was burning all his push-to-pass trying to get by me. We're lucky that we had the pace to be quicker."
Results
| | | | | | | | |
| --- | --- | --- | --- | --- | --- | --- | --- |
| Pos | SP | Car | Driver | Lap | Behind | Pts | Status |
| 1 | 1 | 27 | O'Ward, Patricio (R) | 30 | –.—- | 32 | Running |
| 2 | 3 | 98 | Herta, Colton | 30 | 0.6361 | 25 | Running |
| 3 | 6 | 28 | Kellett, Dalton | 30 | 11.8170 | 22 | Running |
| 4 | 7 | 23 | Franzoni, Victor (R) | 30 | 12.5038 | 19 | Running |
| 5 | 2 | 48 | Norman, Ryan | 30 | 36.0341 | 17 | Running |
| 6 | 5 | 5 | Urrutia, Santi | 30 | 56.1149 | 15 | Running |
| 7 | 4 | 9 | Telitz, Aaron | 28 | – | 14 | Running |