Richard Petty and Bubba Wallace Q&A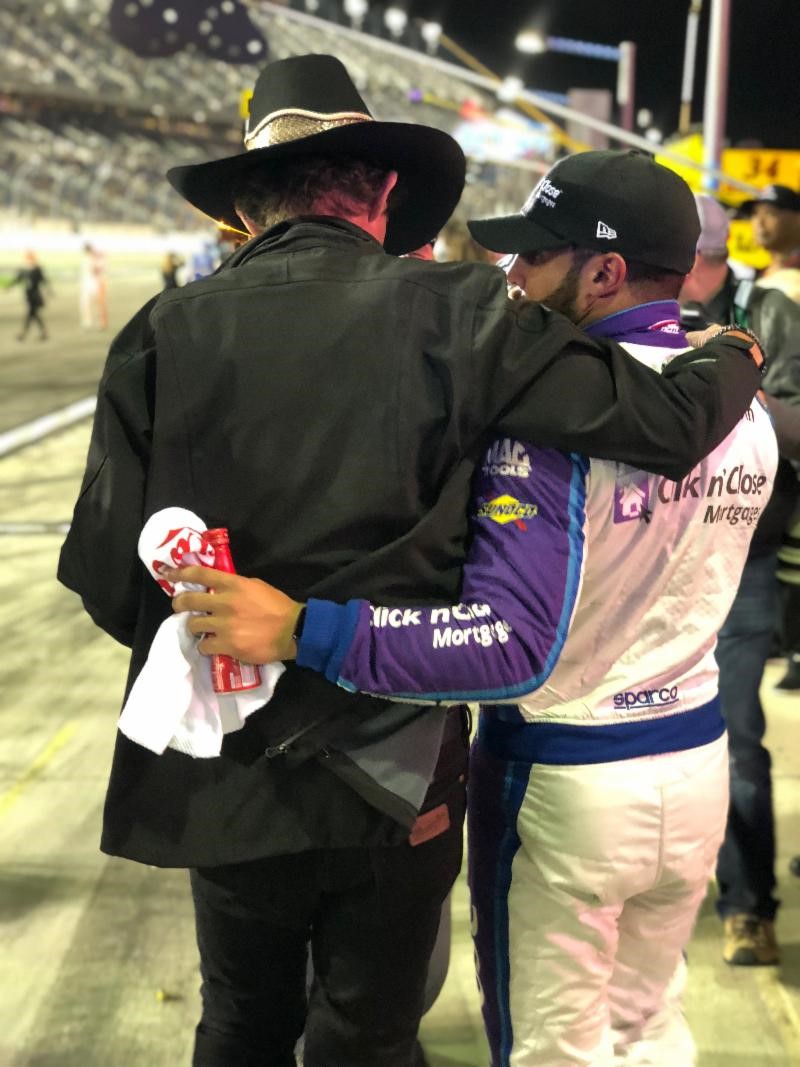 Petty and Wallace
DARRELL 'BUBBA' WALLACE, JR. NO. 43 MILE 22 CAMARO ZL1, AND RICHARD PETTY MOTORSPORTS (RPM) TEAM OWNER, RICHARD PETTY met with media and discussed their contract extension beyond the 2018 season.
IS THIS GOING TO HELP YOU DRIVE WITHOUT UNCERTAINTY FOR THE REST OF THE YEAR SO THAT YOU DON'T HAVE TO WORRY ABOUT THE END OF THE YEAR AND LAST-MINUTE THINGS?
BUBBA WALLACE: "I didn't drive with uncertainty. We've got to get some turn in the front of our race cars, so that's what I've been worried sick about driving. But this definitely helps. If you take a step back and help sponsorship efforts, knowing that we have a set future ahead, we can sell that. That's the biggest thing as a whole, how we want to make our program better from the outside looking in. That goes a long way. So, for us, we're still in here turning wrenches and trying everything we can to get out race cars better."
HOW GOOD DOES IT FEEL TO BE ABLE TO SAY, 'MY GUYS' BACK IN THE SHOP?
BUBBA WALLACE: "Yeah, that's good. They are incredible. The whole gang there, we all hit that certain key note together, hitting the same notes and gelling well. I love being around them. You never know what they're going to say. There are no secrets inside that little group of them because if you do something you don't want them to know, chances are they already know and they're going to deliver it to you hard. They definitely keep you on your toes and they make it interesting. They keep you not so much racing, racing, racing; they keep you grounded a little bit. So, it's good."
THIS IS OBVIOUSLY 'YOUR' GUY. YOU'RE THE KING. YOU COULD HAVE HAD ANYBODY YOU WANTED. WHAT DO YOU SEE IN THE FUTURE FOR RPM?
RICHARD PETTY: "I see NASCAR changing as far as all the drivers and stuff are becoming younger, all us old guys, and the ones coming now is moving on. So, we're going to have a new chapter with the racing crowd and the drivers. So, we wanted to get in on the ground floor on this. If you look back, a lot of the drivers I've had kind of went through their deal and then we picked them up on the back-end. We want to start out a little bit different this time. We're going to start out on the front-end. Bubba was a logical choice for us."
WHAT HAVE YOU SEEN BUBBA IMPROVE ON AS THE SEASON HAS GONE ON? AND WHAT IMPROVEMENTS DO YOU FEEL LIKE THE TEAM AS A WHOLE HAS MADE?
RICHARD PETTY: "Well, the whole deal is maybe he's a rookie, okay; but a lot of these race tracks he's never been to. The car was new to him. He's new to the crew. So, everybody had to learn everybody. And so it's taken a little bit longer, basically, than what we wanted to do, but as we go along we get to be more of a family. The closer we are, the better we're going to be. That's the ultimate goal."
DID YOU LOOK AROUND AT ALL? DID YOU TAKE A LOOK AND CALL ANY OTHER TEAMS?
BUBBA WALLACE: "No, we knew we were going to be kind of behind the 8-ball with everything that the team went through, from a sponsorship standpoint, but we knew we'd have to play catch up. For me, I was asleep on my couch in Daytona when he comes barreling up to my bus and he says hey, we're going to do the next two years with you, and I'm like okay, great. It was just like that. And then I went back to sleep (laughter). I thought oh, I probably put off a bad vibe because I was knocked out and he's like congrats on the next two years and I'm like, cool, thanks. I didn't have no idea. For me there was no matter of searching. For me it was just a matter of getting our cars better. I think this helps. This lets me kind of relax a little bit and really digest and focus on the race car. There's no need to go out and search. It's just a matter of making this team better and Richard is obviously the king for a reason, and he wants to see his cars back in Victory Lane. I felt like there's some unfinished business before I do leave this organization and it's obviously to give him a win."
HANK AARON CALLED YOU AFTER THE DAYTONA 500. HAVE YOU TALKED TO HIM SINCE THEN? HAVE YOU MET HIM? WOULD YOU LIKE TO MEET HIM?
BUBBA WALLACE: "I haven't met him. I'd love to meet him. That would be pretty special. I remember that phone call. It was three our four seconds; very quick, but it has stuck with me to this day."
HE HAD A FEW HOME RUNS DURING HIS CAREER, DIDN'T HE?
BUBBA WALLACE: "Just a couple."
DID FINISHING SECOND AT DAYTONA, YOUR FIRST CUP RACE AS A ROOKIE, MAYBE RAISE EXPECTATIONS A LITTLE TOO HIGH? DO YOU THINK PEOPLE FORGET THAT YOU WERE A ROOKIE AND IT WAS ALL NEW TO YOU?
BUBBA WALLACE: "Oh, absolutely. It's what the fans look at. It's not really necessarily shame on them, but they've got to look at the circumstances that went into that race. We were able to miss five wrecks or four wrecks or whatever it was, and that took out 20-something cars. So, I always say, whoever enters into a race at Daytona or Talladega has a chance of winning. For us to go out and finish second, yeah, that was a great day. But, we knew going into Atlanta there was no way we were going to run second. We had already scaled it back. But the fans and I think some of the media had really pushed it out. It's like oh, I'm the next best thing. I just finished second, watch-out. And then we run 20th. It's the outsiders looking in that their expectations need a little reality-check there. We already know, but they don't."
WHEN YOU'RE RUNNING 20TH AND LOOKING AT A TOP-20 FINISH AS A GOOD DAY, IS THAT TOUGH FOR YOU AS A DRIVER?
BUBBA WALLACE: "It is. No doubt. We're both competitive and he comes to me and is like what's the deal? What's going on? I'm doing the best I can with what we've got. The differences are going to show when you have a $30 million-dollar budget to a $10 million-dollar budget or a $25 million-dollar budget; you're going to see the differences there. And, we're a very small team with a very small budget and some things I do look at, maybe as a confidence-booster. I did it last week in Loudon and I went back and watched Bristol. We went up and passed Kyle (Busch) and went up and passed Brad (Keselowski) and led a couple of laps. We didn't get the finish that we wanted, but we still did some pretty great things. I keep saying it the last month or so, is we're struggling. We're not going to be up there leading every lap and having a dominant car. We don't have the budget for that. And there's a disconnect from the fans and the media kind of portraying that. It's common sense. Everybody in the racing world knows it. But, people that are watching, they don't know. They just think that we suck."
NEXT WEEKEND AT WATKINS GLEN YOU GET THE OPPORTUNITY TO RUN THE K&N EAST RACE. HOW BIG OF AN OPPORTUNITY IS THAT FOR YOU AND TO HAVE WILL RODGERS AS A TEAMMATE?
BUBBA WALLACE: "Did you see Sonoma (laughs). That's all I've got to say."
IT COULD BE A BIG HELP, THOUGH
BUBBA WALLACE: "Yeah, no doubt. Going to Sonoma for the first time was a nightmare for all of us, for me, really, to not even be able to get out of my own way. But, the first time going to Watkins Glen was a little bit different. I felt kind of more comfortable. There's a lot of grip there. It's very different from Sonoma. Being able to go back to the roots of the K&N world, it's been since 2012, so I'm excited about that. They said they're setting up the car just like his and don't plan on touching it. I'm like that's great. I'm going to figure it out on my own. So we're going to have some fun and see what we can learn."
DUE TO THE CHARTER SITUATION, DOES THIS AGREEMENT SOLIDIFY THE TEAM'S NEXT TWO YEARS AS A SINGLE CAR TEAM? IS THERE ANY POSSIBILITY THAT RPM WOULD EXPAND?
RICHARD PETTY: "I've been in the racing business for a long time and nothing is in concrete. You never know what's going to happen tomorrow or next week or whatever. Timing has a lot to do with it. Sponsorship has a lot to do with it. Bubba's going to have a lot to do with it. Chevrolet is going to have a lot to do with it. So, there are so many facets that are out there that you don't know when they're going to come together or if they'll come together. And when they do, then you hit it. If you don't come together we're back in the same place. So, predicting the future is not anything I can tell you because supposedly it's not going to rain tomorrow (laughter)."
YOU'VE BEEN TO POCONO THREE TIMES IN A CUP CAR. WE'RE AT THAT POINT IN THE SEASON WHERE YOU'RE GOING TO TRACKS FOR A SECOND TIME IN A CUP CAR. DOES THAT GIVE YOU MORE CONFIDENCE OR MAKE YOU MORE EXCITED ABOUT GETTING IN A CUP CAR NOW THAT YOU'VE HAD ONE RACE IN A CUP CAR?
BUBBA WALLACE: "Yeah, for sure. The first laps in practice it was like yeah, okay, I remember all this and am putting it back together. As to where the first time doing it last year, I had come off the simulator, jumped in it, okay; and then fast-forward to the next year and it's like you forget. You try to remember some things but trying to get into that rhythm here, the biggest thing about this place, is being in a rhythm. I felt like obviously our speeds weren't what we wanted in practice, but everything inside the cockpit felt great. I wasn't having to re-learn everything. I'm excited about the second half of the season and going back to the tracks that we've been to before. We can always improve on our finishes there. So, we'll see what we can do."
DO YOU THINK ADDING A TEAMMATE WOULD HELP YOU A LITTLE BIT, GOING FORWARD, BEING YOU DO HAVE THE OPPORTUNITY WITH THAT SECOND CHARTER IF YOU WERE TO BRING THAT IN?
BUBBA WALLACE: "Hell, no. I'm greedy. I want it all to myself. Nah. I think the biggest thing is to be able to do that, like he (Richard Petty) said, the economy has so much to do with it. It's not a matter of 'win' anymore. It's a matter of 'if'. We're living in this sport 'if' it's going to happen. I don't know if it's going to happen. It's a struggle trying to find sponsorship. And obviously you have the cheerleaders there, like your support system back at home. When it's going to happen. It's going to happen. I've been doing it for 15 years and still searching for full-time sponsorship. So, we need to get a lot in order for that to happen. So, for us, right now the next thing on the schedule is practice and that's what we're worried about right now. So, we'll see what we can do."