Vettel over Bottas in final Hungary GP practice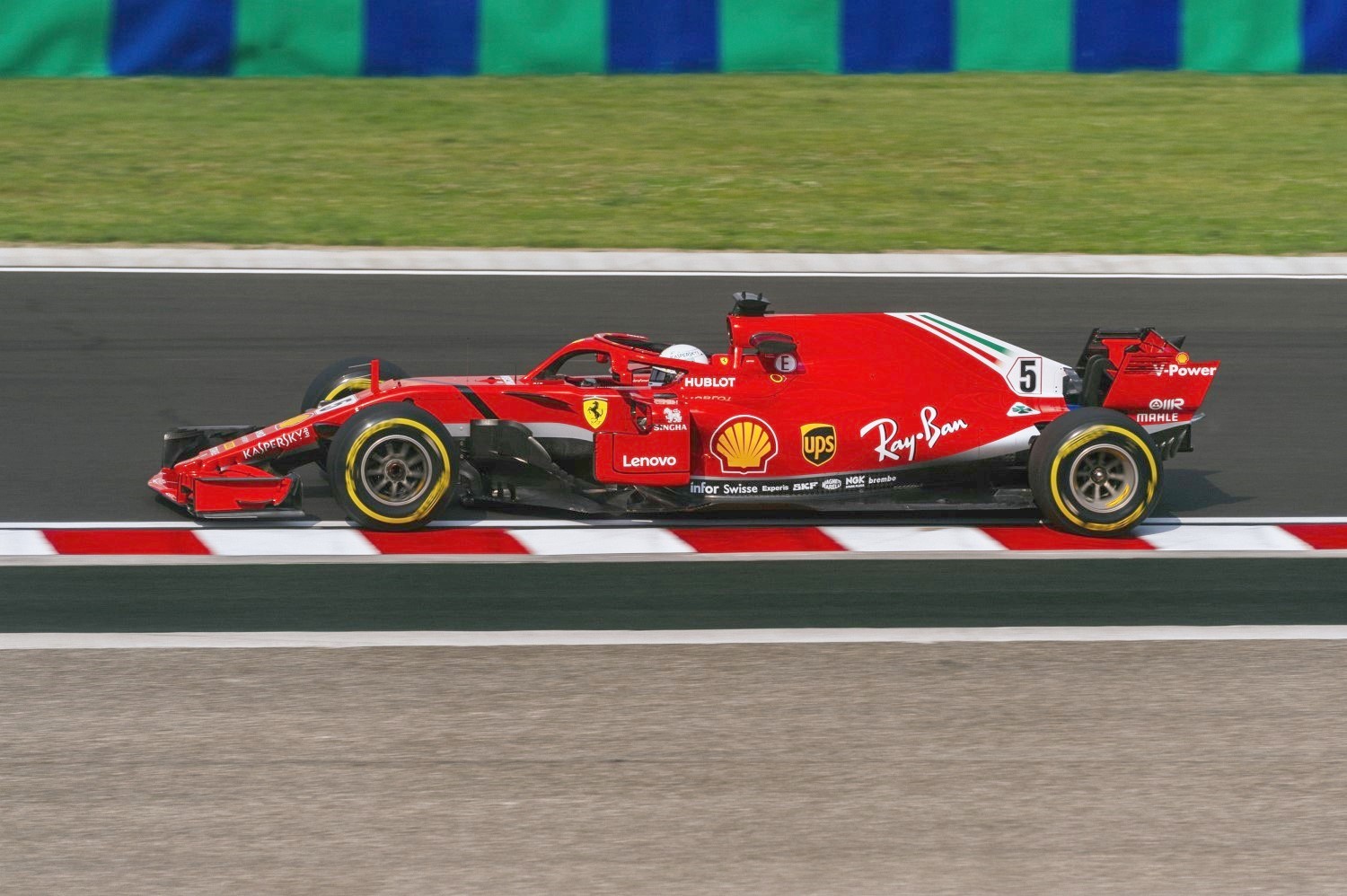 Vettel quickest again, but can he put it on pole?
Sebastian Vettel was again fastest in the final practice session for the Hungary GP in his #5 Ferrari Saturday morning. Vettel's lap of 1m16.170s was a new track record and beat Mercedes driver Valtteri Bottas by just 0.059s on the tight twisty Hungaroring.
But the Mercedes appeared to be struggling as both Lewis Hamilton and Bottas went spinning off at the Chicane trying too hard to keep up with the Ferrari. Bottas actually kissed the barrier and may have bent his suspension. Hamilton spun haplessly at the same chicane on Friday.
Kimi Raikkonen, who complained to his engineer Pete Bonnington during the session that he was lacking grip, was third quick in the second Ferrari 2/10ths back while Lewis Hamilton in the #44 Mercedes and Daniel Ricciardo in the #3 Red Bull rounded out the top-5.
Red Bull, who yesterday stated their intention to make the first two rows of the grid in qualifying, weren't quite there in FP3, with Daniel Ricciardo and Max Verstappen in fifth and sixth respectively, Ricciardo complaining to his engineer of both understeer and engine braking issues on his RB14.
Leading the midfield were the Renaults of Carlos Sainz and Nico Hulkenberg in P7 and P8, ahead of Romain Grosjean in the Haas, while Pierre Gasly showed that Toro Rosso were in the mix too, slotting into P10.
Stoffel Vandoorne spent much of the session in the garage while McLaren fitted a new floor that was sent over from the factory.
He wound up 17th fastest, 2.6s off the pace, proving the car is still junk, with teammate Fernando Alonso 14th – the old man consistently buries his younger teammate.
Slowest of all was Lance Stroll in the #18 Williams. Daddy Stroll is looking to buy an entire F1 team (Force India) to lift his son off the back of the grid every weekend.
Practice 3 Results
| | | | | | | |
| --- | --- | --- | --- | --- | --- | --- |
| POS | NO | DRIVER | CAR | TIME | GAP | LAPS |
| 1 | 5 | Sebastian Vettel | Ferrari | 1:16.170 | +0.000s | 16 |
| 2 | 77 | Valtteri Bottas | Mercedes | 1:16.229 | +0.059s | 17 |
| 3 | 7 | Kimi Raikkonen | Ferrari | 1:16.373 | +0.203s | 16 |
| 4 | 44 | Lewis Hamilton | Mercedes | 1:16.749 | +0.579s | 17 |
| 5 | 3 | Daniel Ricciardo | Red Bull Racing | 1:16.803 | +0.633s | 11 |
| 6 | 33 | Max Verstappen | Red Bull Racing | 1:16.946 | +0.776s | 14 |
| 7 | 55 | Carlos Sainz | Renault | 1:17.754 | +1.584s | 17 |
| 8 | 27 | Nico Hulkenberg | Renault | 1:18.083 | +1.913s | 18 |
| 9 | 8 | Romain Grosjean | Haas Ferrari | 1:18.084 | +1.914s | 19 |
| 10 | 10 | Pierre Gasly | Toro Rosso Honda | 1:18.139 | +1.969s | 22 |
| 11 | 20 | Kevin Magnussen | Haas Ferrari | 1:18.230 | +2.060s | 17 |
| 12 | 28 | Brendon Hartley | Toro Rosso Honda | 1:18.252 | +2.082s | 19 |
| 13 | 16 | Charles Leclerc | Sauber Ferrari | 1:18.376 | +2.206s | 19 |
| 14 | 14 | Fernando Alonso | McLaren Renault | 1:18.467 | +2.297s | 15 |
| 15 | 31 | Esteban Ocon | Force India Mercedes | 1:18.512 | +2.342s | 20 |
| 16 | 35 | Sergey Sirotkin | Williams Mercedes | 1:18.630 | +2.460s | 17 |
| 17 | 2 | Stoffel Vandoorne | McLaren Renault | 1:18.789 | +2.619s | 14 |
| 18 | 9 | Marcus Ericsson | Sauber Ferrari | 1:18.842 | +2.672s | 18 |
| 19 | 11 | Sergio Perez | Force India Mercedes | 1:18.962 | +2.792s | 18 |
| 20 | 18 | Lance Stroll | Williams Mercedes | 1:19.132 | +2.962s | 20 |