IndyCar Mid Ohio Team Penske Press Conference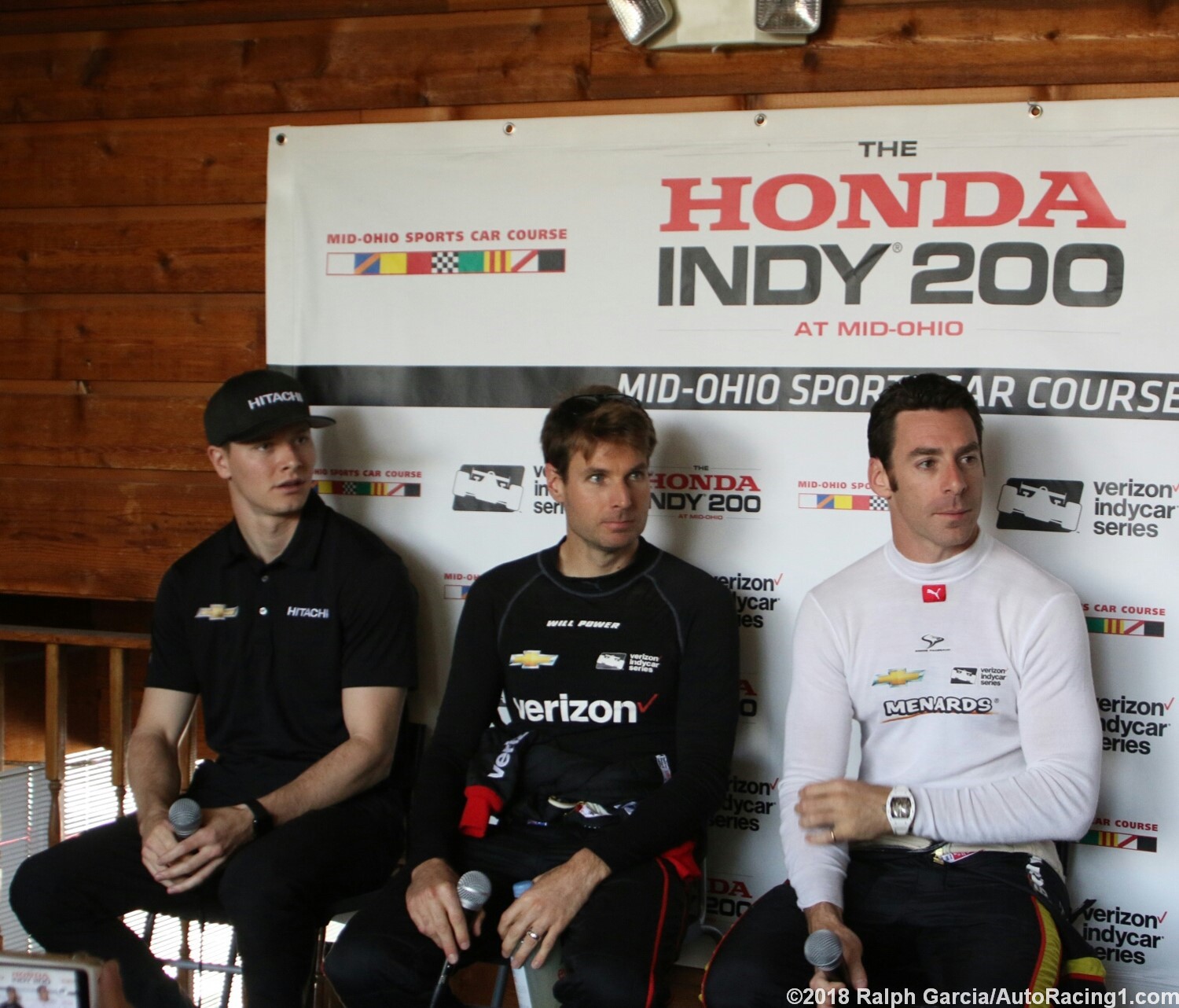 Team Penske Drivers
The Team Penske IndyCar drivers met the press on Friday at Mid-Ohio:
Josef Newgarden
Will Power
Simon Pagenaud
Press Conference
THE MODERATOR: Well get started with our Team Penske media availability. Joined now by the three members of Team Penske, starting of course with Simon Pagenaud, who won from pole here in 2016, also coming off of some great momentum in Toronto. How important is that momentum for you heading into a weekend like this?
SIMON PAGENAUD: It's always very important. I think momentum is what is super important in racing. It brings confidence up. It's a snowball effect: the more momentum you can have, it's going to carry you throughout the season.
We started a bit slow. It's time to really go here. We don't have many races left. A bit far behind in the championship compared to other years. I think we just started to really figure out this new aero package, beginning to be quite happy with it.
We're working hard. There's a lot of work behind the scenes that you guys don't get to see at the shop from the guys. Can't be any prouder of Team Penske doing the great job for all three of us. We'll see what we can do here.
Josef and Will have been strong here. All three will do everything we can to bring a win for Team Penske.
THE MODERATOR: Josef Newgarden, the reigning winner here at Mid-Ohio. Josef, you've been strong on road courses this year. Do you feel like that success will translate here at Mid-Ohio?
JOSEF NEWGARDEN: Well, we hope so. I think we have a good opportunity to be competitive. We've been competitive the last three weekends, so we're going to try to continue that and have a good Sunday. That's going to be most important for us.
But I feel positive. I think we've got a good handle on the car for the most part on the road courses. Mid-Ohio is its own animal. I don't know that we can draw too much from a place like Road America or the GP of Indy. Maybe more from a place like Barber. Barber we had good cars.
I'm positively optimistic and we'll see how we roll off here at the beginning and how much work we will or won't have to do throughout the weekend.
THE MODERATOR: Will Power, won three poles here at Mid-Ohio. And we can congratulate Will on his 200th start he'll be making here at Mid-Ohio.
You've spoken many times about how you enjoy this track. How special is it for you to be hitting that milestone here at Mid-Ohio?
WILL POWER: Yeah, I wasn't even aware of that till yesterday. It's amazing I've been around long enough to do 200 races. Dixon has been around long enough to do 300. I guess he's 10 wins ahead of me. I have like a hundred races to get 10 wins.
THE MODERATOR: Need to figure out that ratio.
WILL POWER: See what I can do (laughter).
It's a track I enjoy but I've never won at. Plenty of seconds, plenty of laps led, three poles. Obviously enjoy the place.
I feel like it's going to be a very, very tight weekend. The parity in the series, the common body kit, the engine manufacturers are pretty much even. A lot of good guys.
I guess you can say it's a short lap with a lot of corners, but it always seems to stack everyone up real tight. I think the whole field will be covered by a second. We're all going to have to be on our toes, try to work the car out as quick as we can.
THE MODERATOR: Questions.
Q. Will, you're in a bit of an interesting situation where the guys on either side of you won the championship and the race here, passing you with pretty interesting overtaking maneuvers. With your runner-up finishes here, is there any additional pressure to be the next winner here at Mid-Ohio?
WILL POWER: Yeah, I mean, you think about the last two years, I was leading, was passed for the lead. It's just one of those races when I look at the schedule that I've been to multiple times, I haven't won. There's only two tracks, Iowa and here.
Put a lot of focus into it. Yeah, you just got to do what you do each weekend, make sure you understand what you want from the car, what it needs to be fast. Obviously qualifying matters a lot here.
Yeah, I'll be very aware of not getting passed if I'm leading. If someone wants to pass me, it's going to be aggressive, maybe a crash this time.
Q. In the recent past at Mid-Ohio, we've seen races where there were no yellows at all, certainly very infrequent yellows. Will this car induce more mistakes because it's harder to drive around here?
WILL POWER: I don't know. Feels like this year it's been more green than ever because the quality of the drivers in the field now, there's no one bad. Yeah, people don't make mistakes. Just got tighter and tighter in that respect where, yeah, you kind of rely on DNS to get points. It just doesn't happen. People don't have bad days.
It will be interesting.
JOSEF NEWGARDEN: Iowa is a good place to look at. I think Iowa, you would have thought there would have been many wrecks before the race with how difficult it was. Not a lot of people wreck their cars.
I think it's also a product of how the car drives now. There's a lot more forgiving in a good way. The car talks to you so much more. It's difficult to drive, but it also is easier to recover I think from a mistake.
Q. Simon, years ago you drove for Gil de Ferran's team. Do you have contact with him, asking for advice?
SIMON PAGENAUD: Yeah, I mean, we're really good friends. He's been a tremendous help in my career. Before anything right now, we're really good friends. We talk very often. It's quite awesome to see where he's at right now, what he's doing. It's an exciting challenge I think for him. Wouldn't be any better man for the job, I think. We'll see how he enjoys it. I'm sure he will.
Personally he's a great friend and, yes, we do talk.
Q. Simon, what differences do you see in the 200-time starter over here from the early days to teammates to now?
SIMON PAGENAUD: Some gray hair maybe (laughter), and a 500. Quite a lot of things have changed. We've both grown throughout the last 10, 12 years.
Yeah, no, I mean, we all evolve. I think as drivers we always try to evolve into a better one. Then as we get to know each other, there's also the person behind it.
Will is an interesting person that's really quite interesting (laughter). The more you know him, the more you tend to like him. I've liked being his teammate for many, many reasons.
Now at this point in our careers, it's even better because I think we get to enjoy what we do even more because we have some sense of security. But, yes, we still want to win. That's pretty cool.
THE MODERATOR: Gentlemen, thank you very much. Good luck this weekend.