Beckmann darts to top of Free Practice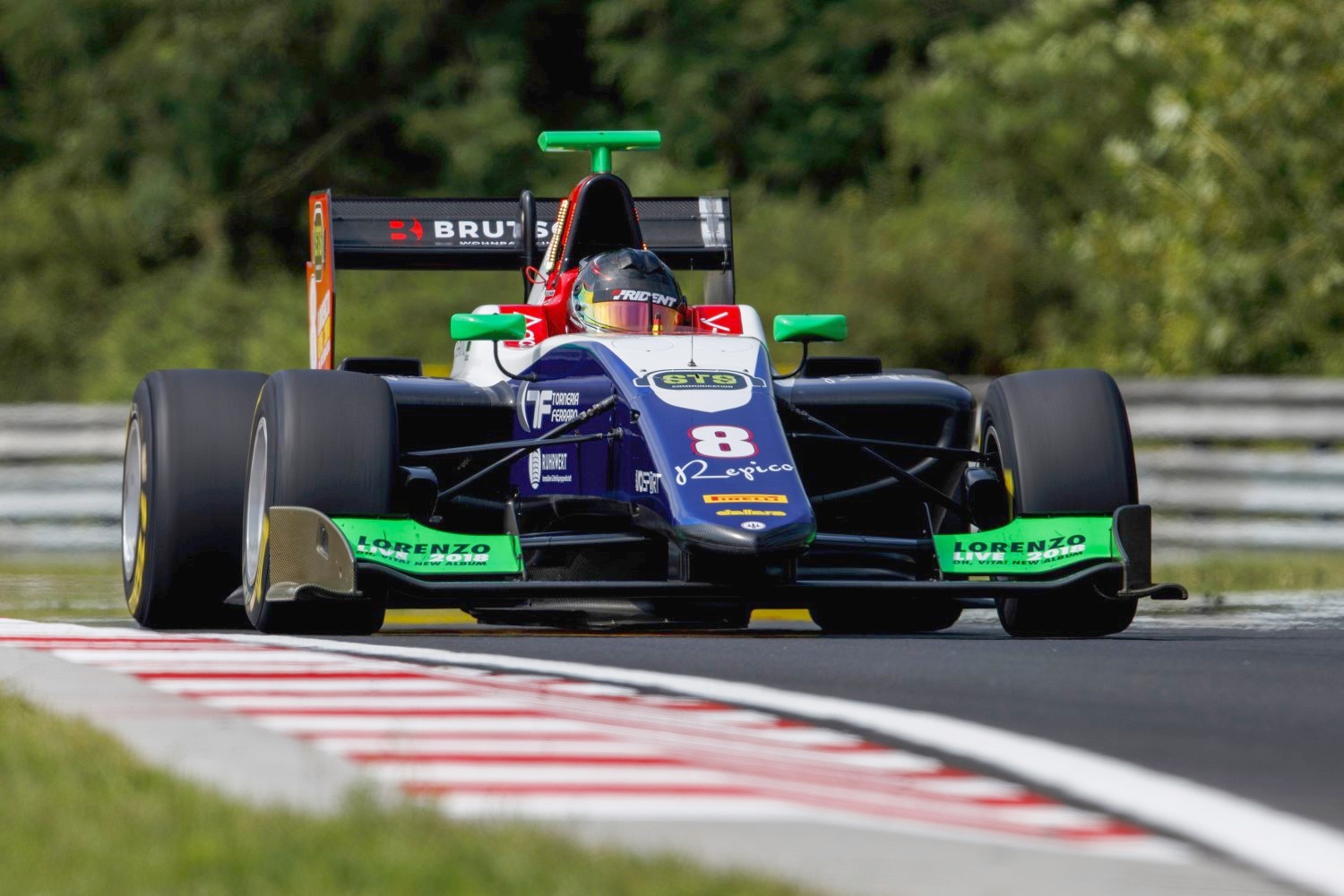 David Beckmann
David Beckmann got his first weekend with the Trident team off to the best start possible by topping the GP3 Series Free Practice session in Budapest, Hungary, snatching first position with a 1:32.035 in the dying seconds of the session to beat Anthoine Hubert by half a tenth. Hubert was able to beat ART Grand Prix teammate Callum Ilott to second place.
The session began immediately in hot and sunny conditions, and Trident's Pedro Piquet was first to brave the heat ahead of ART trio Ilott, Hubert and Jake Hughes. A planned virtual safety car period preceded the full-speed running, lasting for five minutes before Piquet planted the first sub-2 minute laptime. Beckmann quickly surpassed his new teammate, bagging the first representative laptime in the 1m37s before fellow Trident driver Ryan Tveter found a second in hand.
Hubert then surged to the top to go a further second clear of Tveter, with Leonardo Pulcini (Campos Racing) next to head the session as the pace continued to wind up. Nikita Mazepin then found further time over the Italian, before his ART teammate Hubert found the quickest lap at the end of the first fifteen minutes of running.
The Frenchman's time stood strong, and multiple drivers attempted to overturn his early advantage; Joey Mawson (Arden International) was first to try, but fell short as Beckmann, Pulcini and Giuliano Alesi all occupied second place for brief periods of time. Eventually, Hubert's benchmark fell; Tatiana Calderon (Jenzer Motorsport) was first into the 1m32s and eclipsed the rest of the field by just over a second.
Calderon's time was good enough to ward off the threat of MP Motorsport's Dorian Boccolacci, before Ilott dispatched the Colombian from the top of the timing boards to prompt an ART occupation of the top four – Hubert, Hughes and Mazepin all found their way past Calderon's best time with five minutes remaining on the clock.
Returning to the top, Hubert took five-hundredths of a second out of Ilott's lead and looked set to hold on after a leap over the kerbs for Mawson at turn 4 brought out the yellow flags. Beckmann then emerged to set the best time of the session as the checkered flag waved, relegating Hubert to second place.
Ilott was three tenths ahead of fourth-placed Hughes, as Pulcini ended the session in fifth. Mazepin occupied sixth, as Calderon, Diego Menchaca and Boccolacci were all separated by just 0.01s. Alesi completed the top ten.
2018 GP3 Series Round 5 – Budapest, Hungary – Free Practice Classification
| | | | | |
| --- | --- | --- | --- | --- |
| Pos | DRIVER | TEAM | LAPTIME | LAP |
| 1 | David Beckmann | Trident | 1:32.035 | 23 |
| 2 | Anthoine Hubert | ART Grand Prix | 1:32.086 | 21 |
| 3 | Callum Ilott | ART Grand Prix | 1:32.113 | 21 |
| 4 | Jake Hughes | ART Grand Prix | 1:32.430 | 22 |
| 5 | Leonardo Pulcini | Campos Racing | 1:32.465 | 19 |
| 6 | Nikita Mazepin | ART Grand Prix | 1:32.541 | 20 |
| 7 | Tatiana Calderon | Jenzer Motorsport | 1:32.635 | 20 |
| 8 | Diego Menchaca | Campos Racing | 1:32.643 | 23 |
| 9 | Dorian Boccolacci | MP Motorsport | 1:32.644 | 20 |
| 10 | Giuliano Alesi | Trident | 1:32.666 | 20 |
| 11 | Juan Manuel Correa | Jenzer Motorsport | 1:32.765 | 22 |
| 12 | Ryan Tveter | Trident | 1:32.792 | 19 |
| 13 | Pedro Piquet | Trident | 1:33.115 | 20 |
| 14 | Niko Kari | MP Motorsport | 1:33.235 | 22 |
| 15 | Simo Laaksonen | Campos Racing | 1:33.244 | 18 |
| 16 | Gabriel Aubry | Arden International | 1:33.327 | 21 |
| 17 | Jannes Fittje | Jenzer Motorsport | 1:33.549 | 20 |
| 18 | Joey Mawson | Arden International | 1:33.733 | 20 |
| 19 | Julien Falchero | Arden International | 1:35.417 | 9 |
| 20 | Devlin DeFrancesco | MP Motorsport | — | — |