Miami race officially delayed until 2020 (Update)
Sean Bratches postpones Miami F1 race until 2020
UPDATE Article updated with additional information and showing old CART circuit vs. new F1 circuit and the Bayfront Park controversy.
07/23/18
Statement from Sean Bratches, Managing Director of Commercial Operations at Formula 1:
"In the last few months we have worked diligently alongside our promoter Stephen Ross of RSE Ventures, the City of Miami and Miami Dade County, to realize our ambition to bring a Formula 1 Grand Prix to Miami, and we have made significant progress: however, these are complicated negotiations.
"Whilst our preference would have been to race in Miami in 2019, there was always a point by which delivering the best possible wheel-to-wheel racing experience for our fans, drivers and teams wouldn't be possible in the time available. We have now reached that point as far as racing in Miami in 2019 is concerned.
"However, we are taking a long-term view and as a result, we have decided, in consultation with the Miami authorities, to postpone sign-off until later in the summer, with the aim of running the first Formula 1 Miami Grand Prix in the 2020 season.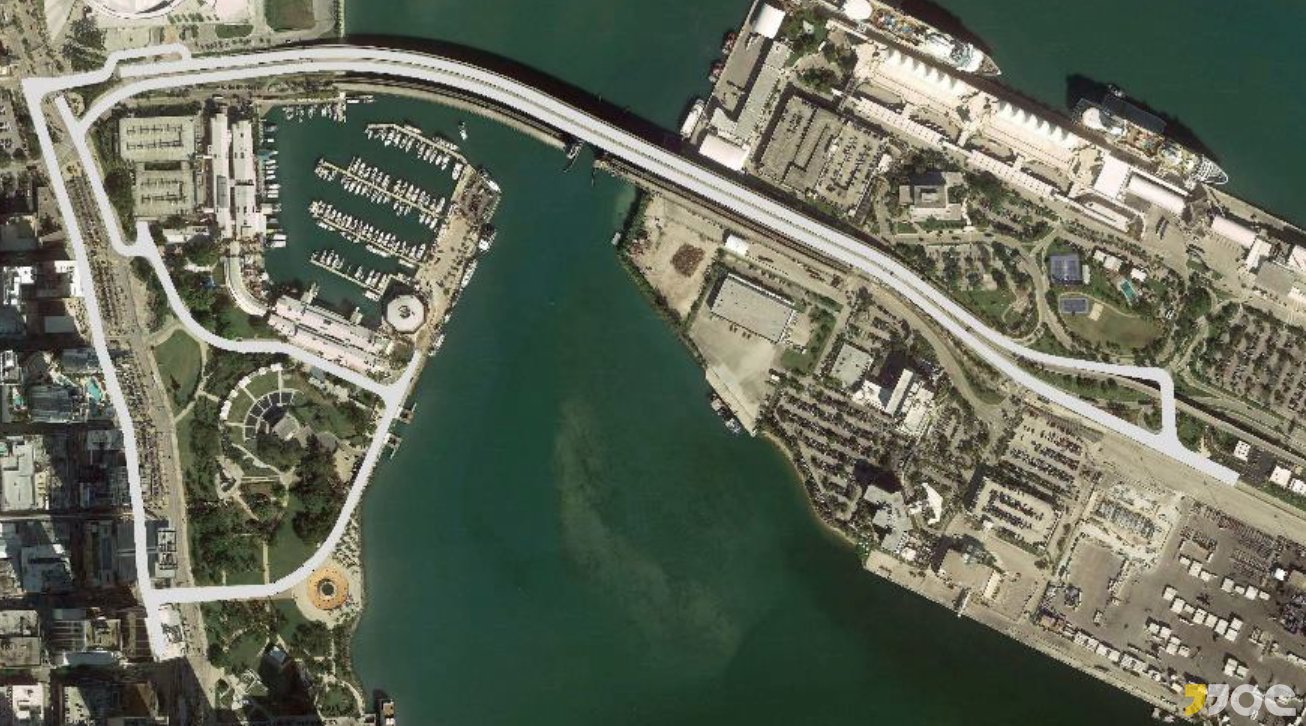 Proposed Miami Track
"We have always said that we wouldn't compromise on delivering the best possible race, for the people of Miami, our fans and the 1.8 billion people who watch F1 globally every year, and if that meant waiting until 2020, then that was far more preferable than signing off on a sub-optimal race track, just to do a deal.
"At every stage of this process we've enjoyed positive collaboration and co-operation with the City of Miami, Miami-Dade County, Port of Miami, Bayfront Parks Management, residents and businesses. As a result of these discussions, we have listened and adapted our plans, including elements of the track layout.
"We are committed to expansion in the US and to Miami in particular and we will be bringing our fantastic sport to this iconic city in October with the Formula 1 fan festival, where we look forward to engaging and exciting fans."
——-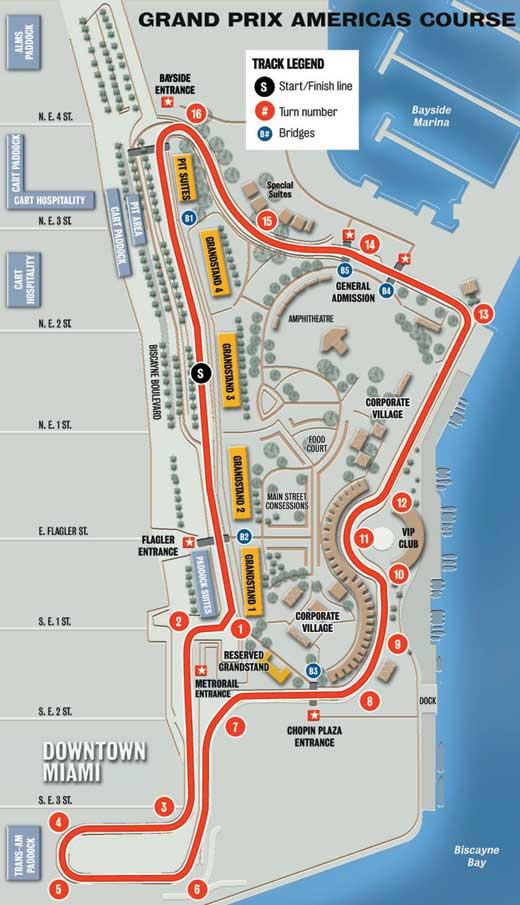 The path going through Bayfront Park actually follows part of the route taken by the old CART/Champ Car layout
A draft contract obtained by the Miami Herald through a public records request called for a 10-year deal with an option for a 10-year extension. If this provision were to remain and be approved by the commission in September, Grand Prix could run in downtown Miami through 2040.
Under terms of the draft agreement, Formula One would have access to the race site to make preparations for up to six months leading up to the event — likely a major bone of contention with residents upset they can't use the park when big events force closure.
This summer, residents have strongly condemned the use of Bayfront Park as a large event space, particularly for big concerts and other gatherings that require extended closures of the park for event organizers to set up and tear down. Citing these concerns and others, including the impact of excessive noise, Dubbin sent the city a cease-and-desist letter in June demanding the city stop negotiations with Formula One and end other massive events like Ultra Music Festival.
Nevertheless, Miami commissioners will still consider a new contract for Ultra at a meeting Thursday.
New details have emerged in recent days about the planning for the Miami race, but a City planning meeting due for July 26 will go ahead without the Grand Prix on the agenda. The next meeting is early in September – after the summer recess – and it is clear that this is too late to get things done in time for a fan event in October – and for a race in 2019.
According to the official papers released by the City of Miami, the deal will be a four-way contractual agreement between the City of Miami, the Bayfront Park Management Trust, South Florida Racing LLC (a company owned by billionaire real estate man Stephen Ross), and Formula One World Championship Ltd. The contract will be for 10 years with an option for another 10, which must be taken up by July 2026.
Back to 1983 when Ralph Sanchez put on the first sports car "Grand Prix", and the event used various different courses in the same district and continued until 1993 when the race switched to TransAm and then a year later to CART, the one-off race being won by Jacques Villeneuve. CART returned in 2002 and 2003 and ran two street races in the Bayfront Park area – see CART track to the right.