Courtney Force earns 300th Funny Car pole; Pritchett, Kramer, Krawiec go No. 1 in Denver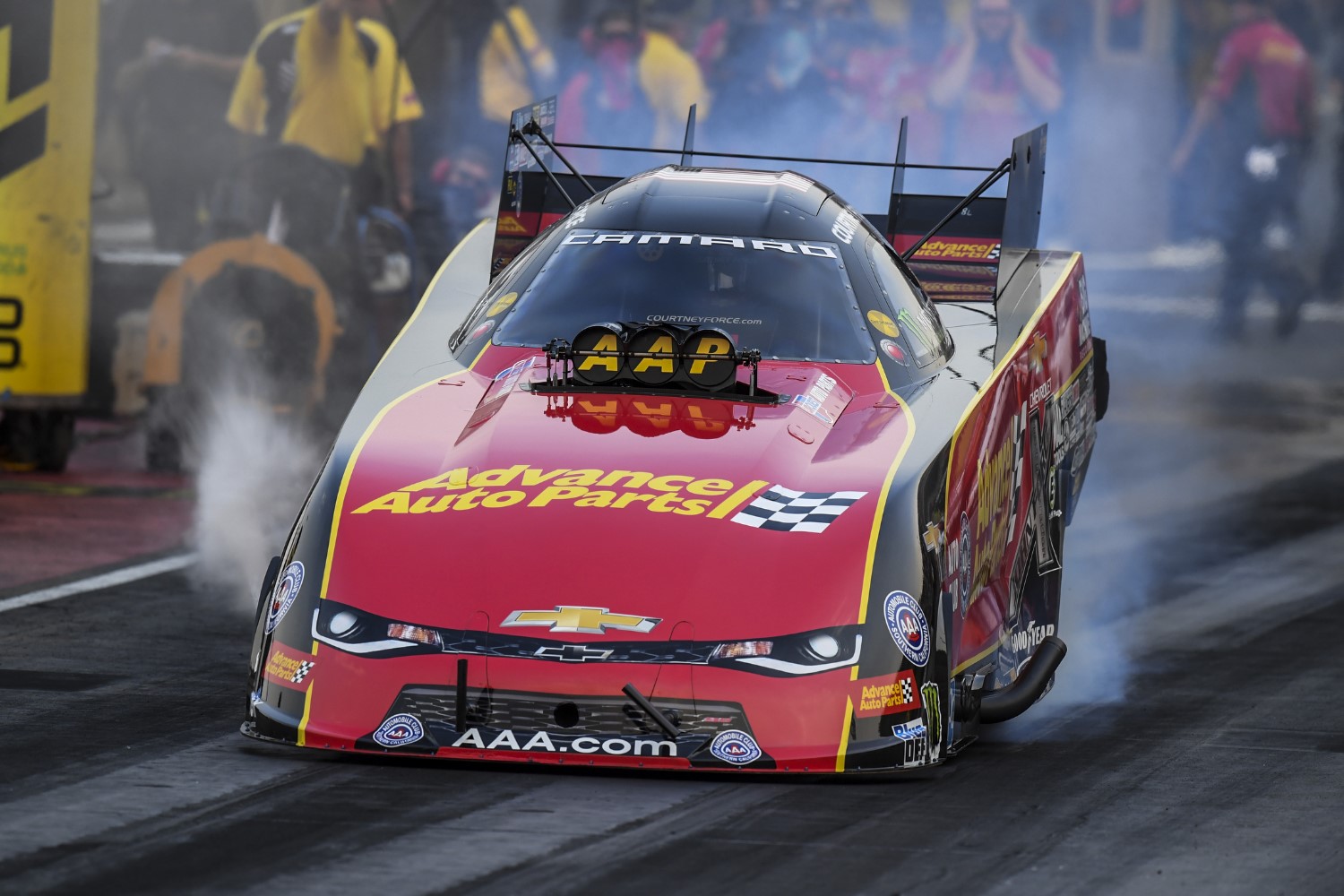 Courtney Force on pole for JFR
Courtney Force took home the 300th pole position for John Force Racing at the Dodge Mile-High NHRA Nationals, while Leah Pritchett (Top Fuel), Deric Kramer (Pro Stock) and Eddie Krawiec (Pro Stock Motorcycle) earned No. 1 qualifiers in Denver.
Leah Pritchett raced to her third No. 1 qualifying position of the season at the Dodge Mile-High NHRA Nationals and set the Top Fuel track speed record during her final qualifying pass on Saturday at Bandimere Speedway.
Courtney Force (Funny Car), Deric Kramer (Pro Stock), and Eddie Krawiec (Pro Stock Motorcycle) are also No. 1 qualifiers in their respective categories at the 14th of 24 events on the 2018 NHRA Mello Yello Drag Racing Series schedule.
Pritchett earned her second consecutive No. 1 with a run of 3.799-seconds at 327.19 mph in her Mopar Dodge 1320 dragster as she prepares for Terry Totten in eliminations. This is her 10th career No. 1, she has one win this season, one runner-up finish and is fourth in points. She was the No. 1 qualifier at this event last season and raced to a runner-up finish.
"We were putting the coals to it for sure, licking our chops," said Pritchett. "We are on the mountain and this is our sponsor's race, and we are giving it everything we got. We got a new front half on our dragster and I'm sure glad we did. About halftrack I wasn't sure if the front wheels were on the ground that thing was dancing, dancing, and dancing. I knew we were cooking it and getting it."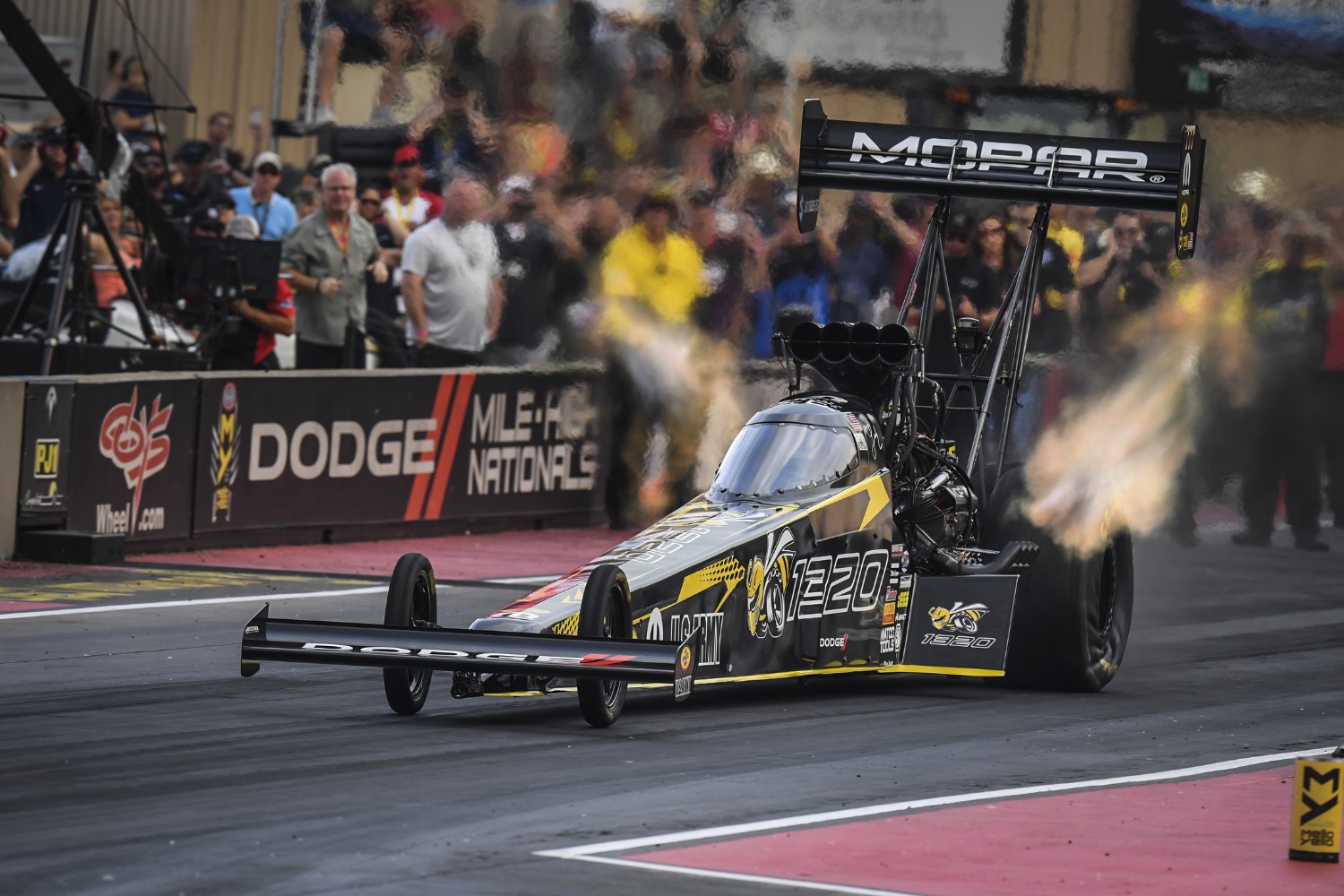 Leah Pritchett
Brittany Force qualified second and will face Jim Maroney and points leader Steve Torrence is third and will race Bill Litton.
C. Force was able to improve on her qualifying from Friday night and earned her ninth No. 1 of the season in her final pass of the evening with a run of 3.949 at 309.91 in her Advance Auto Parts Chevrolet Camaro. She is the currents points leader and will face Terry Haddock in the first round.
"It felt awesome and we had nothing to lose," said Force. "We were watching the cars ahead of us and knew that it would be my dad to take us out of the top spot or we would improve. It was a solid pass for us and we picked up a number of bonus points."
Kramer, a resident of Sterling, Colo., earned his first No. 1 qualifying position at his home track of Bandimere Speedway with his pass of 6.929 at 197.57 during the final qualifying session in his American Ethanol Chevrolet Camaro. This is his third No. 1 of the season, his last coming in Topeka where he parlayed it to his first national event victory. He will square off against Alan Prusiensky in eliminations.
"It is a great feeling coming at your home track and doing as good as we did today," said Kramer. "I have a ton a laps here so I feel that probably helped a little bit. It was a lot of fun and something that I will remember for a long time."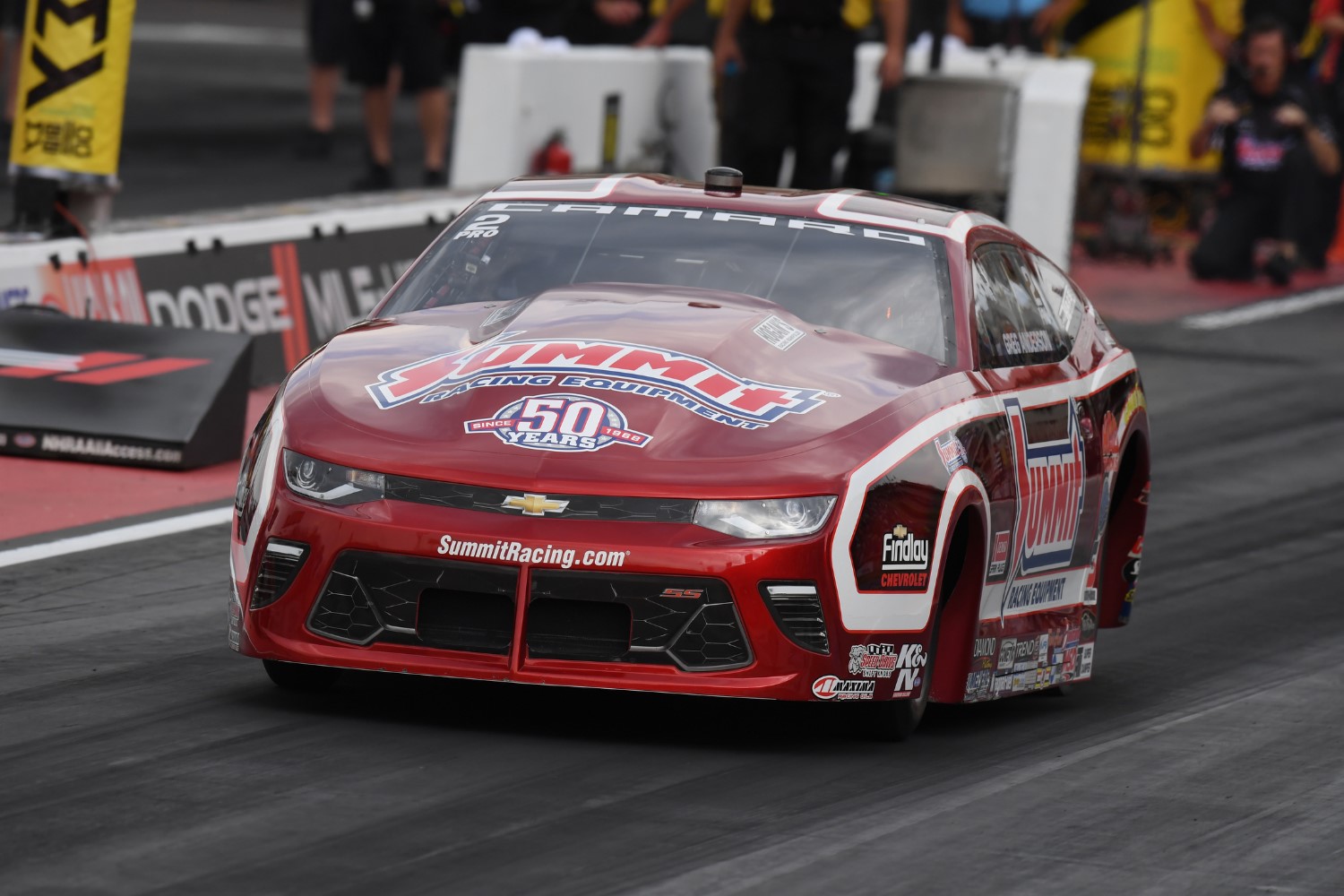 Greg Anderson
Greg Anderson, who is searching for his first win of the season, is second with his run of 6.930 at 196.70 and will face Joey Grose, while points leader Erica Enders is eighth and will face Chris McGaha.
Krawiec earned his first No. 1 qualifying position of the season and 40th of his career on his Screamin' Eagle Vance & Hines Harley-Davidson with his run of 7.111 at 187.03 during the first session on Saturday. His elapsed time bettered the track record he set during qualifying on Friday. Krawiec has three wins on the season and is the current points leader. He will face Karen Stoffer in the first round on Sunday.
"I got a good bike and we went .711 both laps today and I think that is something to say about how good the program is being very consistent," said Krawiec. "It makes me feel comfortable going into raceday, we have a good setup for both lanes no matter what, and I have a very consistent motorcycle."
Hector Arana Jr. qualified second and will face Ryan Oehler and Andrew Hines is third matching up with Joey Gladstone.
Eliminations begin at 11:00 a.m. ET on Sunday at Bandimere Speedway.