McLaughlin returns to winning ways in Ipswich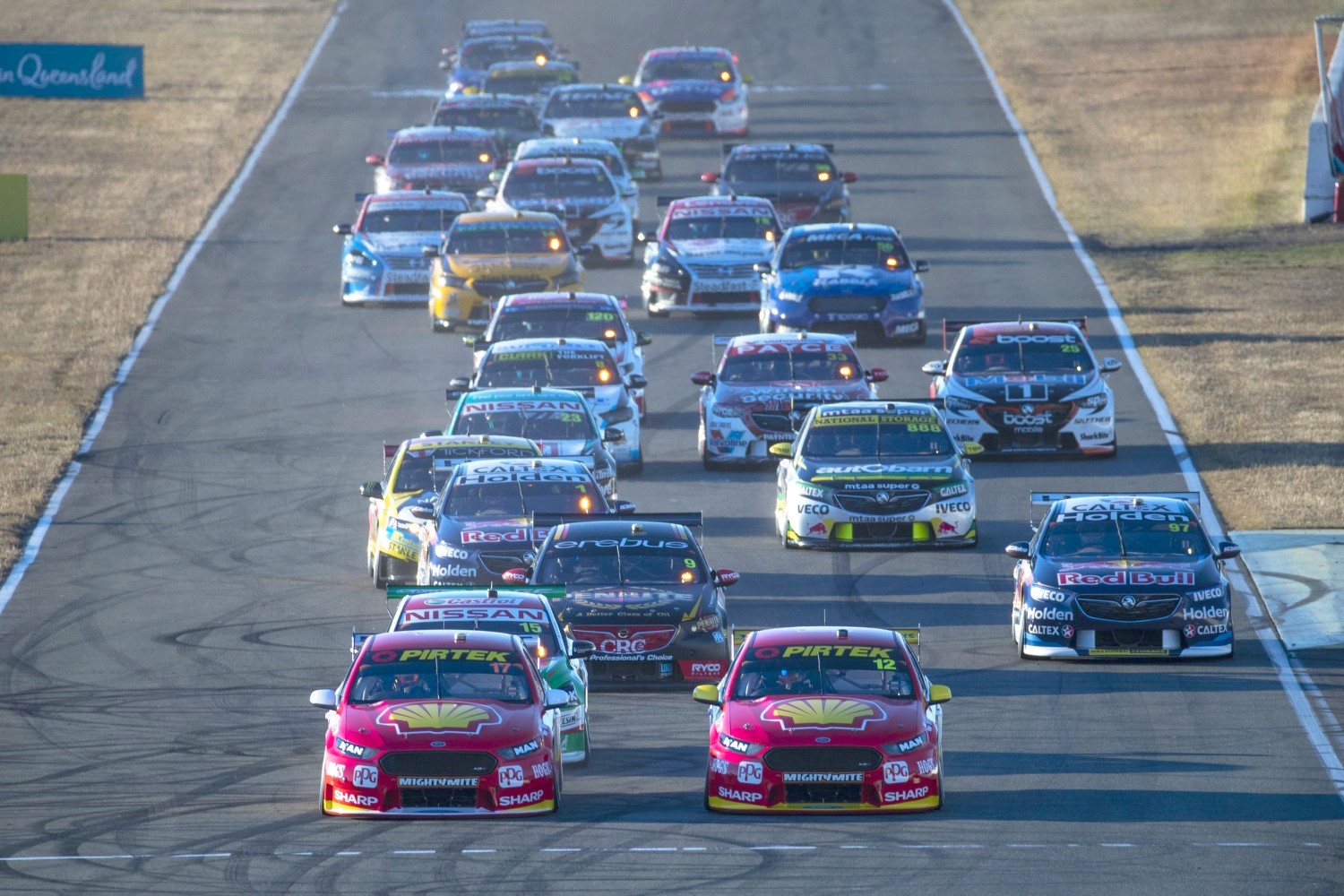 The powerful Penske Fords blow to the front at the start, never to be headed
Scott McLaughlin continued his love affair with Queensland Raceway in a Kiwi 1-2 ahead of the people's favorite at the Coates Hire Ipswich SuperSprint
McLaughlin maintained his Championship buffer with the victory ahead of Shane van Gisbergen with his seventh win of the season, built by his ninth ARMOR ALL Pole Position.
But he couldn't shake Van Gisbergen to the line in what is a critical period of the Championship heading into the unknown of the first Supercars night race in two decades at Sydney Motorsport Park; and a longer race ahead tomorrow.
"That was awesome, thanks to everyone here," said McLaughlin who is rapidly approaching Craig Lowndes as the sport's most popular figure.
"(Having) the number 17 (of Dick Johnson) in Queensland is very cool. It was a bloody good stop by my guys, they gave me an awesome car all day so I am just happy to reward them.
"Gizzy must have had a monster for lap. I saw him in third I thought 'this guy is on fire'. Fantastic job from him, we will go hard tomorrow."
The retiring Lowndes held on for another Ipswich podium in his second last race at the track. Lowndes just fended off Jamie Whincup on the finish line.
"We just had enough," Lowndes said. "Jamie had the side slipstream (on the last corner) and it was like hitting a brick wall. We crossed just in front. We got out of (turns) three and five and I am 'yes, yes, yes, come on'. It was really close on the line. Hopefully we can do it again tomorrow."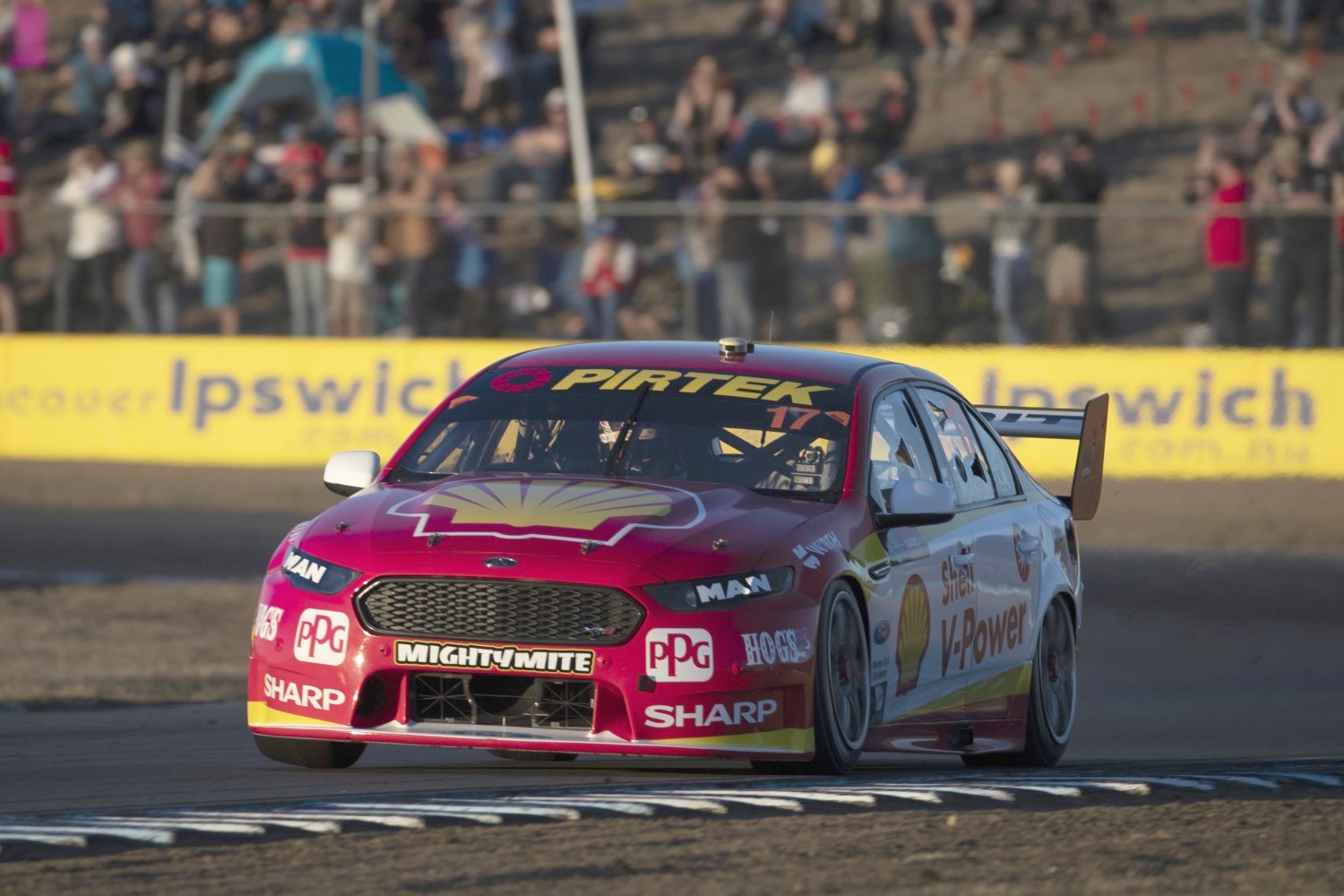 Scott McLaughlin walks away
Whincup now moves back into third in the standings ahead of Erebus driver David Reynolds.
Fabian Coulthard was elevated to the front row of the grid following a penalty for Chaz Mostert for impeding Van Gisbergen and found guilty of careless driving. Mostert was penalized three grid spots which moved him to fifth on the grid.
The penalty elevated Coulthard beside his Shell V-Power team-mate on the front row of the grid.
Van Gisbergen blasted off the start line from eighth to fourth with a blistering jump, then rounded up Rick Kelly for third. But McLaughlin and Coulthard got the jump on the field early.
Van Gisbergen got around Coulthard for second on lap 12 with a clearly fast car, and began the pursuit of McLaughlin. Mostert elected for an early stop after a belt from Jamie Whincup, the stop putting the Ford pilot into second behind McLaughlin.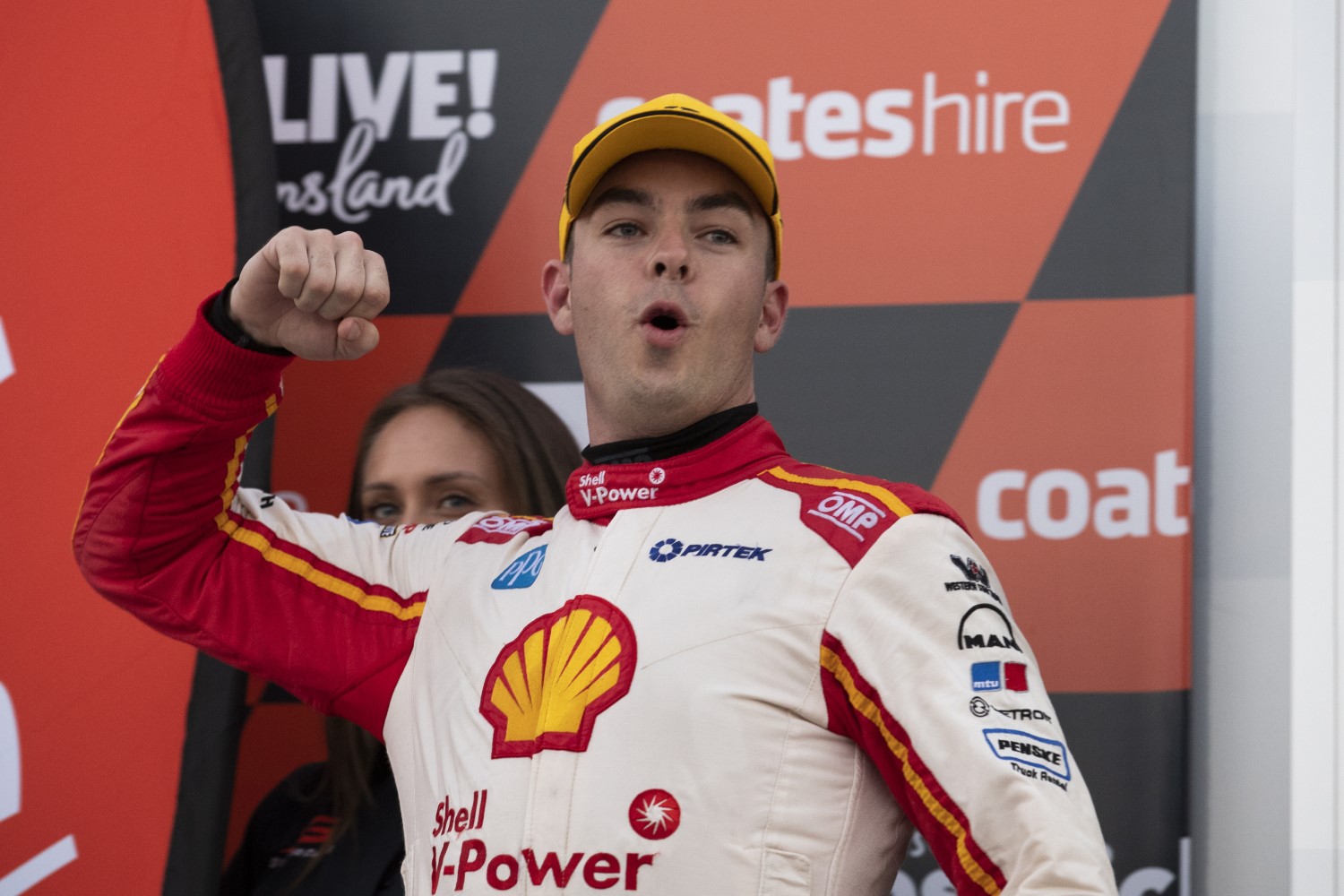 Scott McLaughlin
"I just dropped the clutch and away it went," Van Gisbergen said. "It was a really cool first lap, there was lots of room given and good racing. It was a great battle with Fabian and Craig after that but Scotty was gone by then."
Lowndes did the same, popping out in third after the compulsory stop. Mostert suffered from fading tires from stopping early in the second half of the race.
Mostert was the best of the rest in sixth, finishing just ahead of Reynolds, James Courtney and the top Nissan of Michael Caruso.
Nick Percat rounded out the top 10, from Garth Tander, lead rookie Richie Stanaway and Kelly, whose slower stop proved costly to finish 13th.
Todd Hazelwood was the only driver to strike serious trouble, losing five laps in pitlane with a starter-motor problem.
Results
| | | | | |
| --- | --- | --- | --- | --- |
| POS | No. | DRIVER | TEAM | BEHIND |
| 1 | 17 | McLaughlin T. D'Alberto | Shell V-Power Racing Team | 46:40.818 |
| 2 | 97 | Van Gisbergen P. Dumbrell, R. Ingall | Red Bull Holden Racing Australia | +4.316 |
| 3 | 888 | Lowndes S. Richards | Team Vortex | +5.830 |
| 4 | 1 | Whincup P. Dumbrell | Red Bull Holden Racing Australia | +5.872 |
| 5 | 12 | Coulthard T. D'Alberto | Shell V-Power Racing Team | +8.505 |
| 6 | 55 | Mostert D. Canto, Moffat | Supercheap Auto Racing | +14.069 |
| 7 | 9 | Reynolds W. Brown, L. Youlden | Erebus Motorsport | +14.285 |
| 8 | 25 | Courtney J. Perkins, W. Luff | Mobil 1 Boost Mobile Racing | +14.504 |
| 9 | 23 | Caruso D. Fiore, A. Rullo | Nissan Nismo | +14.894 |
| 10 | 8 | Percat M. Jones, Walsh | Brad Jones Racing | +16.633 |
| 11 | 33 | Tander C. Pither | Wilson Security Racing GRM | +19.797 |
| 12 | 56 | R. Stanaway S. Owen | Tickford Racing | +21.087 |
| 13 | 15 | R. Kelly A. Russell, G. Jacobson | Nissan Motorsport | +21.422 |
| 14 | 14 | Slade M. Jones, Walsh | Brad Jones Racing | +21.716 |
| 15 | 7 | Heimgartner A. Russell, G. Jacobson | Nissan Motorsport | +21.986 |
| 16 | 2 | S. Pye J. Perkins, W. Luff | Mobil 1 Boost Mobile Racing | +22.555 |
| 17 | 120 | Davison A. Davison | Milwaukee Racing | +22.649 |
| 18 | 34 | J. Golding C. Pither | Wilson Security Racing GRM | +23.511 |
| 19 | 78 | S. De Silvestro D. Fiore, A. Rullo | Nissan Nismo | +23.989 |
| 20 | 5 | Winterbottom D. Canto, Moffat | The Bottle-O Racing Team | +24.228 |
| 21 | 19 | J. Le Brocq J. Webb | TEKNO Woodstock Racing | +24.556 |
| 22 | 6 | C. Waters D. Russell | Monster Energy Racing | +32.311 |
| 23 | 21 | Blanchard Wood | CoolDrive Racing | +37.135 |
| 24 | 18 | Holdsworth M. Brabham | Preston Hire Racing | +37.199 |
| 25 | 42 | K. Kostecki | Arcoplate Racing | +38.200 |
| 26 | 99 | A. de Pasquale W. Brown, L. Youlden | Erebus Motorsport | +1:01.554 |
| 27 | 35 | T. Hazelwood B. Fullwood | Bigmate Racing | +5 Laps |