IMSA Lime Rock Friday Notebook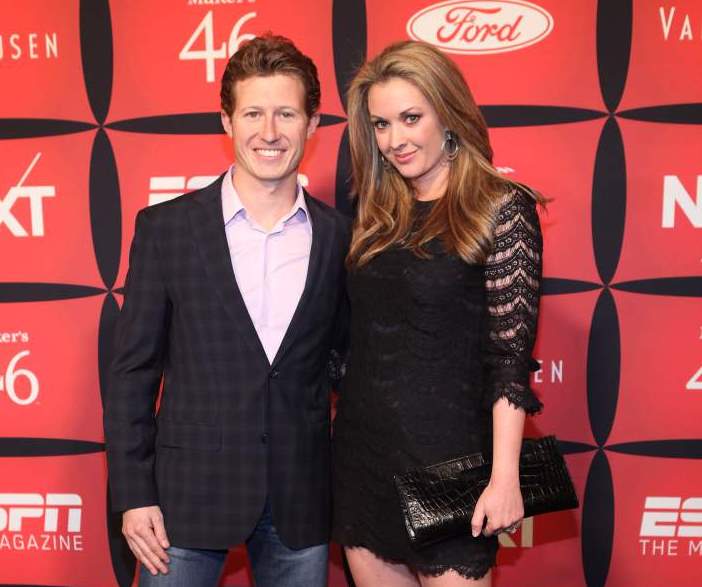 Ryan Briscoe (L) and his wife
Ryan Briscoe Hoping For Advantage At "Demanding" Home Circuit
In stick and ball sports, you often hear the term "home-field advantage." This weekend at Lime Rock Park, Ryan Briscoe hopes to ride "home-track advantage" to victory lane, but admits that benefit for him is a bit different.
Despite living approximately one hour from the track in nearby Farmington, Conn., Briscoe – who moved to Connecticut in 2015 – rarely gets to Lime Rock outside of the IMSA weekend. That doesn't mean, however, the GTLM points leader doesn't get a boost from racing near home.
"This week I'll commute back and forth from home and sleep in my own bed," he said.
As simple as that may seem, every bit of an advantage helps as he looks to put the No. 67 Ford GT in victory lane for the second consecutive race and extend his points lead alongside co-driver Richard Westbrook in the process. Especially at a track as demanding as Lime Rock.
"It's a tough race, the lap is so short it really makes it physically demanding," Briscoe added. "It's just busy, you're always fighting traffic whether it's in your class or in the GTD class. It's nonstop and physically and mentally draining."
In addition to sleeping in his own bed, Briscoe's home-track advantage includes having a section of friends and family cheering him on. That would make a third victory at Lime Rock – he won in 2007 and 2013 in the American Le Mans Series – that much sweeter.
As would one more detail.
"I haven't won here as a local, so I still need to do that."
Laly Celebrating 25 Years At Lime Rock Park
Long before Andy Lally established himself as one of the top drivers in IMSA history, the Long Island, New York, native was earning his stripes at Lime Rock Park. Now, 25 years after turning his first laps at the Connecticut bullring, Lally returns to Lime Rock this weekend tied as the winningest active driver at the track.
"I took my Skip Barber school in 1993 and it's been a fun ride ever since," said Lally, who has amassed 34 career IMSA wins, tied for 14th on the all-time wins list. "I've also had a lot of success at regional and national races here before I got into pro racing."
Lally has four IMSA wins at Lime Rock spanning 15 years, with his first coming in 2001 in the GRAND-AM SRPII class. His most recent win came two years ago with the same team and car he's entered with this weekend – the No. 44 Magnus Racing Audi R8 LMS GT3 with co-driver John Potter.
Corvette Racing's Oliver Gavin and Wright Motorsports' Patrick Long also have four Lime Rock wins.
"This really is a bullring and you treat it like a short-track stock car race," said Lally. "You can't shy away from contact because passing chances are limited and sometimes you have to force the issue to make it happen."
Were Lally to win this weekend, not only would he move into sole possession of first on the Lime Rock wins list, but he would also pass two legends on the IMSA all-time wins list: David Brabham and Hurley Haywood.
Porsches Lead The Way In Opening Day Of WeatherTech Championship Practice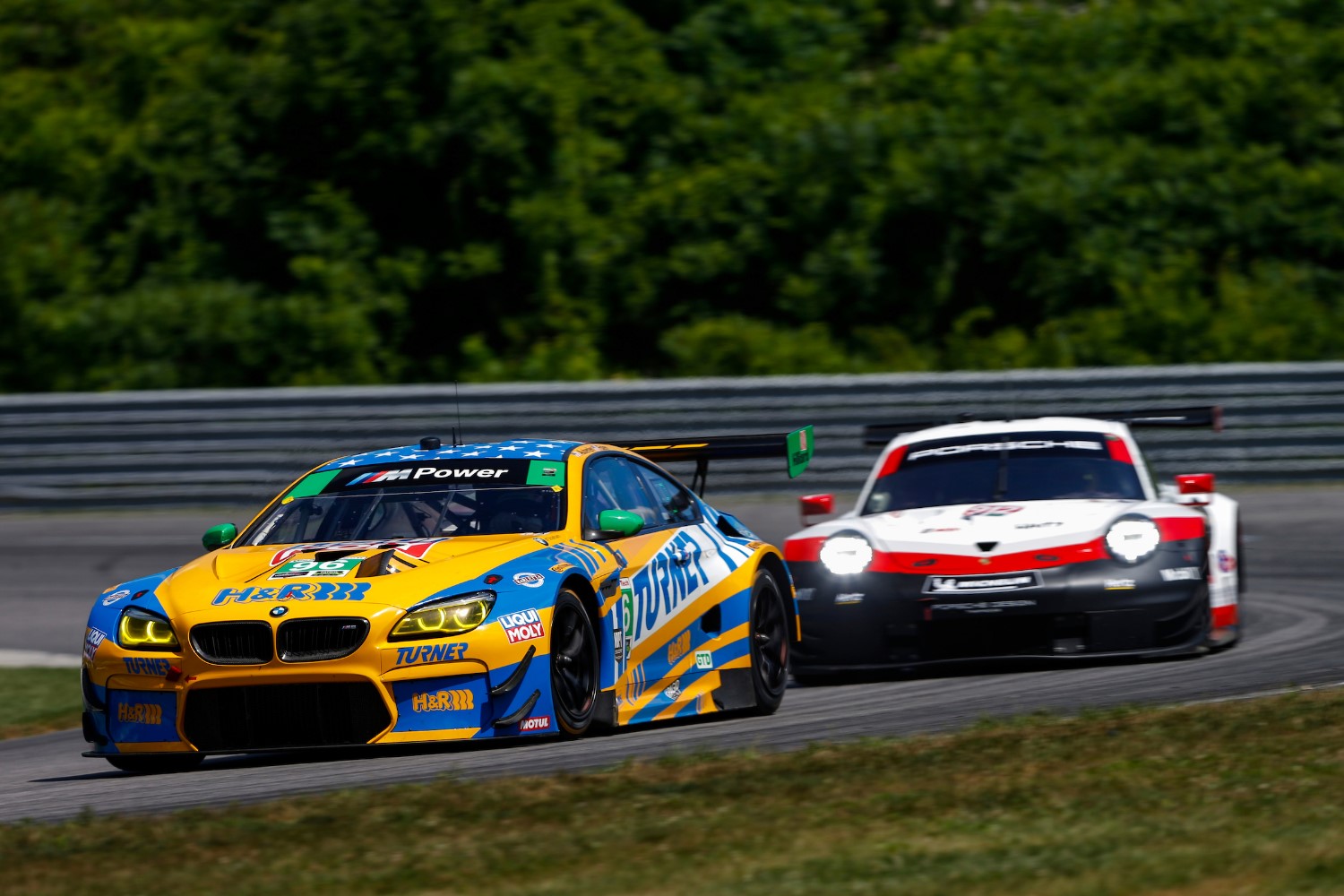 The 911 Porsche gets ready to dust the #96 Turner BMW
If Friday's trio of IMSA WeatherTech SportsCar Championship GT Le Mans (GTLM) and GT Daytona (GTD) practice sessions are any indication, Saturday's Northeast Grand Prix is anybody's race. In both classes, each of the day's three sessions were led by a different manufacturer.
In GTLM, the No. 911 Porsche 911 RSR of Patrick Pilet set the day's fastest lap of 50.414 seconds (105. 256 mph) in the final session. Dirk Mueller in the No. 66 Ford Chip Ganassi Racing Ford GT led the first practice with a lap of 50.924 (104.202 mph), while Antonio Garcia topped the charts in Practice 2 at 50.939 (104.171 mph) in the No. 3 Corvette Racing Corvette C7.R.
"Last year we had a great performance on this track," said Pilet. "We expected the same this year, but the track is a lot different. Each session we tried to improve the car and it was good in the last session. Now we need to find the right setup for qualifying and the race."
The parity in the class mirrors a tight GTLM points race with just five races remaining. The top six teams are separated by a mere 15 points entering Lime Rock, led by the No. 67 Ford Chip Ganassi Racing Ford GT team of Ryan Briscoe and Richard Westbrook.
Much like the GTLM class, three different teams led the way on Friday in the GTD class with Patrick Long unofficially setting the track record in the day's final session with a lap of 51.754 (102.530 mph) in the No. 58 Wright Motorsports Porsche 911 RSR. Kyle Marcelli led the way in Practice 1 with a lap 52.303 (101.454 mph) in the No. 14 Lexus RC F GT3, while Andy Lally led Practice 2 with a time of 52.140 (101.771 mph) in the No. 44 Magnus Racing Audi LMS GT3.
Saturday's Northeast Grand Prix begins at 3 p.m. ET and will be televised on a delayed basis starting at 4 p.m. ET on FS1. The race will be carried live by IMSA Radio on IMSA.com, RadioLeMans.com and SiriusXM Radio (Sirius 138/XM 202/App 972).