AutoNation's Mike Jackson inducted into HoF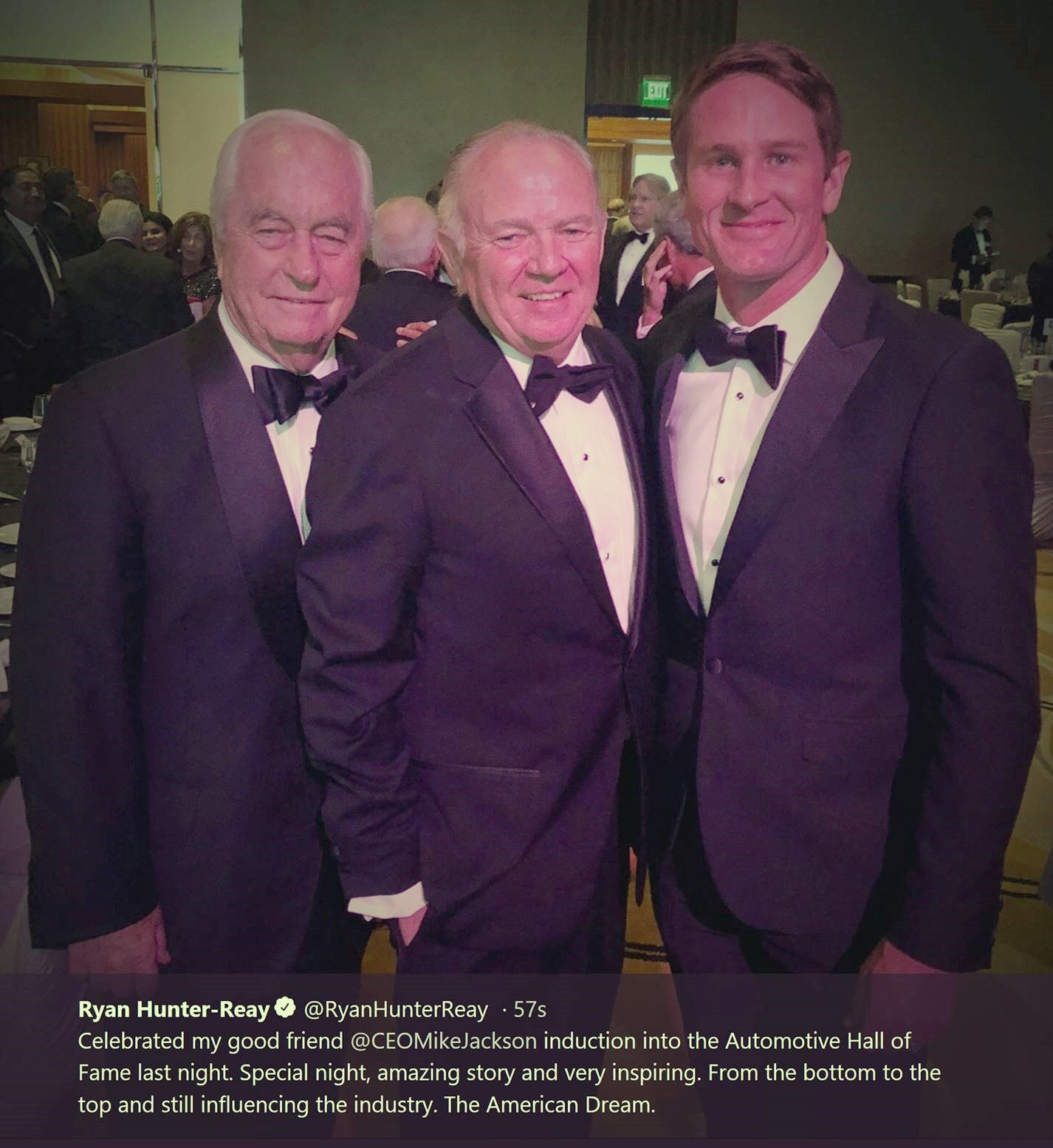 Roger Penske, Mike Jackson and Ryan Hunter-Reay at the induction.
Mike Jackson, CEO of AutoNation, and good friends with Ryan Hunter-Reay was inducted into the Automotive Hall of Fame this week.
Ryan, and his wife Beccy were honored to be invited to sit at Mr. Jackson's table, with his wife Alice, and Mr. and Mrs. Penske for Mr. Jackson's induction.
AutoNation is an Associate Sponsor of Andretti Autosport #28 IndyCar and a personal sponsor of RHR.
—–
Tributes by Dieter Zetsche (CEO Mercedes), Sergio Marchionne (CEO Fiat), etc.
Considered the single greatest honor in the automotive industry, induction into the Automotive Hall of Fame is reserved for noteworthy individuals who have made significant contributions to the industry.
https://www.youtube.com/watch?v=xCMQyB0E2dE
http://www.automotivehalloffame.org/honoree/mike-jackson/
Inductees and Honorees;
http://www.automotivehalloffame.org/inductees-other-honorees/?type=inducted
Some of the other inductees Mr. Jackson Joins:
Giovanni Agnelli | Mario Andretti | Walter Bentley | Carl Benz | Robert Bosch | Ettore Bugatti | Louis Chevorlet | Walter Chrysler | Andre Citroen | Gottlieb Daimler | John Dodge | Fred Duesenberg | Dale Earnhardt | Enzo Ferrari | Harvey Firestone | Henry Ford | AJ Foyt | Bill France | Andy Granatelli | Dan Gurney | Phil Hill | Soichiro Honda | Wayne Huizenga | Lee Iacocca | Roger Penske | Edouard Michelin | Luca Di Montezemolo | Jim Moran | James Packard | Richard Petty | Ferdinand Porsche | Jack Roush | Carroll Shelby | Sir Jackie Stewart | Harry Stutz | Ratan Tata | Mickey Thompson | Eiji Toyoda |