Ricciardo tops opening German GP practice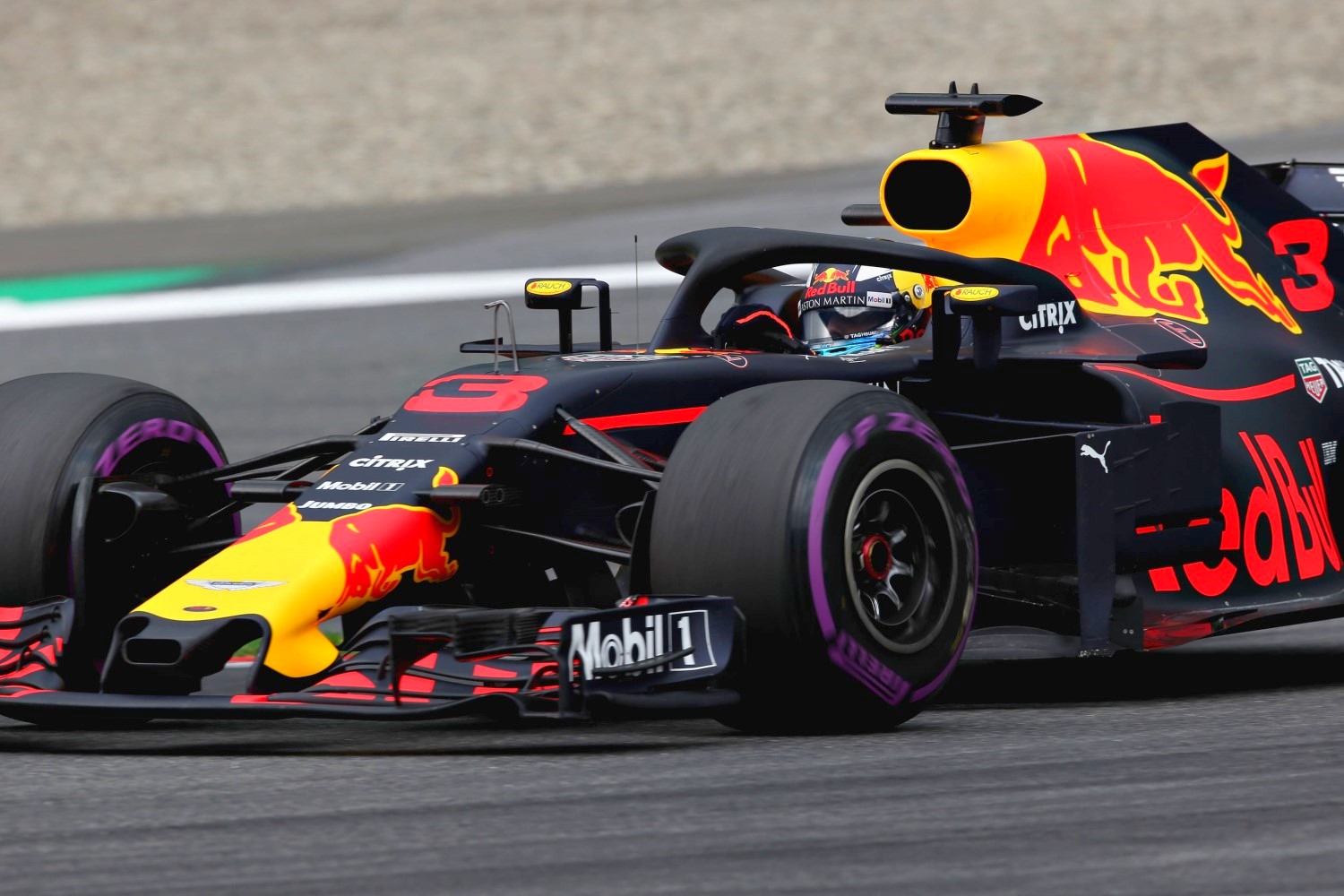 Daniel Ricciardo
With the top-5 drivers tightly bunched, Daniel Ricciardo, who faces a grid penalty, topped the opening practice session for the German GP at Hockenheim by just 0.004s over Lewis Hamilton. Most times were set on the Supersoft tires, while Ferrari opted only to run the soft compound tire and thus haven't revealed their true pace just yet.
Over a warm and sunny 90 minutes there was little to choose between the top three teams, with only 0.7s covering the top six drivers. The newly-confirmed-for-2019 Valtteri Bottas took fifth for Mercedes, with fellow Finn Kimi Raikkonen sixth for Ferrari.
Haas were best of the rest, just over a second off the leading pace, with Romain Grosjean heading team mate Kevin Magnussen. Sauber's Charles Leclerc and Renault's Nico Hulkenberg completed the top ten.
The Australian will start Sunday's race in Hockenheim from the back of the grid after Red Bull opted to change a number of power unit components on his car, exceeding his limit for the season and leading to a string of penalties.
Ahead of Friday's opening practice session, the FIA confirmed that Ricciardo's RB14 had been fitted with a new MGU-K, control electronics and energy store.
The rules say that drivers are permitted to use only two of each of the aforementioned parts per season, and Ricciardo has exceeded the limit on all three, sending him automatically to the back of the field.
Red Bull have opted to take the penalties in Germany in anticipation for next week's Hungarian Grand Prix, a race in which the Milton Keynes team are expected to be more competitive due to the twisting nature of the Hungaroring layout.
Ricciardo admitted on Thursday that he had expected to take the penalties this weekend, given there are plenty of opportunities for overtaking at the Hockenheimring.
He said: "You can overtake so if we do have the penalties and start towards the back, I'll stay positive and know that there will be some good overtaking.
"Ideally we win next weekend [in Hungary] and suck it up here."
Results
| | | | | | | |
| --- | --- | --- | --- | --- | --- | --- |
| POS | NO | DRIVER | CAR | TIME | GAP | LAPS |
| 1 | 3 | Daniel Ricciardo | Red Bull Racing TAG Heuer | 1:13.525 | +0.000s | 22 |
| 2 | 44 | Lewis Hamilton | Mercedes | 1:13.529 | +0.004s | 29 |
| 3 | 33 | Max Verstappen | Red Bull Racing TAG Heuer | 1:13.714 | +0.189s | 34 |
| 4 | 5 | Sebastian Vettel | Ferrari | 1:13.796 | +0.271s | 23 |
| 5 | 77 | Valtteri Bottas | Mercedes | 1:13.903 | +0.378s | 30 |
| 6 | 7 | Kimi Räikkönen | Ferrari | 1:14.267 | +0.742s | 24 |
| 7 | 8 | Romain Grosjean | Haas Ferrari | 1:14.691 | +1.166s | 29 |
| 8 | 20 | Kevin Magnussen | Haas Ferrari | 1:14.853 | +1.328s | 28 |
| 9 | 16 | Charles Leclerc | Sauber Ferrari | 1:15.097 | +1.572s | 25 |
| 10 | 27 | Nico Hulkenberg | Renault | 1:15.282 | +1.757s | 32 |
| 11 | 11 | Sergio Perez | Force India Mercedes | 1:15.415 | +1.890s | 29 |
| 12 | 14 | Fernando Alonso | McLaren Renault | 1:15.544 | +2.019s | 13 |
| 13 | 18 | Lance Stroll | Williams Mercedes | 1:15.629 | +2.104s | 32 |
| 14 | 55 | Carlos Sainz | Renault | 1:15.769 | +2.244s | 10 |
| 15 | 28 | Brendon Hartley | Scuderia Toro Rosso Honda | 1:15.864 | +2.339s | 36 |
| 16 | 35 | Sergey Sirotkin | Williams Mercedes | 1:15.876 | +2.351s | 34 |
| 17 | 34 | Nicholas Latifi | Force India Mercedes | 1:16.023 | +2.498s | 27 |
| 18 | 10 | Pierre Gasly | Scuderia Toro Rosso Honda | 1:16.071 | +2.546s | 32 |
| 19 | 36 | Antonio Giovinazzi | Sauber Ferrari | 1:16.136 | +2.611s | 23 |
| 20 | 2 | Stoffel Vandoorne | McLaren Renault | 1:16.149 | +2.624s | 14 |