Van Gisbergen quickest and Mostert finds form during practice at Ipswich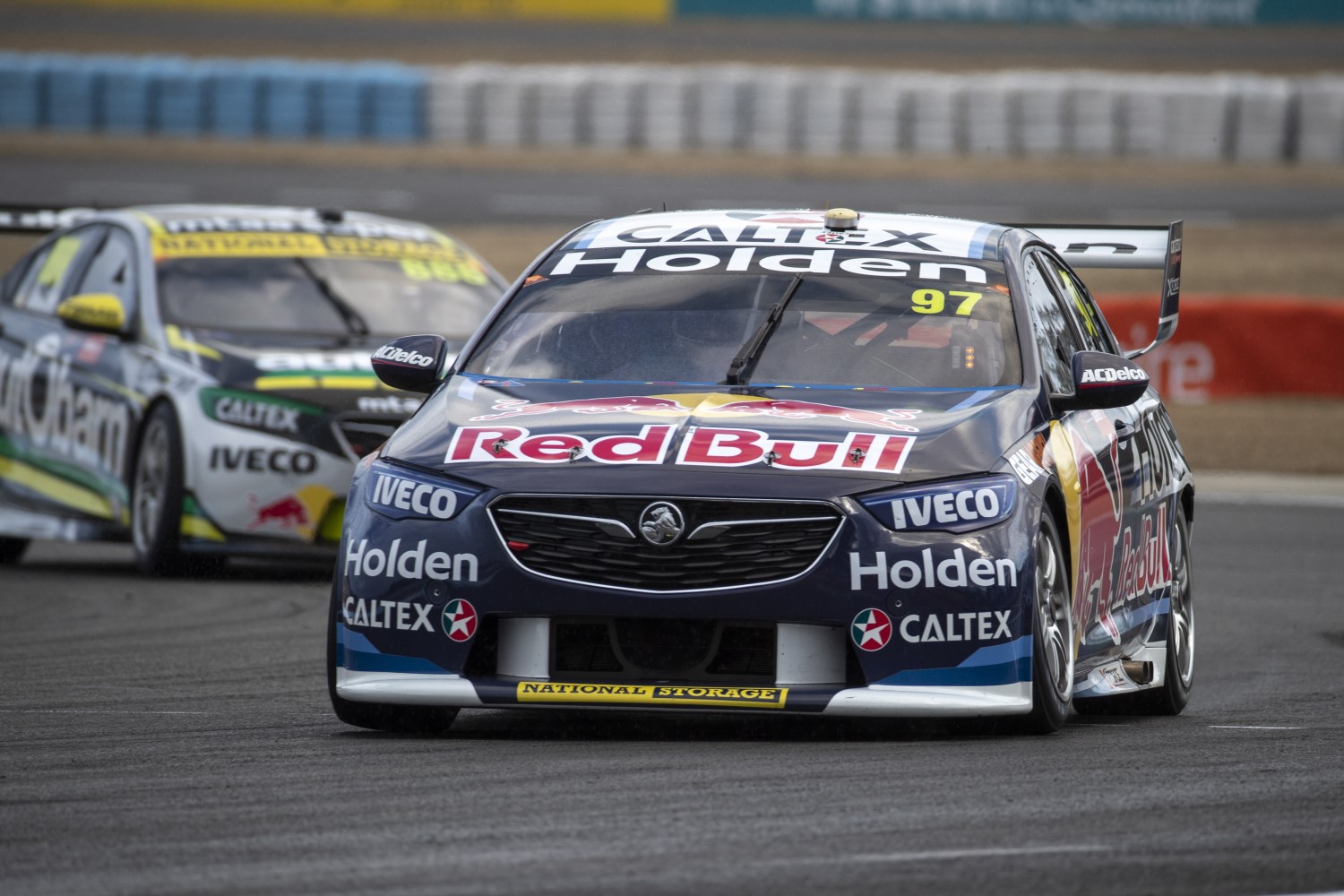 Shane van Gisbergen
Chaz Mostert is optimistic he has unearthed a flicker of hope for his Ford team with one of the strongest results from a disappointing Supercars season to date.
The young Supercheap Auto racer has had a lean year, along with the rest of his Tickford team, of struggling for results. Despite the year, however, Mostert is still ninth in the Championship.
But a third in practice behind Championship contenders Shane van Gisbergen and Fabian Coulthard at the Coates Hire Ipswich SuperSprint has the smile back on his face.
Mostert was part of an intriguing final practice session in which three of the four Tickford Falcons landed inside the top ten with Mark Winterbottom fifth in the Bottle-O entry and Richie Stanaway tenth in the Rabble Racing Ford.
"This year it's not been very often we have finished up the pointy end in practices or anything," Mostert said. "We are a little nervous about being here but we are pretty critical of ourselves; always conscious of doing a better job."
Equally it was a solid return to the top three for Fabian Coulthard in the DJR Team Penske Falcon with second today having been a little in the shadow of Scott McLaughlin this season so far. McLaughlin sat in 12th today.
McLaughlin missed the end of the session with his out-of-fuel Falcon stopped on track.
Mostert record his first career win at Queensland Raceway in 2013 as a latecomer to Dick Johnson Racing. He backed that up with two wins in Ipswich in 2015.
"I obviously had my first win here in '13 and a few in '15 so it's good the car seems pretty pacey and similar to those years," he said.
"It's good to come to a track where we have got previous history of going well. If we can stay up in that top five it would be awesome. The car is doing what I want it to. Who know what everyone else did but we will just focus on ourselves for tomorrow."
The Nissan form surge continued through Rick Kelly who popped into fourth late in the session while Simona de Silvestro also sat in fourth until the final laps, finishing a credible 11th three-tenths of a second behind Van Gisbergen.
"We tried something today that we have always debated so it's good to be quick, I am pretty happy with that," De Silvestro said.
"The car feels really balanced. It's getting there, two-tenths to Rick (Kelly) so we have got to find those but I am pretty happy the team is working well.
"I feel comfortable in the race car but the results are not showing it. I have felt good so far but have never really nailed it. It's about extracting that little bit which Rick has done in the last few rounds."
Van Gisbergen and Coulthard were sixth and 15th when the checkered flag came out, then vaulted up to first and second.
The Red Bull Holden's 1:09.2447s was the best of Friday's 90 minutes of running. Coulthard was van Gisbergen's closest challenger, 0.0838s adrift, with the top 25 drivers covered by 0.7265s.
Final practice will begin at 11:20am tomorrow morning before the opening ARMOR ALL Qualifying of the weekend at 1:25pm AEST.
Practice 2 Results
| | | | | | | |
| --- | --- | --- | --- | --- | --- | --- |
| POS | No. | DRIVERS | TEAM | BEST LAP | GAP | LAPS |
| 1 | 97 | Van Gisbergen P. Dumbrell, R. Ingall | Red Bull Holden Racing Australia | 1:09.245 | +0.000 | 21 |
| 2 | 12 | Coulthard T. D'Alberto | Shell V-Power Racing Team | 1:09.329 | +0.084 | 22 |
| 3 | 55 | Mostert D. Canto, Moffat | Supercheap Auto Racing | 1:09.364 | +0.119 | 18 |
| 4 | 15 | R. Kelly A. Russell, G. Jacobson | Nissan Motorsport | 1:09.395 | +0.150 | 18 |
| 5 | 5 | Winterbottom D. Canto, Moffat | The Bottle-O Racing Team | 1:09.431 | +0.187 | 21 |
| 6 | 1 | Whincup P. Dumbrell | Red Bull Holden Racing Australia | 1:09.486 | +0.242 | 22 |
| 7 | 9 | Reynolds W. Brown, L. Youlden | Erebus Motorsport | 1:09.489 | +0.244 | 15 |
| 8 | 23 | Caruso D. Fiore, A. Rullo | Nissan Nismo | 1:09.495 | +0.251 | 19 |
| 9 | 888 | Lowndes S. Richards | Team Vortex | 1:09.549 | +0.305 | 29 |
| 10 | 56 | R. Stanaway S. Owen | Tickford Racing | 1:09.569 | +0.324 | 21 |
| 11 | 78 | S. De Silvestro D. Fiore, A. Rullo | Nissan Nismo | 1:09.574 | +0.329 | 21 |
| 12 | 17 | McLaughlin T. D'Alberto | Shell V-Power Racing Team | 1:09.601 | +0.356 | 18 |
| 13 | 8 | Percat M. Jones, Walsh | Brad Jones Racing | 1:09.615 | +0.371 | 19 |
| 14 | 21 | Blanchard Wood | CoolDrive Racing | 1:09.661 | +0.416 | 26 |
| 15 | 120 | Davison A. Davison | Milwaukee Racing | 1:09.693 | +0.448 | 20 |
| 16 | 34 | J. Golding C. Pither | Wilson Security Racing GRM | 1:09.712 | +0.467 | 19 |
| 17 | 18 | Holdsworth M. Brabham | Preston Hire Racing | 1:09.738 | +0.493 | 21 |
| 18 | 6 | C. Waters D. Russell | Monster Energy Racing | 1:09.750 | +0.505 | 19 |
| 19 | 7 | Heimgartner A. Russell, G. Jacobson | Nissan Motorsport | 1:09.789 | +0.544 | 24 |
| 20 | 25 | Courtney J. Perkins, W. Luff | Mobil 1 Boost Mobile Racing | 1:09.819 | +0.574 | 18 |
| 21 | 2 | S. Pye J. Perkins, W. Luff | Mobil 1 Boost Mobile Racing | 1:09.828 | +0.584 | 20 |
| 22 | 99 | A. de Pasquale W. Brown, L. Youlden | Erebus Motorsport | 1:09.847 | +0.603 | 12 |
| 23 | 19 | J. Le Brocq J. Webb | TEKNO Woodstock Racing | 1:09.855 | +0.610 | 18 |
| 24 | 33 | Tander C. Pither | Wilson Security Racing GRM | 1:09.943 | +0.698 | 23 |
| 25 | 14 | Slade M. Jones, Walsh | Brad Jones Racing | 1:09.971 | +0.727 | 19 |
| 26 | 42 | K. Kostecki | Arcoplate Racing | 1:10.266 | +1.021 | 24 |
| 27 | 35 | T. Hazelwood B. Fullwood | Bigmate Racing | 1:10.318 | +1.074 | 14 |