Latest F1 news in brief – Thursday
McLaren not as bad off as Williams, but close

McLaren, Williams, admit need for change

Salo admits F1 stewards controversy
Horner sure Honda right move for Red Bull
F1 should be a dictatorship – Berger
Hamilton re-signs with Mercedes but for only 2 more years
German GP: Track changes and DRS
McLaren, Williams, admit need for change
(GMM) An anonymous engineer says struggling once-great F1 teams Williams and McLaren need to make sweeping changes.
Both British teams have enjoyed the highs of the pinnacle of motor racing, but both are now struggling notably in 2018.
One engineer who worked for both teams told Auto Motor und Sport: "Both are mature teams with loyal employees.
"But many people at McLaren and Williams have never known anything else. They don't know how formula one has evolved or what other teams look like.
"If you tell them how the other teams have evolved, they don't believe you. They live in their own world and the great heritage of their racing teams."
Both teams, however, acknowledge the need for change.
Claire Williams is thought to be considering her role at the Grove based team, while McLaren boss Zak Brown says things must change at Woking too.
"We have to change our structure," he said.
"We have many good people who cannot show their talent. Decision making process are too long and communication is not good enough internally. And we need expertise from outside to understand new ways of thinking," said Brown.
At Williams, it is believed that many Force India staff will be snapped up if the Silverstone based team folds.
Another possibility is that Williams simply becomes a Mercedes 'B team'.
"It's a very similar story going on at Williams as is going on at McLaren," said Claire Williams.
"We're undertaking a full evaluation of our internal structures and processes at the moment. We haven't completed that work yet, so we don't have any news to announce."
Salo admits F1 stewards controversy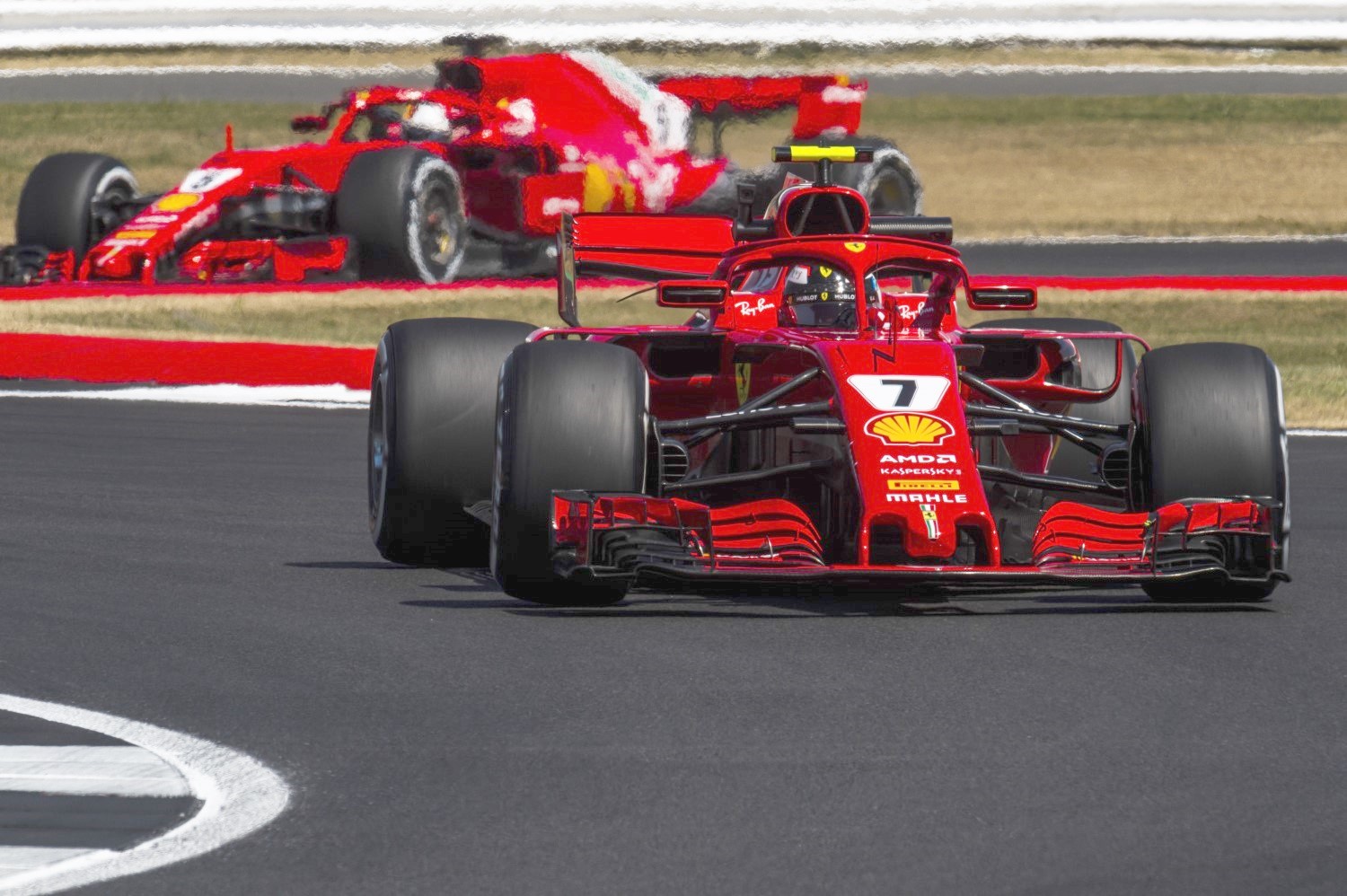 Raikkonen and Vettel
(GMM) F1 steward Mika Salo has acknowledged the controversy over penalties given to Ferrari drivers in recent races.
After Sebastian got a 5 second penalty in France, his teammate Kimi Raikkonen was penalized 10 seconds for a similar first-lap incident at Silverstone.
Finnish newspaper Turun Sanomat reports that former F1 driver Mika Salo will be a steward this weekend at Hockenheim.
And he agrees that the recent rulings against the Ferrari drivers were inconsistent.
"I would have given Kimi a 5 second penalty too. Basically, the situations with Kimi and Sebastian were quite similar," said Salo.
"On the other hand, I understand a different interpretation, because after Vettel's case it was shown that in many contexts a 5 second penalty was too mild," he added.
Horner sure Honda right move for Red Bull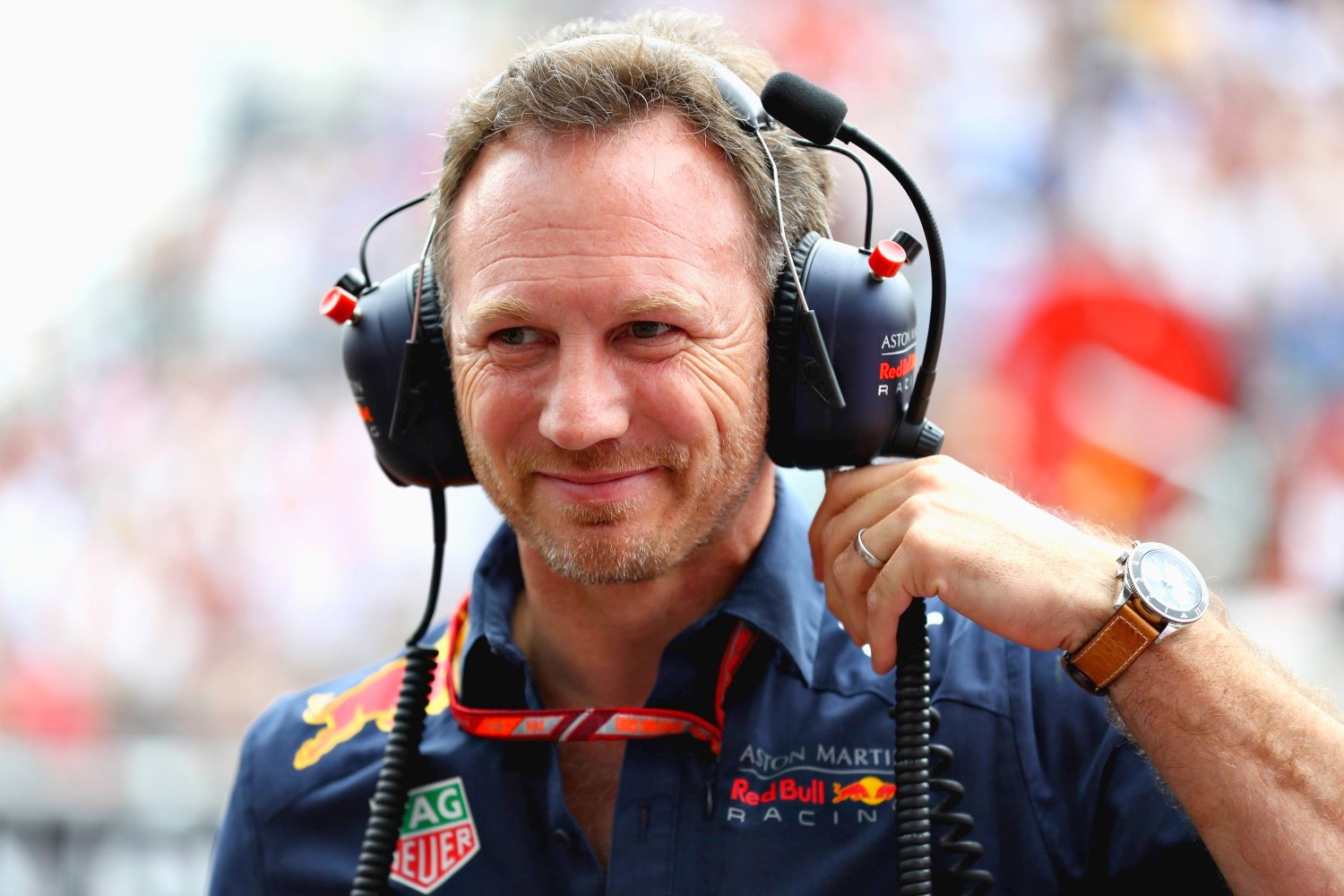 Christian Horner very happy
(GMM) Christian Horner remains confident Honda is the right move for Red Bull.
The Red Bull boss said that at Silverstone recently, the team was reassured that deciding to split with Renault is right.
And he says that moving to full works Honda power for 2019 is not too big a risk for the top F1 team.
"The situation is roughly similar between the two engines," he told France's Auto Hebdo, "but there is more room for development potential.
"Renault had a very difficult weekend at Silverstone," Horner added. "Our deficit was blatant, both in attack and defense.
"There is a gap to be filled and we have great confidence in Honda, especially given what they have in the pipeline," he said.
"There is no guarantee, but the progress we have seen encourages us to believe that, little by little, we will get there."
F1 should be a dictatorship – Berger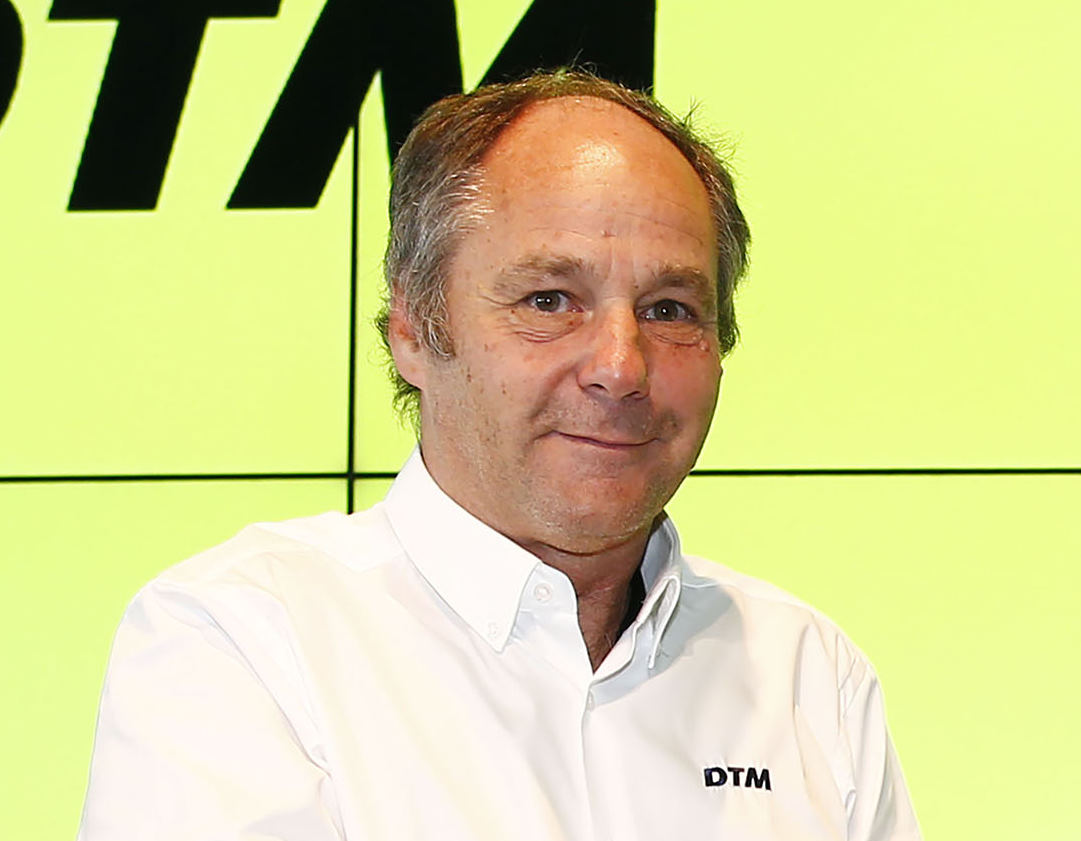 Gerhard Berger
(GMM) Formula one needs to return to its days as a dictatorship.
That is the view of Gerhard Berger, the F1 legend who is now in charge of the German touring car championship DTM.
And he told Bild newspaper that he is watching on with despair at formula one.
"Football doesn't change its rules all the time," said Berger.
"I think the decision makers are trying to distract from the core problem and show that they have something to say."
And he says the core problem is the cars.
"First, they're too heavy. Second, there should be technology that can be mastered and paid for by more than just two or three giant corporations," he added.
"Third, the technology should not be the deciding factor, and fourth, a driver must be able to win with an above-average car," said Berger.
He says the fault is not necessarily Liberty Media's, but the crippling constraints of the Concorde Agreement that runs through 2020.
But he is worried that the talks between Liberty, the FIA and the teams about 2021 are also not going well.
"The worst thing for me would be no decisions," said Berger.
"I understand the position of the big manufacturers over the engines, because they are not wrong when they say 'If no new manufacturer is coming, why change something? It only costs money'."
He also said the current manufacturers are obviously be opposed to new rules that make it possible for Porsche, Ilmor or Cosworth to stroll in and easily win with smaller investments and simpler regulations.
"That's why there can be no agreement," said Berger. "These endless meetings in Geneva and Paris or wherever are going nowhere. Formula one cannot be run democratically.
"It needs a dictatorship with one or two people who decide where we go. In this case, Chase Carey for the new owners and Jean Todt as FIA president," he said.
Hamilton re-signs with Mercedes but for only 2 more years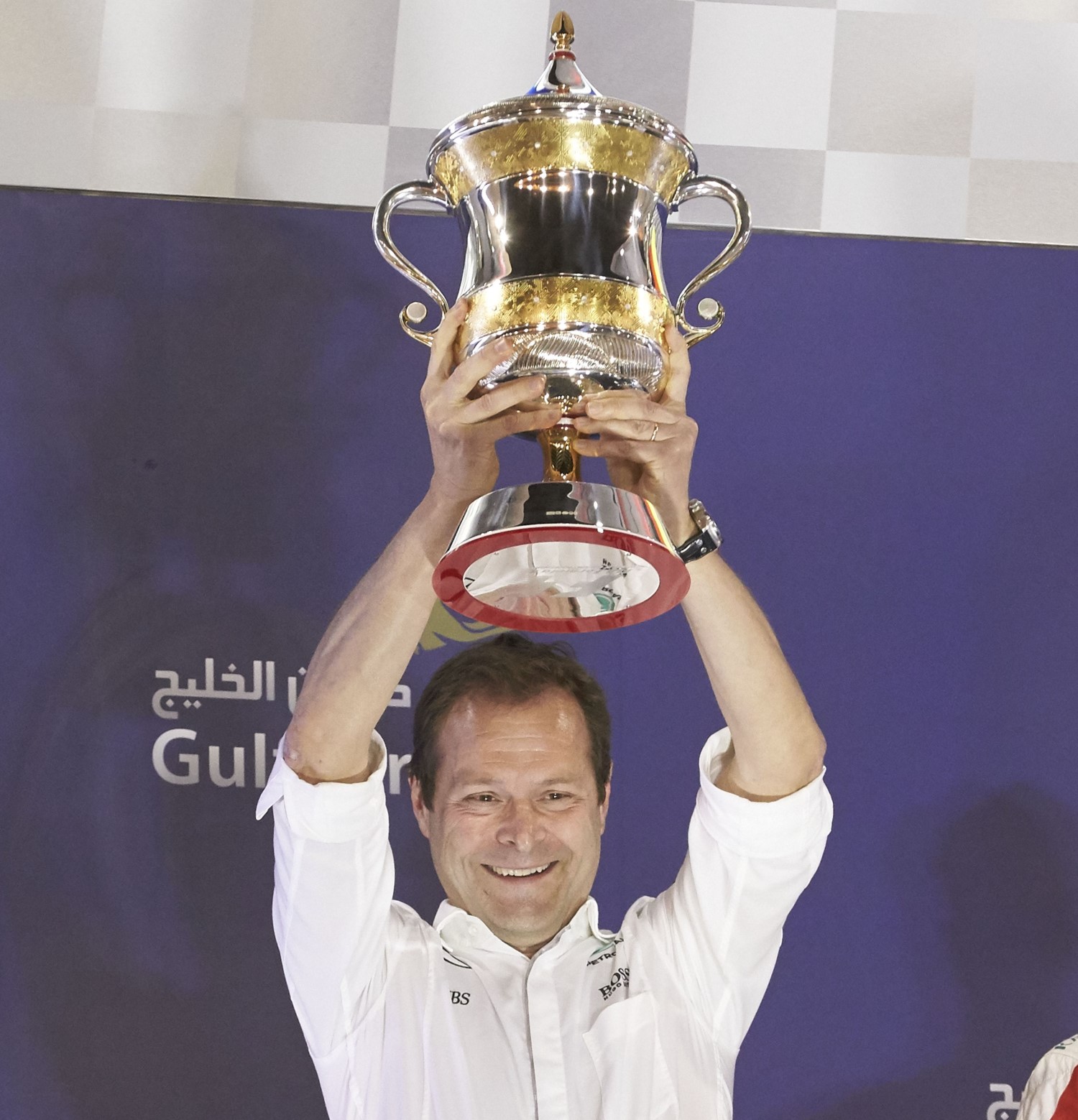 Wolff wanted Hamilton to sign for more than two years, but with Aldo Costa (above) no longer designing the car after this year, Hamilton has his eye on wherever he ends up.
Mercedes-AMG Petronas Motorsport and Lewis Hamilton today announced the agreement of a two-year contract extension for the 2019 and 2020 Formula One seasons.
Since joining Mercedes in 2013, Lewis has, to date, won three world championships and 44 Grands Prix with the team; by the end of 2020, he will have spent eight seasons as a works Mercedes driver, his longest period with a single team in the sport.
Furthermore, since making his F1 debut in 2007, every single Grand Prix Lewis has driven has been powered by Mercedes-Benz engines. His career total of 65 F1 wins places him second on the all-time list behind Michael Schumacher.
Through these achievements, Lewis has earned his place in history as the most successful driver in the 112-year Grand Prix racing tradition of Mercedes-Benz.
Lewis Hamilton commented:
"This contract extension has basically been a formality since Toto and I sat down during the winter, so it's good to put pen to paper, announce it and then get on with business as usual. I have been part of the Mercedes racing family for 20 years and I have never been happier inside a team than I am right now. We are on the same wavelength both on and off track – and I am looking forward to winning more in the future and shining even more light on the three-pointed star. I'm very confident that Mercedes is the right place to be over the coming years. Although we have enjoyed so much success together since 2013, Mercedes is hungrier than ever – from Dr Zetsche and the board members at the top of Daimler, through Toto and the team management, to every single person I meet in the corridors of Brixworth and Brackley. The competitive passion that burns bright inside me is shared by every single member of this group – always chasing the next improvement and digging even deeper to make sure we come out on top. I can't wait to see what we can achieve together in the next two-and-a-half seasons."
Team Principal and CEO Toto Wolff concluded:
We signed the final documents this week and didn't want to keep people waiting any longer! There is not much about Lewis as a Formula One driver that hasn't been said already – he is one of the all-time greats and his track record speaks for itself. But what I enjoy most about working with him is getting to know the man inside the racing helmet: his relentless drive for self-improvement, his emotional intelligence as a team member and his loyalty to those around him. Mercedes has become Lewis' home in Formula One and his story is linked forever with the silver and green of Mercedes-AMG Petronas. I am very confident that we have some incredible chapters of our story together still to come."
German GP: Track changes and DRS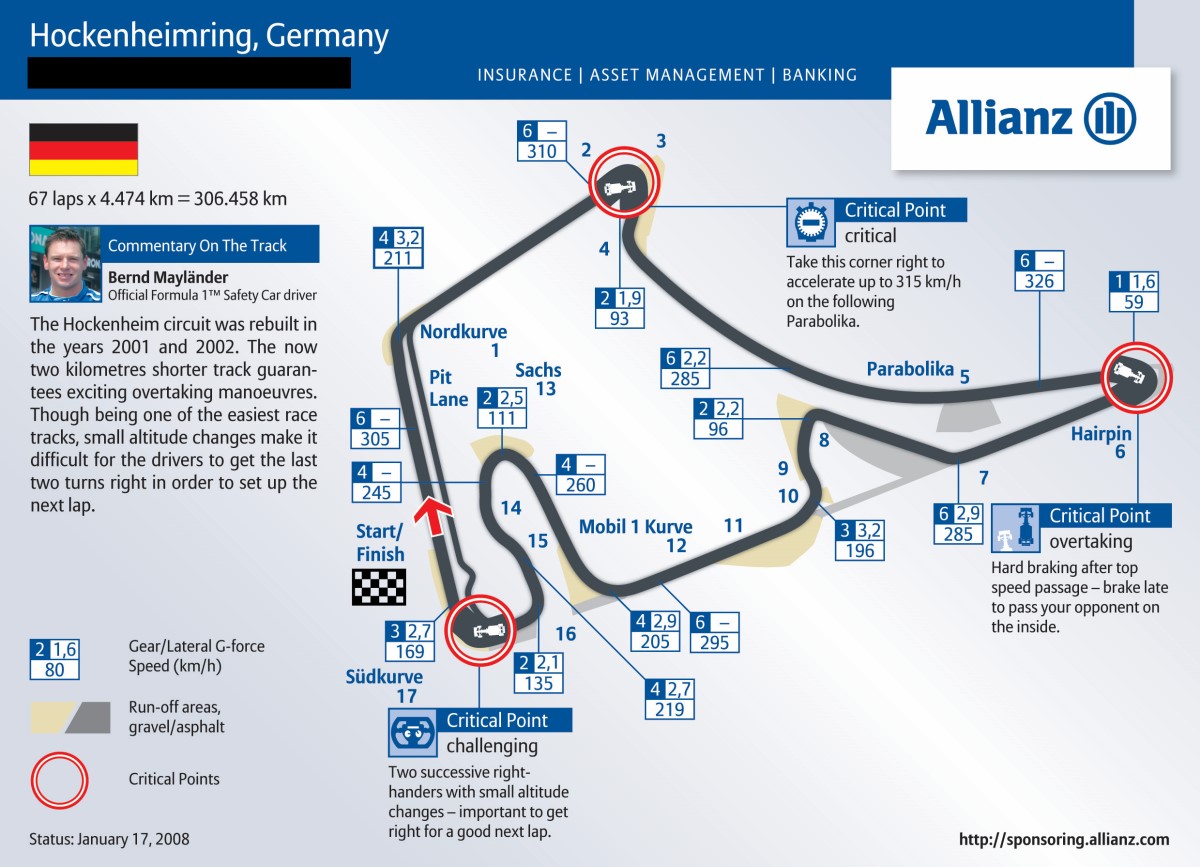 Hockenheim
A number of changes have been made at Hockenheim since the last Grand Prix in 2016, most notably the tire barriers have been upgraded through the addition of tires, tube inserts or conveyor belting in Turns 1, 8, 12, 13 and 17. Also a new double curb has been installed on the exit of Turn 17.
As was the case at Silverstone, there will be three DRS zones. The first zone has its detection point at the exit of Turn 4 and the activation point 140m after the same turn.
The second and third zones share a detection point which is 20m after Turn 16. The second activation point is located 55m after Turn 17, while the third is located 55m after Turn 1.
With the medium, soft and ultrasoft compounds nominated, once again there's a 'step' in the tire selection. The same combination was last used in China, and led to an interesting strategic battle.
As Hockenheim mainly consists of slow to medium speed corners connected by straights, it's all about traction and braking – and looking after the rear tires is particularly important. The most demanding corner for tires is Turn 5, which is a long left-hander.
The track surface is quite smooth, so heavy wear or degradation is not expected. However overtaking is reasonably tricky, so pit stop strategy could make an important difference.
The weather at this time of year is known for its unpredictability, with sunshine or heavy rain a possibility. Currently, Friday should cloudy and Sunday sunny, while scattered storms are expected on Saturday.