Six USAC Hall Of Fame Inductees Revealed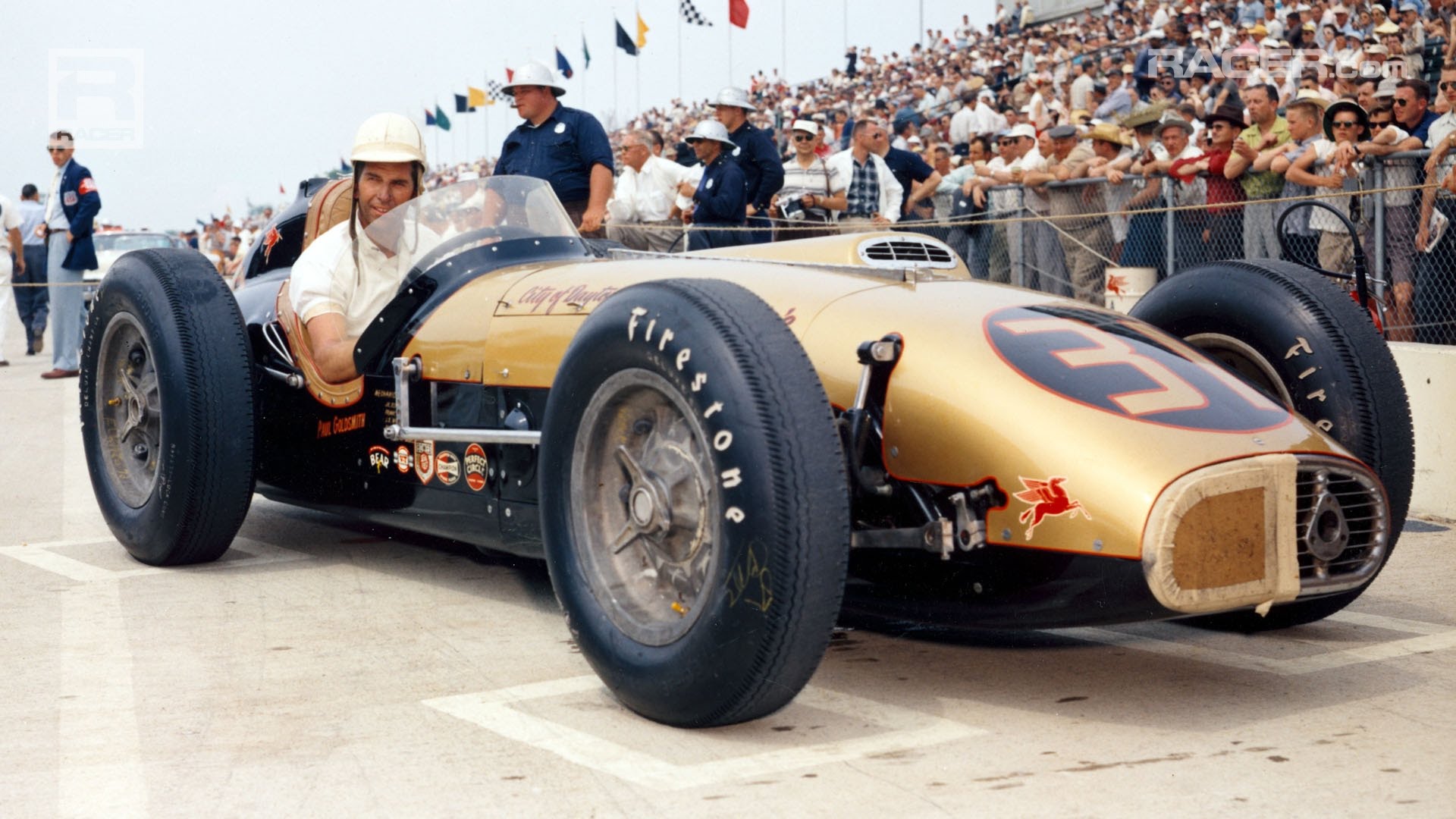 AJ Foyt called Paul Goldsmith one of the greatest bad-asses he ever raced against
Four drivers, a race organizer and a chief mechanic comprise the six initial 2018 inductees into the USAC Hall of Fame. They will be joined by two additional inductees in a formal celebration of their accomplishments during an early-September USAC event in Indianapolis, Ind.
The official induction ceremony will take place at the Indianapolis Motor Speedway Museum in Indianapolis, Ind. on Thursday, September 6, prior to USAC's Driven2SaveLives BC39 P1 Insurance National Midget race which will unfold on the brand-new IMS infield dirt oval. The festivities are all part of the buildup to IMS' Big Machine Vodka 400 at the Brickyard NASCAR race, scheduled September 9. USAC's Hall of Fame inductees will also be saluted in a video tribute to be broadcast on the IMS jumbotrons in front of Thursday night's Midget crowd.
Highlighting the seventh annual USAC Hall of Fame inductions will be former USAC Technical Director and Chief Mechanic Mike Devin, USAC's first-ever race organizer Bill Lipkey, plus Indianapolis 500 champion Troy Ruttman, and USAC driving champions Tony Elliott, Paul Goldsmith and Jimmy Sills.
Online voting for the final two additional 2018 inductees into the USAC Hall of Fame will be available on the USAC website soon at www.usacracing.com.
Devin, of San Gabriel, Calif., a mechanic, engine builder, chief mechanic and car owner, began with USAC in 1990 and coordinated the Saber car program, which eventually was purchased by the Japanese for usage at their multi-million dollar facility on the southern island of Japan, Autopolis. In 1991 he became USAC's Technical Director after serving as a chief mechanic with drivers Johnny Rutherford, Lloyd Ruby, Roger McCluskey and Johnny Parsons Jr. Prior to his retirement, he served as a USAC Vice-President, Technical Director and Director of Competition where his primary responsibilities were making rules for all racing divisions under USAC sanction, Involved was balancing new technologies, with their inherent costs, against the financial strengths of the participants and the entertainment quality of the series. Safety was a primary focus and he also managed the liability and participant accident insurance for USAC. He was Technical Director for the Indianapolis 500 from 1991 through 1996 and he was responsible for establishing the formula for car and engine construction for the fledgling Indy Racing League. He was responsible for safer chassis construction, implementing the impact recorders and the development of rear attenuators. Post-retirement duties included a Stewardship with the U.S. Grand Prix in Indianapolis, FIA record attempts, the TORC Off Road Series and various other safety and rules related projects. Significant awards included the D.A. Lubricants Award and the USAC Mechanical Achievement Award, Eddie Edenburg Award for lifetime contributions, the Indianapolis 500 Oldtimers Outstanding Race Official Award and the Lincoln Electric Lifetime Achievement Award.
Elliott, of Warsaw, Ind., was a two-time USAC National Sprint Car Champion (1998 and 2000) and excelled in USAC's Silver Crown cars as well. He posted 26 National Sprint car wins and five in Silver Crown competition, plus won nine USAC Midget races. Among the Silver Crown triumphs were 2000 and 2001 wins in the prestigious Hoosier Hundred in Indianapolis, Ind. In 1999 he won USAC's "Indiana Sprint Week" title. For years he dominated the scene at his hometown track – the Kokomo Speedway. In 2015 he was one of four Warsaw men who perished in a private airplane accident.
Goldsmith, of St. Clair Shores, Mich., was USAC's 1961 and 1962 National Stock Car Champion. A six-time veteran of the Indianapolis 500, he finished 3rd in the 1960 classic and fifth in 1959. In 1958 he won the final race at the famed Daytona Beach, Fla. beach course. The oldest living member of the Indianapolis 500, Paul is a member of both the AMA Motorcycle Hall of Fame and the Motorsports Hall of Fame of America. In 1953 he posted AMA victories at Daytona and Langhorne, Pa. and in 1955 he won his final AMA race at Schererville, Ind.
Lipkey, of Kokomo, Ind., organized and presented the first USAC race ever held, a Midget race indoors at the Memorial Coliseum in Fort Wayne, Ind. on January 8, 1956. The long-time race organizer at the legendary Kokomo (Ind.) Speedway, also organized races at Baer Field in Fort Wayne and staged numerous indoor events at the Fort Wayne facility where a recent ceremony was held unveiling a commemorative marker saluting the first USAC race. The Lipkey family was a staple at USAC events in the Midwest and Bill's son Vic served as USAC's chief starter on many occasions spanning various racing series. Bill served for many years on USAC's Advisory Board as the race organizer representative. In 1983 he received USCA's prestigious Jim Blunk Award in recognition of his contributions to the sport of Midget auto racing. Bill passed away at the age of 86 in 1999.
Ruttman, of Mooreland, Okla., earned international recognition as the 1952 winner of the Indianapolis 500 Mile Race. At his 1952 age of 22 years and 80 days he remains the youngest winner of the "500." He won his first race at age 15 in 1945 and two years later became the California Roadster Association Champion. He repeated that title in 1948 and also won the 1948 United Racing Association Blue Circuit (Offy) crown. In 1952 he finished as runner-up to Chuck Stevenson for the AAA National Championship. He was USAC's 1956 Short Track Stock Car Champion and in 1963 finished third behind Dan Gurney and A.J. Foyt in a NASCAR championship race at Riverside, Calif. A 1992 inductee into the Indianapolis Motor Speedway Hall of Fame, he also was an inductee into the National Sprint Car Hall of Fame in 1993, the West Coast Stock Car Hall of Fame in 2002, the National Midget Auto Racing Hall of Fame in 2003 and the Motorsports Hall of Fame in 2005. A spectacular Sprint racer on the famed Midwestern high-banks, he won the third leg of USAC's "Race of Two Worlds" Championship race at the Monza (Italy) Autodrome in 1957. He died in 1997.
Sills, of Placerville, Calif., was USAC's first three-time Silver Crown champion, in 1990, 1994 and 1996. Until surpassed by Dave Steele, he led the all-time standings for laps led in the Silver Crown series. A six-time champion of the prestigious "Dirt Cup" at Skagit, Wash., Sills won the 1978 "Grand Annual Sprintcar Classic" in Australia and is a former champion of the famed "Oval Nationals" at the Perris (Calif.) Auto Speedway, In 1982 he won the championship at Baylands Speedway in Fremont, Calif. and the following year scored a significant opening-night win in the famed "Knoxville Nationals" in Iowa. The leader of one of America's most renowned Sprint Car Racing Schools, Jimmy was inducted into the National Sprint Car Hall of Fame in 2006 and in 2007 joined the Knoxville Raceway Hall of Fame.