Kirkwood wins USF2000 Race 2 in Toronto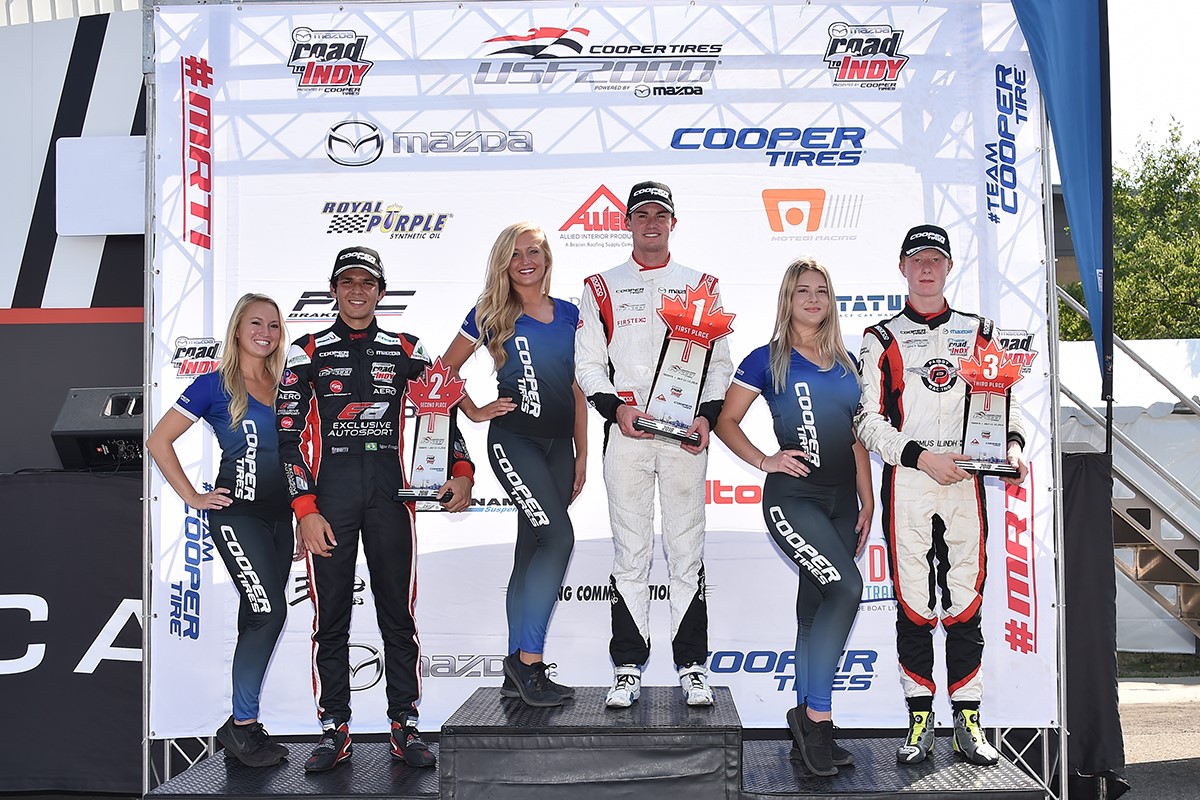 Podium celebration
There were three main storylines to this morning's ninth round of the Cooper Tires USF2000 Championship Powered by Mazda – a multi-car accident at Turn Three on the opening lap which delayed many of the front-runners, a tremendous effort by Brazilian Igor Fraga, and ultimately yet another well-earned victory for runaway championship leader Kyle Kirkwood and his Cape Motorsports team.
Fraga snared a career-best second for the Canadian-owned Exclusive Autosport team, while Swedish rookie Rasmus Lindh (Pabst Racing) rose from 11th at the end of the first lap to complete the podium.
Maryland teenager Kaylen Frederick (Pabst Racing) posted the fastest time in qualifying yesterday for the Cooper Tires USF2000 Grand Prix of Toronto Presented by Allied Building Products. Sadly, his hopes of translating his maiden pole into a long overdue first victory evaporated at Turn Three on the opening lap when he left his braking a fraction too late while attempting to hold off Keith Donegan (BN Racing). Frederick skated into the escape road, taking Lindh with him, while Donegan also carried too much speed into the corner and succeeded only in sliding into the tire barrier at the exit. Behind, yesterday's polesitter Dakota Dickerson (ArmsUp Motorsports) was inadvertently punted into a spin by the Pabst Racing Tatuus USF-17 of Calvin Ming.
The collective chaos ended the day for Donegan, Colin Kaminsky (DEForce Racing) and Russell McDonough (BN Racing) and ensured a lengthy full-course caution while the debris was cleared away.
In the meantime, Kirkwood had boldly overtaken Fraga in the midst of the melee to emerge in the lead despite having started only fifth. Shortly after the restart, however, Fraga saw an opportunity to dive to the inside of Kirkwood at the end of Lake Shore Boulevard. He seized it beautifully to snatch the lead for the first time.
Kirkwood stalked his rival for lap after lap as the pair pulled away from Fraga's teammate, Danial Frost, from Singapore, who had leapfrogged from 12th on the grid to third. Kirkwood edged alongside Fraga on numerous occasions, especially under braking for Turn Three, but each time Fraga defended doggedly, leaving no option for Kirkwood but to tuck back into line. Finally, on lap 17, Kirkwood glimpsed an opening at Turn One, diving deep to the inside and narrowly squeezing through into the lead.
Kirkwood edged away in the closing stages, then backed off on the final lap to take the checkered flag just over one second clear of the impressive Fraga.
Lindh, meanwhile, was the man on the move. He slotted into sixth in short order, then on Lap 12 came out on top of a thrilling duel with teammate Frederick. Lindh lost no time in overtaking Frost and even made significant inroads into the deficit to second-placed Fraga before settling for third and a new race lap record of 1:10.9853 (90.576 mph).
Frost maintained fourth place ahead of South African Julian Van der Watt, who finally outlasted a prolonged period of misfortune to finish a season-best fifth for Team Pelfrey. Dickerson also recovered well from the opening lap fracas to take sixth ahead of Jose Sierra, who claimed the Tilton Hard Charger Award after starting a lowly 18th.
Cape Motorsports' seventh win of the season secured yet another PFC Award and enabled the St. Petersburg, Fla.-based organization to regain the lead in the coveted Team Championship by just four points, 209-205, over Pabst Racing. Meanwhile in the drivers' standings, Kirkwood now holds a whopping 131-point advantage over Frederick as the USF2000 field heads next to Mid-Ohio Sports Car Course in Lexington, Ohio, on July 27-29 for a triple-header race weekend once again in conjunction with the Verizon IndyCar Series.
Kyle Kirkwood (#8 Firstex/SAFEisFAST.com/Bell Helmets/Sparco-Cape Motorsports Tatuus-Mazda USF-17): "I got by a couple of cars at the start but then everyone bunched up on the inside and I went on the outside, down the clean line. I came out first with Igor alongside and we fought the whole way down the straight. We were really close. He caught me off guard when he got by – I didn't think he would try to pass there but it was a perfectly executed move, so kudos to him. It was tough to get back around. We locked up in Turn Three every lap and I thought I was going to get a piece of the tire wall. I think I caught him off guard in Turn One. I wasn't thinking about making a pass until the last moment and it worked perfectly.
"We have a good lead in the championship but I'm not going to change my focus or my mentality. We want to keep having weekends like this. Street races are really growing on me. It's a great atmosphere here, and there's so much adrenalin when you're so close to the walls"
Igor Fraga (#91 Cenibra/Usiminas-Exclusive Autosport Tatuus-Mazda USF-17): "Today was so fun, but it was very nerve wracking at the same time. You have so much going on, passing so close to the walls, but at the same time, you have to watch in your mirrors. You have to focus as much as you can. I didn't think Kyle would be able to pass me but I left the door open just a bit and he was able to dive in. It was unexpected but this will add to my experience. We've moved up race by race and to lead today is a good sign. Hopefully there will be many more moments like this. I am learning more every day. My dream is to be a top driver so it's great to prove that I can fight and I can be up there."
Rasmus Lindh (#23 Chicago Pneumatic-Pabst Racing Tatuus-Mazda USF-17): "I had quite a good start and followed Kaylen into the corner and got past him going into Turn Three. When he locked up his front wheels and pushed me out in the braking zone, by the time I got back on track I was eighth or ninth. I was frustrated, because Kaylen and I really had speed, but I kept my head down and kept pushing. I'm very happy to come back and earn a podium finish."
| | | | | | | | | | |
| --- | --- | --- | --- | --- | --- | --- | --- | --- | --- |
| Pos | No | Name | Laps | Diff | Gap | Led | ST | Status | Team |
| 1 | 8 | Kyle Kirkwood | 25 | 0.0000 | 0.0000 | 14 | 5 | Active | Cape Motorsports |
| 2 | 91 | Igor Fraga | 25 | 1.1127 | 1.1127 | 11 | 6 | Active | Exclusive Autosport |
| 3 | 23 | Rasmus Lindh | 25 | 3.2225 | 2.1098 | 0 | 3 | Active | Pabst Racing |
| 4 | 92 | Danial Frost | 25 | 10.3767 | 7.1542 | 0 | 12 | Active | Exclusive Autosport |
| 5 | 80 | Julian Van der Watt | 25 | 12.5651 | 2.1884 | 0 | 9 | Active | Team Pelfrey |
| 6 | 9 | Dakota Dickerson | 25 | 13.5875 | 3.2108 | 0 | 4 | Active | ArmsUp Motorsports |
| 7 | 12 | Jose Sierra | 25 | 28.9639 | 15.3764 | 0 | 18 | Active | DEForce Racing |
| 8 | 24 | Kaylen Frederick | 25 | 29.0661 | 0.1022 | 0 | 1 | Active | Pabst Racing |
| 9 | 81 | Kyle Dupell | 25 | 40.4296 | 11.3635 | 0 | 16 | Active | Team Pelfrey |
| 10 | 38 | Oscar DeLuzuriaga | 25 | 43.7451 | 3.3155 | 0 | 17 | Active | Newman Wachs Racing |
| 11 | 21 | Calvin Ming | 24 | 1 LAPS | 54.5821 | 0 | 7 | Active | Pabst Racing |
| 12 | 36 | Darren Keane | 24 | 1 LAPS | 23.3618 | 0 | 10 | Active | Newman Wachs Racing |
| 13 | 82 | Bruna Tomaselli | 23 | 20.8327 | 4.0739 | 0 | 15 | Active | Team Pelfrey |
| 14 | 11 | Kory Enders | 23 | 25.3767 | 4.5440 | 0 | 11 | Active | DEForce Racing |
| 15 | 22 | Lucas Kohl | 23 | 2 LAPS | 60.5744 | 0 | 8 | Active | Pabst Racing |
| 16 | 29 | Russell McDonough | 1 | 10 LAPS | 8 LAPS | 0 | 14 | Contact | BN Racing |
| 17 | 28 | Keith Donegan | — | 0.2119 | 0.2119 | 0 | 2 | Contact | BN Racing |
| 18 | 27 | Colin Kaminsky | — | 1.4916 | 0.2014 | 0 | 13 | Contact | DEForce Racing |
| 19 | 14 | Max Peichel | — | 1 LAPS | | 0 | 19 | IN PIT | ArmsUp Motorsports |