Sunday Morning from Toronto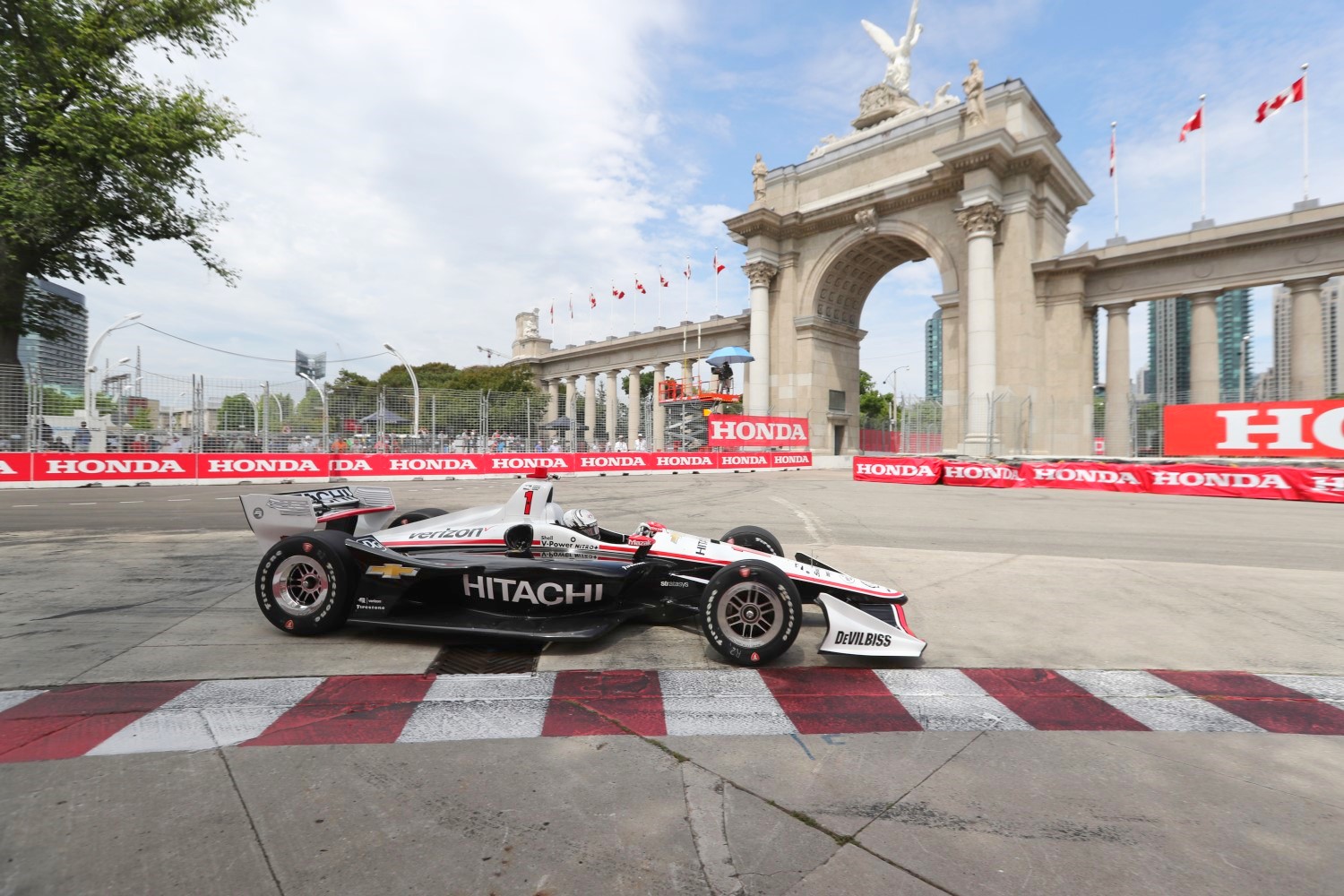 Newgarden on pole
Good morning from the Honda Indy Toronto. It is a beautiful, sunny morning for the 34th running of this race on the streets of Exhibition Place. Temperatures are predicted to reach the mid 80s by race time. Rain was expected last night but it did not rain. The lawns are pretty dry here in the Toronto area due to lack of rain. Thunderstorms are predicted for Monday and Tuesday here but it looks like today will be dry.
Qualifying on a wet track in a light, steady drizzle is how qualifying went down yesterday. After the Firestone Fast Six was completed, the three Team Penske cars, Scott Dixon, driving the number 9 for Ganassi Racing and Ryan Hunter-Reay and Alexander Rossi, teammates at Andretti Autosport, ended up in the first three rows for today's IndyCar race. Canadians were disappointed that the 'Eh Team' at Schmidt Peterson Racing qualified 9th and 10th.
Although it does not look like it to every observer, Jeff Atkinson, president of the Toronto Honda Indy GP, said the race has grown over the past two years since he took on the role, adding that he's expecting a three-day turnout of "well over" 125,000.
"We've been very pleased with where ticket sales are at," he said. "I think Toronto has very much embraced the event."
He added that under his watch the Indy has increased the types of charitable events that were seen since 10 years ago when this event returned, such as the donation of tickets, and a ramped up Fan Friday, which allows people to attend for free in exchange for a voluntary contribution to the Make-A-Wish foundation. This of course does zero for the race promoters bottom line.
Atkinson added that the Indy also is expecting a boost because of a good weekend weather forecast and three Canadian contenders — James Hinchcliffe, Robert Wickens and Zachary Claman De Melo.
Former Canadian IndyCar star Paul Tracy has a theory on fading fan support at races across the continent. The two-time Toronto Indy winner said race owners don't seem to prioritize fan interest and are instead intent on getting corporate support.
"They don't seem to be overly concerned about empty stands as long as they sell out the corporate suites," he said this week.
"If you sell out the corporate suites, (they've) basically made their money, and the money generated from that is far greater than selling … those $25 tickets, so sadly they've focused more on corporate side rather than the fan side."
AR1 was surprised to learn that the promoter did not plan to serve the media any lunch during the weekend. There have been Tim Horton's donuts, muffins and coffee every morning but no lunch on Friday. After some discussion, Saturday we were treated to Pizza, Pizza for lunch.
Alex Tagliani led the NASCAR Pinty's race in his number 18 Epi Pen sponsor Chevrolet for 34 of the 37 scheduled laps. Tagliani finished second after Andrew Ranger took advantage of the restart on lap 34 and took the lead and won the race yesterday afternoon.
Tagliani was pleased with his finish. "I would have done what Andrew (Ranger) did. He did it the right way. Even though I thought my race was done after the pass, I am happy with second place today."
Tagliani went on the thank the Honda Indy for letting the Pinty's series be a part of this weekend. Tag felt the crowd was bigger than last year here.
Warm up today for the IndyCars is at 11:40 am. Green Flag will fall at 3:40 pm. The second Indy Lights race is scheduled for 12:35 pm.
Lucille Dust reporting live from Toronto