Patricio O'Ward wins Indy Lights race in Toronto (Update)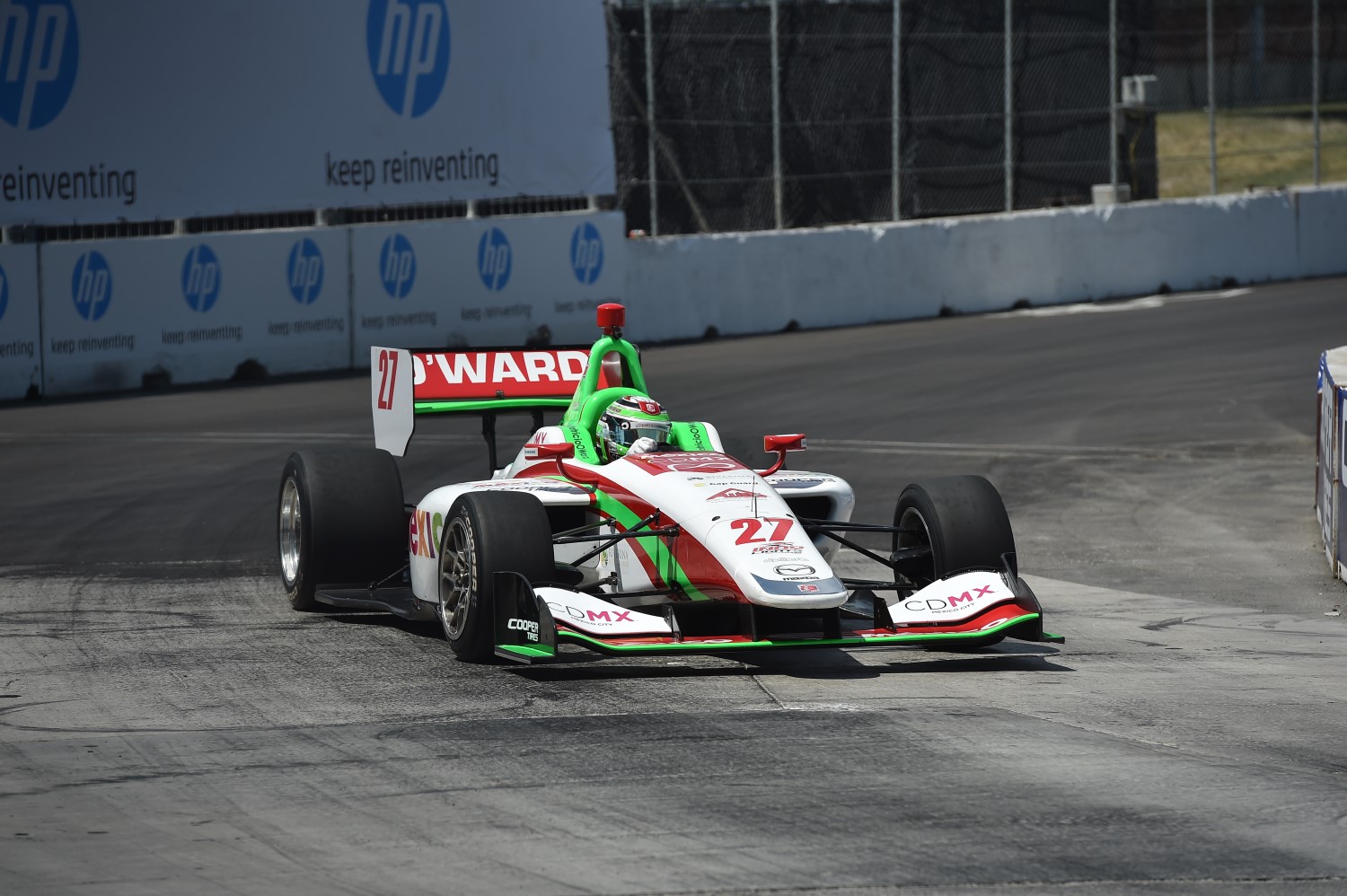 Patricio O'Ward
UPDATE This story was updated.
07/14/18 Patricio O'Ward, from Monterrey, Mexico, reclaimed the lead in the closely fought Indy Lights Presented by Cooper Tires title-chase following a hard-earned fourth win of the season for Andretti Autosport in Saturday afternoon's Cooper Tires Indy Lights Grand Prix of Toronto Presented by Allied Building Products.
Santiago "Santi" Urrutia, from Miguelete, Uruguay, took advantage of various dramas during the 35-lap race to finish second for Belardi Auto Racing, while Ryan Norman, from Aurora, Ohio, equaled his career-best result by completing the podium for Andretti Autosport.
Erstwhile points leader Colton Herta, 18, from Valencia, Calif., extended his advantage by one point after posting the fastest lap during qualifying this morning, only to slide off into the tires in Turn Nine on his final lap. From Dr. Geoffrey Billows, INDYCAR Medical Director:
"Evaluation of Colton Herta after his incident in Indy Lights qualifying on Saturday morning revealed a non-displaced fracture at the base of his left thumb. Herta was fitted with a splint to appropriately grip the steering wheel and he was cleared to continue racing activities contingent on his ability to tolerate any discomfort it might cause."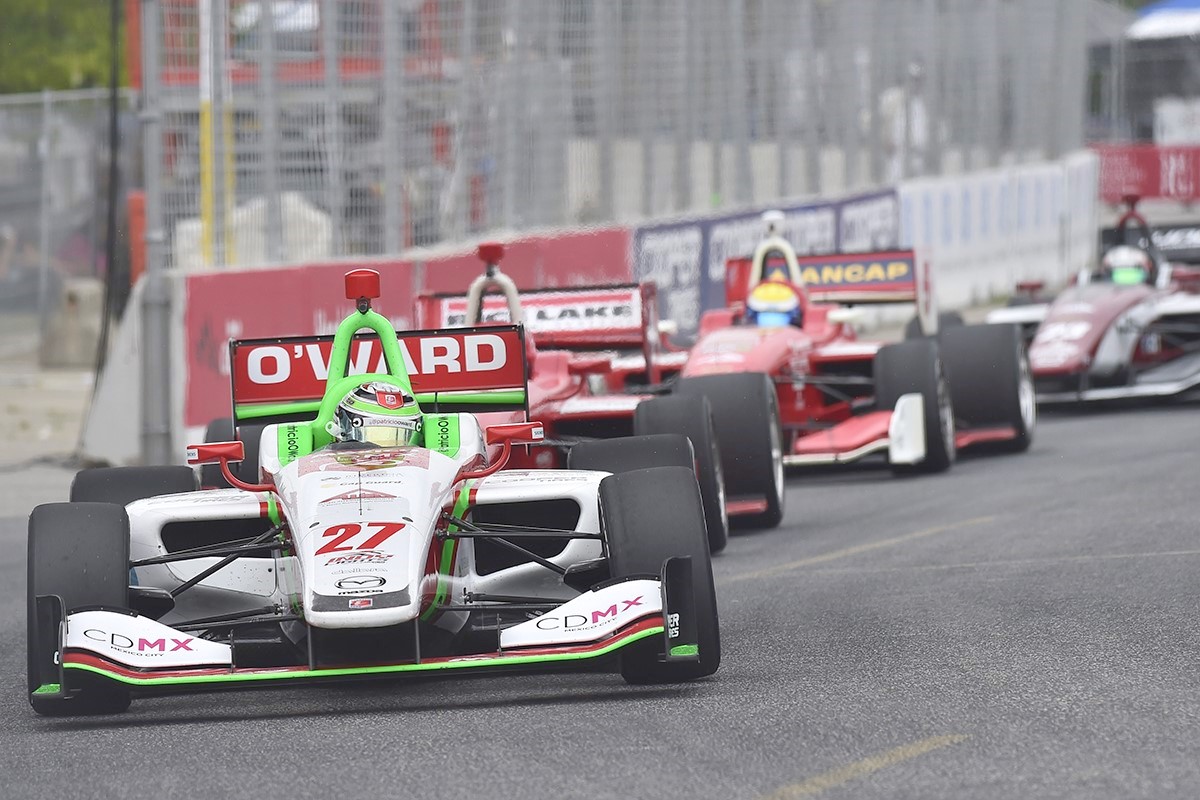 O'Ward leads
The Andretti-Steinbrenner Racing team had the car repaired comfortably in time for the race. A slow getaway by Herta at the green flag saw O'Ward, who started second, leap into the lead. Urrutia, third on the grid, was caught unaware and inadvertently ran into the rear of Herta's car, which was lifted briefly into the air. Both cars were able to continue after losing several positions.
Aaron Telitz (Belardi Auto Racing), from Birchwood, Wis., who started fourth, followed O'Ward at the completion of the first lap, with Norman up to third from sixth ahead of the recovering Herta.
Herta quickly made his way into third, and on Lap 13 also found a way past Telitz into second. At that stage O'Ward's advantage had grown to a couple of seconds. Herta did his level best to reduce the deficit, posting what was to stand as the fastest lap of the race, a new record of 1:04.4515 (99.759 mph), on Lap 19, despite having to drive virtually one-handed.
Eventually, on Lap 23, the unequal struggle caught up with Herta, who lost his grip on the steering wheel as he ran over the curbing at the apex of Turn Five and then careened heavily into the wall on the exit of the turn. He will be re-evaluated at 7:30 am tomorrow morning to determine his ability to resume racing.
"We qualified on the pole, and I got hit (from behind) … and that's why we fell back so quickly," said Herta. "We were so quick … but this is such a (bumpy street course), eventually there's only so much I can do. It was my turn. I hit a bump and it ripped the steering wheel out of my hands. All I could do is go into the wall."
Some spots of rain began to fall as the remaining cars circulated under yellow, which made the track extremely treacherous at the restart, especially on the unforgiving 1.786-mile street circuit's many concrete patches.
Urrutia grasped an opportunity to slip past teammate Telitz for second place on Lap 29 in Turn Three, only to jump on the throttle at Turn Nine with a little too much alacrity a couple of laps later. The spin cost Urrutia only one position, which he promptly regained on the following lap when Brazilian Victor Franzoni lost control of his Juncos Racing Dallara and crashed at Turn Five.
Norman moved up to third as the race finished under caution, earning his second Tilton Hard Charger Award of the season, while Telitz inherited fourth despite having stopped to change his Dallara's nosecone which had been damaged as he attempted in vain to fend off Urrutia a few laps earlier.
A separate qualifying session at 9:05 a.m. tomorrow will set the grid for Round 12 of the 16-race season, which will start at 12:25 p.m. EDT.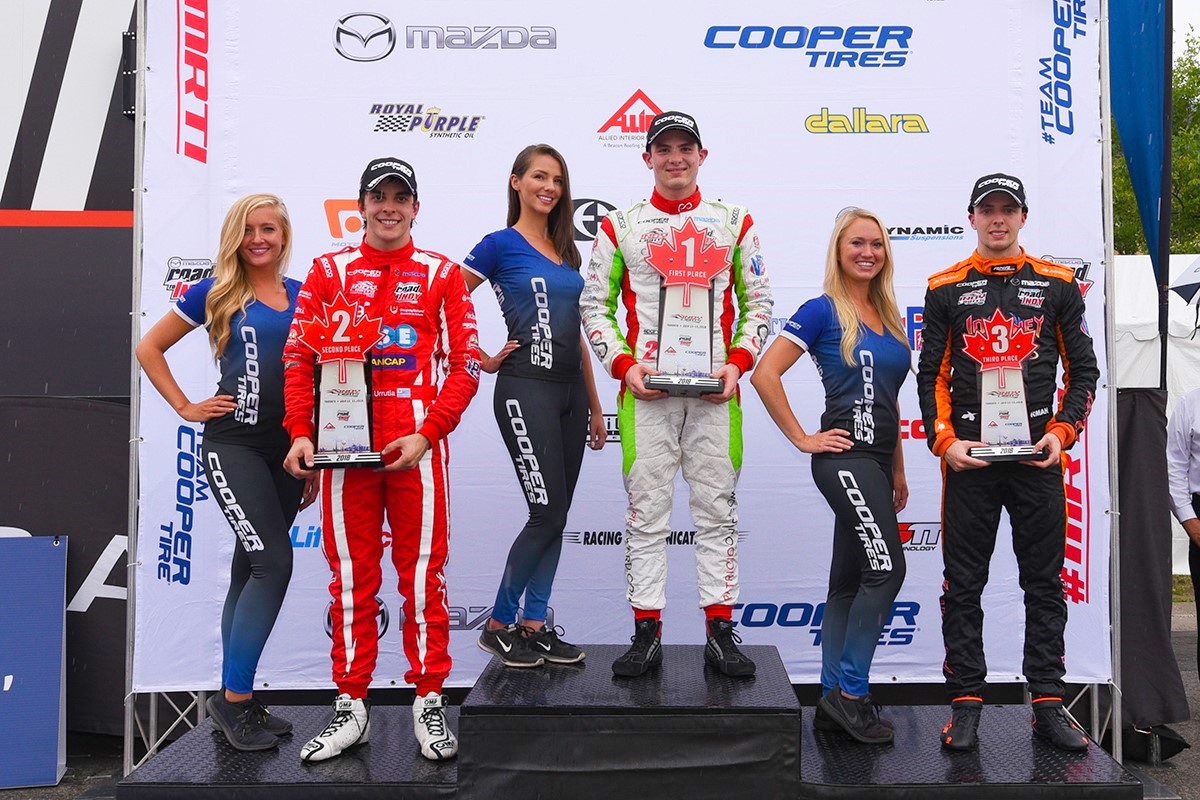 From left Urrutia, O'Ward and Norman
Patricio O'Ward (#27 Mexico #AWorldOfItsOwn Mazda-Andretti Autosport Dallara-Mazda IL-15): "That was one of the hardest races of the season, mentally and physically. I had to be very careful. I saw the rain getting harder and harder, and you never know what to expect. Some corners here are a real risk in the rain. I tried to keep it clean and do everything in my power to keep the car on the track and not make any mistakes. You saw some very good drivers make mistakes so it was not easy. I'm not sure what happened on the start, if Colton was watching me and not the start boards, but as soon as I reached the start zone, I went because that's what you're supposed to do. I jumped in front of him and never looked back. I want to win and get poles and stay in the championship lead. A million dollars on the line and every driver wants it. Some guys have nothing to lose and some have a lot to lose, so it's a give and take. I just have to continue being smart."
Santiago Urrutia (#5 Belardi Auto Racing Dallara-Mazda IL-15): "It was a strange start. Colton didn't go at first and I hit him a little bit because I saw Pato just go, then Franzoni hit me really hard, and it damaged my front wing. I came from last to fourth being pretty aggressive, which was fun, but once I got to fourth my front wing kept me from having the speed to fight. Once it started raining, I knew I could go for it and be more aggressive that he could be, but I made a mistake trying to get around Pato. With Aaron, I went to the outside and I had cleared him but he locked up the tires and hit me on the rear tires. But I finished second and tomorrow is another shot. With Colton not finishing, that gets me a little closer in the points."
Ryan Norman (#48 Journey Andretti Autosport Dallara-Mazda IL-15): "I had a good start and was up to third but I was struggling to keep the car under me early on. The car came to me by Lap 10 and I was able to chip away at it. It was pretty wet toward the end but my car felt good in the rain so I was able to power down and keep it clean. It was just a matter of braking on the inside and staying away from the rubber on the main braking line. I could brake deep and that's where I made up most of my ground. I got a podium at St. Pete in the first race of the season and it's been a drought since then so it's good to be back here. There's something about street races, I guess – this is definitely one of my favorite places!"
Results
| | | | | | | | | |
| --- | --- | --- | --- | --- | --- | --- | --- | --- |
| Pos | SP | Car | Driver | Lap | Gap | Best Time | Pts | Status |
| 1 | 2 | 27 | O'Ward, Patricio (R) | 35 | –.—- | 01:04.6272 | 31 | Running |
| 2 | 3 | 5 | Urrutia, Santi | 35 | 0.5277 | 01:05.0456 | 25 | Running |
| 3 | 6 | 48 | Norman, Ryan | 35 | 0.9663 | 01:05.2786 | 22 | Running |
| 4 | 4 | 9 | Telitz, Aaron | 35 | 2.8267 | 01:04.7973 | 19 | Running |
| 5 | 7 | 28 | Kellett, Dalton | 34 | – | 01:05.6940 | 17 | Running |
| 6 | 5 | 23 | Franzoni, Victor (R) | 31 | – | 01:04.6595 | 15 | Contact |
| 7 | 1 | 98 | Herta, Colton | 22 | – | 01:04.4515 | 15 | Contact |