Tagliani Takes Pole for Tomorrow's Pinty's Race in Toronto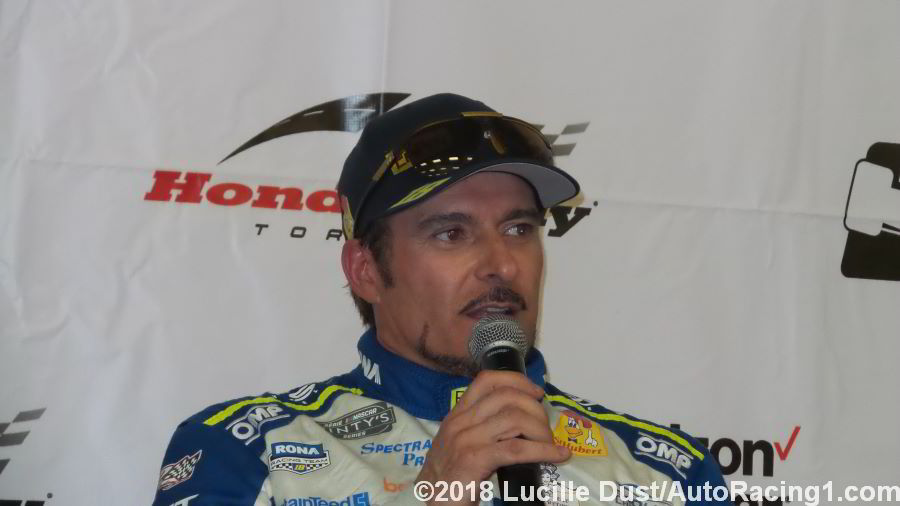 Tag on Pole for Race
The streets of Toronto host many series this weekend at Exhibition Place. One of those series is the NASCAR Pinty's Series, the National NASCAR racing series in Canada.
Alex Tagliani, who raced IndyCars from 2000-2007, won the pole for tomorrow's Pinty's race. In 2008, after the IndyCar team Tagliani had been driving for decided not to take part in the Indy Car series, he made the transition to stock cars and has been racing in the Pinty's series ever since.
AR1 spoke to Tagliani about the track. "They did a great job in turn 1. From turns 11 to 1, it's smooth and all repaved. For the first year in a long time, we have a braking zone in turn 1 and we can actually see where we are going. I really like it. It has good grip as well. The other parts of the track are a bit rough."
"Last year, I started second here and we broke a rear end. In 2016, I won here. This year I am on the pole. But we need to make up some points that we lost at CTMP because we were so quick and with three laps to go, we broke something. We have the worst luck, but I love that place."
Tag continued to explain why the heat tomorrow would effect the stock cars. "The tire grip, it starts sliding. The weight of our cars is like double the weight of an IndyCar. When you put a lot of weight on the tires and the track gets really hot, it takes a really good beating. And the performance of the tire goes down quite quick. And we don't have downforce like an IndyCar to mask the tire degradation. As the tires go away, you will see the lack of performance really quickly. "
"And because you are not sure how the races are going to end up finishing, you could have like a caution with three laps to go and you have to get the restart of your life and finish strong. But if your tires are really worn out it will be tough to defend. You could have a ten second lead and then the cars bunch up. And then you could be saving your car and there could never be a caution. You never know about those races. It will be a tough race tomorrow."
Tagliani added his thoughts on the new IndyCar. "I like the new car. People are saying it is race-able. I will be watching the race on Sunday. I am looking forward to see how people are going to race around this place. Always fun to have a straightaway like they have here. So they could draft each other and pass. I want to see some action."
Lucille Dust reporting live from Toronto