Latest F1 news in brief – Tuesday
Romain 'crash' Grosjean crashing at Silverstone. Grosjean never knew a barrier he did not like to hit

Grosjean form 'unacceptable' – Steiner

Renault felt like Formula 2 engine – Verstappen
Ferrari engine better than Mercedes – Rosberg
Formula 1 Execs Want To Keep Silverstone Negotiations Private
Livid Arrivabene: 'James Allison should be ashamed!'
Haas investigating Santino Ferrucci's behavior after F2 race ban
Latifi and Mazepin to test for Force India
F1 rivals choose same tire compounds for Germany
Grosjean form 'unacceptable' – Steiner
(GMM) Gunther Steiner says a "critical moment" could come amid his patience with struggling Haas driver Romain Grosjean.
Frenchman Grosjean has had a mainly poor season with the American team, and it didn't get better at Silverstone.
Haas had to change his chassis after a crash in Friday practice, then in the race he collided with his teammate Kevin Magnussen as well as Carlos Sainz in separate incidents.
"I would not call it failures," team boss Steiner said. "It's becoming frustration.
"Every time we hope that everything turns for him, but it happens again. We will certainly cope, but it's not easy.
"We need to score points, do the maximum in every race weekend. It's important for us to move forward rather than standing still," he added.
"I support Romain and that's my duty, because I care about the success of the team. How long will it go on? I don't know when the critical moment will come.
"It has not yet arrived, but at some point we must stop losing points. This is extremely important. In the first half of the season, we lost too many points due to our own mistakes — it's unacceptable," Steiner said.
Renault felt like Formula 2 engine – Verstappen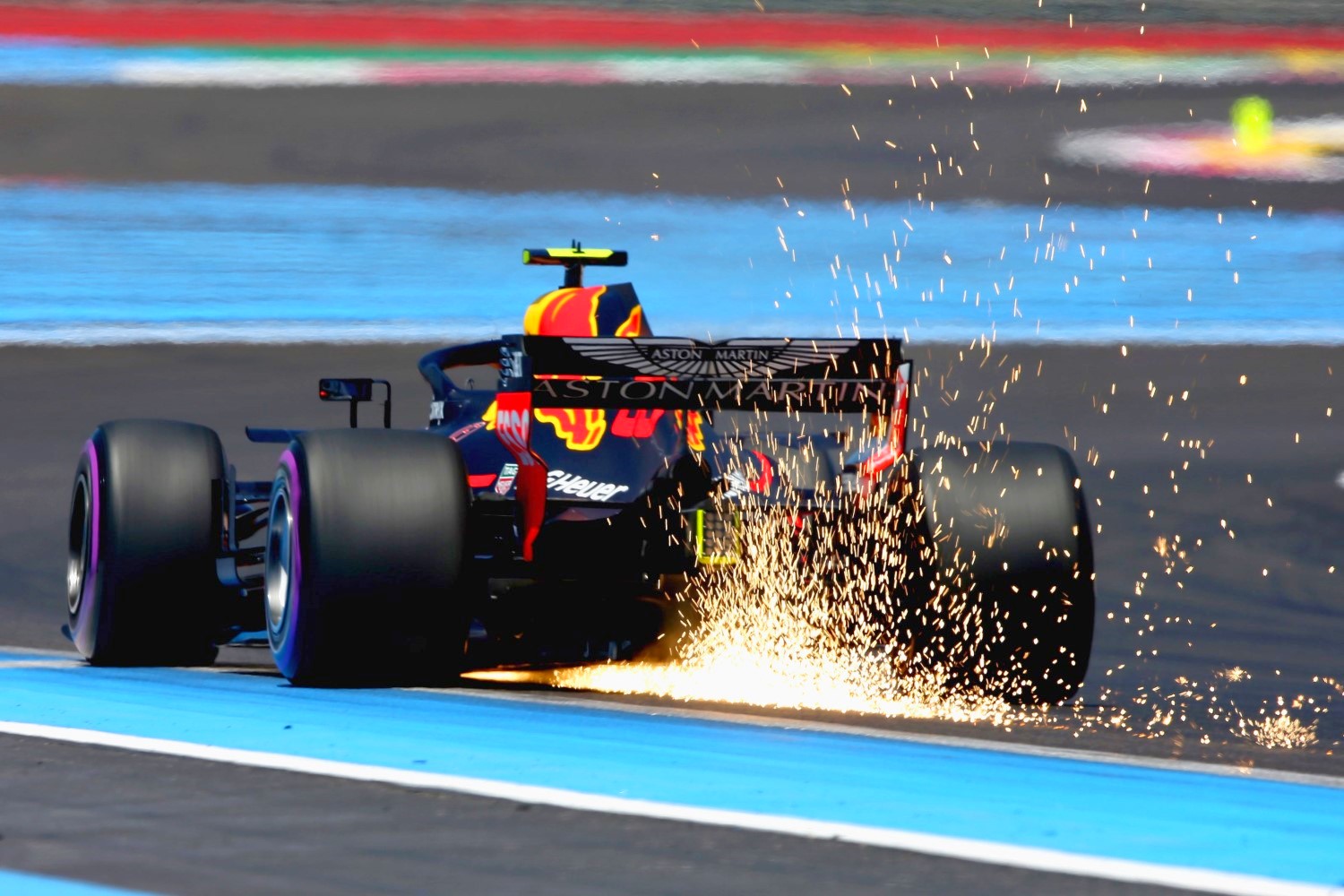 Verstappen wants more power
(GMM) Max Verstappen says he feels as though he has been relegated to Formula 2.
In the Honda era, Fernando Alonso at one point called his Honda power unit a "GP2 engine".
But Verstappen says he knows how the Spaniard felt.
"If you're missing 70-80hp you know you're going to struggle," he said at Silverstone.
"On the straight it looked like we were in a different series," Verstappen added at Silverstone. Asked if it felt like Formula 2, he answered: "Yes."
The Dutchman is Renault-powered at present, but Red Bull will switch to works Honda power for 2019.
His boss Christian Horner says the time has clearly come for that move.
"It's just time for a change," he said.
Horner said Renault's power problems were obvious at Silverstone, and so he has no qualms about switching to Honda.
"You could see very well what level everyone is at and I think Honda and Renault are in a similar situation at the moment.
"However, it is all about potential and development and we really believe in what is in the pipeline at Honda to close the gap," said the Briton.
"With Renault it's the same story year after year but at Honda we see good progress, so it seems like the right choice."
As for the astonishing claim about an up to 80hp deficit, Verstappen explained: "I don't know exactly the amount but if you lose more than a second on the straight then you know it's a lot."
Ferrari engine better than Mercedes – Rosberg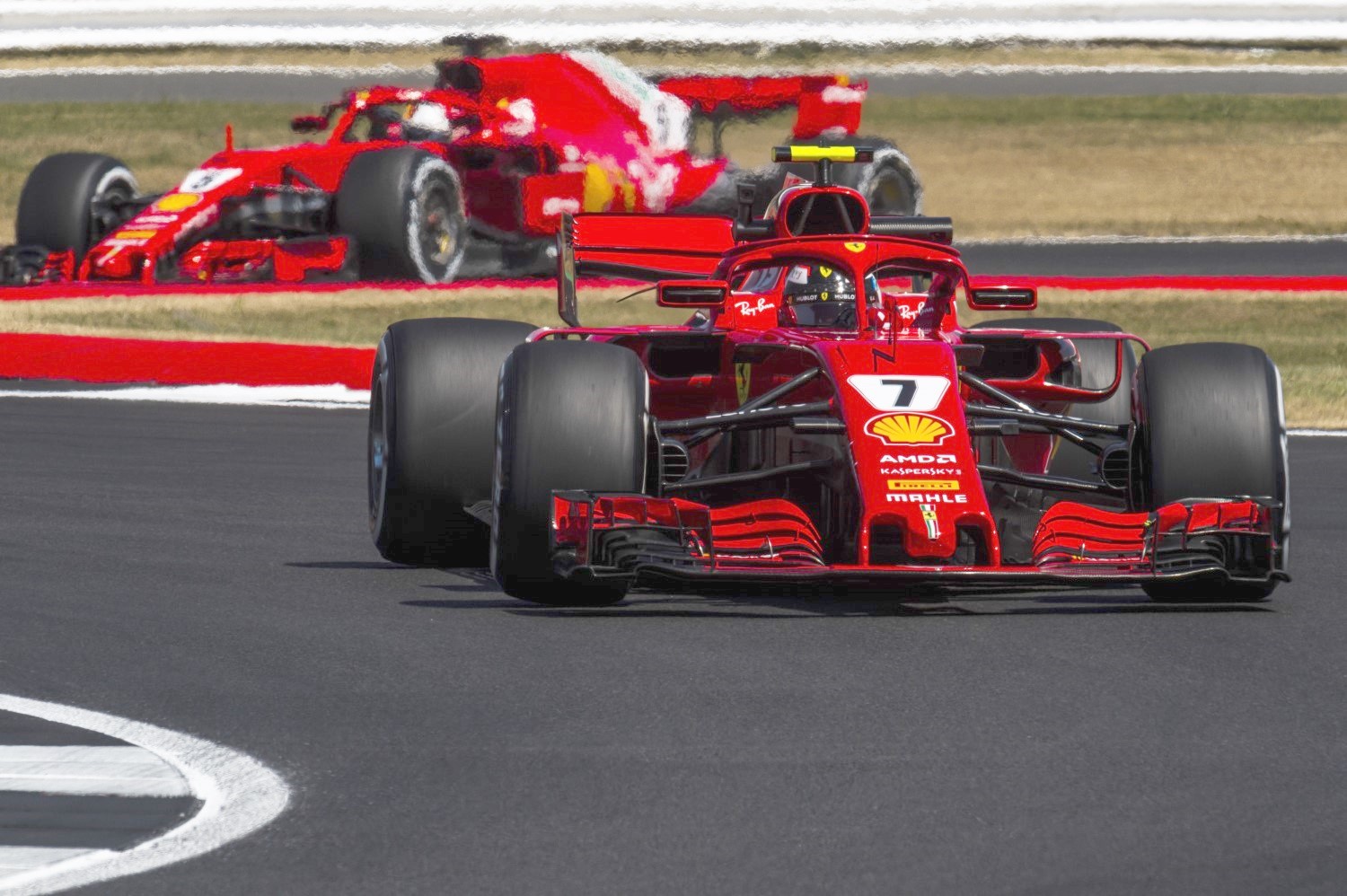 The Ferrari engine may be more powerful but the Aldo Costa Mercedes chassis is still king
(GMM) Nico Rosberg says the engine is what is making the difference at Ferrari this year.
The 2016 world champion says he thinks his old teammate Lewis Hamilton is having a tough time fending off Sebastian Vettel's title assault mainly because of horse power.
"I know from an insider source why Ferrari is so strong," said the former Mercedes driver.
"They have found more power from their engine. The turbo has been upgraded and more recharging is happening for additional power," Rosberg said.
"It's a small advantage at this time but Ferrari has done a good job."
Meanwhile, Rosberg has questioned Hamilton's sudden interest in football.
Hamilton said at Silverstone that he wanted to skip Saturday's press conference to watch England play in the world cup.
And he says he is keeping July 15 free in his diary so he can travel to Russia for the final.
But Rosberg told Bild newspaper: "Lewis is not really a football fan. It's all a bit of a show. That's part of his image."
However, the German does think Hamilton will eventually win in 2018, notwithstanding the engine deficit.
"I keep thinking that Lewis will get the title. Mercedes is incredibly strong as a team," he said.
Formula 1 Execs Want To Keep Silverstone Negotiations Private
Formula 1 execs want Silverstone's owners to "do their negotiating in private" as both sides "try to keep the British Grand Prix circuit on the calendar beyond next year," according to Alan Baldwin of REUTERS.
Some 140,500 fans turned up for Mercedes driver Lewis Hamilton's home race on Sunday, "a crowd unlikely to be beaten anywhere else this season."
However, the threat of '19 "being a farewell" to the former World War II airfield that hosted the first world championship race in '50, and is a "home grand prix for most teams, remains real."
F1 Managing Dir Ross Brawn said, "I'm sure we're going to find a solution with Silverstone because we cannot leave this behind.
"The frustration is the negotiations are taking place in public. Every circuit we deal with, we do it quietly and get on with it, but for some reason Silverstone chooses to make everything public, which causes more difficulties. But we'll find a solution" REUTERS
Livid Arrivabene: 'James Allison should be ashamed!'
Former Ferrari engineer James Allison now at Mercedes
Mercedes' allegations of foul play by Ferrari expressed in the heat of the moment after Sunday's British Grand Prix didn't go down well with Scuderia boss Maurizio Arrivabene.
Kimi Raikkonen's collision with Lewis Hamilton at Silverstone, two races after Sebastian Vettel punted Valtteri Bottas out of the French Grand Prix, led Mercedes technical director James Allison to say that the red cars' actions must either be deliberate or the result of incompetence.
Vettel labeled the claims as "silly", insisting incidents happen when the racing is so close. But Arrivabene was outright shocked by Allison's words, as conveyed by Mercedes team boss Toto Wolff.
"Who is incompetent? Kimi? Who is he to judge what the drivers are doing in the car?" the Scuderia boss told Sky Italia.
"If he really said something like that, he should be ashamed!
"Allison worked at Maranello for many years, but now we are here in England teaching him to be a gentleman.
"I accept it from [Sky Italia pundit] Jacques Villeneuve because he was a driver. But this guy?"
Red Bull's Christian Horner says the rhetoric is a clear indication that tensions between the Mercedes and Ferrari are reaching a boiling point amid the teams' fierce world championship battle.
"When you have that growing tension, speculation is unavoidable when these incidents occur," he said.
"But I believe it's nothing more than a racing incident. I would be surprised if there was anything else or if Kimi is that kind of driver."
In the German camp, Valtteri Bottas who enjoyed a momentous scrap with Vettel in the closing stages of the race, also played down the incident and the accusations.
"We are always racing closely with Ferrari and there can always be contact," he said.
However, Mercedes team chairman Niki Lauda commented: "The accident was just unfair. It was the second time a Ferrari has hit us in the first corner. That's not funny."
Haas investigating Santino Ferrucci's behavior after F2 race ban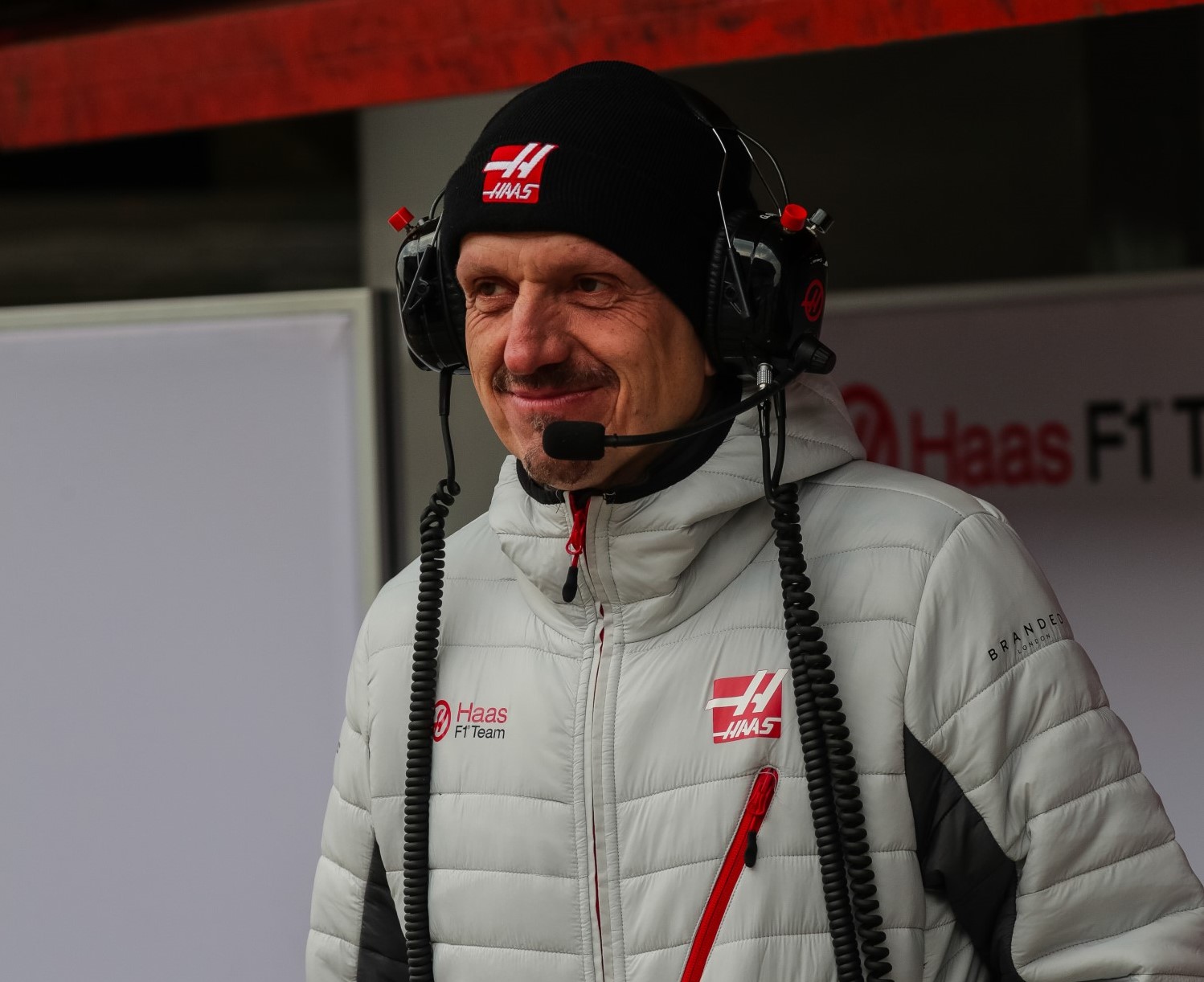 Steiner hates Americans and Ferrucci gave him an opening to axe him
Haas development driver Santino Ferrucci is under investigation by the team for the transgressions he committed during the Formula 2 Sprint Race in Britain.
The American team is in the process of gathering all of the information possible about their junior driver with regards to his actions during the event at Silverstone.
"I'm aware of it, I've seen the incident once on the TV when they showed the race," commented team boss Guenther Steiner. "I was made aware that there is some problems, but I said I'm not going to deal with them today [Sunday] because we have got a race to go to.
"I'm going to deal with that one during the week when I've got more information. I've seen it, I'm aware of it, but at the moment I don't have enough information – or informed – to make a decision [about his future with Haas]."
Ferrucci was handed a two-round F2 ban which will see him miss the events in Hungary and Belgium after committing numerous offences during the day.
Ferrucci hit team-mate and fellow Haas development driver Arjun Maini during the race and also hit him again on the cooldown lap.
The Trident team was called to the stewards and told the officials it was a deliberate act on the American driver's part and have since made a statement about his 'unsportsmanlike' actions.
On both occasions, Ferrucci declined to visit the stewards which resulted in his ban, a €60,000 fine and also a disqualification from the results of the Sprint Race where he originally finished in 14th place.
He was also seen by an FIA technical delegate with only one glove on and a mobile phone in his hand while moving his Trident-run F2/18 from the support race paddock to the Formula 1 pit lane prior to the race, for which he was also fined a further €6000.
Ferrucci signed with Haas as their development driver in 2016 and has tested for them at two in-season tests in Silverstone 2016 and in Hungary 2017, where he completed nearly 2000 kilometers of on-track running.
He has also made an appearance in the IndyCar Series at the two races in the 'Dual In Detroit' for Dale Coyne Racing as a replacement for the injured Pietro Fittipaldi.
Latifi and Mazepin to test for Force India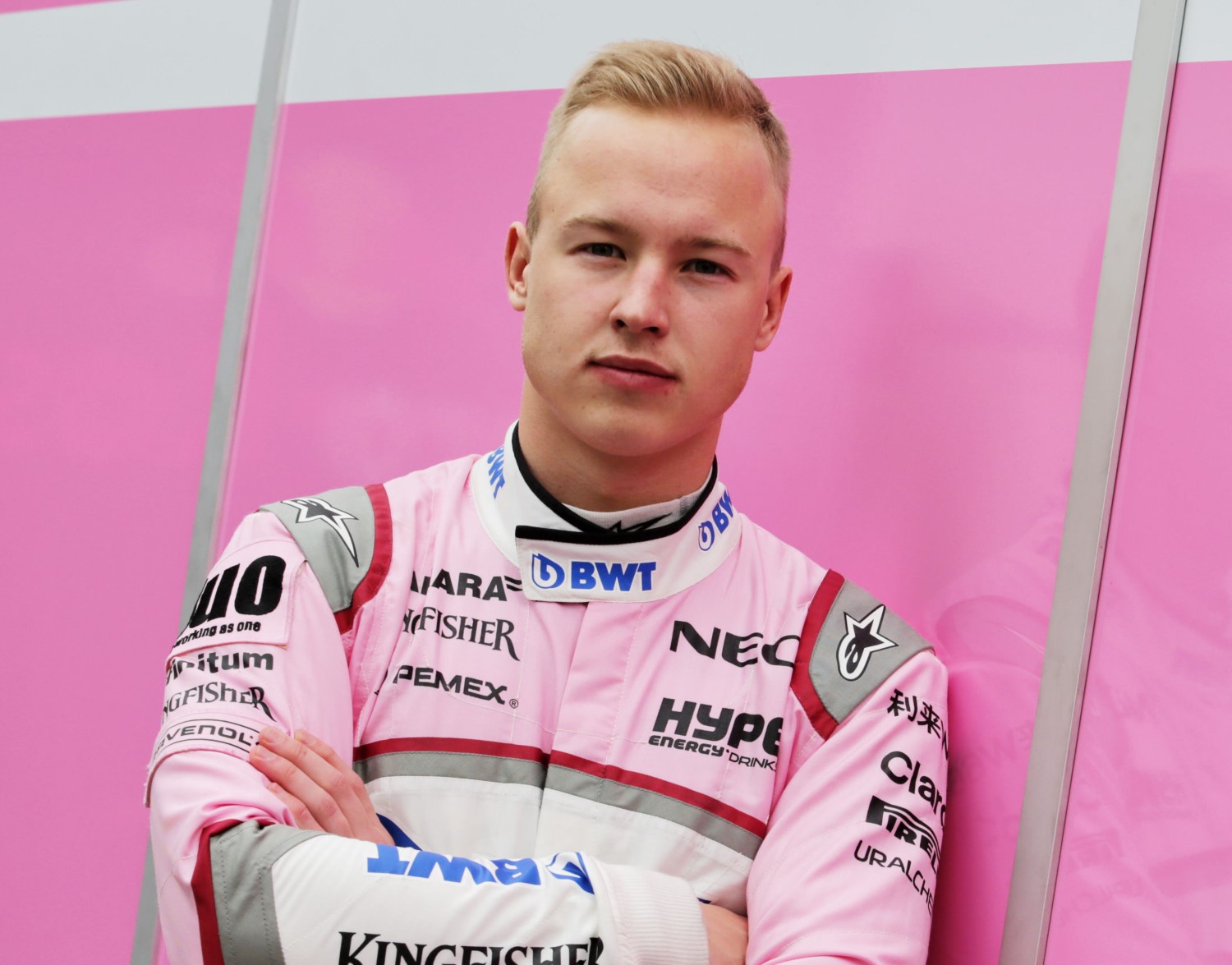 Nikita Mazepin
Nicholas Latifi will return to the cockpit of the Force India VJM11 during opening practice for the German Grand Prix next week. Nicholas will drive Esteban Ocon's car on Friday 20th of July to gain further experience of working with the team during a Grand Prix event.
Nicholas will also drive for the team during the Budapest testing session on Tuesday 31st of July before Nikita Mazepin takes over driving duties on Wednesday 1st of August.
F1 rivals choose same tire compounds for Germany
Sebastian Vettel and Lewis Hamilton have chosen the same number of sets of each tire compound for the next F1 race in Hockenheim, Germany
Germany tire choices by driver