Patricio O'Ward Wins in Iowa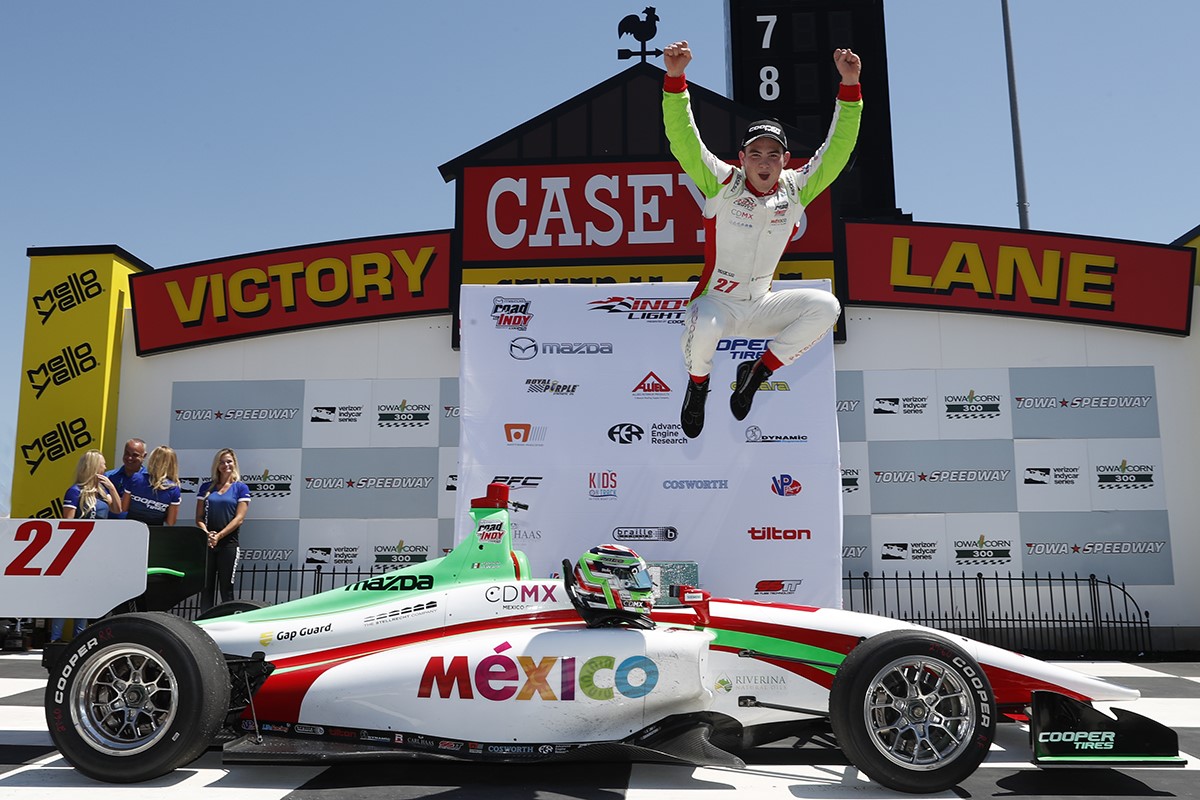 Patricio O'Ward turns race into a snoozefest
Patricio O'Ward put his stamp on Iowa Speedway, setting the fastest time in practice, taking the pole in qualifying and ticking the final box on his checklist this afternoon with a dominant victory in the Mazda Iowa 100 Presented by Cooper Tires. The young driver from Monterey, Mexico now has four wins to his credit this season – including six pole positions – and, with the additional points available on ovals, has narrowed the gap to just eight points in arrears of championship leader Colton Herta.
O'Ward, driving for Andretti Autosport, was never headed in the caution-free race, romping to an almost three-second lead by the time the checkers flew. With O'Ward dancing away at the front, the battle to watch was between Belardi Auto Racing's Santi Urrutia and Andretti-Steinbrenner's Colton Herta.
Urrutia, who started fifth, overtook Andretti Autosport teammates Dalton Kellett and Ryan Norman and finally Herta for second on the opening lap. But it wasn't until the midpoint of the 100-lap sprint on "The Fastest Short Track on the Planet" that Herta began to close what was a comfortable gap for Urrutia. After a close look on Lap 82, Herta managed to finish the job 11 cycles later with a move to the inside of Urrutia, securing second and his eighth podium of the year.
Norman and Kellett rounded out the top five followed by Victor Franzoni of Juncos Racing – who set the fastest lap of the race – and Belardi Auto Racing's Aaron Telitz.
With his gain of three positions at the start, Urrutia picked up the Tilton Hard Charger Award. He remains third in the championship standings.
Indy Lights moves to the streets of Toronto later this week, which will see the full Mazda Road to Indy Presented by Cooper Tires ladder in action. Double-header rounds are on deck for Indy Lights, the Pro Mazda Championship Presented by Cooper Tires and the Cooper Tires USF2000 Championship Powered by Mazda on July 14/15.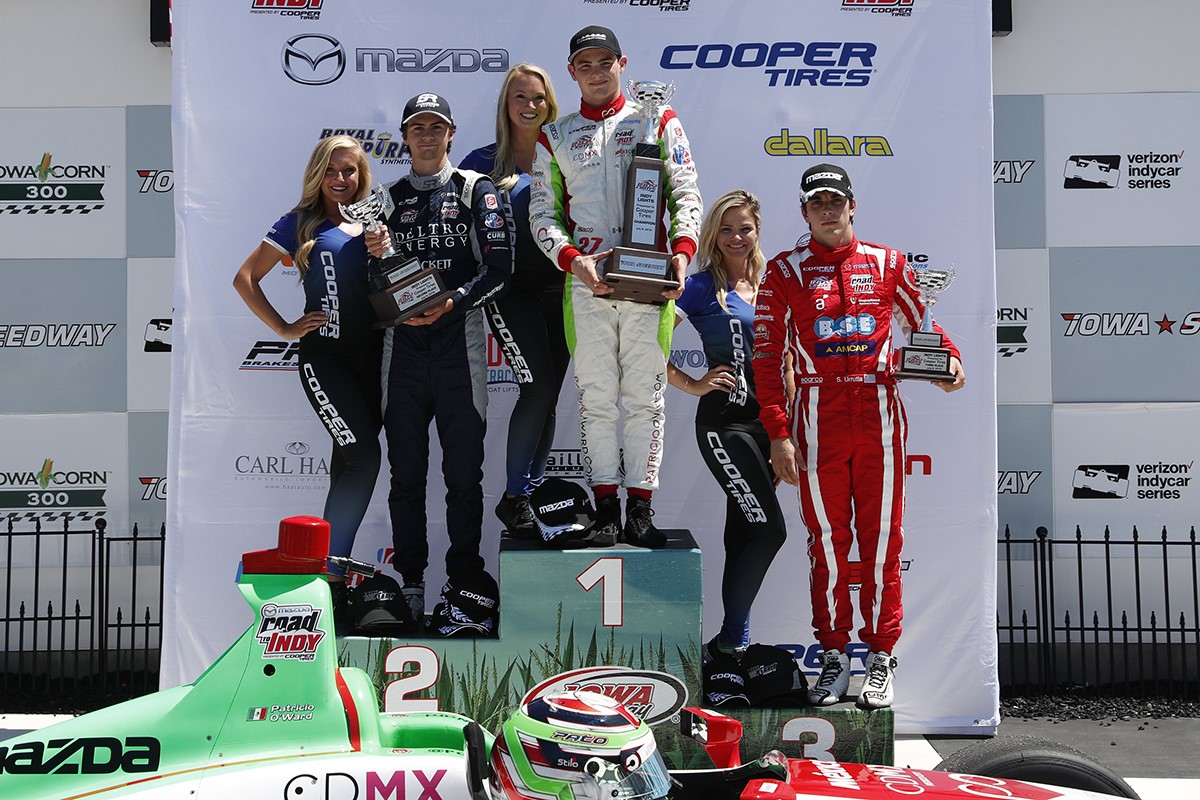 From left Herta, O'Ward and Urrutia
Patricio O'Ward (#27 Riverina CDMX Mexico City Mazda – Andretti Autosport): "It's always easier when you start from pole. You don't get all the dirty air. I tried to control the pace and not push too hard and conserve the Cooper tires. This is my first time here and, unlike Colton and Santi, I didn't have a feel for what they would be like toward the end of the race. It becomes a mental challenge with yourself, when you're so far out in front. I allowed it to get to me at St. Pete and I don't want to have that happen again. That was a tough one to swallow. I'm learning every weekend, and everything goes into the memory banks, so I can improve through the year. But a day like this is good, where I can show that I have strong pace and that I'm ready for IndyCar.
"It's a long championship and this is the most intense month. I had some bad luck or didn't capitalize over the past few races while Colton had some good runs, but one bad weekend can turn it all around."
Colton Herta (#98 Andretti-Steinbrenner Racing Curb Mazda – Andretti-Steinbrenner Racing): "It was tough to pick a line. Santi was moving and disturbing the air, but I would have done the same in his position. He ran the high line for the first half, and I moved up high later in the race. It was tough to get close, with all the aero wash, but he made a mistake out of Turn 2 and I could run deep enough to hold the position. I think we had the best car, given how much we were able to run down Pato in the final laps. But it was a good points weekend, so I'm happy with that. Either Pato or myself have been leading the championship except for the first round, where we both made dumb mistakes, but hopefully we'll continue to lead from here. We always have good cars in Toronto but so does Belardi, so we'll see what happens next."
Santi Urrutia (#5 Belardi Auto Racing): "It was the same story today that it's been all season, just driving around behind the Andretti cars, both in qualifying and today. It was a boring race, running 100 laps trying to survive, and keep Colton behind. As soon as he passed me, he was a second faster every lap. It's tough when you have to race like that, when you don't have the pace to fight. It is what it is and if we don't improve, we can't fight for the championship. Congratulations to Pato and Colton, they did a good job. Now we focus on Toronto and see if we can win the races there."
Results
| | | | | | | | | | |
| --- | --- | --- | --- | --- | --- | --- | --- | --- | --- |
| Pos | No. | St | Driver | Hometown | Team | Laps | Diff | Gap | Status |
| 1 | 27 | 1 | Pato O'Ward (R) | Monterrey Mexico | Andretti Autosport | 100 | –.—- | –.—- | Running |
| 2 | 98 | 2 | Colton Herta | Valencia CA | Andretti Steinbrenner | 100 | 2.8258 | 2.8258 | Running |
| 3 | 5 | 5 | Santi Urrutia | Montevideo Uruguay | Belardi Auto Racing | 100 | 5.6820 | 2.8562 | Running |
| 4 | 48 | 3 | Ryan Norman | Cleveland OH | Andretti Autosport | 100 | 6.0403 | 0.3583 | Running |
| 5 | 28 | 4 | Dalton Kellett | Toronto Canada | Andretti Autosport | 100 | 7.9356 | 1.8953 | Running |
| 6 | 23 | 7 | Victor Franzoni (R) | Sao Paulo Brazil | Juncos Racing | 100 | 8.5758 | 0.6402 | Running |
| 7 | 9 | 6 | Aaron Telitz | Rice Lake WI | Belardi Auto Racing | 100 | 9.5601 | 0.9843 | Running |