Van Gisbergen victory caps memorable weekend in Townsville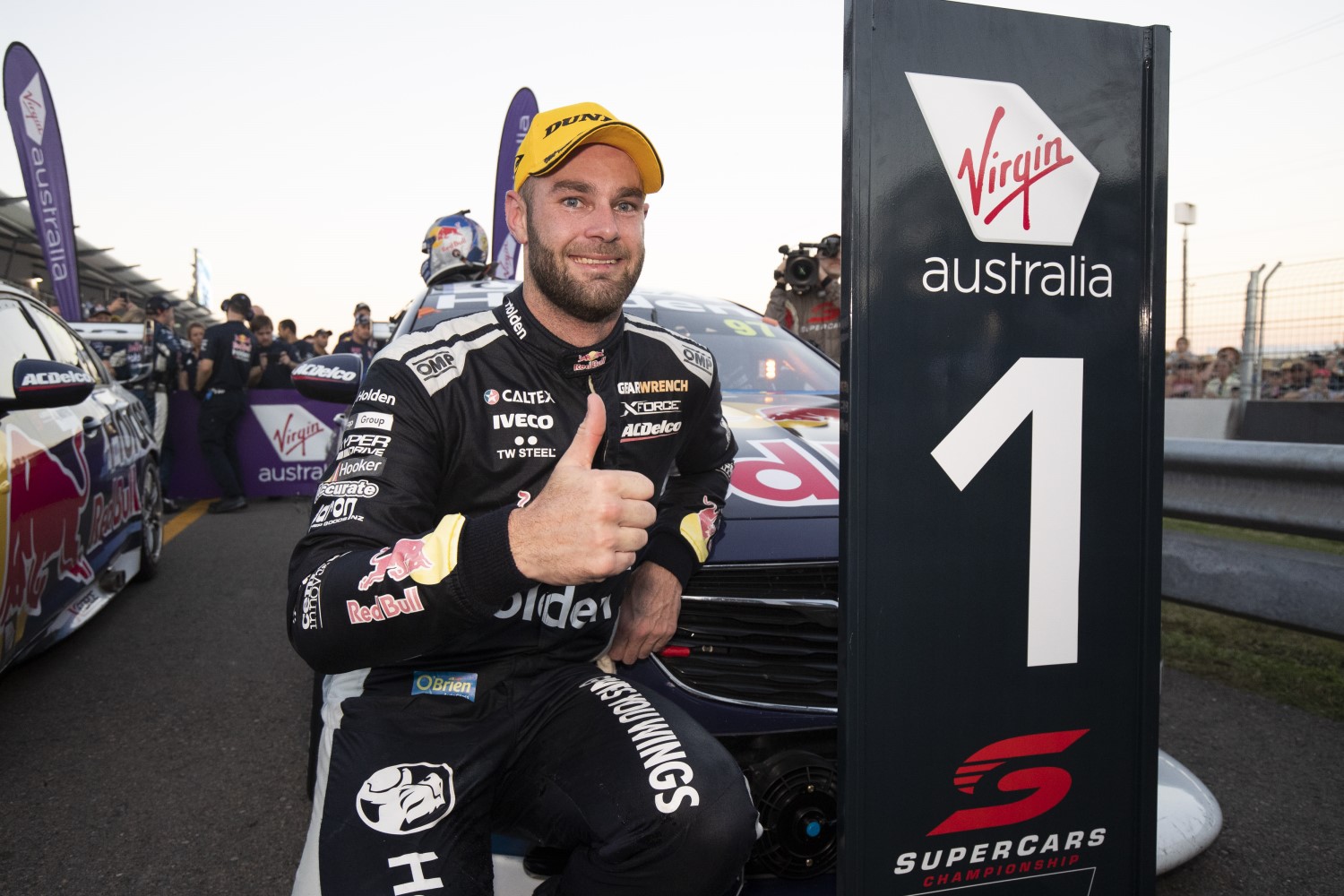 Shane van Gisbergen
Shane van Gisbergen held on for his third race victory of 2018 this afternoon to cap off a dominant weekend for the Red Bull Holden racing team at the Watpac Townsville 400.
After finishing second in yesterday's race behind teammate Jamie Whincup, van Gisbergen went one better today, with Whincup second and championship leader Scott McLaughlin third. McLaughlin was also third yesterday behind the Red Bull Holden pair.
"Man it's awesome. Thanks to the guys and girls at the Red Bull Holden Racing Team, our cars were awesome all weekend," van Gisbergen said after the race.
"A good personal day for the 97 crew who turned our car around from qualifying to race and came out on top. As a team a double 1-2 is awesome. Ten years of Townsville, it's an awesome track, can't wait for the next one."
It was a fitting end to the 10th anniversary of the event attracted a crowd of 147,539 over three days, an increase of 3.55 per cent on 2017.
Van Gisbergen's 27th career race victory looked to have been completed in a relatively uneventful race until late crashes made for a thrilling finish.
With just a handful of laps to go, Nissan's Michael Caruso was bumped from behind into a tire wall by Erebus Motorsport rookie Anton de Pasquale. The incident brought out the Vodafone Safety Car for the first time in the race and bunched up the field.
Caruso walked away and following the restart there was another incident, when Will Davison who had been impressive throughout the race, went head on into a separate tire bundle after a collision with another rookie, Jack Le Brocq. Davison was uninjured and with just three laps to go the race finished without the safety car.
Earlier, van Gisbergen got the perfect start, out of the gates quickly ahead of David Reynolds and Rick Kelly who jumped out of the blocks from the second row to overtake Whincup in the opening stages.
Behind the leaders McLaughlin, who started from the unfamiliar position of 7th, narrowly avoided collision with several other cars at a tight first corner, but dropped back to 11th before the turn.
As Whincup did yesterday, van Gisbergen sped away from the pack to open a handy lead until the Shell V-Power Ford team of McLaughlin went for an early pit stop to undercut the leaders.
It helped McLaughlin to leapfrog from 10th into 2nd position and cut the Red Bull Holden's lead out in front, but Whincup and van Gisbergen had a large enough gap to hold on for another memorable 1-2 victory for the Red Bull Holden Racing Team.
Whincup said it was a great race until the end.
"A poor start and that put us behind the eight ball. There was no team orders and no cruising to the end. I pushed him hard, if there was a gap I would have taken it but he did unbelievably well."
McLaughlin said he was unhappy with his own driving performance, and credited his team for the podium finish.
"I didn't do anything. All the guys and girls at Shell V-Power Racing gave me an awesome strategy, the tire life was fantastic. I will take that today, that's a good result for us."
The result means McLaughlin's championship lead over second placed van Gisbergen has been cut to 131-points while Whincup made significant strides this weekend as he looks to defend his 2017 title.
The defending Champion now sits 403-points behind McLaughlin in fourth position, third is Reynolds and fifth is Craig Lowndes.
The next round of the Virgin Australia Supercars Championship will be the Coates Hire Ipswich SuperSprint, which will run at Queensland Raceway from 20-22 July.
Results
| | | | | |
| --- | --- | --- | --- | --- |
| POS | No. | DRIVER | TEAM | Behind |
| 1 | 97 | Van Gisbergen | Red Bull Holden Racing Australia | +0.000s |
| 2 | 1 | Whincup | Red Bull Holden Racing Australia | +0.782 |
| 3 | 17 | McLaughlin | Shell V-Power Racing Team | +8.534 |
| 4 | 888 | Lowndes | Team Vortex | +9.312 |
| 5 | 55 | Mostert | Supercheap Auto Racing | +9.877 |
| 6 | 9 | Reynolds | Erebus Motorsport | +11.278 |
| 7 | 15 | R. Kelly | Nissan Motorsport | +13.182 |
| 8 | 12 | Coulthard | Shell V-Power Racing Team | +13.409 |
| 9 | 6 | C. Waters | Monster Energy Racing | +14.102 |
| 10 | 25 | Courtney | Mobil 1 Boost Mobile Racing | +15.233 |
| 11 | 19 | J. Le Brocq | TEKNO Woodstock Racing | +16.400 |
| 12 | 7 | Heimgartner | Nissan Motorsport | +17.125 |
| 13 | 5 | Winterbottom | The Bottle-O Racing Team | +17.424 |
| 14 | 8 | Percat | Brad Jones Racing | +17.826 |
| 15 | 14 | Slade | Brad Jones Racing | +18.729 |
| 16 | 18 | Holdsworth | Preston Hire Racing | +19.160 |
| 17 | 34 | J. Golding | Wilson Security Racing GRM | +19.691 |
| 18 | 99 | A. de Pasquale | Erebus Motorsport | +21.581 |
| 19 | 33 | Tander | Wilson Security Racing GRM | +1 Lap |
| 20 | 56 | R. Stanaway | Tickford Racing | +1 Lap |
| 21 | 2 | S. Pye | Mobil 1 Boost Mobile Racing | +1 Lap |
| 22 | 78 | S. De Silvestro | Nissan Nismo | +1 Lap |
| 23 | 35 | T. Hazelwood | Bigmate Racing | +1 Lap |
| 24 | 21 | Blanchard | CoolDrive Racing | +2 Laps |
| NC | 230 | Davison | Milwaukee Racing | +3 Laps |
| NC | 23 | Caruso | Nissan Nismo | +10 Laps |
| | | | |
| --- | --- | --- | --- |
| Drivers Championship | Driver | Points | Behind |
| 1. | Scott McLaughlin | 2033 | -0 |
| 2. | Shane Van Gisbergen | 1902 | -131 |
| 3. | David Reynolds | 1646 | -387 |
| 4. | Jamie Whincup | 1630 | -403 |
| 5. | Craig Lowndes | 1602 | -431 |
| 6. | Fabian Coulthard | 1430 | -603 |
| 7. | Scott Pye | 1384 | -649 |
| 8. | Rick Kelly | 1372 | -661 |
| 9. | Chaz Mostert | 1286 | -747 |
| 10. | Tim Slade | 1236 | -797 |
| Team Championship | Team | Pts | Behind |
| 1. | Triple Eight Race Engineering (Whincup/SVG) | 3532 | -0 |
| 2. | Shell V-Power Racing Team | 3463 | -69 |
| 3. | Walkinshaw Andretti United | 2620 | -912 |
| 4. | Erebus Motorsport | 2497 | -1035 |
| 5. | Tickford Racing (Mostert/Winterbottom) | 2455 | -1077 |
| 6. | Brad Jones Racing | 2448 | -1084 |
| 7. | Nissan Motorsport (Kelly/Heimgartner) | 2286 | -1246 |
| 8. | Garry Rogers Motorsport | 1760 | -1772 |
| 9. | NISMO (Caruso/De Silvestro) | 1664 | -1868 |
| 10. | Triple Eight Race Engineering (Lowndes) | 1602 | -1930 |