Gunther beats Russell in F2 sprint race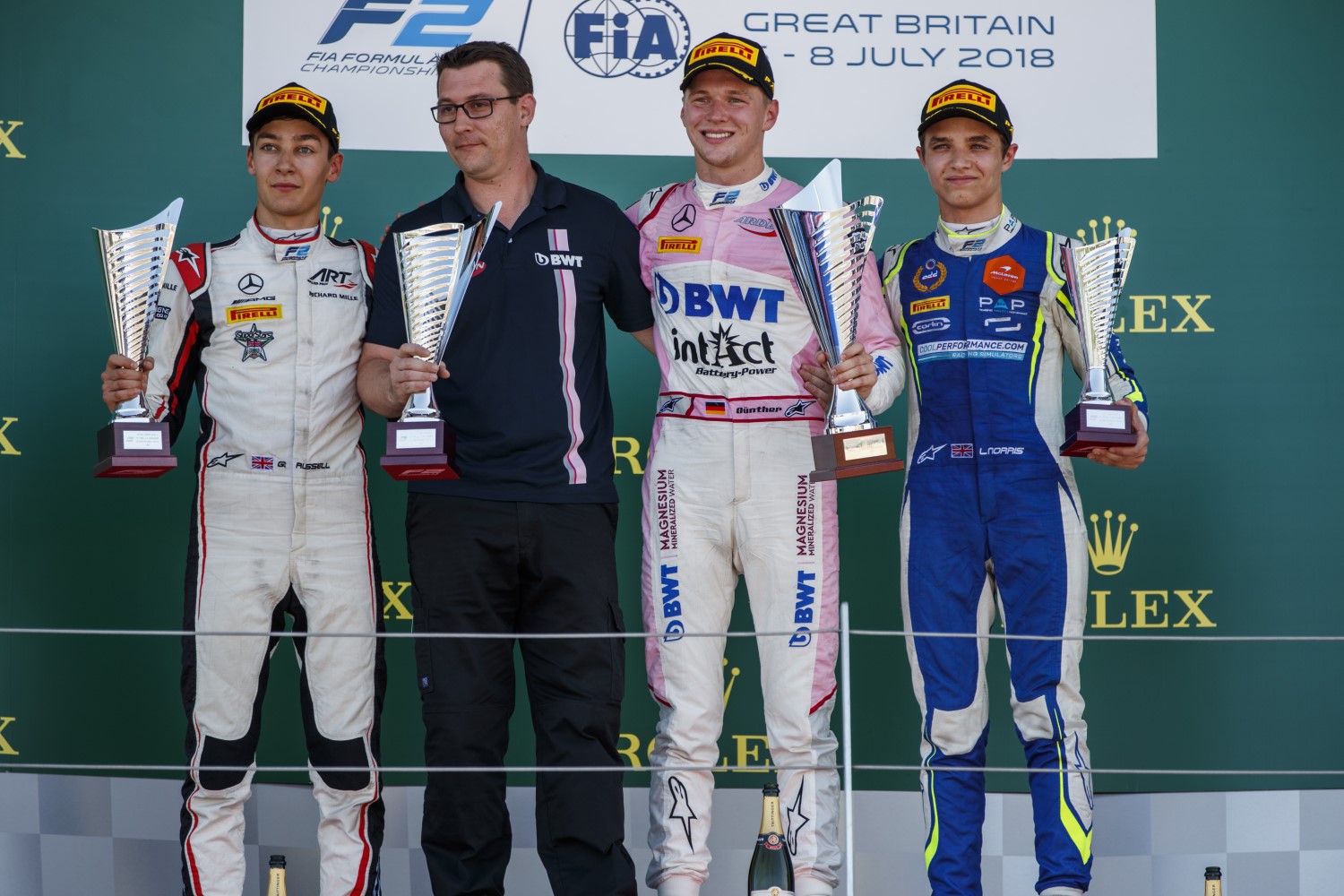 From left – George Russell (ART Grand Prix), Maximilian Gunther (BWT Arden), and Lando Norris (Carlin)
Maximilian Gunther produced a metronomic performance in the FIA Formula 2 Championship Sprint Race at Silverstone, Great Britain, keeping his cool through a frenetic race to clinch his first F2 victory. The BWT Arden driver was joined on the podium by George Russell and Lando Norris, who both produced fantastically-executed races to carve their way through the pack.
At the start, Gunther immediately began to try and build a gap between himself and Nyck de Vries, with third-placed Markelov hanging back behind the pair – waiting to pick up any pieces. Behind them, Louis Deletraz sought to make hay early on and quickly cleared Luca Ghiotto for fourth – with Charouz teammate Antonio Fuoco following through only corners later with an assured overtake at Copse.
Gunther had just half a second over de Vries by the end of the first lap, but the German was able to keep him at arms' length – and the Dutchman soon had divert his focus behind as Markelov loomed larger in his mirrors. Meanwhile, Norris was soon all over Feature Race winner Alexander Albon, and the Carlin driver launched an audacious move around the outside of Copse – which Albon managed to stamp out as they moved into Becketts.
Ahead of the pair's battle for eighth, Russell cruised past Ghiotto at turn 3 to claim sixth place, opening his charge through the field. Norris then cleared Albon shortly after; an attempted move around the outside of Luffield was defended well by Albon, but the Thai driver couldn't stop Norris' charge down the inside of Stowe.
Russell then continued his progress, catching Fuoco after setting a fastest lap. Although the Italian held on to stymy Russell's efforts of making another turn 3 pass, he was unable to resist the ART Grand Prix driver's run into Brooklands. Quickly, Russell began to turn his attention to the other Charouz of Deletraz, while Ghiotto was next to fall into the sights of Norris.
At the head of the field, Gunther's lead to de Vries remained static – although within a second, the PREMA driver was unable to make any further inroads into the German's lead with DRS. The battles down the field began to heat up in the middle of the race, and Russell dispatched Deletraz on lap 11 in a carbon copy of his earlier move on Fuoco. Norris then swept past Ghiotto on the following lap at Brooklands, before Russell collected another position from Markelov two laps later down the Wellington Straight.
Perhaps sensing the challenge from further down the field, Gunther was able to open his lead out to de Vries by over a second, dropping his rival to leave him in the clutches of Russell. As Norris caught Fuoco and attempted to pass, the two collided at Luffield – Fuoco coming to a stop in the gravel at Luffield to prompt a virtual safety car. Once the VSC period was over, Gunther quickly took advantage to open up the gap to de Vries by an extra second – and the McLaren junior driver began to struggle.
By this point, Russell had caught de Vries, and a dive down the inside of Copse corner allowed Russell to wrest control of second place. The battle had given Gunther a further advantage, leading by 4.4s with three laps remaining – but Russell began to quickly overturn his gap. Norris, meanwhile, pounced on Markelov's attempt to relegate de Vries by a further position, cruising past both drivers at Club to clinch third place.
With the bit between his teeth, Russell began to melt Gunther's advantage away and had hacked the lead down to within two seconds at the turn of the final lap. However, the German remained calm, and kept the ever-looming presence of Russell in his mirrors to capture his first F2 victory by half a second. Norris clinched third with over seven seconds in hand over Markelov, as Deletraz overcame a late threat from Ghiotto to claim fifth – with de Vries dropping to seventh. Albon completed the top eight, beating the chasing Ralph Boschung in a photo finish.
Thanks to his brace of second place finishes, Russell opens his championship lead over Norris by 37 points, leading the way with 170 points. Norris leads third-placed Albon by 18 points, as ART Grand Prix now assume top spot in the teams' championship – albeit tied on 219 points with Carlin. Charouz Racing System remain in the top three with 159 points.
The eighth round of the season takes place at the Hungaroring, Budapest – and the tight technical sections will provide a stern challenge to the field of drivers as they continue to battle for F2 honors.
Result – 21 laps
| POS | DRIVER | TEAM | GAP |
| --- | --- | --- | --- |
| 1 | Maximilian Gunther | BWT Arden | 0.000s |
| 2 | George Russell | ART Grand Prix | 0.521s |
| 3 | Lando Norris | Carlin | 2.505s |
| 4 | Artem Markelov | RUSSIAN TIME | 9.925s |
| 5 | Louis Deletraz | Charouz Racing System | 12.005s |
| 6 | Luca Ghiotto | Campos Vexatec Racing | 13.051s |
| 7 | Nyck de Vries | Pertamina Prema Theodore Racing | 13.930s |
| 8 | Alexander Albon | DAMS | 14.007s |
| 9 | Ralph Boschung | MP Motorsport | 14.685s |
| 10 | Roberto Merhi | MP Motorsport | 16.488s |
| 11 | Tadasuke Makino | RUSSIAN TIME | 19.633s |
| 12 | Jack Aitken | ART Grand Prix | 23.653s |
| 13 | Arjun Maini | Trident | 24.041s |
| 14 | Santino Ferrucci | Trident | 27.719s |
| 15 | Roy Nissany | Campos Vexatec Racing | 32.166s |
| 16 | Sean Gelael | Pertamina Prema Theodore Racing | 33.319s |
| 17 | Nicholas Latifi | DAMS | 34.043s |
| 18 | Sergio Sette Camara | Carlin | 47.913s |
| – | Antonio Fuoco | Charouz Racing System | DNF |
| – | Nirei Fukuzumi | BWT Arden | DNS |