Sheldon Creed Charges to ARCA Victory at Iowa Speedway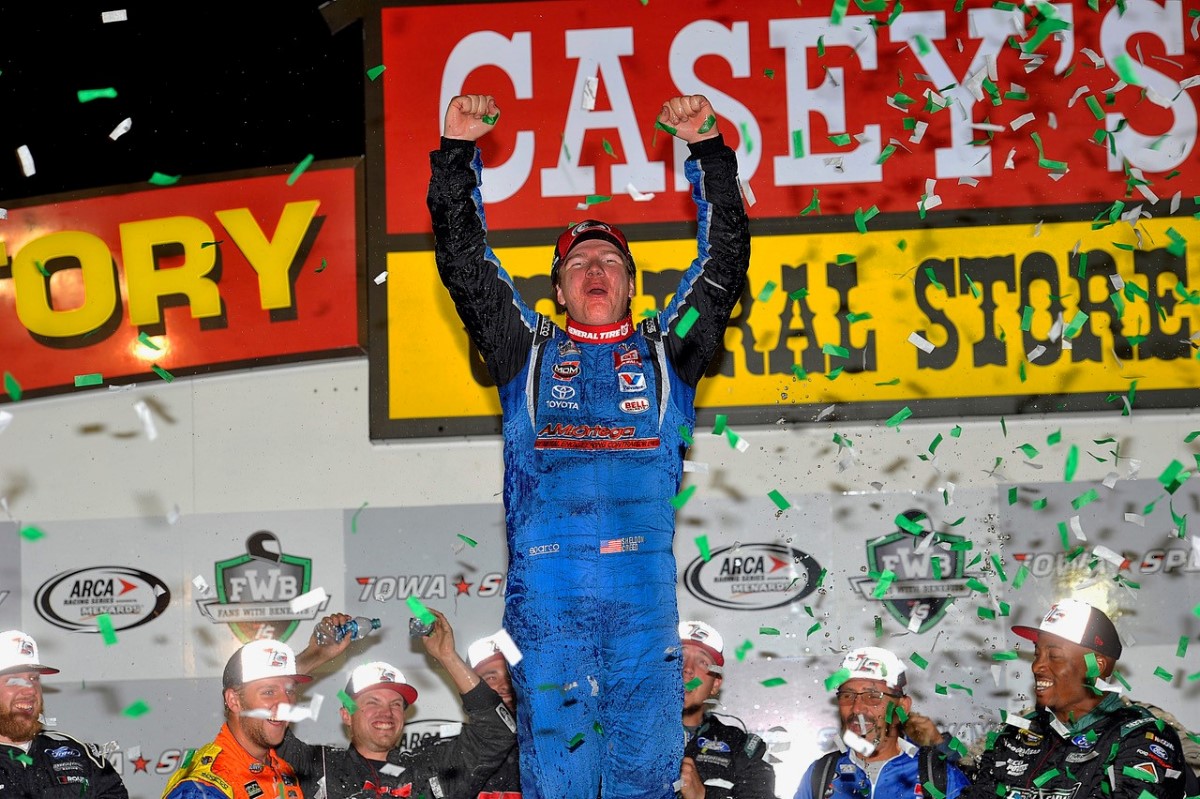 Sheldon Creed
Sheldon Creed, the Sukup "First in the Field" Award winner and pole sitter, was the class of the field early in the ARCA Racing Series Fans With Benefits 150 at Iowa Speedway. Due to handling issues, Creed started to slip in the running order, but he never lost touch with the leaders. And in the final third of the race he charged to the front and stayed there.
Creed, driving the No. 28 United Rentals Toyota, made the early break, but by Lap 15, he was under fierce pressure from Michael Self.
"Early on, we had a good car, but something changed," said Creed. "I just want to keep winning more."
Self had his hands full watching his mirrors for Riley Herbst's Coy Gibbs Toyota, as these three quickly separated themselves from the chasing pack, led by Harrison Burton.
Finally, once Self switched his attacks to the outside line, he did find a path around Creed on Lap 20 and then it was Herbst's turn to attack Creed. He completed the task on Lap 23… and Herbst's charge didn't stop there. He passed Self for the lead on Lap 38, while five seconds further back, Burton, Zane Smith and Chandler Smith demoted Creed to sixth.
Creed's car came back to life and in the end left C. Smith and Chase Purdy as his nearest pursuers.
"I needed 10 more laps," said Purdy. "And with a better car, I might have had him [Creed]."
Then with 90 laps to go, Gus Dean struck the outside wall in Turn 2 and looped his Kevin Cywinski Chevrolet down into the inside wall. That inevitably caused a rash of pitstops, and Herbst emerged ahead of Burton, Self, Z. Smith, C. Smith and Creed. However, at the restart, running three-wide, Z. Smith and Burton moved to the front, and on Lap 70, Herbst got loose at the bottom of the track, slid all the way up the track and was tagged by Self, into the wall and out of the race.
Self sustained some damage to his right-front fender which was taped in an unscheduled stop and would take the restart in 12th.
Next up for the ARCA Racing Series is Elko Speedway in Elko, MN on Saturday, July 14 (9:00 p.m. CT on MAVTV).