Newgarden and Rossi top final IndyCar practice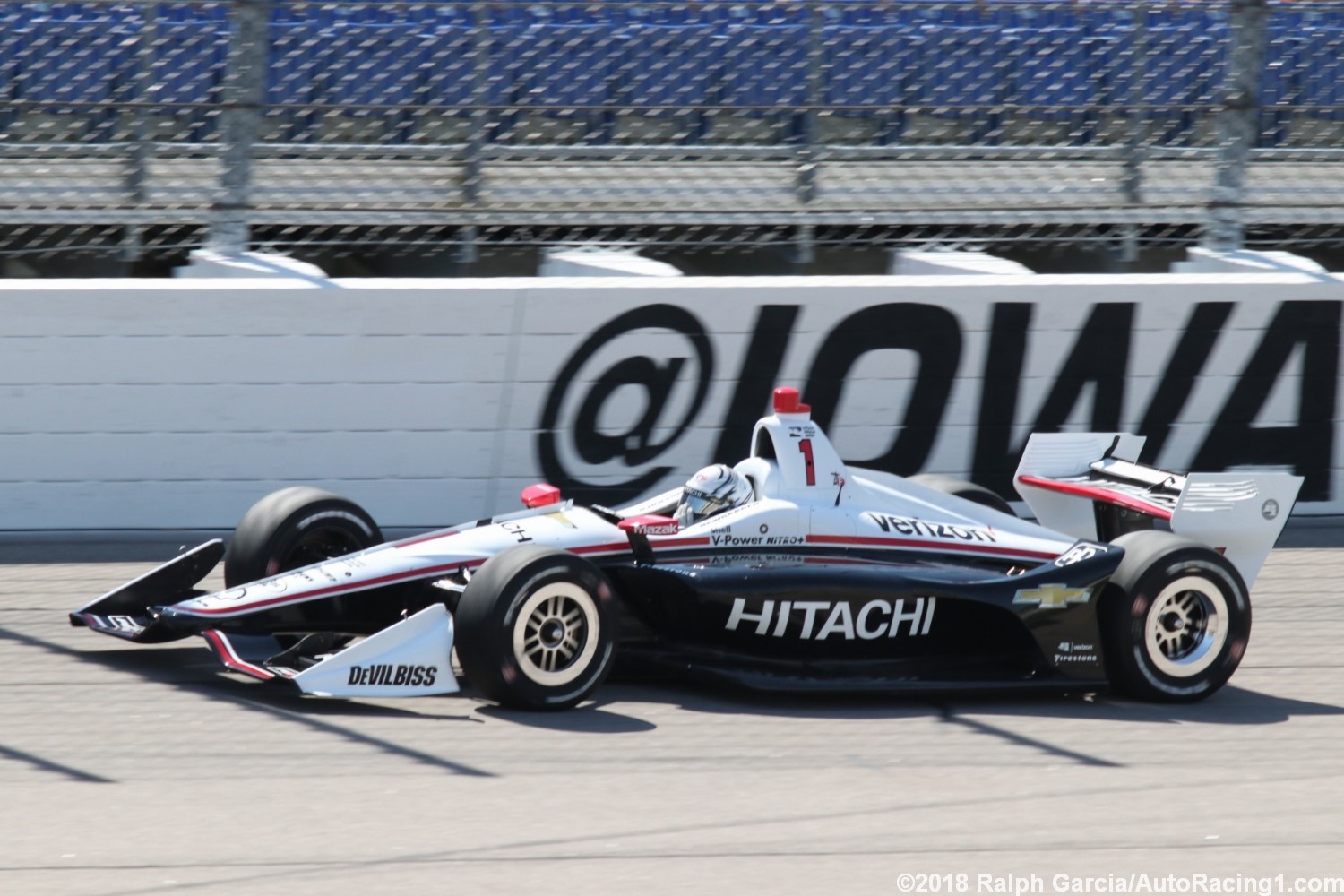 Newgarden tops final practice
Sunday's Iowa Corn 300 is run in the heat of the afternoon Sunday so this cool evening practice session after qualifying Saturday was a total waste of time, especially since the grandstands were empty. The grandstands were empty for qualifying too. NASCAR owns this track and once they bought it IndyCar attendance has dropped every year. It will eventually lead to the race dying from lack of proper promotion.
Why isn't this race still run as a night race? The fans will bake tomorrow in the afternoon sun and go home wilted.
With that said Josef Newgarden and Alexander Rossi turned near identical times to run 1-2 in the session. Scott Dixon, polesitter Will Power and Takuma Sato rounded out the top-5.
Speeds were 6 mph slower than in qualifying.
Live coverage of Sunday's Iowa Corn 300, the 11th of 17 races on the 2018 Verizon IndyCar Series schedule, begins at 2 p.m. ET Sunday on NBCSN and the Advance Auto Parts INDYCAR Radio Network that includes XM 209 and Sirius 217.
Final Practice Results
| | | | | | | | | | |
| --- | --- | --- | --- | --- | --- | --- | --- | --- | --- |
| Pos | No | Name | FTime | Diff | Gap | Laps | FSpeed | Engine | Team |
| 1 | 1 | Josef Newgarden | 18.206 | –.—- | –.—- | 58 | 176.772 | Chevy | Team Penske |
| 2 | 27 | Alexander Rossi | 18.258 | 0.0518 | 0.0518 | 53 | 176.271 | Honda | Andretti Autosport |
| 3 | 9 | Scott Dixon | 18.482 | 0.2759 | 0.2241 | 45 | 174.133 | Honda | Chip Ganassi Racing Teams |
| 4 | 12 | Will Power | 18.524 | 0.3177 | 0.0418 | 74 | 173.740 | Chevy | Team Penske |
| 5 | 30 | Takuma Sato | 18.622 | 0.4158 | 0.0981 | 54 | 172.825 | Honda | Rahal Letterman Lanigan Racing |
| 6 | 14 | Tony Kanaan | 18.746 | 0.5399 | 0.1241 | 36 | 171.681 | Chevy | AJ Foyt Enterprises |
| 7 | 22 | Simon Pagenaud | 18.858 | 0.6512 | 0.1113 | 60 | 170.668 | Chevy | Team Penske |
| 8 | 6 | Robert Wickens | 18.893 | 0.6866 | 0.0354 | 50 | 170.348 | Honda | Schmidt Peterson Motorsports |
| 9 | 28 | Ryan Hunter-Reay | 18.923 | 0.7162 | 0.0296 | 41 | 170.081 | Honda | Andretti Autosport |
| 10 | 5 | James Hinchcliffe | 18.927 | 0.7207 | 0.0045 | 40 | 170.041 | Honda | Schmidt Peterson Motorsports |
| 11 | 23 | Charlie Kimball | 18.958 | 0.7512 | 0.0305 | 46 | 169.767 | Chevy | Carlin |
| 12 | 15 | Graham Rahal | 18.975 | 0.7682 | 0.0170 | 46 | 169.615 | Honda | Rahal Letterman Lanigan Racing |
| 13 | 26 | Zach Veach | 19.011 | 0.8043 | 0.0361 | 67 | 169.293 | Honda | Andretti Autosport |
| 14 | 88 | Gabby Chaves | 19.023 | 0.8167 | 0.0124 | 31 | 169.183 | Chevy | Harding Racing |
| 15 | 19 | Zachary De Melo | 19.026 | 0.8198 | 0.0031 | 35 | 169.155 | Honda | Dale Coyne Racing |
| 16 | 10 | Ed Jones | 19.056 | 0.8496 | 0.0298 | 44 | 168.891 | Honda | Chip Ganassi Racing Teams |
| 17 | 59 | Max Chilton | 19.132 | 0.9258 | 0.0762 | 48 | 168.218 | Chevy | Carlin |
| 18 | 18 | Sebastien Bourdais | 19.176 | 0.9691 | 0.0433 | 52 | 167.838 | Honda | Dale Coyne Racing with VS |
| 19 | 20 | Ed Carpenter | 19.226 | 1.0194 | 0.0503 | 33 | 167.399 | Chevy | Ed Carpenter Racing |
| 20 | 21 | Spencer Pigot | 19.310 | 1.1034 | 0.0058 | 54 | 166.671 | Chevy | Ed Carpenter Racing |
| 21 | 4 | Matheus Leist | 19.442 | 1.2354 | 0.1320 | 29 | 165.539 | Chevy | AJ Foyt Enterprises |
| 22 | 98 | Marco Andretti | 19.455 | 1.2483 | 0.0129 | 29 | 165.430 | Honda | Andretti Herta Autosport with CA |