Hamilton nips Raikkonen in final British GP practice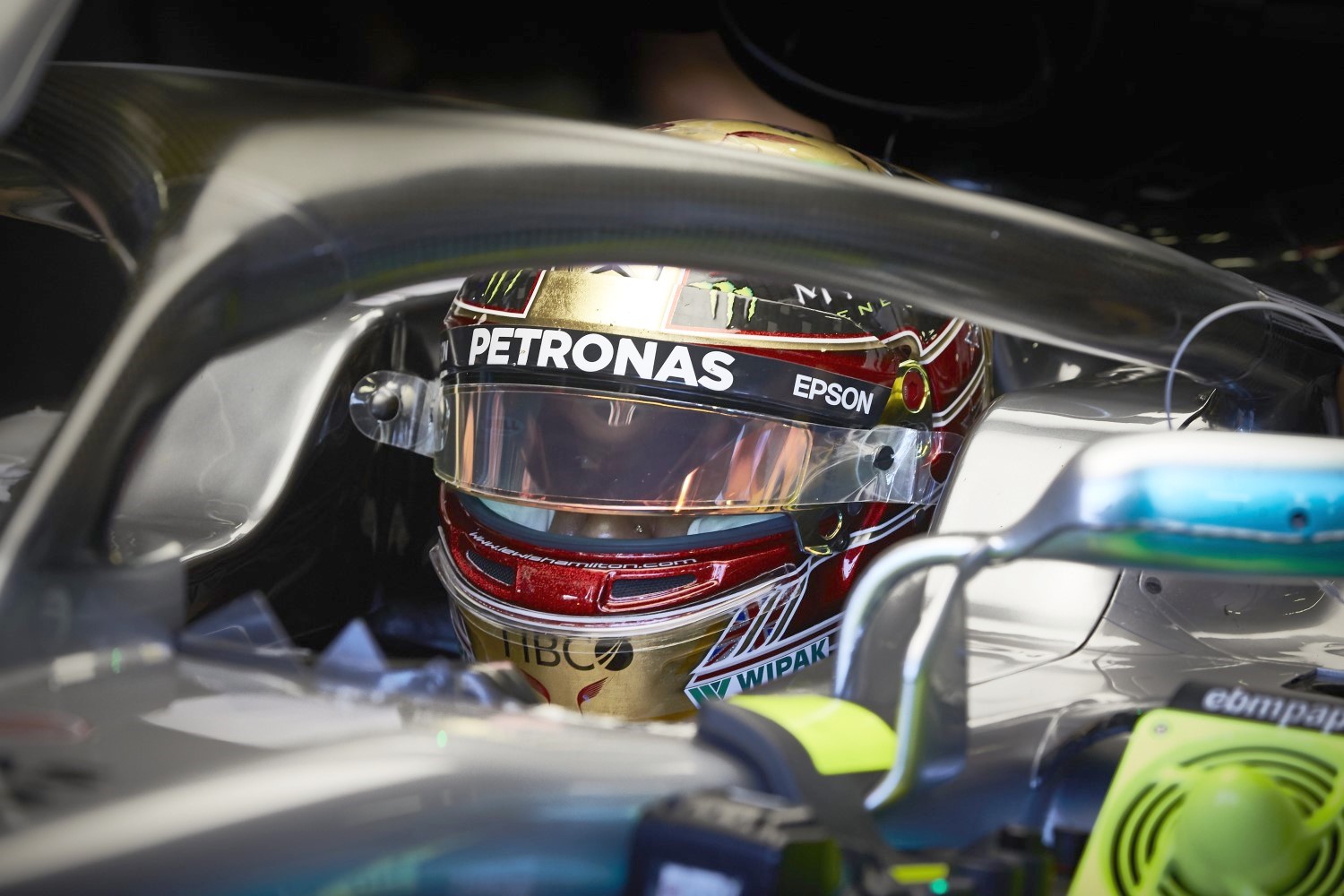 Hamilton quickest but what does Vettel have up his sleeve?
Mercedes' Lewis Hamilton pipped Ferrari's Kimi Raikkonen by just 0.093s to top the timesheets in final practice for the British GP Saturday morning at Silverstone. However, Ferrari's lead driver, Sebastian Vettel, did not make a qualifying simulation run and he's usually faster than Raikkonen so qualifying should be interesting in 2 hours time.
Valtteri Bottas was third quick for Mercedes 0.42s behind his teammate while Vettel was 4th 1.1s back but at race pace, not qualifying pace, and only ran 8 laps.
Max Verstappen was 1.29s back to finish in 5th in his Red Bull.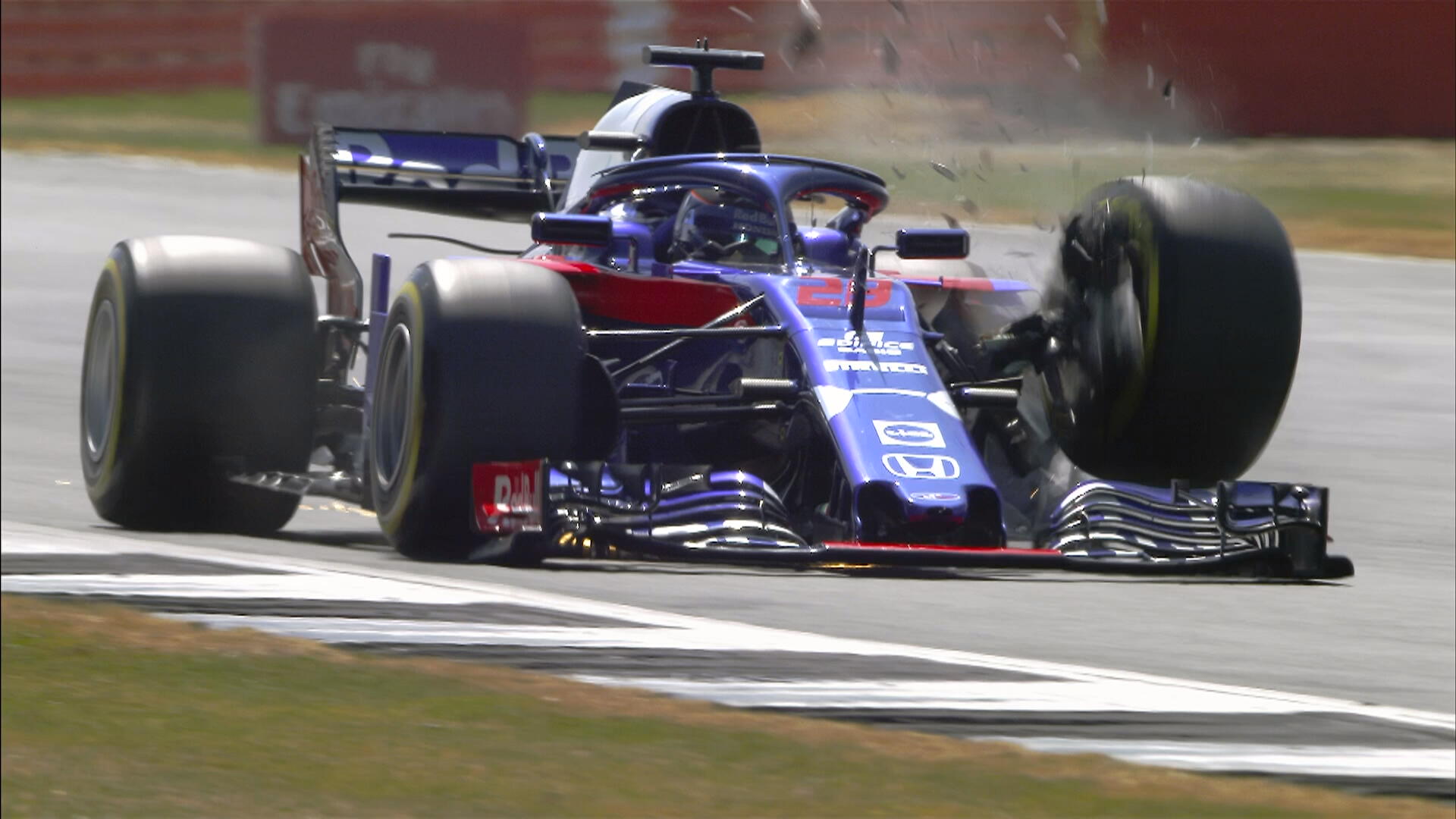 Hartley's front suspension fails
Brendon Hartley was involved in a scary crash after a huge left-front suspension failure on his Toro Rosso.
Hartley was speeding down Silverstone's Wellington Straight at around 200mph when his front-left suspension buckled as he hit the brake into Brooklands, removing the tyre, and he was merely a passenger as the car went into the gravel and into a big impact with the barrier.
The New Zealander was walking after the crash before his car was lifted off of the circuit by a crane.
The 28-year-old has received medicals checks and has been given the all clear since the accident.
The session was red flagged, before restarting once the debris was cleared.
While it was a session to forget for Toro Rosso, Sauber will be buoyant, and rightly so, as Charles Leclerc finished in an impressive seventh place ahead of the sister C37 of Marcus Ericsson in 10th.
Splitting the Swiss team were the Haas pair of Kevin Magnussen and Romain Grosjean, who got some important miles under his belt after missing FP2 yesterday due to his opening-practice shunt.
Practice 3 Results
| | | | | | | |
| --- | --- | --- | --- | --- | --- | --- |
| POS | NO | DRIVER | CAR | TIME | GAP | LAPS |
| 1 | 44 | Lewis Hamilton | Mercedes | 1:26.722 | +0.000s | 15 |
| 2 | 7 | Kimi Raikkonen | Ferrari | 1:26.815 | +0.093s | 14 |
| 3 | 77 | Valtteri Bottas | Mercedes | 1:27.364 | +0.642s | 17 |
| 4 | 5 | Sebastian Vettel | Ferrari | 1:27.851 | +1.129s | 8 |
| 5 | 33 | Max Verstappen | Red Bull Racing Renault | 1:28.012 | +1.290s | 22 |
| 6 | 3 | Daniel Ricciardo | Red Bull Racing Renault | 1:28.018 | +1.296s | 15 |
| 7 | 16 | Charles Leclerc | Sauber Ferrari | 1:28.146 | +1.424s | 18 |
| 8 | 20 | Kevin Magnussen | Haas Ferrari | 1:28.418 | +1.696s | 16 |
| 9 | 8 | Romain Grosjean | Haas Ferrari | 1:28.554 | +1.832s | 18 |
| 10 | 9 | Marcus Ericsson | Sauber Ferrari | 1:28.814 | +2.092s | 17 |
| 11 | 31 | Esteban Ocon | Force India Mercedes | 1:28.917 | +2.195s | 14 |
| 12 | 11 | Sergio Perez | Force India Mercedes | 1:29.066 | +2.344s | 15 |
| 13 | 14 | Fernando Alonso | McLaren Renault | 1:29.070 | +2.348s | 17 |
| 14 | 27 | Nico Hulkenberg | Renault | 1:29.094 | +2.372s | 12 |
| 15 | 55 | Carlos Sainz | Renault | 1:29.133 | +2.411s | 15 |
| 16 | 18 | Lance Stroll | Williams Mercedes | 1:29.829 | +3.107s | 13 |
| 17 | 35 | Sergey Sirotkin | Williams Mercedes | 1:29.984 | +3.262s | 17 |
| 18 | 2 | Stoffel Vandoorne | McLaren Renault | 1:30.004 | +3.282s | 17 |
| 19 | 10 | Pierre Gasly | Toro Rosso Honda | 1:30.050 | +3.328s | 4 |
| 20 | 28 | Brendon Hartley | Toro Rosso Honda | No Time | No Time | 3 |