Audi unveils the Q4 E-tron Sportback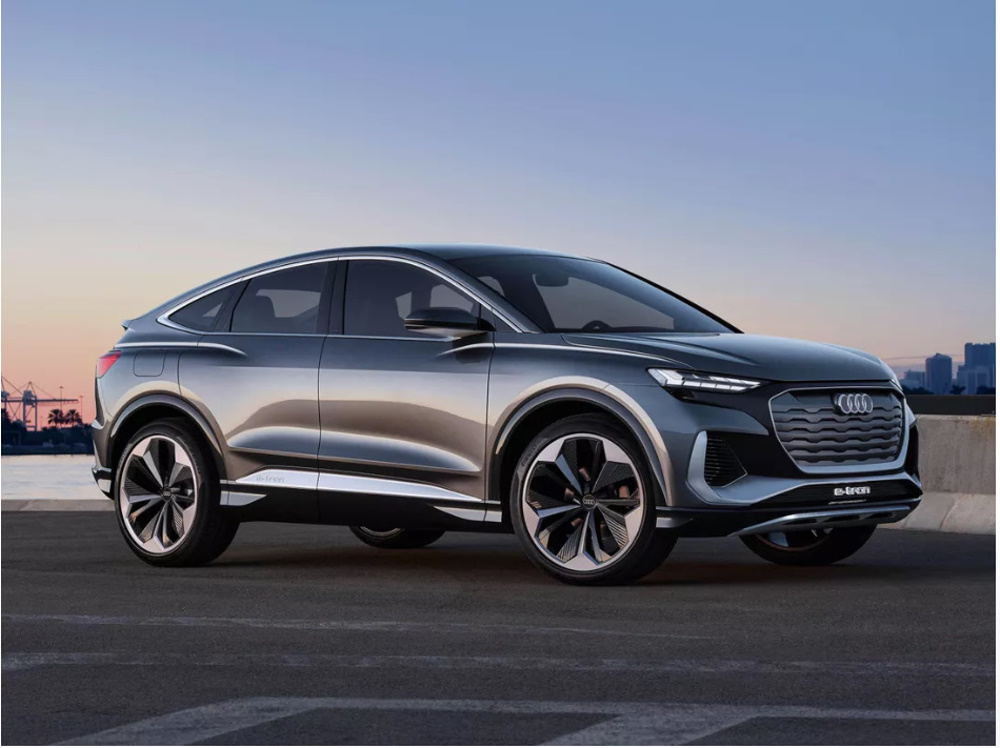 Audi Q4 E-tron Sportback
On Tuesday Audi revealed it latest all-electric E-tron – the Q4 E-Tron Sportback. Based on the Q4 E-Tron SUV. Unsurprisingly, it is very similar to the Audi Q4 e-tron concept unveiled last year, but it features an updated design and form-factor.
The concept features a sleek yet aggressive design that should have quite a wide appeal.
The Audi Q4 Sportback e-tron concept is, technically, an identical twin to Audi's Q4 e-tron concept, which was launched in 2019 — the two cars share the same Volkswagen MEB platform, 225 kW powertrain, and 82k Wh battery. Even the dimensions are roughly the same.
In actual performance numbers, this means 0-60 mph acceleration in about 6.2 seconds with a top speed of 112 mph and 280 miles of range. The German automaker says that the concept's powertrain is representative of what will be offered in "the top-of-the-range engine line-up of the coming series production model."
While it is only a concept, Amar Vaya, the exterior designer of the Q4 Sportsback e-tron, said that it will very similar to the production version: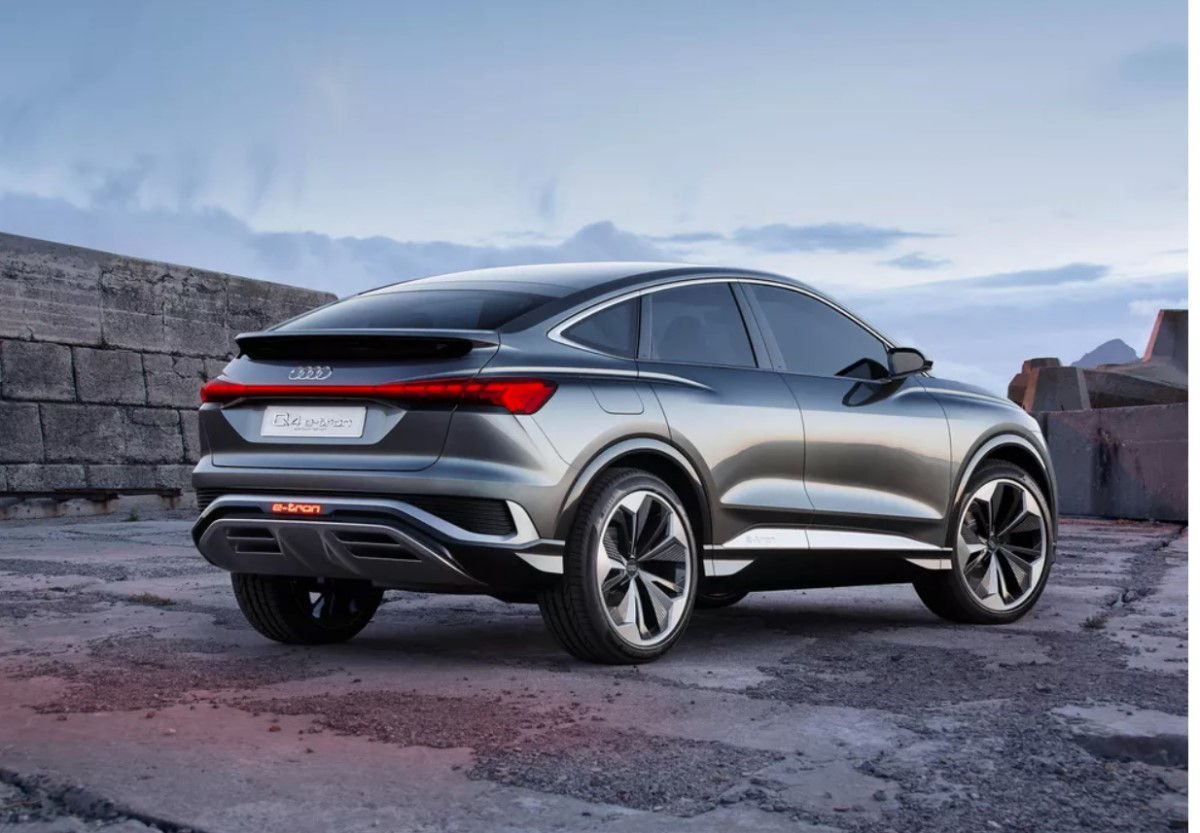 The rear, with its diffuser, is particularly sporty looking
"It's very much the car you are going to see on the road."
The Q4 E-Tron Sportback's front end leads with the automaker's single-frame grille, which is largely closed off due to the EV not actually needing a large air intake. Audi says it's keeping the grille's shape and appearance to maintain its signature visual style and to give the EV a sporty aesthetic.
To either side of the not-a-grille are Audi's new Digital Signature lights, a customizable matrix of LEDs that allow the user to change the SUV's daytime running light signature at the touch of a button. Audi says these lights — which are different from its HD Matrix LED headlamps — will be present on the production vehicle, but the company is still "talking to the authorities" regarding whether the tech will be active on US-bound models.
At a length of 181 in and a height of 63 in, the Q4 Sportsback e-tron is only slightly shorter than the Model Y and Ford Mustang Mach-E, which are expected to be its biggest competitors.
Interior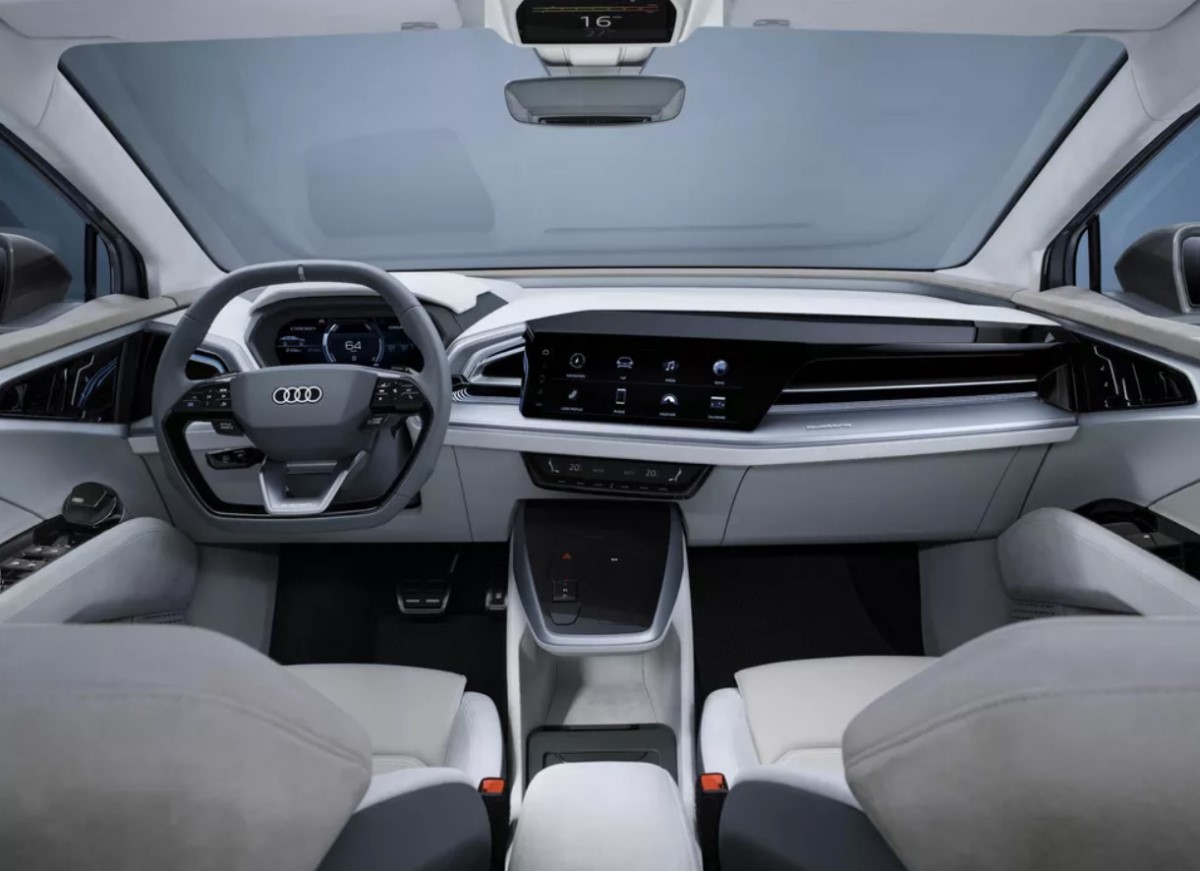 Interior. Note the 12.3-inch infotainment touchscreen
Inside, you'll find a 12.3-inch infotainment touchscreen, and a virtual cockpit with info such as speed, charge level, and navigation, located behind the steering wheel.
Audi's new Q4 Sportback e-tron concept has 'sexy back,' cool AR features inside
An interesting new feature is a "large-format" head-up display which has an augmented reality feature, with the ability to display graphical information (such as turning arrows) "directly on the course of the road." Unfortunately, Audi didn't share any images of videos showing this particular feature, so we can only imagine what it looks like.
Audi's new Q4 Sportback e-tron concept has 'sexy back,' cool AR features inside.
Pricing
There's no word on pricing or availability (sometime in 2021), though the Q4 Sportback e-tron and its Q4 e-tron sister model are expected to start under $45,000, which is a significant price decrease from Audi's first electric SUV, the Audi E-Tron, which starts at about $75,000.
Generally, Audi plans to offer more than 20 all-electric cars by 2025, ranging from compact to luxury class.
[adinserter name="GOOGLE AD"]