Dale Jr.'s debut on NASCAR broadcast an instant classic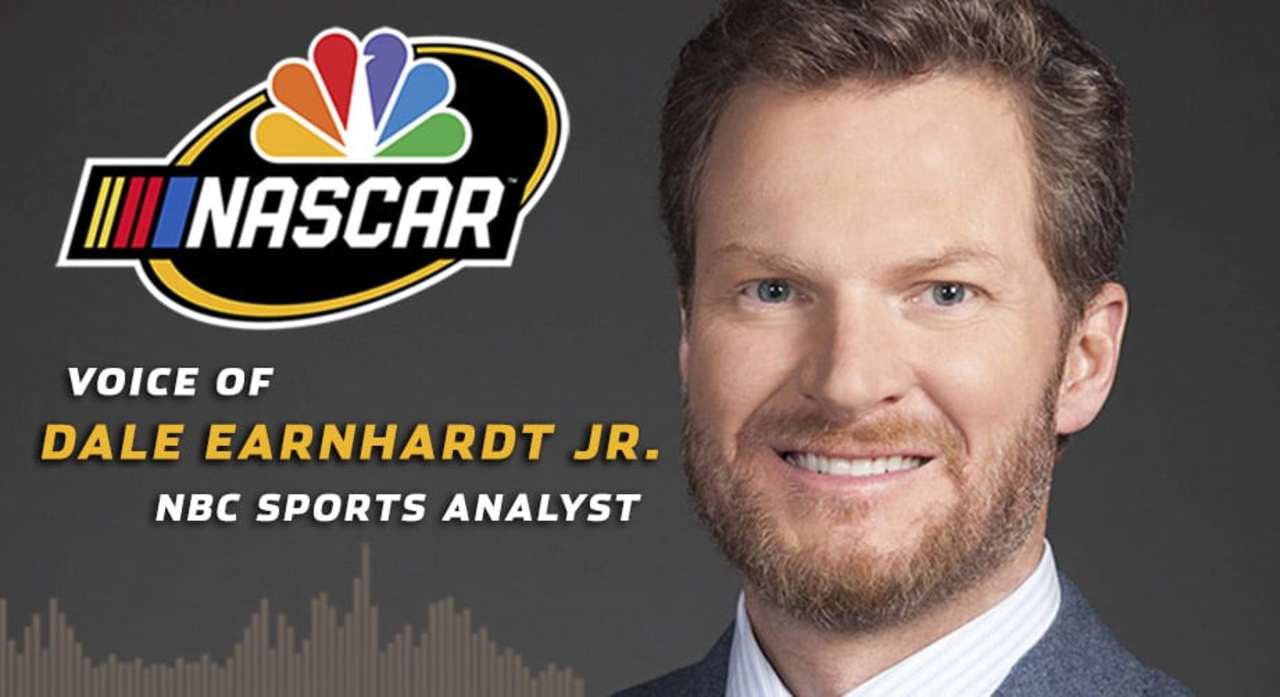 "First broadcast was a big hit, I feel like." NBCSN earned a 1.6 overnight rating for yesterday's Monster Energy NASCAR Cup Series Overtons 400 at Chicagoland, up 14% from last year's race at Chicagoland which was the playoff opener in September and earned a 1.4 on the same channel.
The deep appreciation Dale Earnhardt Jr. carries for NASCAR's history includes him often re-watching races from decades before. It was fitting then that Sunday his debut Monster Energy NASCAR Cup Series broadcast as a full-time NBC analyst just happened to be a race harkening to the classics Earnhardt likes to view.
A thrilling last-lap duel featuring Kyle Busch and Kyle Larson saw them bump-and-bang off one another multiple times, culminating with Busch nudging Larson out of the lead in Turn 3, then maintaining control of his battered car to drive it across the finish line to win the Overton's 400 at Chicagoland Speedway."That's all Dale Jr. right there," Busch said of the finish. "It's 70s-, 80s- [esque]."
During the buildup to the stirring finish and on the final lap itself, Earnhardt shined in his new role, displaying an acumen for broadcasting that gives every indication he will be as successful in the broadcast booth as he was on the track.
As Larson chased down Busch to overcome a multi-second deficit, Earnhardt adroitly explained how Larson was able to make the high groove work to his advantage while Busch preferred the low section around the mile-and-a-track track. And when the Chip Ganassi Racing driver eventually caught Busch, Earnhardt highlighted how Busch had altered his corner entry to counteract Larson's advantage and what Larson needed to do in response.
Then, as Larson went for the lead diving underneath Busch entering Turn 1 on the white flag lap, Earnhardt knew exactly what was coming, excitedly yelling "Slide job!" even before Larson made his brazen bid for the victory in a soundbite that in all likelihood will become part of NASCAR lore.
It was a sequence exemplifying Earnhardt at his best. Demonstrating his ability to mix his knowledge and perspective that allowed him to correctly anticipate what was to come with a folksy enthusiasm that made it sound as if he was sitting at the bar watching the race with buddies.
That Earnhardt's debut was a smash is no surprise. During cameo TV appearances as a NASCAR analyst before retiring from full-time racing following the 2017 season, it was apparent Earnhardt possessed the ability to become his generation's Benny Parsons — a star driver turned beloved broadcaster whose analyst skills actually superseded what had been a hall of fame career.
But there is more to becoming an ace analyst than a former driver simply exchanging their helmet for a headset, even if they have the charisma to connect with the audience. It takes work, something Earnhardt acknowledged he needed to put in if this career transition was going to be deemed a success.
With an eye on becoming a media personality once his racing career concluded, Earnhardt began in earnest preparing for this venture even before announcing his retirement.
Instead of just occasionally hosting a popular podcast that bared his name, Earnhardt became the full-time host prior to the 2017 NASCAR season, thus acclimating himself to the preparation, routine and production that goes into making a show. There were also stints this past February where he served as a roving reporter during NBC's broadcast of the Super Bowl and Winter Olympics, where Earnhardt made sure to step outside his comfort zone and attempt things he previously would not have considered doing.
And in the lead-up to his debut Sunday, Earnhardt took part in several mock broadcasts where co-analysts Jeff Burton and Steve Letarte, and Rick Allen (play-by-play) would call a Cup race to gain familiarity and develop chemistry with one another.
Their strong rapport was on full display where the four enjoyed seamless banter in describing the action at Chicagoland — especially among Earnhardt and Letarte, his former crew chief, with the two respectfully disagreeing at times but also acting as a nice complement in their differing viewpoints on how things would unfold. When Busch crossed the finish line, Earnhardt and Letarte exchanged high-fives over the electric conclusion they had just witnessed.
"I knew that I was going to get along great with my teammates, so I'm not surprised I had a blast with them," Earnhardt said post-race in a live video stream on Periscope. "We're going to have a good time this year. I got a lot to learn and there is a lot more I can provide, and as I get better and understand some of the things that are going on [in the broadcast booth] I'm sure things will continue to get better.
There is little question Earnhardt's foray into full-time broadcasting exceeded expectations. Of course, being able to call a rousing finish that certainly gave him and his NBC colleagues plenty to discuss only helped.
Nonetheless, Earnhardt deserves credit for contributing to what was a memorable race Sunday. A fantastic ending featuring two of NASCAR's best made all the better by an enthusiastic analyst who enhanced what was transpiring before him – while avoiding the cheesiness that can often overcome a broadcaster in that moment.
By any measure, it was a star-making performance. NASCAR Wire Service