Latest F1 news in brief – Monday
It all went wrong for Hamilton on Sunday

Strategist keeps job after Mercedes blunder

Critics shouldn't question Verstappen style – father
Villeneuve questions Vandoorne's drive
Hype Energy eForce India names Sorensen and Kiefer as official Esports drivers
Andretti says stewards got it wrong on Vettel penalty
Raikkonen: We could have easily won
Vettel focused on tire-saving with 'damage limitation' mindset
Hamilton: Pirelli should've brought thinner tires to Austria
New Silverstone DRS zone will run through Abbey and Farm
Mercedes believes retirements aren't linked to engine upgrade
Strategist keeps job after Mercedes blunder
(GMM) Mercedes' chief strategist will keep his job after a serious blunder during the Austrian grand prix.
Both Lewis Hamilton and Valtteri Bottas retired with technical problems on Sunday, handing a 1 point championship lead back to Ferrari's Sebastian Vettel.
But amid that, Mercedes strategist James Vowles admitted on the radio to Hamilton: "I have thrown away the win today. I'm sorry."
Team boss Toto Wolff called it the "most painful day" in his Mercedes career, but backed Vowles.
"He is one of the best," Wolff said.
"And it takes courage to admit in public that you made a mistake."
Mercedes' problems were a major boost to Vettel, but the German could have pulled out an even bigger points lead if Ferrari had moved Kimi Raikkonen aside.
But Wolff said: "We wouldn't have done that either, so I'm not surprised what Ferrari did.
"It's only July and so to use team tactics now would be too cruel," he added.
The big winner in Austria was Max Verstappen, who won in front of Red Bull's home crowd and seas of orange-shirt wearing Dutch supporters.
"Max gave the right answer to all of his critics from the past weeks," said Dr Helmut Marko.
However, the Red Bull official admitted that both Verstappen and Daniel Ricciardo might now be too far behind to truly challenge for the title.
"We gave away too many points at the beginning of the season, but we don't know what penalties and other things are yet to come," Marko said.
"Maybe we have an outside chance."
Critics shouldn't question Verstappen style – father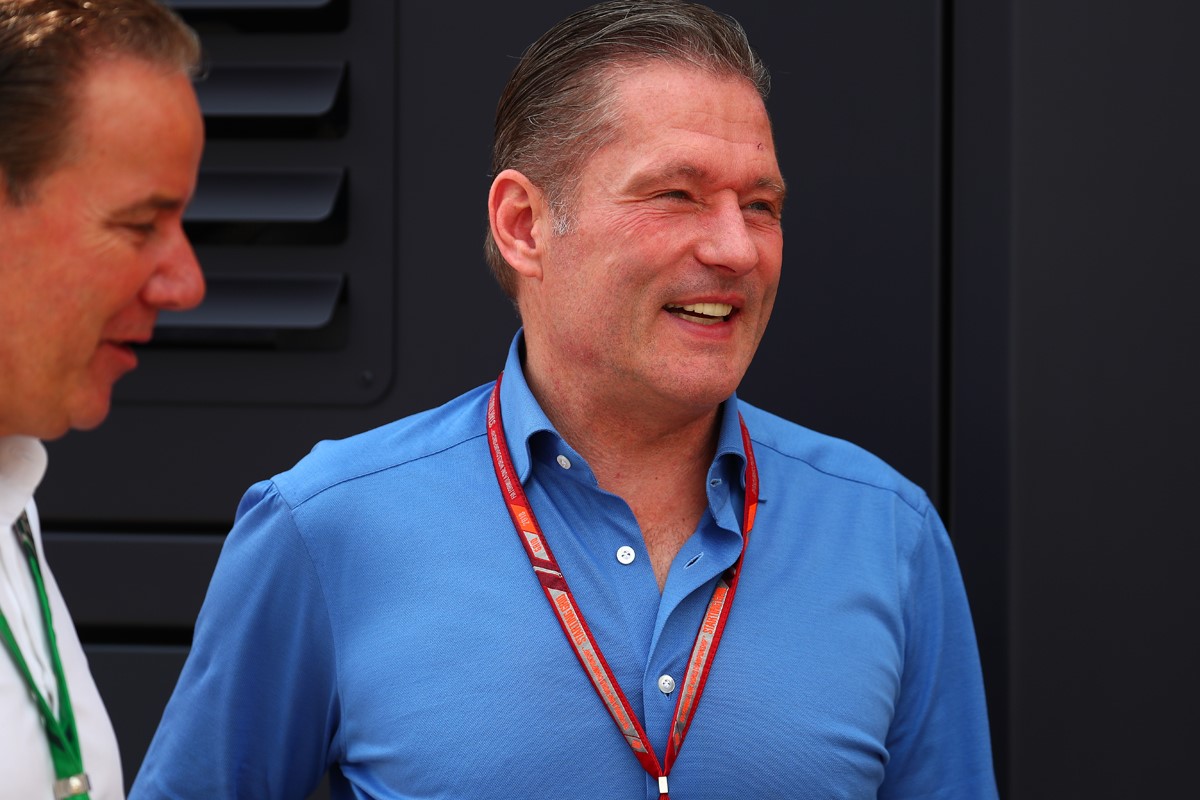 Jos Verstappen
(GMM) Max Verstappen's critics should "never again" question the aggressive racing style of the young Dutchman.
That is the view of his father, former F1 driver Jos Verstappen.
He was speaking to the Dutch publication Formule 1 after Max, 20, ended a run of crashes with victory in Austria.
"People should never again put a question mark against Max's so-called aggressive driving style," Jos said.
"Max knows what he is doing. He has to fine-tune some small things and he understands that himself, but by gaining experience he gets better and better," Verstappen snr added.
Speaking to Germany's Auto Bild, Red Bull consultant Dr Helmut Marko agrees.
"Max punished all of the critics who complained so loudly about his driving style," he said. "And all at the age of 20."
Villeneuve questions Vandoorne's drive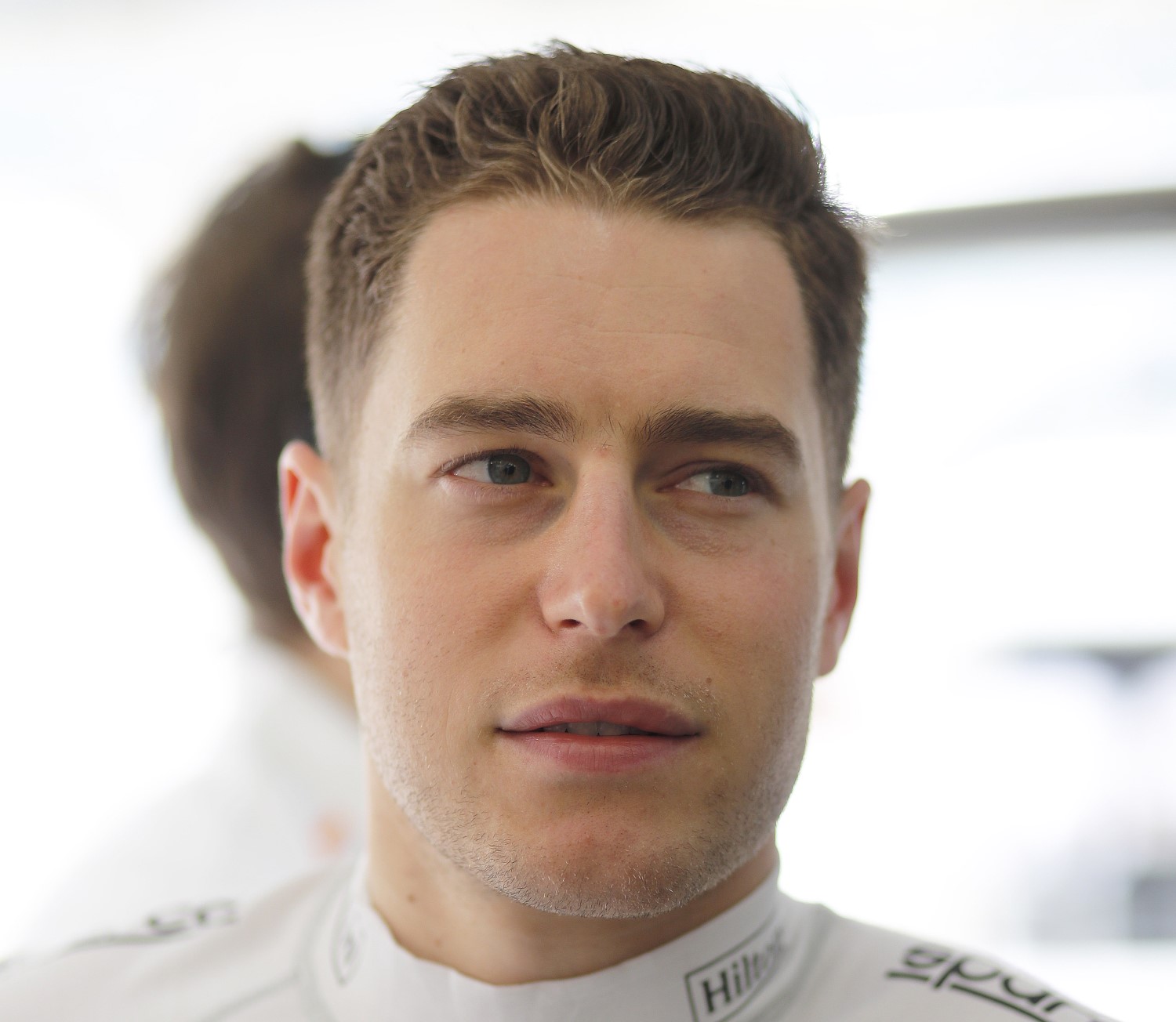 Stoffel Vandoorne
(GMM) Jacques Villeneuve has questioned Stoffel Vandoorne's drive to succeed in formula one.
Vandoorne arrived in F1 last year, but at the tail of the Honda era and now also with Renault power, the Belgian has struggled to make an impression alongside Fernando Alonso.
At present, McLaren is not committing to him for 2019.
"Stoffel is doing a good job, working hard, developing and having results that are comparable to Fernando," team boss Eric Boullier said in Austria.
"We want him to continue to work as he has."
However, McLaren also has younger Lando Norris waiting in the wings, and there are question marks about whether Vandoorne can lead the team if Alonso retires.
"I do not answer questions that contain the word 'if'," Boullier smiled.
1997 world champion Villeneuve questions Vandoorne's drive.
"It's complicated," the Canadian told the Belgian broadcaster RTBF.
"His first grand prix was interesting but there wasn't the next step," he said.
"I don't know if it's because there are political complications with Alonso or perhaps he's just happy to have reached F1 and that's enough for him," Villeneuve added.
Hype Energy eForce India names Sorensen and Kiefer as official Esports drivers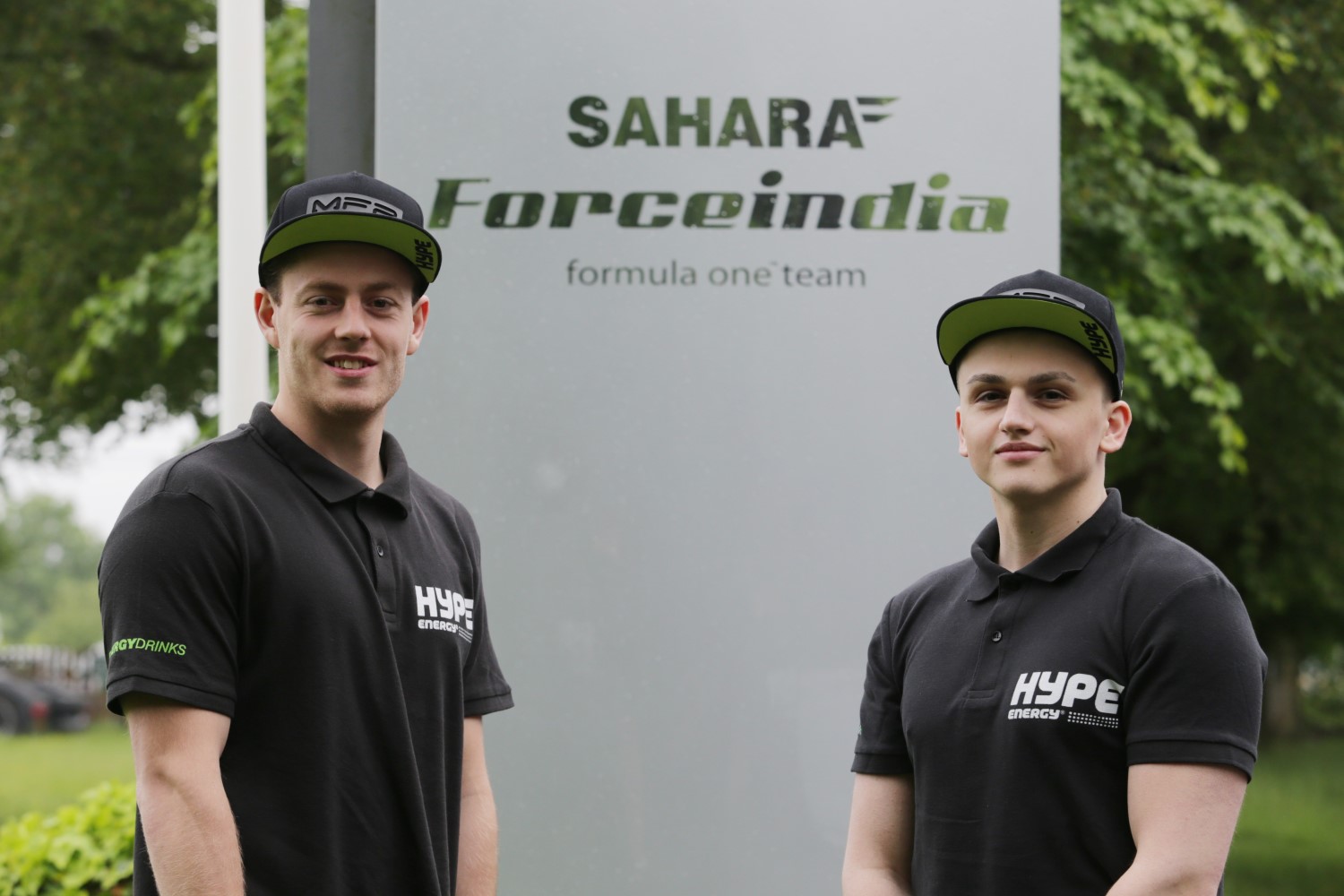 Mads Sorensen and Marcel Kiefer
Sahara Force India is proud to announce the first ever signings for the Hype Energy eForce India team that will take part in the 2018 F1 Esports Series. Young talents Mads Sorensen and Marcel Kiefer will join the team, along with one more driver to be signed from the upcoming F1 Esports Pro Draft on the 9th of July, to drive for the virtual Pink Panthers in this season's competition, taking place in October and November.
The signing of two of the most exciting drivers in the esports community is a statement of intent for Hype Energy eForce India, which enters the 2018 series aiming for success in its debut season. 22-year-old Mads Sorensen is not new to the F1 Esports Series, having starred in last year's Abu Dhabi finals where he claimed the DHL Fastest Lap Award. The Dane, who is only in his third full season of simracing, practices for hours every day alongside his day job as a forwarding agent in a logistics company and sees his Abu Dhabi accolade as the biggest achievement in his career so far.
German Marcel Kiefer, 19, is a novice in simracing terms, having started racing competitively only after the launch of the F1 2017 game – but what he lacks in experience, he makes up in talent. Having qualified for the semi-finals of the 2017 F1 Esports Series, he narrowly missed out on a place in the final despite the event being the first time he raced against real drivers. The youngster, who alternates an intensive practice program with work in the gym and his training to become an IT analyst, sees 2018 as a season where he can make the final step to the big game.
Otmar Szafnauer of Hype Energy eForce India: "We are delighted to welcome Marcel and Mads to the team and we are looking forward to a successful first season of simracing. We also look forward to drafting our final driver into our driver line-up at the upcoming F1 Esports Pro Draft. We followed the inaugural F1 Esports season closely and Marcel and Mads were two of the talents that captured our attention in a very competitive field. Beside their skills, we see them as perfect matches for the philosophy of Hype Energy eForce India – they're young, rising stars that are ready to shock the establishment on their way to success. Marcel and Mads have already started working with the team and we're confident we will be turning heads when the racing starts."
Mads Sorensen, Hype Energy eForce India driver: "It took a while for the realization to sink in, but to be racing for Hype Energy eForce India is a great opportunity to learn about myself and improve as a driver. It's going to be an extraordinary experience to be part of the team, but I know the expectations are high. We know we can fight at the front, that's why we have been chosen. The F1 Esports Series is going to be very competitive and anything can happen. The team setup and the approach of the participants is going to be much more professional than last year. As Hype Energy eForce India drivers, we will have access to the knowledge and experience of some of the leading people in Formula One and simracing, and we will turn this into performance in the Esports Series. I can't wait to start working with the team."
Marcel Kiefer, Hype Energy eForce India driver: "I am so excited and grateful for this opportunity. When I found out, I was jumping around the house like a kid and I couldn't believe it was happening. I was confident an opportunity to show what hard work and motivation can do would come, but I didn't know when. To be able to work with the team is incredible. I am confident we can be very successful and will work hard with my teammate to help the team in the constructors' championship. We should not be overconfident, but I feel we all have a shot at the title. The battle at the top will be tight, as always, because the other drivers are among the best in the world. I am looking forward to working with the team because that will help me improve as a driver. Simracers often do all their work alone, but now we have the support of a professional team behind us, people who know what to do with a real Formula One car and who can transfer their skills to esports."
Bertrand Gachot, CEO, Hype Energy Drinks: "Hype Energy Drinks has been at the forefront of esports for a long time and we're excited about unveiling the line-up of the Hype Energy eForce India team for the 2018 season of the F1 Esports Series. Mads and Marcel have impressed us with their approach, their attitude and obviously their speed. They're young, approachable and we cannot wait to help put the spotlight on them as they go through the development program we have designed for them."
In addition to Mads and Marcel, the team are looking forward to allocating their third seat to a driver qualifying through the Pro Draft, which will take place after the British Grand Prix in Silverstone. With 40 drivers emerging from a huge pool of 66,000 entrants, the competition for a place in the Hype Energy eForce India team will be fierce, with the selected driver expected to be of the highest caliber. The Pro Draft, portions of which will be shown live on Monday 9th July, will be a defining moment of the 2018 season and will represent Hype Energy eForce India's first public appearance since its establishment – so don't miss it!
Andretti says stewards got it wrong on Vettel penalty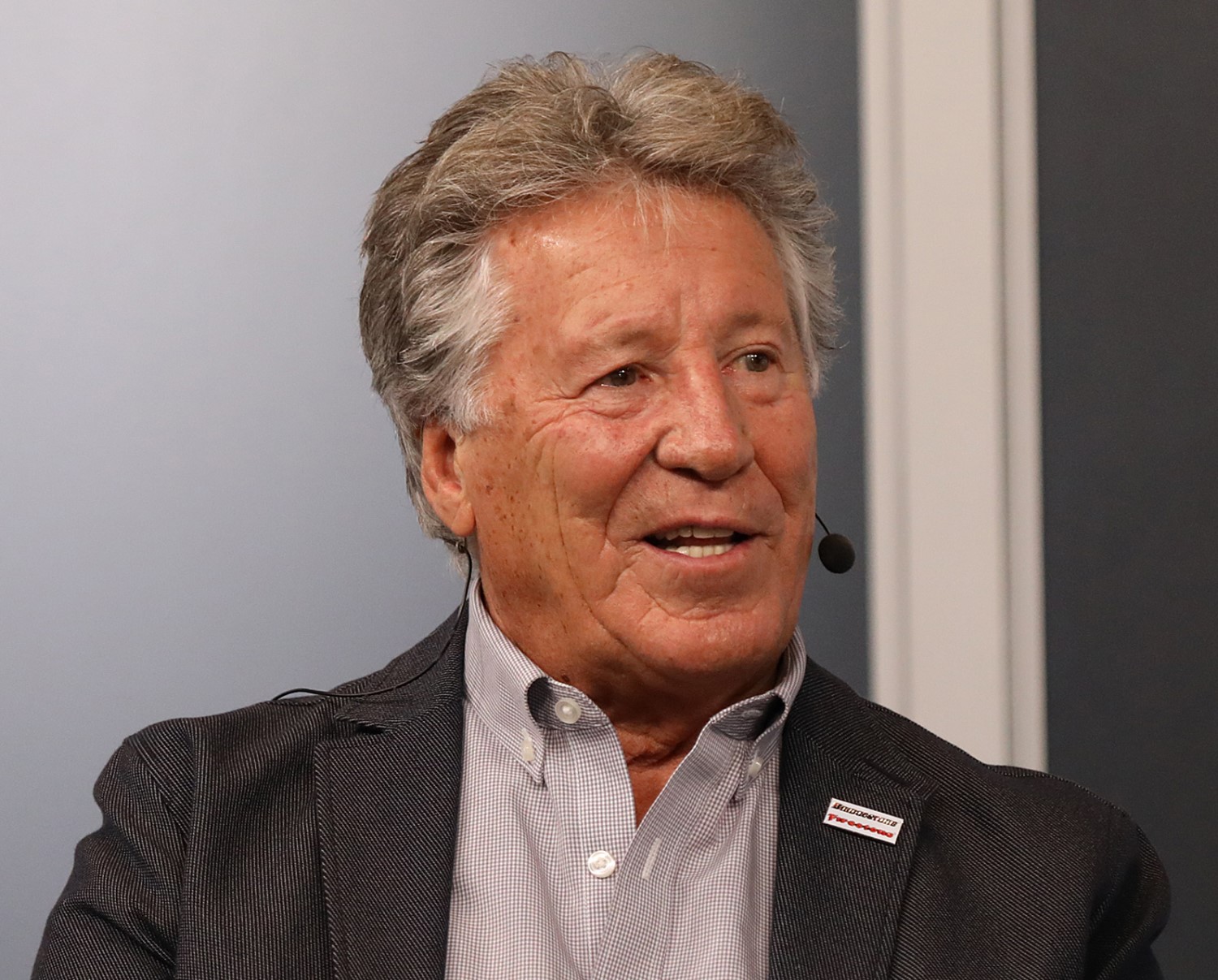 Mario Andretti
Former world champion Mario Andretti has criticized Formula one stewards for hitting Ferrari's title contender Sebastian Vettel with a three-place grid penalty for a qualifying incident at the Austrian Grand Prix.
The German was handed the demotion for impeding Renault's Carlos Sainz in the second phase of qualifying, with both drivers going through to the final 10-car shootout.
"Dear stewards, a penalty that could affect a championship should not be imposed unless it's flagrant. In this case it clearly was NOT! #shame," Andretti, the 1978 champion with Lotus, commented on his Twitter account.
The American former Ferrari driver's comment triggered a debate on social media about the application of the rules and whether those in the title fight should be treated any differently to others.
The stewards, one of them being former F1 racer Derek Warwick, said in a statement on Saturday that they had reviewed all alleged impeding incidents since the beginning of 2016 before making their ruling.
"The penalty of a drop of three grid positions is consistent with all other similar incidents," they said.
Vettel had said he was unable to see Sainz in his mirrors and Ferrari had not warned him of the Spaniard's approach.
However, the stewards felt Vettel should not have been going so slowly on the racing line after completing his quick lap, given his awareness of the problem with his mirrors.
"I'm sorry for Carlos," Vettel said later on the Ferrari website. "It was never my intention to ruin his lap."
Raikkonen: We could have easily won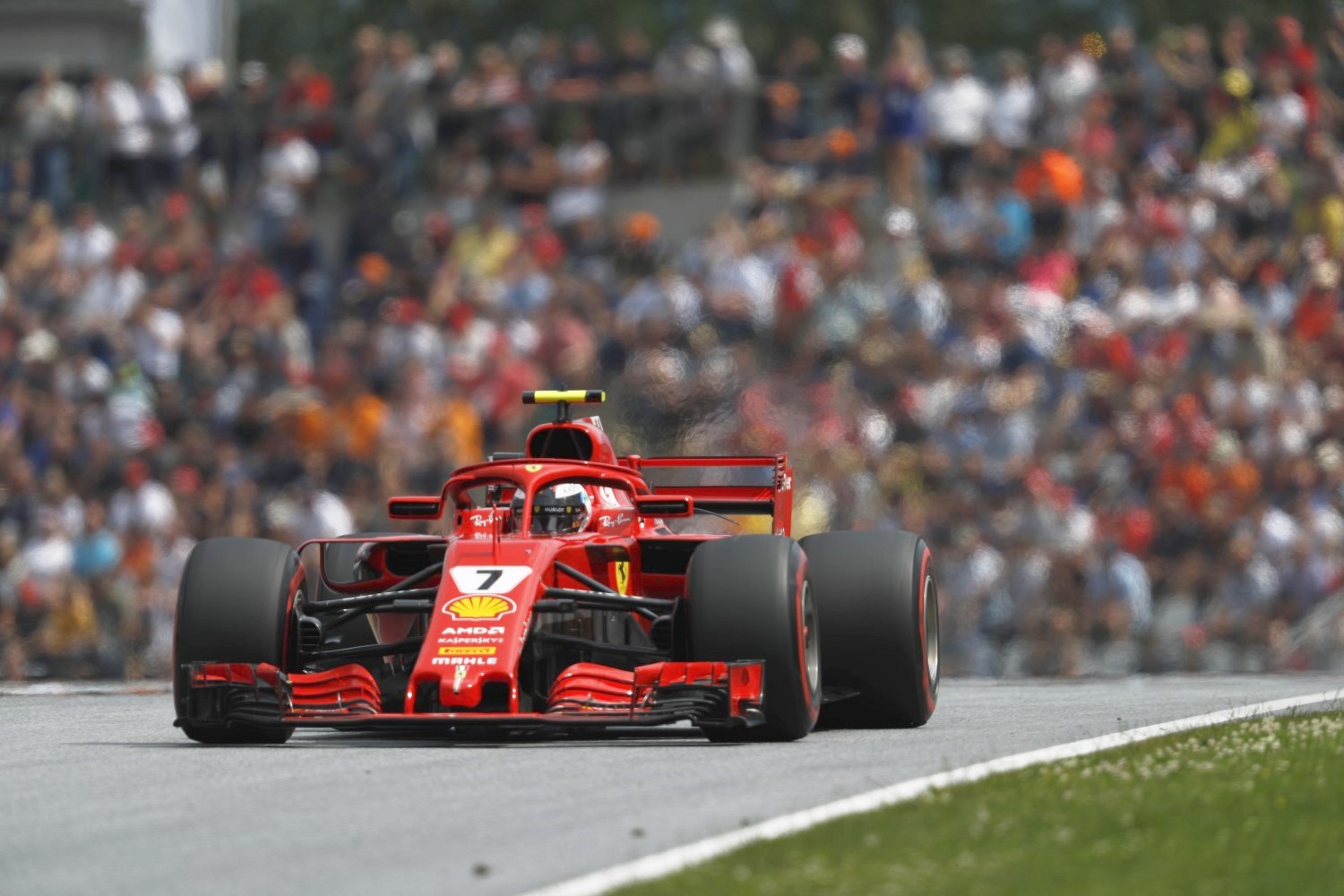 Raikkonen laments not pushing harder sooner
Kimi Raikkonen is certain he could have claimed victory at the Austrian Grand Prix while chasing down Max Verstappen in the lead but feels a double podium for Ferrari marks a significant day for the Italian manufacturer.
The Finnish driver produced a standout performance in Austria in the face of pressure on his place at Ferrari, with Charles Leclerc rumored to be replacing him at the team, by taking second place having battled both Mercedes drivers for the lead on the opening lap.
Despite slipping back to fourth after Verstappen charged past towards the end of lap one, Raikkonen kept his composure and managed his tires in the high track temperatures to keep pace with the Red Bull driver and over the closing laps moved to one second off the leader.
Raikkonen, who set the fastest lap of the race on the final lap chasing Verstappen, was certain he could have clinched a first victory since the 2013 Australian Grand Prix but ran out of laps at the Red Bull Ring.
"The car was very good but we ran out of laps, as we could have easily won," Raikkonen said. "It's a shame, we had a great car today, in the end, some parts were a bit difficult but it was a good result for the team.
"For sure it was possible but those were the laps we had in the race, so it's easy to say. Basically I think we had good speed, especially in the end, it was a little bit tricky in the first part of the second stint. At the end the tires felt like they were working really well – it was good.
"I think it's disappointing but it's great for the team as we get a lot of points against the team we're probably fighting for the championship, as they had a pretty awful day today."
Vettel focused on tire-saving with 'damage limitation' mindset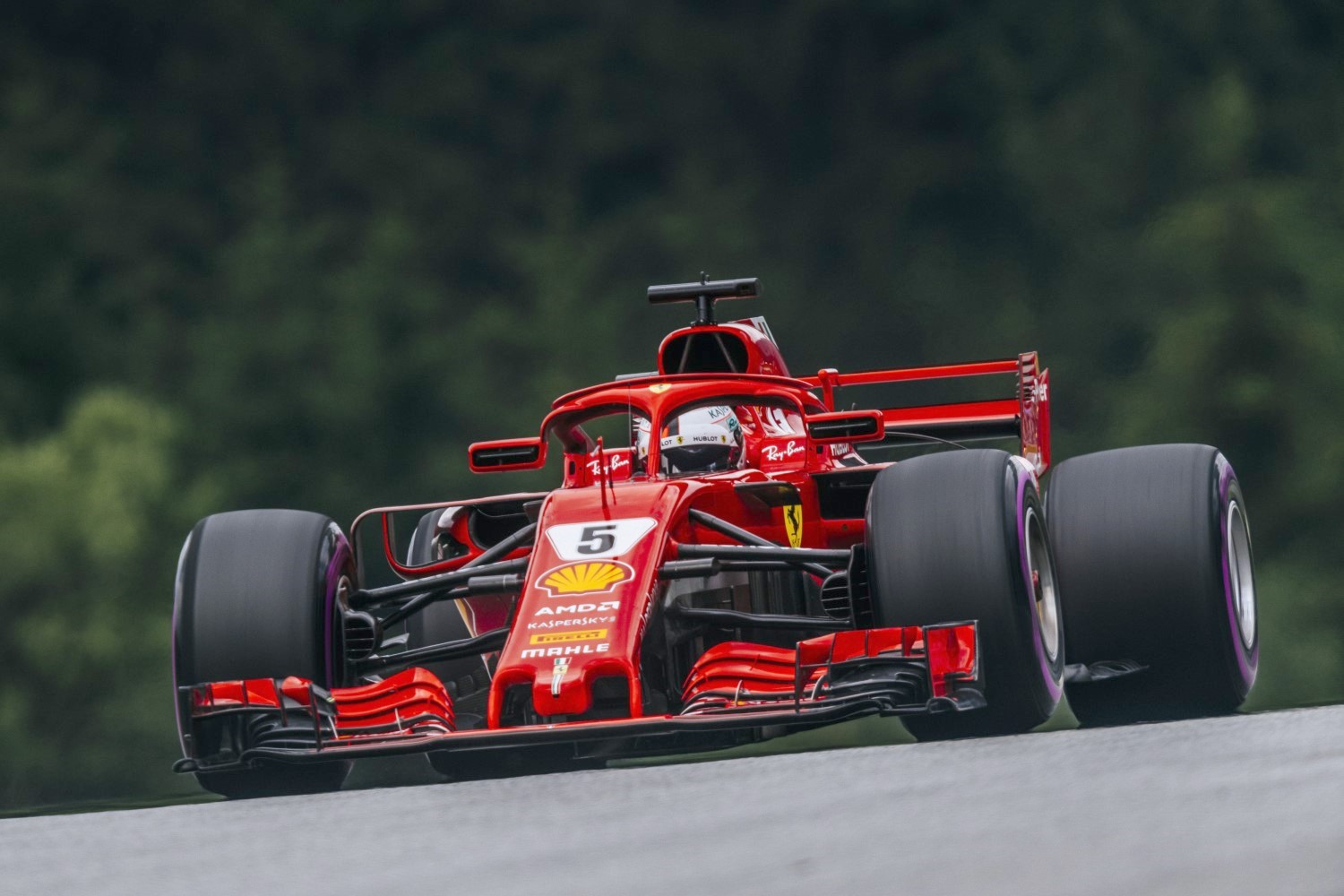 Vettel was not going to risk blistering his tires
Ferrari's Sebastian Vettel was left with mixed feelings after reclaiming the lead of the 2018 F1 world championship in Austria.
Sebastian Vettel described his recovery drive to the Austrian Grand Prix Formula 1 podium as "damage limitation" but felt the result was largely determined by tire management.
The Ferrari driver, who started sixth following a post-qualifying grid penalty, took advantage of retirements for Red Bull's Daniel Ricciardo and the Mercedes duo of Lewis Hamilton and Valtteri Bottas on his way to claiming the final spot on the Spielberg rostrum.
Vettel headed into the weekend with a 14-point deficit to Hamilton but a loss of fuel pressure forced his chief title rival into his first retirement since the 2016 Malaysian Grand Prix, meaning it is the German who leaves Austria with a one-point advantage.
He explained that following an early Virtual Safety Car period it became apparent the race would be one of attrition as a number of drivers struggled with unexpected levels of blistering.
"For us it was pretty much damage limitation but I think the pace was very good, the tire management was good, so a positive day," Vettel said. "It could have been better but a well-deserved win for Max.
"I thought I was taking it a little bit easy in the beginning because I was anyways a bit further back. I didn't understand in the beginning obviously the necessity to close as soon as possible.
"I think I had a bit of pace in hand – but, you know, I looked down, I saw the pit-board as well and there was 55 laps from the time the VSC ended. I tried to save tires and make sure we make it to the end.
"I could have done a bit better with a bit more information – but nothing dramatic.," he added. "We did a right thing. There were a lot of signs that the tires don't last, but ours did last, that was a strong point. The car was good, the race pace was strong. It was a good recovery but ideally we don't have to recover every time."
Hamilton: Pirelli should've brought thinner tires to Austria
Tire blisters
Lewis Hamilton says Pirelli should have brought its thinner-tread tires for the Austrian Grand Prix after he and other drivers suffered blistering in the race.
Pirelli produced a special batch of tires which are 0.4mm thinner than usual for the previous race at Paul Ricard, as well as at the Circuit de Catalunya earlier this year. The thinner tires were created after some drivers experienced blistering in testing.
Hamilton was one of several drivers whose tires blistered during yesterday's race. The team only planned to pit once but Hamilton was forced to stop again for a third set of tires.
"They should've brought the other tire here, the same tires we had in the last race," said Hamilton after the race.
Asked if it was unusual to see tires blistering, Hamilton said "it's not unusual. When you make the wrong call, that's what happens. They were supposed to bring the other tire this weekend."
"It doesn't really make a difference to my weekend anyway" added Hamilton, who retired with a loss of fuel pressure following his second pit stop.
Sebastian Vettel previously claimed Pirelli introduced the thinner tire due to pressure from Mercedes. The thinner tires will be used again at this weekend's British Grand Prix.
Hamilton said the fragility of the tires prevented him from being able to attack the cars in front of him when he fell to fourth place following his mis-timed pit stop.
"I was trying to overtake," he said. "And that's probably the problem with these tires is you can't stay in a race.
"I had the pace to put on a race and stay with them and be in the fight for the rest of the race and then the tires don't make it. In that circumstance, that's robbed the fans of seeing more racing. But that is just the way it is."
"These tires aren't good enough for us to be able to really race," he added. "It's a shame these tires aren't good enough that you can stay in the battle, you have blistering."
New Silverstone DRS zone will run through Abbey and Farm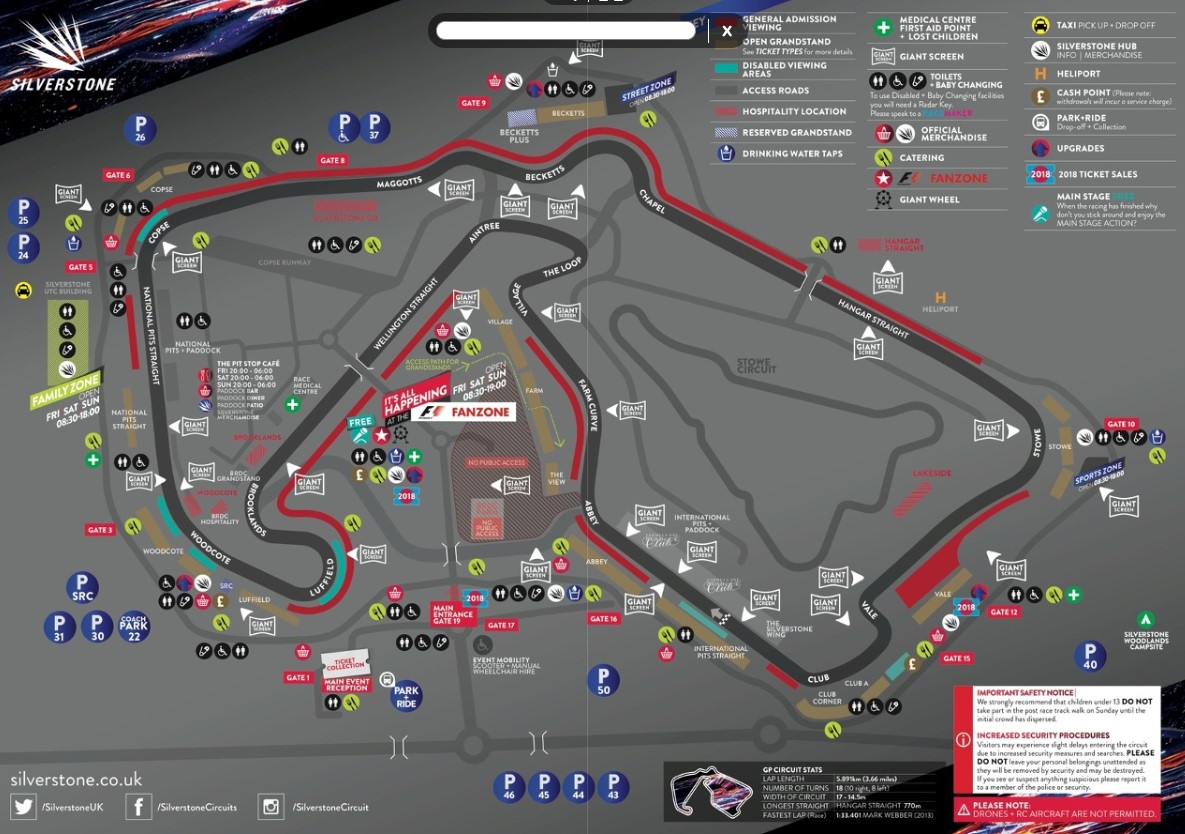 Silverstone
Formula 1 drivers will be able to use DRS through the high-speed Abbey and Farm corners following the addition of a third zone for this weekend's race.
FIA race director Charlie Whiting confirmed Silverstone will be the fourth track this year to get a third DRS zone.
"[There'll be] one extra zone from the last corner up to the first. It's not a big zone but the interesting thing is they could use it open through turn one if they wanted to.
"Because once they activate it after turn 18, Club, the exit of the last corner, it only closes when the either brake or back off. So they could potentially go through one [Abbey] and two [Farm] with it open."
The new DRS zone is in addition to the existing zones at the exit of Aintree (turn five) and Chapel (turn 14).
Whiting said he was pleased with the addition of the third DRS zone at last weekend's Austrian Grand Prix.
"I think it helped a bit," he said. "It certainly helped in F2.
"I believe it gave them a better chance of overtaking. We quite often saw cars getting closer than they would have done into turn three, and then you were often seeing overtakes down into turn four."
Whiting rejected concerns expressed by some drivers that too many DRS zones risked making F1 look like "Mario Kart".
"I thought it worked pretty well. It didn't make it too easy, which is what some drivers thought it might." RaceFans
Mercedes believes retirements aren't linked to engine upgrade
Mercedes believes the faults which caused Lewis Hamilton and Valtteri Bottas to retire from the Austrian Grand Prix were not related to the new-specification power unit it introduced at the last race.
The team had postponed the introduction of its revised 'phase 2.1' M09 power unit by one race after discovering a problem with it prior to the Canadian Grand Prix. It was raced for the first time in France last weekend.
However team principal Toto Wolff said the team's two retirements in today's race had separate causes, neither of which appear to be linked to the new specification.
"I think none of the issues today on the cars had something to do with the [power unit's] reliability as far as you can see," he told media including RaceFans.
"We had a hydraulic leak that was linked to the steering on Valtteri. And we had a drop in fuel pressure on Lewis's car which was linked to the fuel system. This is the current understanding. So no regrets on introducing the engine."
having locked out the front row of the grid for today's race, Wolff said the double retirement was even more painful for him than the Spanish Grand Prix in 2016 when both the team's drivers crashed on the first lap.
"For me [it's] the most painful day in my years at Mercedes, worse than Barcelona," he said.
"I had plenty of people coming to see me before the race saying this is going to be a walk in the park, one and two, you have the quickest car. And I said we'll talk in two hours. This is exactly how motorsport, motor racing can go. It can be very cruel. I think we had all the cruelty go against us today." RaceFans