Vettel tops Hamilton and Bottas in final practice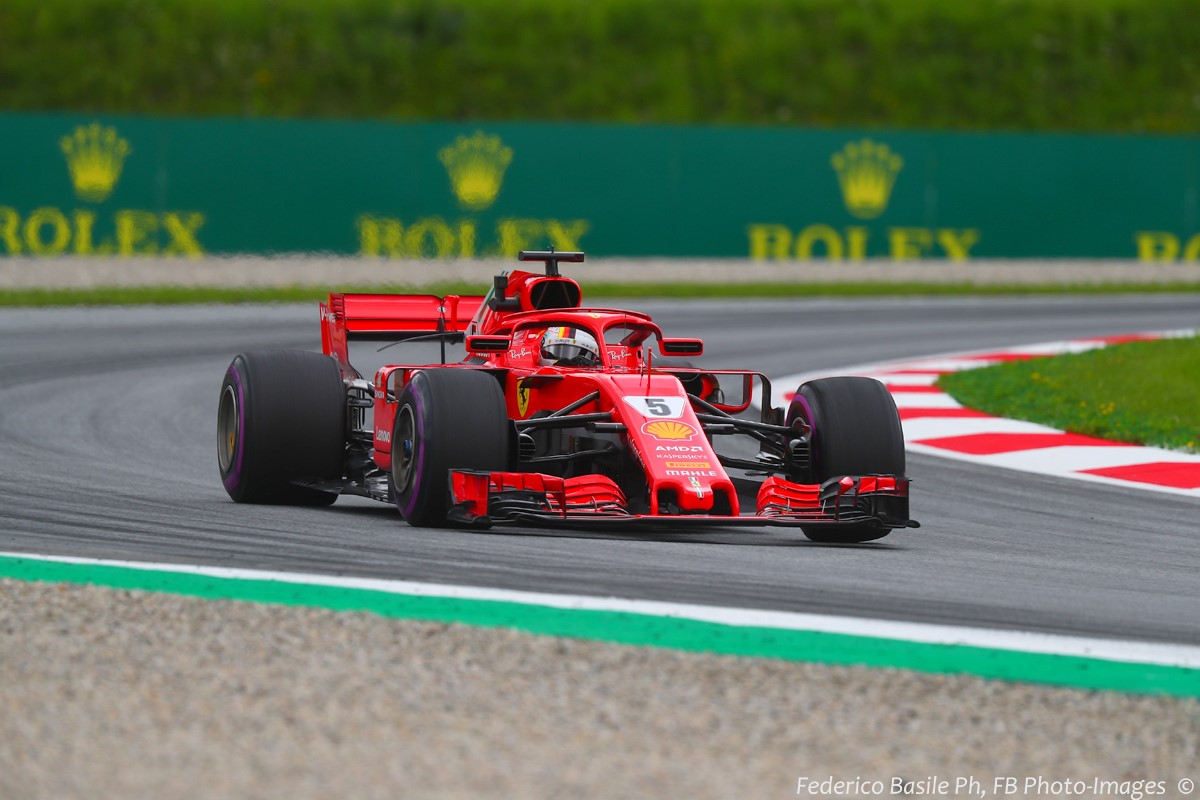 Vettel flies around the Red Bull Ring
Ferrari's Sebastian Vettel has well and truly taken the fight to Mercedes, breaking Lewis Hamilton's dominance and laying down a new lap record ahead of qualifying for the Austrian GP Saturday morning.
Vettel's lap of 1m04.070s was the fastest ever around the Red Bull Ring and only slightly faster than Hamilton (0.029s back) and Mercedes teammate Valtteri Bottas (0.134s back).
Kimi Rakkonen put his Ferrari 4th while Max Verstappen rounded out the top-5 in his Red Bull before hitting trouble.
Red Bull look a little off the pace of Ferrari and Mercedes ahead – and will have work to do after Max Verstappen's seemingly power unit issue curtailed his session. "I can't [shift] everything is stuck," said the Dutchman. He was out of his car, which was been swiftly cleared by the marshals and the track went green with six minutes remaining.
Hot on the Red Bulls' heels were the Haas cars of Romain Grosjean and Kevin Magnussen – the only cars to use anything but the ultrasoft tyres – and the Renault of Carlos Sainz.
Charles Leclerc was again in the top ten for Sauber, though like Verstappen, he ran out of drive near the end of the hour, the Ferrari protege reporting a suspected engine issue.
Spielberg's punishing kerbs continued to keep the drivers on their toes, with Brendon Hartley falling prey as he lost a front-wing endplate from his updated Toro Rosso, and Stoffel Vandoorne picking up some minor damage on his McLaren.
Both men ultimately finished low down the order, with only the struggling Williams of Lance Stroll and Sergey Sirotkin behind them.
Practice 3 Times
| | | | | | | |
| --- | --- | --- | --- | --- | --- | --- |
| POS | NO | DRIVER | CAR | TIME | GAP | LAPS |
| 1 | 5 | Sebastian Vettel | Ferrari | 1:04.070 | +0.000s | 22 |
| 2 | 44 | Lewis Hamilton | Mercedes | 1:04.099 | +0.029s | 24 |
| 3 | 77 | Valtteri Bottas | Mercedes | 1:04.204 | +0.134s | 24 |
| 4 | 7 | Kimi Raikkonen | Ferrari | 1:04.470 | +0.400s | 22 |
| 5 | 33 | Max Verstappen | Red Bull Racing | 1:04.791 | +0.721s | 14 |
| 6 | 3 | Daniel Ricciardo | Red Bull Racing | 1:04.891 | +0.821s | 18 |
| 7 | 8 | Romain Grosjean | Haas Ferrari | 1:04.916 | +0.846s | 17 |
| 8 | 20 | Kevin Magnussen | Haas Ferrari | 1:05.013 | +0.943s | 16 |
| 9 | 55 | Carlos Sainz | Renault | 1:05.086 | +1.016s | 22 |
| 10 | 16 | Charles Leclerc | Sauber Ferrari | 1:05.219 | +1.149s | 25 |
| 11 | 27 | Nico Hulkenberg | Renault | 1:05.228 | +1.158s | 19 |
| 12 | 10 | Pierre Gasly | Toro Rosso Honda | 1:05.264 | +1.194s | 25 |
| 13 | 31 | Esteban Ocon | Force India Mercedes | 1:05.444 | +1.374s | 21 |
| 14 | 14 | Fernando Alonso | McLaren Renault | 1:05.448 | +1.378s | 18 |
| 15 | 11 | Sergio Perez | Force India Mercedes | 1:05.502 | +1.432s | 24 |
| 16 | 9 | Marcus Ericsson | Sauber Ferrari | 1:05.699 | +1.629s | 27 |
| 17 | 28 | Brendon Hartley | Toro Rosso Honda | 1:05.705 | +1.635s | 23 |
| 18 | 2 | Stoffel Vandoorne | McLaren Renault | 1:05.837 | +1.767s | 16 |
| 19 | 18 | Lance Stroll | Williams Mercedes | 1:06.029 | +1.959s | 23 |
| 20 | 35 | Sergey Sirotkin | Williams Mercedes | 1:06.318 | +2.248s | 22 |