NBC hopes to ride Dale Jr's coattails to stop plummeting TV ratings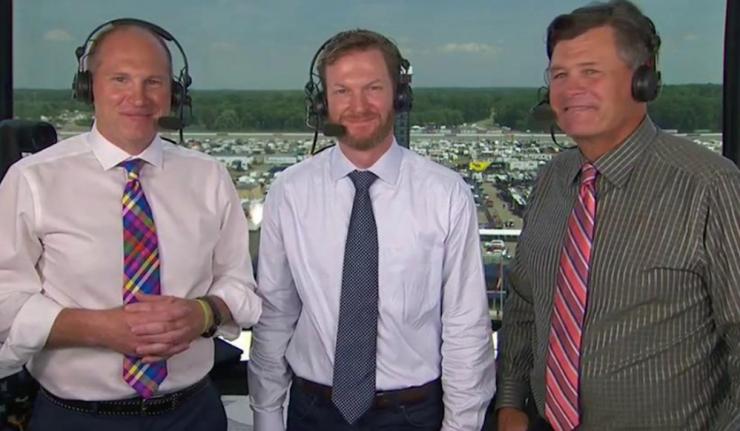 Can Earnhardt Jr (C) save NASCAR?
NBC this weekend begins its fourth year airing NASCAR's Cup series, and it is counting on a "big dose of Dale Earnhardt Jr. to bring energy and attention to its coverage," according to Adam Stern of SPORTSBUSINESS JOURNAL.
The net has been "unabashed in its heavy promotion" of Earnhardt as a way to "draw in avid fans and lapsed or casual viewers." It is promoting Earnhardt "using its 'persona plan,'" which involves "cross-promoting a given talent across NBCUniversal's portfolio, including in entertainment programming."
Earnhardt in recent months has appeared on NBC's coverage of Super Bowl LII, the Pyeongchang Games and the Stanley Cup Final, while making appearances this week on "Today" and "The Tonight Show."
He will join announcer Rick Allen and fellow analysts Jeff Burton and Steve Letarte in the booth beginning this week at Chicagoland Speedway. SPORTSBUSINESS JOURNAL.
In Chicago, Phil Rosenthal notes Earnhardt's return to a "familiar milieu if an unfamiliar new position in the booth above the track" is being "promoted by NBC as 'Same Dale. New View.'"
Earnhardt has prepped with Burton and Letarte on "four practice telecasts off monitors."
Earnhardt said, "Sometimes coming in inexperienced and unknowing is a good way to go too. But it's racing. I'm talking about something I love and something that I enjoy." He added, "They're not asking me to be a play-by-play guy. They're not asking me to send it to commercials and do all those things I don't know how to do yet. … Coming in they just want me to react to what I see and give an honest reaction and an honest opinion. That sounds pretty simple" CHICAGO TRIBUNE.
BE TRUE TO YOURSELF: Earnhardt said he plans to "be himself" during broadcasts, following the advice of NBC Sports Exec Producer Sam Flood. Earnhardt: "I keep asking him if that's really what he wants because that sounds a little bit too good to be true and a little bit too easy. But that's what they expect out of you, and that should be very fun, to get up there and just watch races and react" USA TODAY.
He added, "I want to bring energy. There's broadcasters that make me enjoy what I'm seeing because of their energy and how they explain what's happening and paint that picture. I'm hoping that's my best asset." More Earnhardt: "I've got to come in there and have good energy from start to finish. And it's going to be an experience. So far, in the mock stuff, it's been there. It has not been something I've really had to work at as far as the energy." ESPN.com.
WILL DALE BE ENOUGH? The AP's Dan Gelston wondered if Earnhardt's popularity is "enough to halt the ratings slide of a sport in danger of returning to its niche roots." NBC can only "hope Earnhardt's star power will attract viewers curious to listen to how NASCAR's favorite son tackles each race." Fox and FS1 "averaged 2.54 million viewers for Cup Series races this season," down 23% from last year. Another reason to "remain cautious about the so-called Junior Boost: His final races last season hardly moved the needle." His farewell race at Homestead last season saw "ratings plummet." AP.
TAKING THE NEXT STEP: NBCSPORTS.com's Nate Ryan wrote Earnhardt "hasn't left racing behind by a long shot, but it's also clear that as one phase of his life ends … a new chapter is unfolding that will feature some of the same ambition and competitiveness."
It is the race to make Earnhardt "more transcendent as a brand ambassador and cultural touchstone than he's ever been — without ever taking another checkered flag."
His role with NBC is the "most highly visible endeavor of a well-crafted business portfolio whose tentacles touch the media, automotive and food and beverage industries." JR Motorsports Managing Dir of Brand & Digital Media Mike Davis said the discussions began five years ago "about pressing Dale to think about what life after racing would look like." Ryan noted that is why Earnhardt has "aligned with WME, which has worked to help slide pro athletes into new business ventures" NBCSPORTS.com.