American driver leads the way in Austria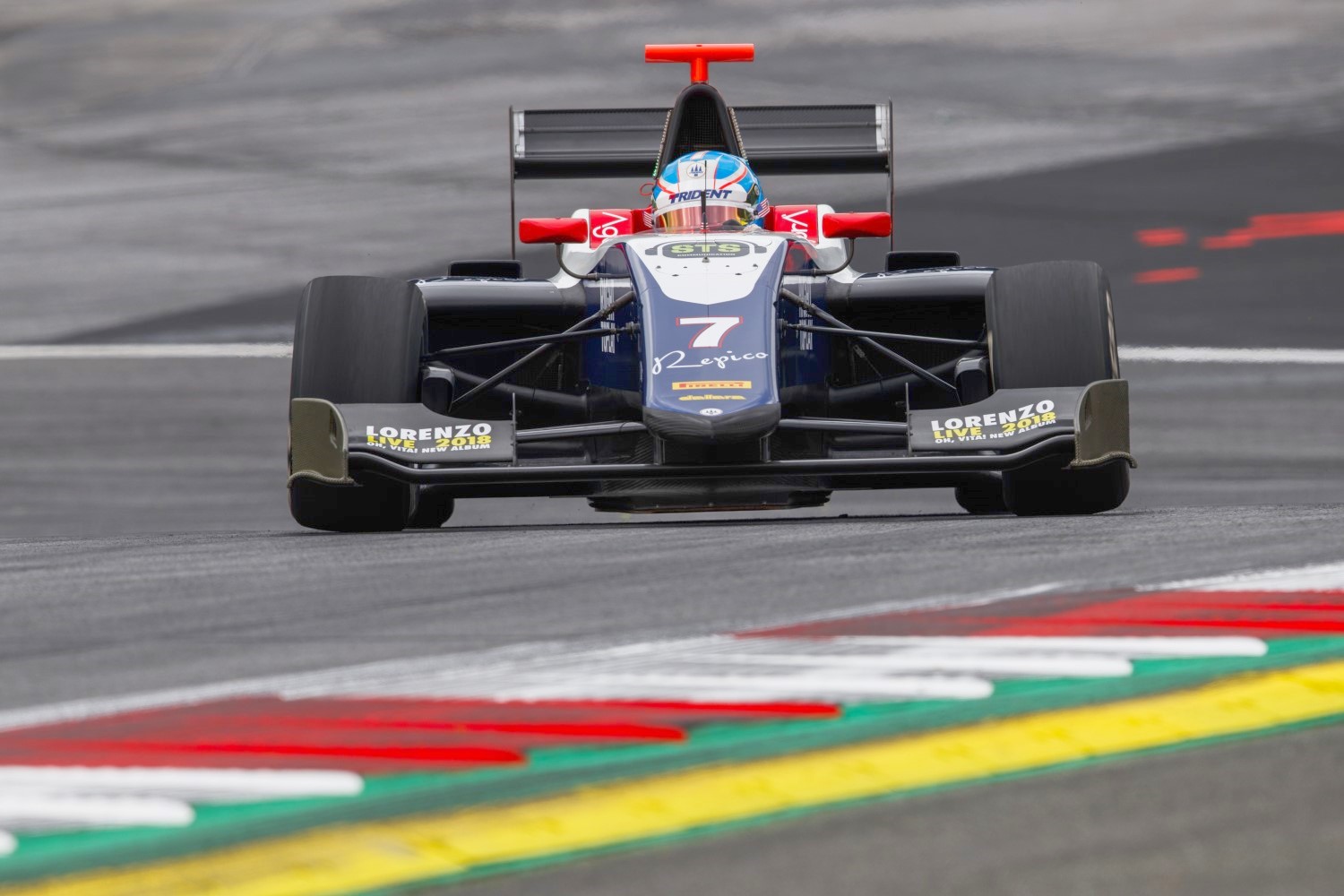 American Ryan Tveter
Ryan Tveter snatched top spot in Free Practice for­­ the GP3 Series round at Spielberg, Austria in the dying stages of the session, as the Trident driver posted a 1:19.709 on his final lap to wrest first place from Campos Racing's Simo Laaksonen. Briefly topping the session in the last moments, Laaksonen held onto second while Joey Mawson of Arden International completed the session in third.
The session began with a damp circuit, but the drying patches around the Red Bull Ring were enough to convince the majority of the drivers to commit to early slick-tyre runs. The ART Grand Prix trio of Callum Ilott, Anthoine Hubert and Nikita Mazepin were first to hit the track, with Ilott first to set a time as a planned Virtual Safety Car period took place in the opening five minutes.
With the circuit rapidly drying, the drivers were taking chunks of time out of the overall pace; Mawson was the first driver to dip below the 1m30s, instigating a number of changes at the top of the order as Ilott, Trident's Pedro Piquet and David Beckmann of Jenzer Motorsport all traded best times with Mawson in the opening 20 minutes.
A smattering of yellow flags punctuated the session – Correa brought out the first with a puncture in the opening stages, before a select number of drivers went off the road as they sought to find the limit. With the pace winding into the 1m20s – Mawson the first to get there – drizzle began to fall as Piquet returned to the top of the leaderboard, leaving a number of cars to retreat to the pitlane as they waited for the rain to subside.
On their return to the circuit, the focus switched to race pace, with little change in the overall timing boards. In the final ten minutes, Tveter popped up in first to dump teammate Piquet down a position, kicking off a late flurry of hot-lap running. The American driver went even quicker in the opening sectors, but encountered Arden's Julien Falchero in the final part of the lap and had to back out. This allowed Laaksonen to fire ahead into first, but Tveter quickly regrouped to set the only time in the 1m19s – recapturing control of the session at the checkered flag.
Laaksonen and Mawson beat MP Motorsport's Niko Kari to the top three, as points-leader Hubert beat teammate Ilott to fifth by just 0.004s. Dorian Boccolacci (MP) was seventh ahead of Piquet, with Alessio Lorandi (Trident) and Beckmann completing the top ten.
2018 GP3 Series Round 3 – Spielberg, Austria – Free Practice Results
| | | | | |
| --- | --- | --- | --- | --- |
| Pos | Driver | Team | Time | Laps |
| 1 | Ryan Tveter | Trident | 1:19.709 | 27 |
| 2 | Simo Laaksonen | Campos Racing | 1:20.150 | 23 |
| 3 | Joey Mawson | Arden International | 1:20.263 | 24 |
| 4 | Niko Kari | MP Motorsport | 1:20.298 | 24 |
| 5 | Anthoine Hubert | ART Grand Prix | 1:20.349 | 25 |
| 6 | Callum Ilott | ART Grand Prix | 1:20.353 | 26 |
| 7 | Dorian Boccolacci | MP Motorsport | 1:20.398 | 22 |
| 8 | Pedro Piquet | Trident | 1:20.419 | 24 |
| 9 | Alessio Lorandi | Trident | 1:20.502 | 26 |
| 10 | David Beckmann | Jenzer Motorsport | 1:20.525 | 20 |
| 11 | Juan Manuel Correa | Jenzer Motorsport | 1:20.603 | 24 |
| 12 | Gabriel Aubry | Arden International | 1:20.622 | 23 |
| 13 | Giuliano Alesi | Trident | 1:20.632 | 24 |
| 14 | Devlin DeFrancesco | MP Motorsport | 1:20.634 | 22 |
| 15 | Nikita Mazepin | ART Grand Prix | 1:20.637 | 23 |
| 16 | Leonardo Pulcini | Campos Racing | 1:20.687 | 22 |
| 17 | Jake Hughes | ART Grand Prix | 1:20.869 | 24 |
| 18 | Diego Menchaca | Campos Racing | 1:20.919 | 22 |
| 19 | Julien Falchero | Arden International | 1:21.168 | 19 |
| 20 | Tatiana Calderon | Jenzer Motorsport | 1:21.264 | 22 |