Iowa oval unsettles Wickens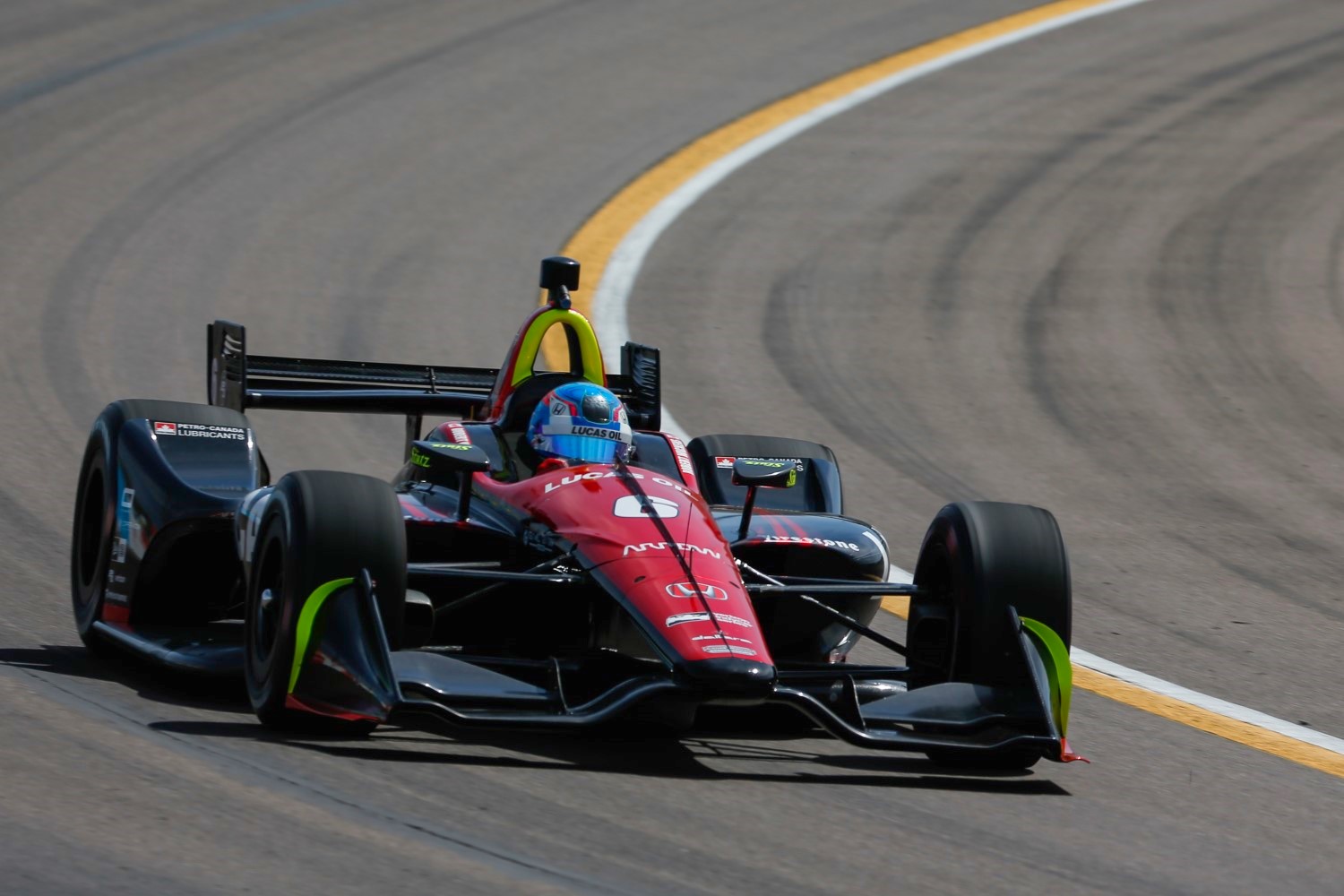 Robert Wickens
(via IndyCar.com) Oval tracks haven't seemed to faze Verizon IndyCar Series rookie sensation Robert Wickens this year, but even he was taken back with his first experience at Iowa Speedway.
Wickens, driver of the No. 6 Lucas Oil Honda for Schmidt Peterson Motorsports, was among 13 drivers participating in team testing Wednesday on the bullring oval ahead of next week's Iowa Corn 300, the 11th race on the 2018 schedule.
Coming to the Verizon IndyCar Series this year from the European open-wheel and touring car ranks, Wickens had not experienced oval racing but adapted quickly. The 29-year-old finished second in his oval debut at ISM Raceway in April; was named Sunoco Rookie of the Year at the 102nd Indianapolis 500 in May when he finished ninth; and was running third late at Texas Motor Speedway when contact with another car ended his night.
But Iowa Speedway, the shortest track on the schedule at 0.894 of a mile with its higher banking (12-14 degrees in the turns), presented a challenge that Wickens hadn't met until Wednesday. The sensation of feeling that you're constantly turning was something new for him.
"Honestly, it's the most foreign track I've ever driven in my entire life," Wickens admitted, "because I've never done a short-track oval, I've never done a high-banked short-track oval, I've never done a bumpy oval. You take all of them in one track and it's pretty unique.
"It's honestly pretty challenging. I'm not really up to speed yet, trying to still get comfortable."
Wickens has gotten comfortable quickly at each INDYCAR track he's been to thus far, including ovals. He's third among all drivers in laps led for the season with 172 – and 77 of those have come on the three ovals to date.
The rate at which laps are turned at Iowa is one of its most daunting aspects.
"We're doing 18-second laps around here; qualifying's probably going to be in the 17s," Wickens said. "It's a short lap, it's easy to make a mistake. You have to really commit to get the lap time."
The 2018 Indy car poses its own new challenges as well. Designed to produce less downforce, it forces drivers to work harder on a short oval where they previously didn't lift much or at all off the throttle. While Wickens as a rookie had no baseline of comparison to the previous generation car, Harding Racing's Gabby Chaves did.
Chaves, the 2015 Sunoco Rookie of the Year for the season, raced twice at Iowa with the aero kits produced by Chevrolet and Honda from 2015-17 before introduction of the universal kit this year. Chaves, driving the No. 88 Harding Group Chevrolet this season, repeated the thoughts of other veterans once they tested the new car on the track.
"Definitely the speeds on the straightaways are much higher, the speeds in the corners are much slower," Chaves said. "Before, this used to be a track that you'd run wide open the whole time – full throttle. I wouldn't be surprised if late in a run (during the race) with big tire wear that you'd be starting to use the brakes. It's definitely much, much different."
Chaves also concurred that the track that opened in 2007 – and is playing host to the Verizon IndyCar Series for the 12th straight year – is "a little bit rougher, kind of aging a little bit more." It's another wrinkle for drivers and teams to tackle, which is why more than half the field that will compete in the Iowa Corn 300 was at the track in advance to better prepare for race weekend.
Or, as Wickens concluded, "It's exciting for everyone and it's going to bring new challenges."
On-track activity for the Iowa Corn 300 begins Saturday, July 7 with a 60-minute practice that streams live on RaceControl.IndyCar.com at 11:15 a.m. ET. Qualifying starts at 3:30 p.m. and airs live on NBCSN. A final practice at 6:45 p.m. also will stream on RaceControl.IndyCar.com.
Live coverage of the 300-lap race begins at 2 p.m. ET Sunday, July 8 on NBCSN and the Advance Auto Parts INDYCAR Radio Network. For race weekend and ticket information, visit IowaSpeedway.com.