United Autosports To Enter Asian Le Mans Series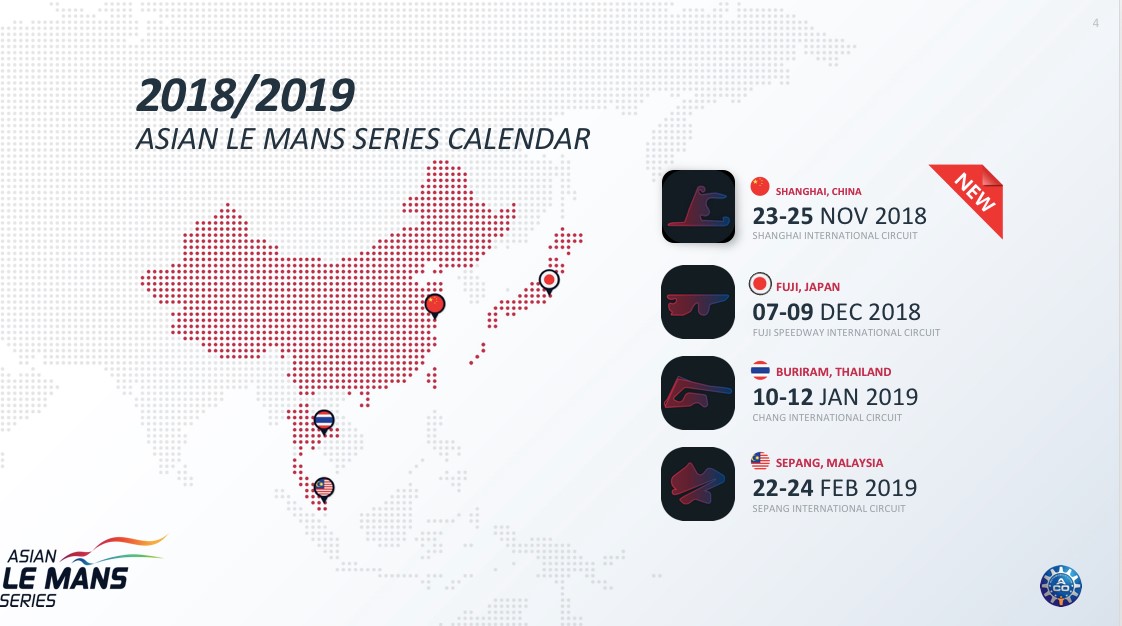 Asian LeMans race dates
United Autosports have confirmed they will enter the 2018/2019 Asian Le Mans Series as both their LMP2 and LMP3 teams enter two Ligier sports cars each.
The reigning European LMP3 Champions will field two Ligier JS P3s in the Asian series, which visits Shanghai, Fuji, Buriram and Sepang. United Autosports LMP2 team who finished second in the 2017 ELMS and third at Le Mans this year will run two Ligier JS P2s.
The addition of the Asian Le Mans Series to the calendar will complement the team's entries into the other ACO series, the European Le Mans Series and the Michelin Le Mans Cup. The team are renting two Ligier JS P2s from Onroak Automotive as the Ligier JS P217 is currently not eligible for the 2018/2019 Asian Le Mans Series.
United Autosports last raced in Asia in 2014, entering the Macau GT Cup with a pair of McLaren GT3 cars. In 2010, they also raced at Zhuhai, in China for the Intercontinental Le Mans Cup.
No drivers have been confirmed yet but negotiations will commence once the team have finished a busy period which has seen them go from the Le Mans 24 Hours directly to Watkins Glen for the third round of the Tequila Patron North American Endurance Cup.
The first round of the series is at Shanghai, China on 24-25 November.
Zak Brown, Team Owner and Chairman, United Autosports:
"I can't wait to see our United Autosports Ligiers race in Asia. Some new circuits for the team to visit and a new challenge to take on – it will be great."
Richard Dean, Team Owner and Managing Director, United Autosports:
"I'm really excited to be racing in Asia and it made sense to add another ACO program to our calendar. There is a lot of interest in the series and it gives United Autosports a new challenge to take on. From a personal point of view, I'm looking forward to going back to Asia. I raced a lot in Japan when I was younger and it was a place I loved so I'm looking forward to heading back there to see how much it has changed."
Cyrille Taesch Wahlen, Managing Director, Asian Le Mans Series:
"We are very happy to welcome United Autosports as a new team to the Asian Le Mans Series. It demonstrates that the Asian Le Mans Series is definitely on the global motorsport map, and proves it is becoming the reference endurance racing series in Asia."