How VW crushed the Pikes Peak record with an EV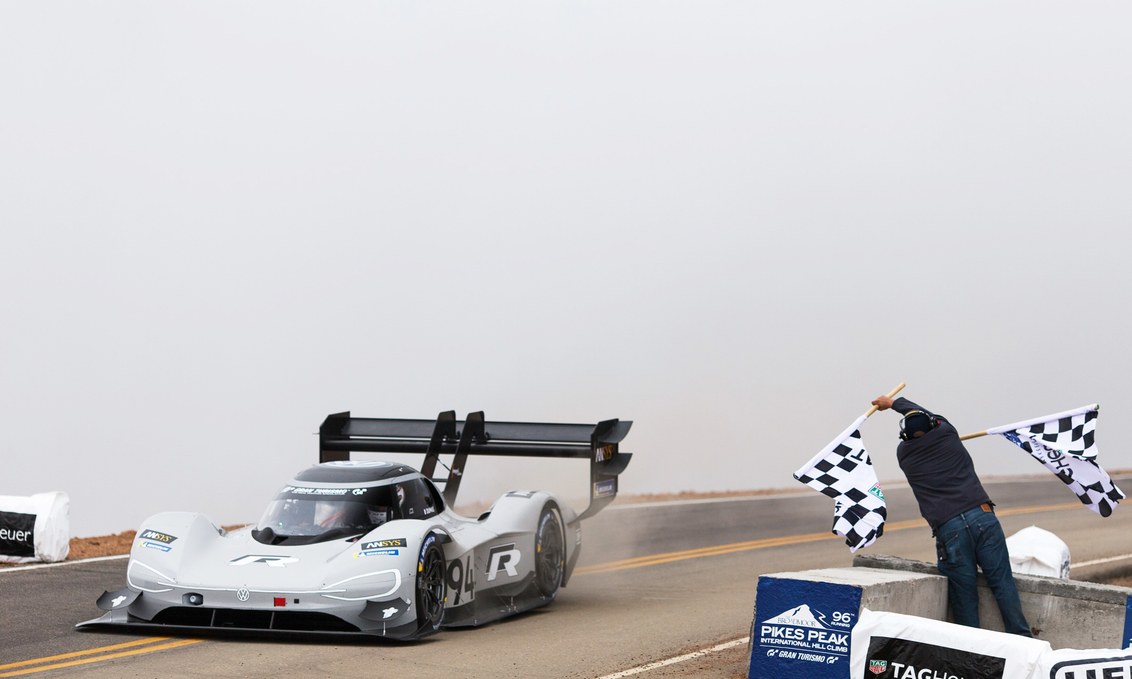 The Volkswagen ID R Pikes Peak ran the uphill course in seven minutes, 57 seconds, beating not only the previous electric record, but the all-time record as well–by 16 seconds.
LOUIS YIO/VOLKSWAGEN
On Sunday, June 24, 2018, Romain Dumas piloted the Volkswagen I.D. R electric car to the top of Pikes Peak in 7 minutes, 57.148 seconds.
Take careful note of that date — it was the moment you should have really started to take electric vehicles seriously.
The all-electric race car not only set a new record for EVs, but set the fastest time ever, by any car, even ones with high-performance, gas-gulping, engines.
Sure, there are plenty of caveats to discuss and dissect here. Certainly, EVs aren't ready to contest Le Mans; the 12.42-mile Pikes Peak course is perhaps the perfect length for an electric vehicle powered by today's battery technology. The course's dramatic 4,720-foot elevation change gives EVs, which don't have to take the thinning atmosphere into account, a competitive edge. On top of that, VW brought resources — in terms of engineering talent and pallet-loads of cash — to the challenge that few contenders could have hoped to have matched.
And the real die-hards will say that Pikes Peak isn't a real race anymore, now that it's all asphalt.
None of these caveats amount to much. Dumas' time up the mountain speaks for itself. For the first time in modern memory, an electric vehicle competed in a top-level motorsports event — and won it outright, establishing a new overall record in the process, without handicaps, qualifications or asterisks.
It's a major affirmation of Volkswagen's choice to run an electric car, powered by two motors and two battery packs wrapped around the driver's cockpit.
The steep climb has traditionally taxed internal combustion engines, because the air gets thinner the higher they go; by the time they get to the top, the engines produce 30 percent less power than they did at the bottom. Electric cars don't need to inhale any oxygen at all. That gives them a potential inherent advantage, but until now they haven't been able to beat the best conventional cars.
"For Pikes Peak, to break records, you have to go to electric cars, I think that's been proven now," says Sven Smeets, Volkswagen's motorsport director.
That's not to say the team had it easy. It developed the car from scratch in just eight months, and built a low, sleek, machine that weighs less than 2,500 pounds, even including its heavy batteries. Power output is 670 hp, which VW says will get the car to 60 mph in 2.2 seconds (so, faster than a Formula 1 car). Everyone knows that electric drivetrains can perform insane acts of acceleration, thanks to Tesla and its ludicrous mode. The problem is that once the battery starts to heat up, which can happen after just a couple of full-power sprints, performance falls off. Fast.
To save weight, the team chose not to use water to cool the battery packs, but relied on air cooling instead. That worked in simulations, but they'd never had a chance to run the full course in real life (qualifying runs are performed on a shorter section of the road), so everyone was nervous before Sunday's sprint. "Our battery management worked," says a relieved Smeets. The driver, Romain Dumas, had full power all the way to the top.
Your next electric car won't be able to perform the same feats, though. The ID R has batteries that are "way ahead" of anything currently on the streets, according to Smeets. The team tweaked the chemistry of the cells so they would have maximum power and temperature tolerance, and, crucially, they didn't have to consider range, like a traditional electric car designers do. At the end of the relatively short race, the packs were already out of charge. Nobody's going to buy an EV with 12 miles of range, no matter how fast it is.
Motor racing is traditionally a showcase and testing ground for advanced automotive technology that will eventually make its way into regular cars. For electric vehicles though, development in road cars is happening so quickly, that road- and race-vehicle engineers are learning from each other. VW, for example, is working to bring three new members of the ID range to market (any electric vehicle it's making gets called an ID, for some reason), including a Golf-sized hatchback for Europe, the ID Crozz crossover SUV, and the ID Buzz microbus. Whether they adapt battery-management techniques from race winners or whether ultra-rapid race machines get range extensions from production car investments, everyone comes out a winner.