Latest F1 news in brief – Tuesday
Paul Ricard to lose it's silly chicane?

F1 to consider axing Mistral chicane – Whiting

Mercedes ready to announce 2018 drivers
Italy slams Vettel for 'amateur error'
Win won't change me as driver – Raikkonen
Alonso undecided about F1 future – Brown
Red Bull refusing to use new Renault MGU-K
Red Bull will not re-brand Honda engines
FIA on target to release 2021 F1 engine regulations this week
Tire selections for Silverstone revealed
F1 to consider axing Mistral chicane – Whiting
(GMM) Charlie Whiting says F1 will consider removing the unpopular chicane from the middle of Paul Ricard's iconic Mistral straight for 2019.
The topic was brought up by the drivers in the pre-race briefing, with others including Toto Wolff agreeing that the chicane spoiled the long straight and right-hand bend at the end of it.
"Everyone would talk about the straight and the corner at the end, just like everyone talks about other sections in the world," said Carlos Sainz.
"It would give it a touch of character that maybe it doesn't have at the moment."
Whiting, the FIA race director, said using the chicane for Paul Ricard's return to the F1 calendar was a decision made jointly by the circuit and the Federation.
"In my opinion everything worked well," he said.
"There are some who think we shouldn't have it, but the teams and drivers knew about it long before the grand prix. So I was surprised when on Friday it was suddenly an issue."
Whiting promised, however, that the issue of the Mistral chicane will be reviewed ahead of the 2019 race.
"We can do a simulation to check it but I would also like to hear the opinions of the drivers again, because we saw a lot of good overtaking during the race and we might not have seen it without that chicane," he said.
Mercedes ready to announce 2018 drivers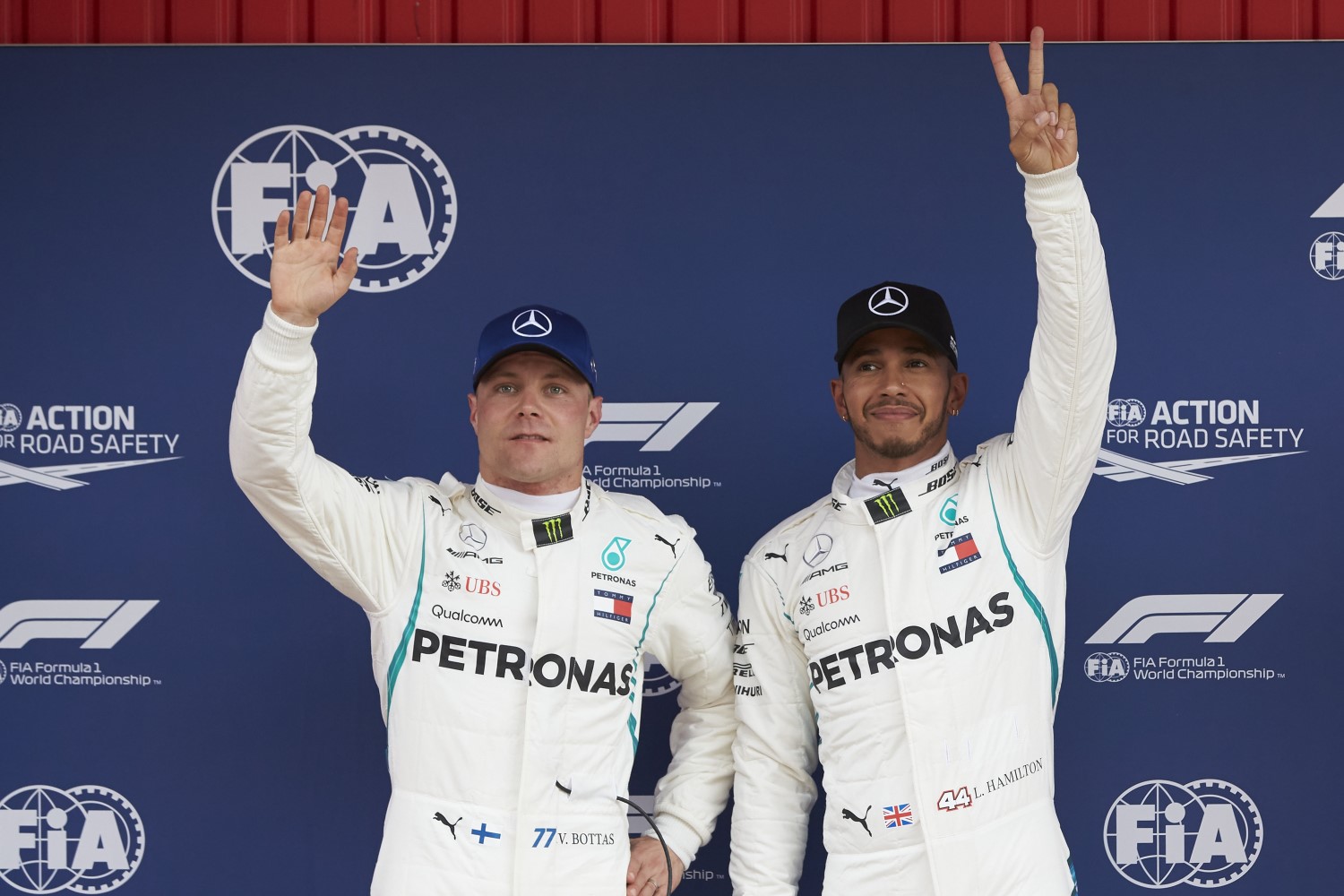 Mercedes will likely retain its two drivers
(GMM) Mercedes now appears ready to announce its 2018 driver lineup.
At Paul Ricard, Lewis Hamilton gave the strongest indication yet that his long-delayed new contract with Mercedes may finally be ready to sign.
"It's going to be done and I think soon," said the world championship leader.
And although there have been rumors about Daniel Ricciardo and Esteban Ocon, it is expected that if Hamilton is re-signed, so too will be Valtteri Bottas.
"We do not want to delay anymore. We will announce it very soon," team boss Toto Wolff is quoted by Finland's Iltalehti.
He has made clear that Mercedes wants Hamilton to stay, adding: "Valtteri is doing extraordinary work, and there is currently no reason to change the lineup."
Italy slams Vettel for 'amateur error'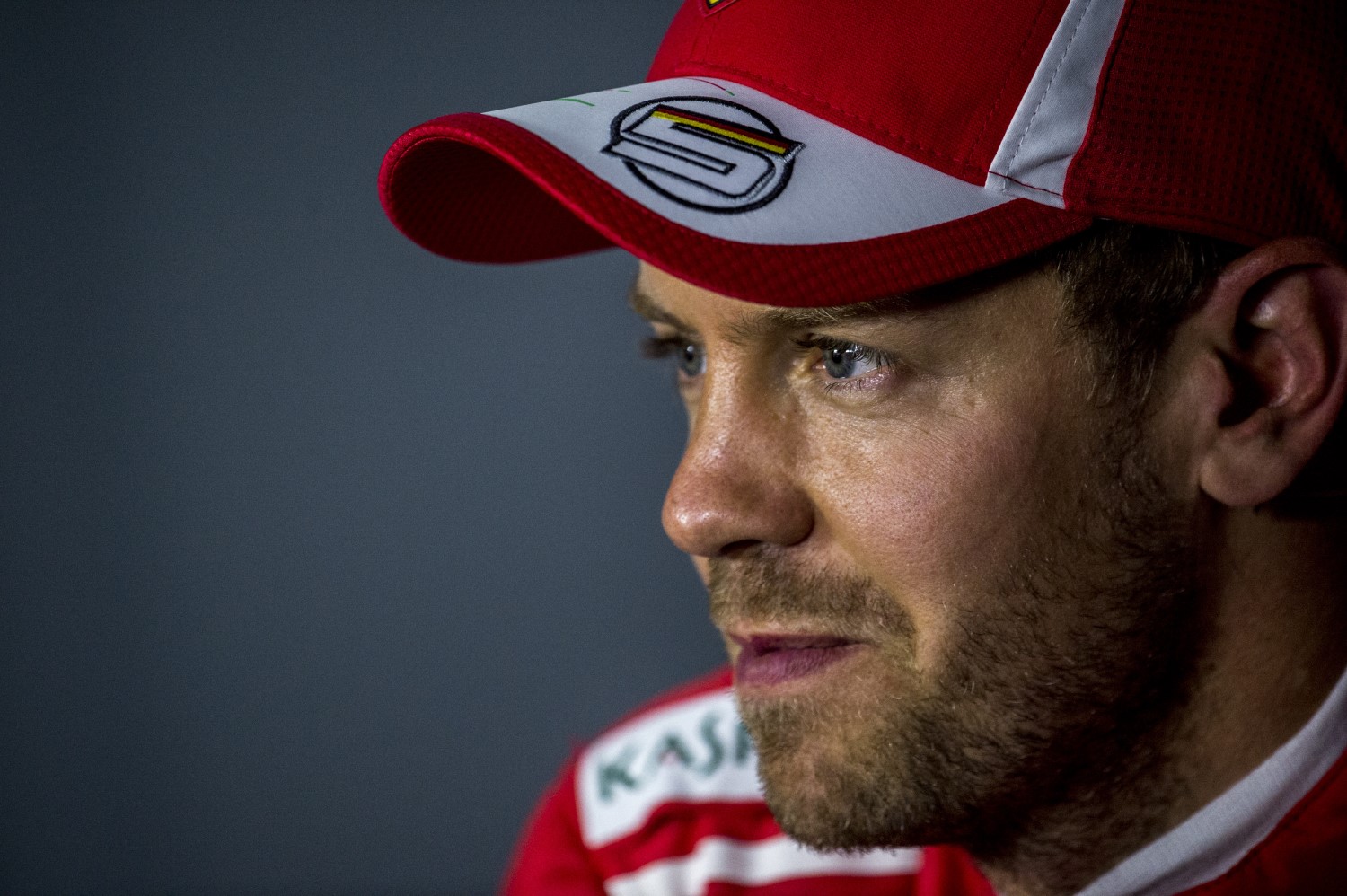 Vettel hammered by the Italian Press
(GMM) The Italian press has lashed out at Sebastian Vettel for his "amateur error" in the French grand prix.
The Ferrari driver had a one point lead heading into the Paul Ricard race, but Vettel admitted he was to blame for a crash with Valtteri Bottas that means he left France with a 14-point deficit to Lewis Hamilton.
"Vettel committed an amateur error and this time the consequences are serious," wrote La Gazzetta dello Sport.
"Despite its excellent car, for Ferrari it is once again a wasted opportunity."
La Repubblica added: "Vettel makes mistakes that he cannot afford if he wants to win another world title."
And the copy at La Stampa reads: "It was a great catch up drive, but also ten wasted points because of too much impulsiveness."
Max Verstappen even poked fun at Vettel by suggesting the media should call for the German to "change his style" after what happened in France.
Vettel said: "I will not respond to that. I'm too old for that nonsense."
But former Ferrari driver Fernando Alonso agrees that Vettel might want to think again about how he goes about trying to win the 2018 title.
"In the first lap and playing for the world championship, he ran quite a risk. It worked out ok for him but in the future it will not go so well," he said.
Win won't change me as driver – Raikkonen
A win probably won't save Kimi's career
(GMM) Kimi Raikkonen has denied that he desperately needs a grand prix win.
The 38-year-old Finn is not commenting on widespread speculation that Ferrari intends to replace him for 2019 with rising talent Charles Leclerc.
Raikkonen's form has been up and down over the past seasons, including a solid start in 2018 that now sees him struggling in qualifying.
"I don't know why it's been more difficult in the last qualifying sessions compared to the first ones, but we are working to improve the situation," he said at Paul Ricard.
"You do not get worse in just a few sessions."
So he denied that a sudden burst in form now, including what would be his first win since 2013, will make all the difference in what could be his last ever season in F1.
"It does not affect the way I drive," he said.
"I've already won in the past and I don't see why I can't win again. Ok I haven't won for a while, but when you win, you're not a different driver."
Alonso undecided about F1 future – Brown
Boullier has failed in F1 everywhere he has worked
(GMM) Zak Brown has admitted that Fernando Alonso might not race an orange car in formula one next year.
Spaniard Alonso won Le Mans recently, and he now wants victory at the Indy 500 to complete the elusive 'triple crown'.
At the same time, he is obviously disenchanted with his lack of a competitive car and the overall situation in formula one.
"Fernando still has to make a decision," Brown, the McLaren executive, said at Paul Ricard.
"We have a very good relationship with him, he has been with us for quite a long time now and ultimately it depends on what and where we will compete and how our F1 car develops," he said.
"I'm optimistic that Fernando will stay in the family and in the formula one car," he added.
"As long as he feels we can take a step forward, I think F1 is something he would like to continue doing."
McLaren, though, had a dire weekend in France and was among the slowest cars in the field.
"It was our worst performances of the season and I hope an isolated case," said team boss Eric Boullier.
"We have a lot of work to do in the next two weeks."
Red Bull refusing to use new Renault MGU-K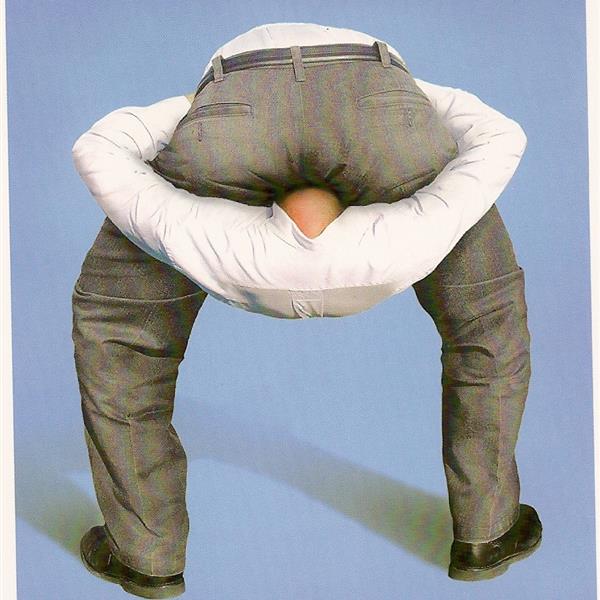 Red Bull would be hit with F1's silly penalties
(GMM) Red Bull will not use a new 'MGU-K' unit supplied by Renault this weekend in Austria.
Marca reports that Renault has been using the 2017 version of the energy recovery component so far this year, but that the new specification is finally ready.
However, fitting the new unit will result in penalties for the Renault-powered drivers, including those at the works team, McLaren, and Red Bull.
"It will be available in Austria for all the cars that want it," said Renault boss Cyril Abiteboul.
"It so happens that not all the teams have chosen to use the new specification, but it's something that we've been very much waiting for."
It is believed Renault and McLaren will use the new MGU-K in Austria, but Red Bull doesn't want to take penalties at its home race at the Red Bull Ring.
"It's a problem that some have chosen not to use it," Abiteboul said. "It means they will continue to use the MGU-K of a previous technical specification with a higher reliability risk.
"But that is our philosophy — to accept the choice of the teams that have all the information," he added.
Red Bull will not re-brand Honda engines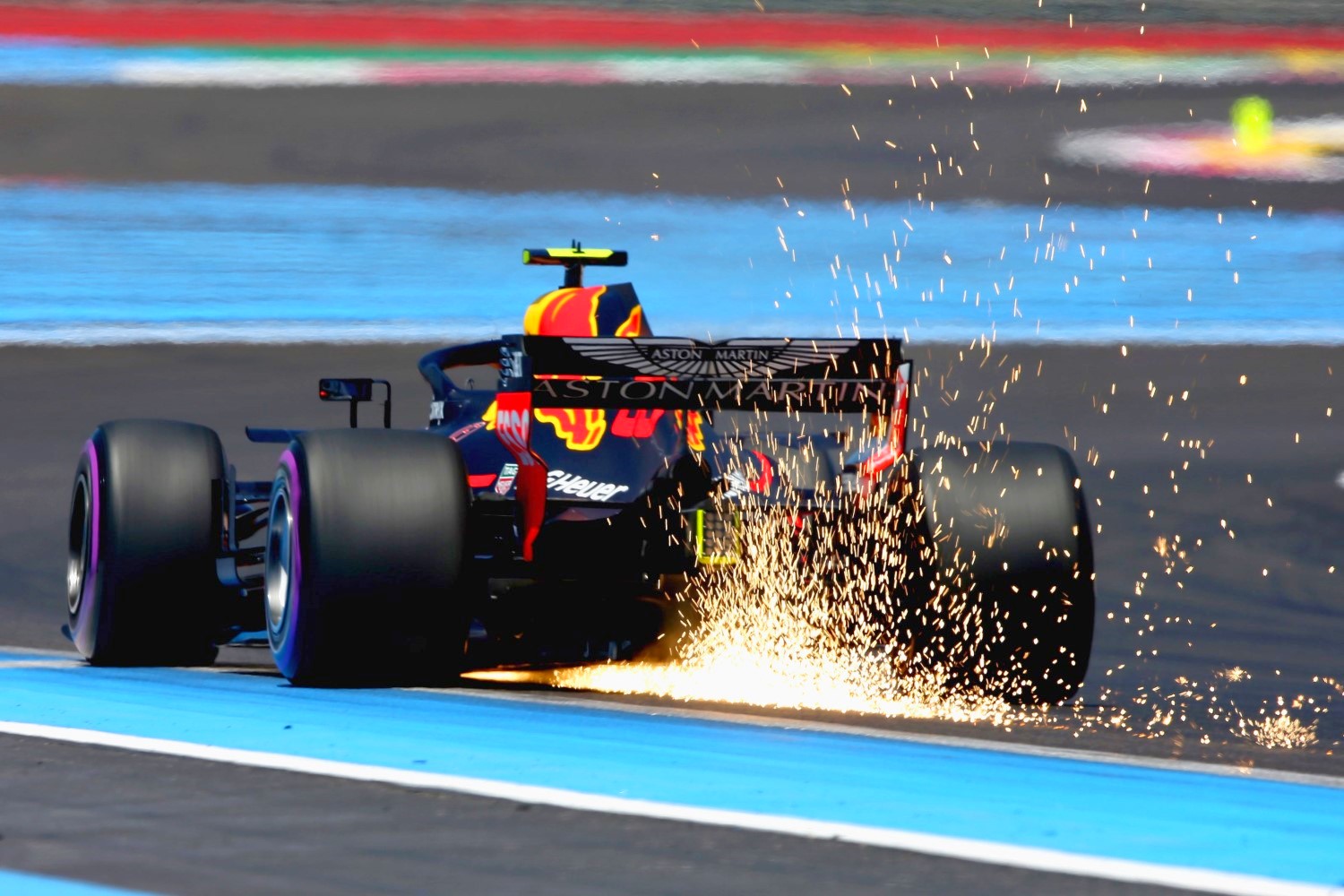 No more Aston Martin or Tag-Heuer branding
(GMM) Red Bull will not re-brand its engines next year.
Recently, the energy drink owned brand has worked with title sponsor Aston Martin and re-branded its customer Renault engines as Tag-Heuer.
But that is changing from 2019.
Red Bull has signed up with new works partner Honda, who intend to run the Honda brand on the former champion team's cars.
And Honda boss Masahi Yamamoto said even Red Bull using Aston Martin in the official team name will not be a problem.
"Aston Martin stands for sports cars, which is an overlap only with our NSX model," he told Speed Week.
"We discussed this at the board level and they think it's no problem. It's actually quite funny. In Tokyo, opposite our headquarters, a new car dealer was recently set up.
"Which brand? Aston Martin!" the Japanese laughed.
Yamamoto admits that teaming up with Red Bull, currently a top F1 team alongside Ferrari and Mercedes, is a great privilege as well as a source of pressure.
Asked if Aston Martin Red Bull Honda can compete for the 2019 title, he answered: "Difficult question. Of course that must ultimately be the goal.
"Mercedes and Ferrari are still ahead so we have to increase our performance. Everyone knows that Red Bull builds the best chassis in formula one, so now we have to equip them with the best possible engine.
"I told the board: Red Bull Racing is our chance to show the world what we really can do. But to do that, we have continue to develop," Yamamoto added.
Why Ricciardo must avoid career-killer McLaren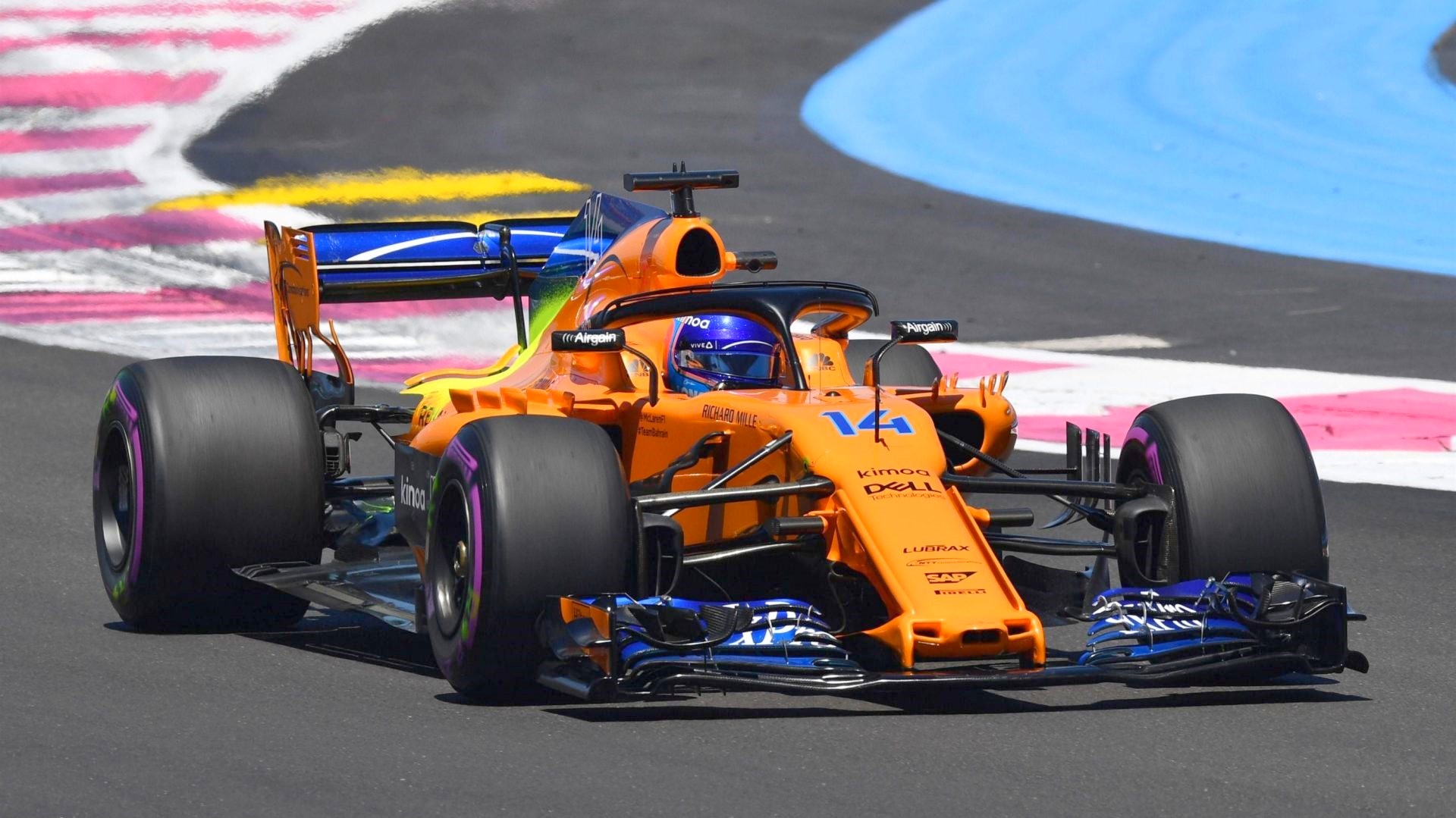 Only the Williams chassis is worse than the McLaren
Fernando Alonso too is slowly being eaten away by McLaren. His public outbursts over the team's ineptitude are well known, but the driver who was oversold the team's performance first with Honda and later with Renault seems so disillusioned with McLaren and Formula One that he seems likely to switch to IndyCar next season.
It's not hard to understand why. In France McLaren was the slowest car of all bar Williams, continuing its helpless slide down the competitive order with no obvious escape route.
Indeed the situation is so poor that longstanding F1 reporter Jonathan McEvoy wrote for the Daily Mail that team staff are considering rising up against current management and are considering enlisting deposed former team principal Martin Whitmarsh to spearhead the charge, accusations which led to this testy exchange at the pre-race press conference.
McLaren, put simply, is a mess. Once great though it may have been, it is no longer, and with the team being forced to admit that it doesn't know why it isn't competitive save for the fact that its wind tunnel data doesn't correlate with on-track feedback – and even then no-one knows why this is the case – there are no real short-term prospects of it coming even close to rekindling its race-winning potential any time soon.
The best McLaren could hope to offer Ricciardo is the chance to lead a powerful F1 brand back to the front of the grid, but even then there can be no promises.
Ricciardo, quite simply, would be foolish to take up McLaren's offer.
FIA on target to release 2021 F1 engine regulations this week
The MGU-H will be gone
The FIA says it is on target to meet its deadline for the publication of the 2021 engine regulations at the end of June.
The basic concept of the 2021 engine was outlined by the FIA and Formula One in November last year, but working towards a more detailed set of regulations has taken some time. However, FIA technical delegate Charlie Whiting is confident the regulations will be published by the end of this month.
"I think that target will be met and in great detail," he said on Sunday.
F1 will still be racing with1.6-liter, V6 turbo hybrids in 2021, but they will feature a number of significant changes to reduce costs, boost power and improve the noise. Chief among those changes will be the removal of the MGU-H — the part of the hybrid system that recovers energy from the turbo — while fuel restrictions are set to be relaxed and the rev limit will be upped by 3,000rpm to 18,000 rpm to improve noise.
The FIA has been working with F1's four existing engine manufacturers on the new rules as well as a new manufacturer, believed to be Porsche.
Whiting is confident the rule-making process is nearly finished after well over a year of meetings on the issue.
"The manufacturers are all involved in it so it is taking quite a long time because they are toing and froing," he said. "It is very complicated and there's been meeting after meeting after meeting on this so the reports I get on these appear to be very detailed.
"We are going into fine detail and I am fairly confident we are getting to the end of that process and at the end of that process we will have a far more detailed idea of what the power unit will be in 2021."
Tire selections for Silverstone revealed
British GP tire selections