INDYCAR, Road America announce three-year race extension (Update)
George Bruggenthies
UPDATE In Milwaukee, Dave Kallmann reports IndyCar will return to Road America through '21, but "don't expect a second date in Wisconsin again." Road America President & GM George Bruggenthies "announced a three-year extension" yesterday before the Kohler Grand Prix, and afterward "described the weekend as 'perfect' with great weather, a huge crowd and good news about the future."
Bruggenthies then "quashed the idea of the series ever going back" to the Milwaukee Mile, at least with Road America's involvement.
Bruggenthies said, "It'd be impossible. Do you know what kind of investment you've got to do at the Mile to support an IndyCar Series (race)? I think it's at least 15 to 20 million (dollars) to get up to standards. I don't think it's going to happen there."
Road America "does not announce attendance." And though Bruggenthies said that he will not see final numbers for weeks, he characterized yesterday's crowd as "larger than last year's and close to" that of '16.
IndyCar "returned three seasons ago after eight years away" from the track. That crowd was "estimated at more than 50,000." Next year's race will hold approximately the same date, although Bruggenthies said that it "could shift by a week to avoid a conflict" with the 24 Hours of Le Mans. No title sponsor "is in place yet." The Sheboygan, Wisc.-based Kohler Co. "backed the first three races" MILWAUKEE JOURNAL SENTINEL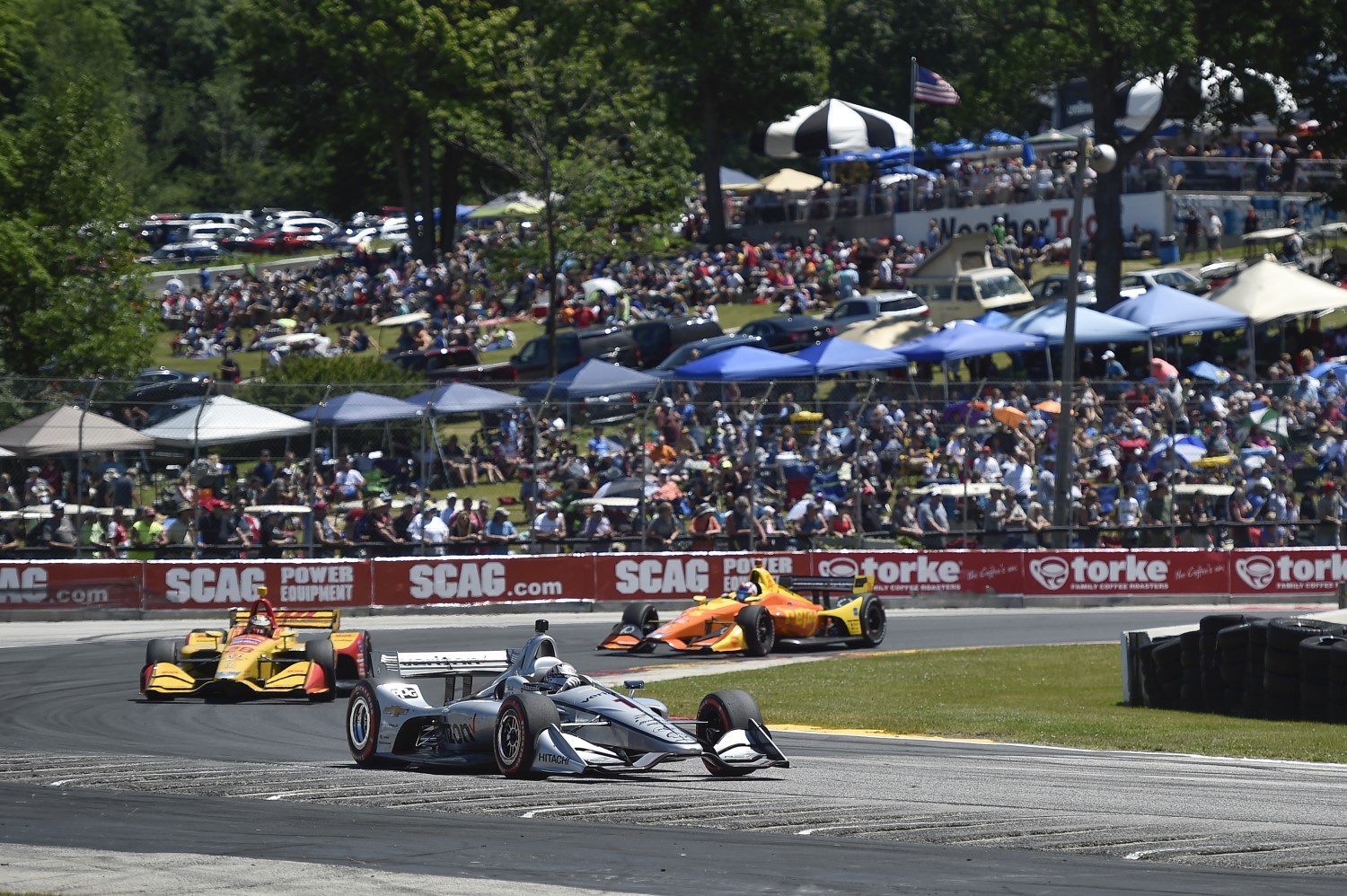 Compared to most of the oval races on the IndyCar schedule, Road America draws a big crowd. Why did the series not race at this track for so many years?
06/24/18 INDYCAR and Road America have agreed to a three-year extension for the Verizon IndyCar Series to continue racing at the historic permanent road course in east central Wisconsin.
George Bruggenthies, Road America president and general manager, made the announcement prior to Sunday's KOHLER Grand Prix, which was the 28th Indy car race on the circuit dating to the first event in 1982.
INDYCAR, which returned to Road America in 2016 following a nine-year hiatus, will continue to stage its event through at least 2021. The 2019 race weekend is scheduled for June 21-23.
"Ask any driver, from nearly every discipline, especially open-wheel, and they love this place," Bruggenthies said. "The track is designed to make full use of the natural terrain, with elevation changes and undulating turns that allow for intense speeds that test driver skill to the maximum. Combine that with our park-like atmosphere, open seating and great spectator locations and it all equates to IndyCar Series racing at its best.
"We are very pleased to continue this relationship with INDYCAR and we look forward to many more incredible events at America's National Park of Speed."
The agreement continues the heritage of Indy cars competing at the track listed by most INDYCAR drivers as among their favorites on the schedule. The list of past winners at Road America contains many of the all-time champions in the sport. Mario Andretti, Emerson Fittipaldi and Michael Andretti collected three race wins each. Other Indy car champions with Road America victories include Danny Sullivan, Paul Tracy, Jacques Villeneuve, Alex Zanardi, Dario Franchitti, Cristiano da Matta, Sebastien Bourdais, Will Power and Scott Dixon – with Josef Newgarden adding his name to the list on Sunday.
"Road America represents everything good about INDYCAR racing, from the on-track action to the viewing opportunities to the fans and staff here," said Mark Miles, president and CEO of Hulman & Company, the parent of INDYCAR and Indianapolis Motor Speedway. "We welcome the chance to race here for years to come."
The complete 2019 Verizon IndyCar Series schedule will be announced at a later date.