Latest F1 news in brief – Monday
Lauda (L) felt Vettel got off to easy. If Vettel loses the title he will have no one else to blame but himself

Vettel penalty too lenient – Lauda

McLaren held 'crisis meeting' at Paul Ricard
McLaren cannot identify exact problem
Staying at Renault 'would be a pleasure' – Sainz
Hamilton: We´re out there putting our lives on the line
Wolff: Mercedes, Ferrari and Renault engines are evenly matched
Vettel penalty too lenient – Lauda
(GMM) Niki Lauda thinks the FIA let Sebastian Vettel escape with a lenient penalty after a first lap crash at Paul Ricard.
Vettel and Mercedes driver Valtteri Bottas collided at the start of Sunday's French grand prix, and the Ferrari driver was given a 5 second penalty.
"Why did Vettel only get five seconds for a huge mistake?" F1 legend and Mercedes team chairman Lauda said.
"Five seconds is nothing. It destroyed Valtteri's race. We could have had first and second places," he added.
However, FIA race director Charlie Whiting defended the penalty.
"The stewards had four options," he revealed. "A 5 second penalty, a 10 second penalty, a drive through and a stop and go.
"5 seconds seems logical given other incidents of this kind in the past. If you take into consideration the consequences of the incident, you could argue that it should have been different, but that's not what the stewards did," added Whiting.
Vettel finished the race fifth, with Finn Bottas in seventh.
Lewis Hamilton therefore re-took the lead in the world championship, and now leads Vettel by 14 points.
Hamilton said: "I think the five second penalty is like a slap on the wrist when you destroy the race of another guy.
"If he ends up finishing in front of that guy, you have to ask whether the penalty was enough," he added.
McLaren held 'crisis meeting' at Paul Ricard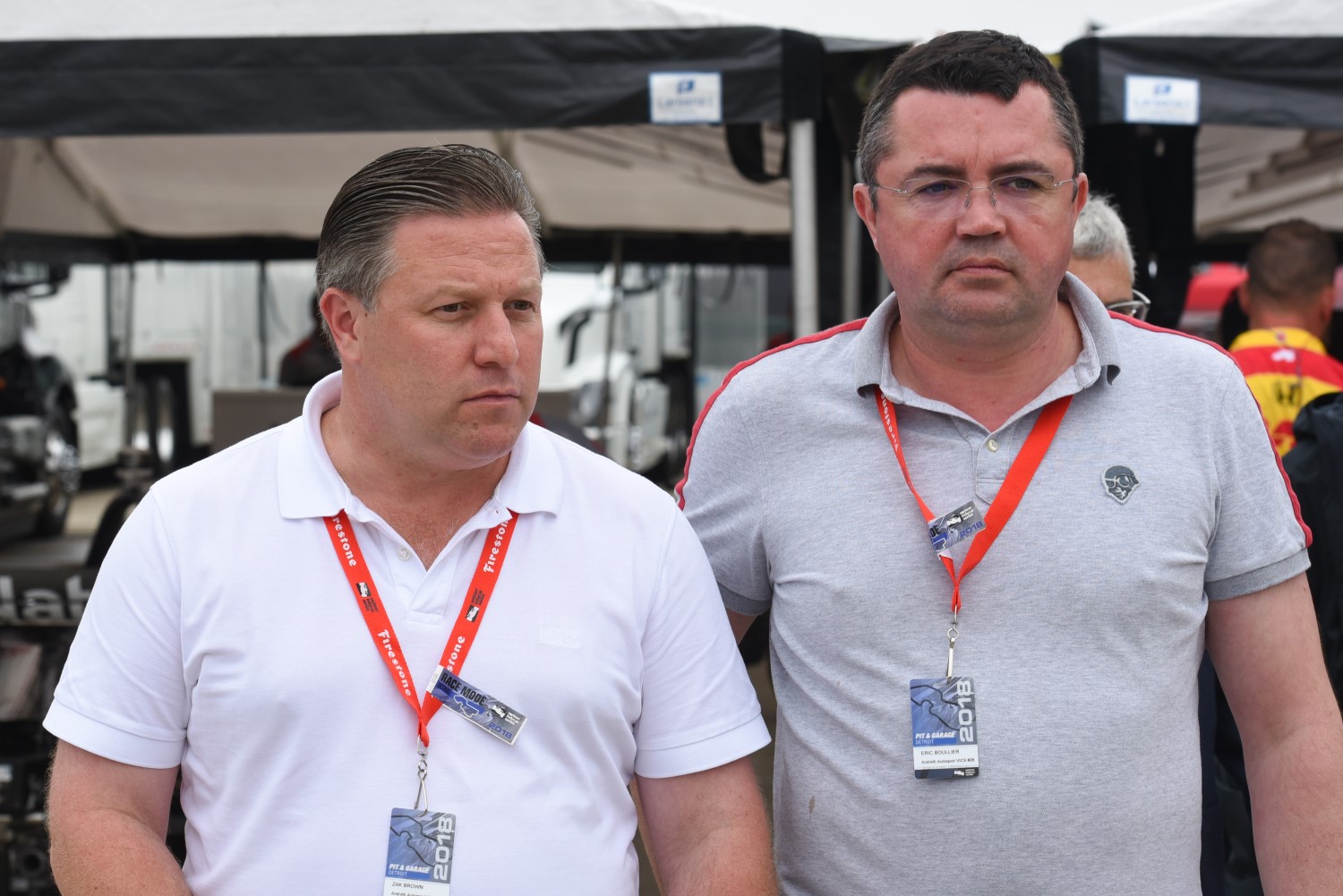 Brown and Boullier hold crisis meeting
(GMM) Stoffel Vandoorne has played down an apparent 'crisis meeting' that took place in the McLaren motor home on Sunday.
Reports suggest the beleaguered team's entire race crew met inside the motor home at Paul Ricard, amid reports some staff are planning a revolt.
"I can't tell you exactly what was said, but there was a little word of encouragement for the whole team," said McLaren driver Stoffel Vandoorne.
"All the staff were there. It's difficult times for us, but everyone is pushing and we hope it gets better soon," he told the RTBF broadcaster.
The crisis meeting came at the end of an abysmal weekend for McLaren, whose orange Renault-powered car was among the slowest in the entire field.
Asked if he would prefer to be at home rather than running around at the back, Fernando Alonso insisted: "No, I prefer to be here.
"I am one of 20 drivers doing the best job in the world. It's true we have not been very competitive, but we are here working, doing something, trying," he told Spanish media.
"It's true we were very, very bad, but I'm seventh or eighth in the championship so I must be doing something," Alonso added.
And he backed McLaren to improve the situation soon.
"I trust the team," said Alonso.
"We were very uncompetitive this weekend, but I know that new things are coming for the next races."
However, rumors persist that Alonso will call it a day at the end of the year, perhaps choosing instead to head a new McLaren-branded Indycar team for 2019.
For the F1 team, McLaren is in talks with Daniel Ricciardo, but also waiting in the wings is impressive junior driver Lando Norris.
"We are focused on Stoffel and Fernando," team boss Eric Boullier said at Paul Ricard.
"But I certainly will not wait to see if Santa Claus will bring me a driver," he added.
"It's premature to talk about Lando Norris but everything is possible. I can't say anything more on this subject right now," he added.
McLaren cannot identify exact problem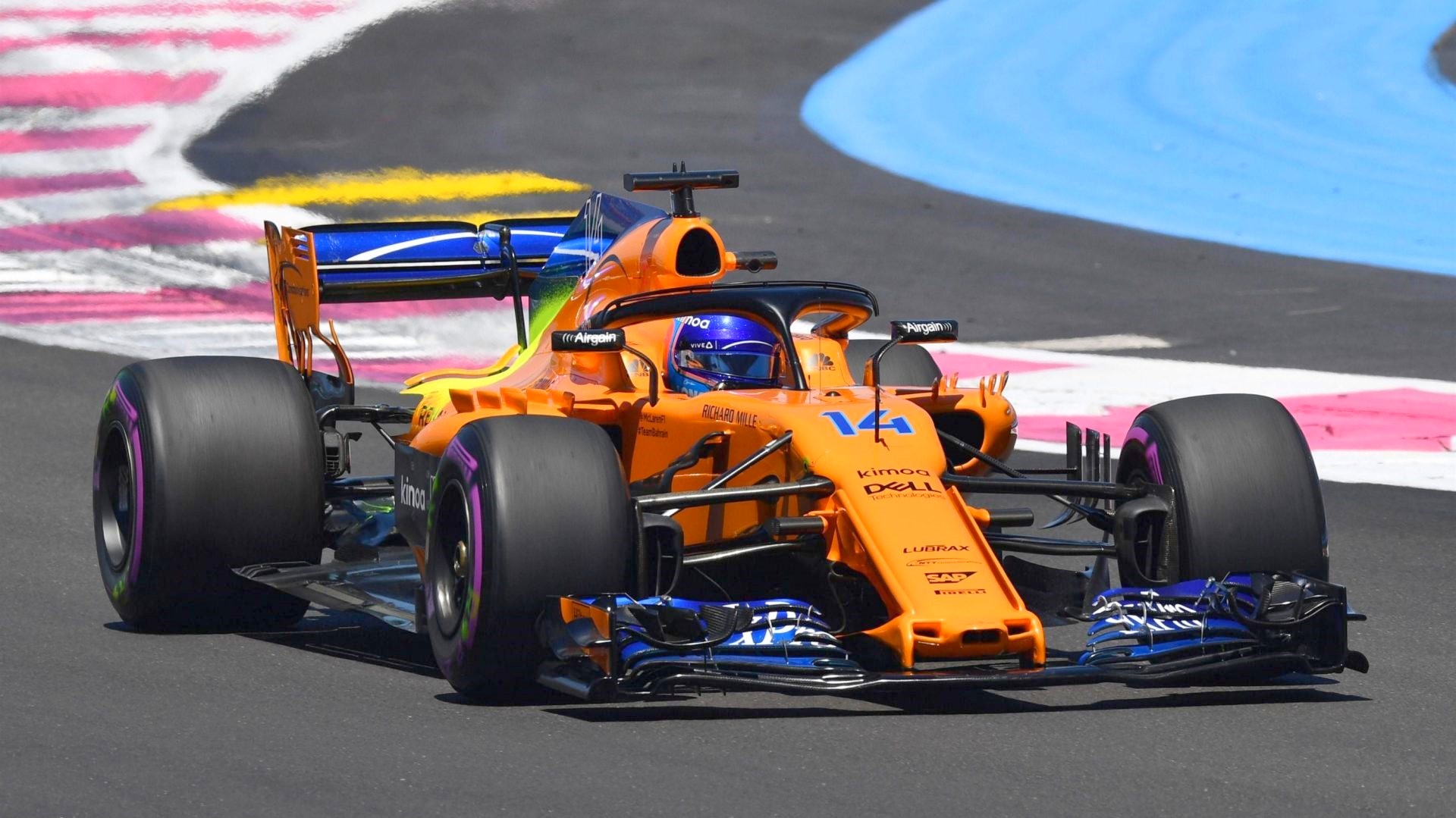 Other than the Williams, the McLaren may be the slowest chassis on the grid
The claim that its predecessor was the best chassis out there has come back to bite McLaren in the wake of a disastrous qualifying session in France.
Failing to get either car into Q2, was the latest calamity in a week which has seen the Woking team under attack from the media and (seemingly) within.
While 'Freddo-gate' – which follows claims that employees are being rewarded for their efforts with 25p chocolate bars – was the source of much paddock mirth on Friday, it is the latest episode in the story of a team that appears to some to be imploding.
Chocolate bars don't matter, but dumping Honda and its money only to find that the results with Renault are little better – an engine that is powering Red Bull to wins – is a dreadful state of affairs.
Now, in a week in which former boss Martin Whitmarsh has expressed his fears for the team and insiders talk of a "toxic" atmosphere in Woking and "clueless" management, Zak Brown reveals that the team is unable to trace the root cause of its aero issues in the windtunnel.
"I think we have identified the areas in which we have a problem, or problems," he said. "It's in aerodynamics. It's something that doesn't show up in the wind tunnel."
The windtunnel is that of Toyota's in Cologne, one used successfully by a number of rival F1 teams.
"We can't try to solve it in the wind tunnel because we can't replicate the issue or issues," he admitted. "It's not a wind tunnel issue. What we've identified as the areas of weakness just simply doesn't show up in a wind tunnel.
"Unfortunately we're having to test and experiment at the race track," he admitted, "and while most other teams are now on their development path, their base program is working for them, we're having to identify and work to solve these issues."
Nonetheless, Eric Boullier insists the team must not abandon development of the MCL33 in order to focus on the 2019 car.
Admitting that the root cause has to be found "so it doesn't carry over to next year", Brown added: "We have identified the general area of issues, so we know what we're chasing. What we don't obviously have yet is the solution in place." Pitpass https://www.pitpass.com/62129/McLaren-unable-to-identify-issues-in-wind-tunnel-testing
Staying at Renault 'would be a pleasure' – Sainz Jr.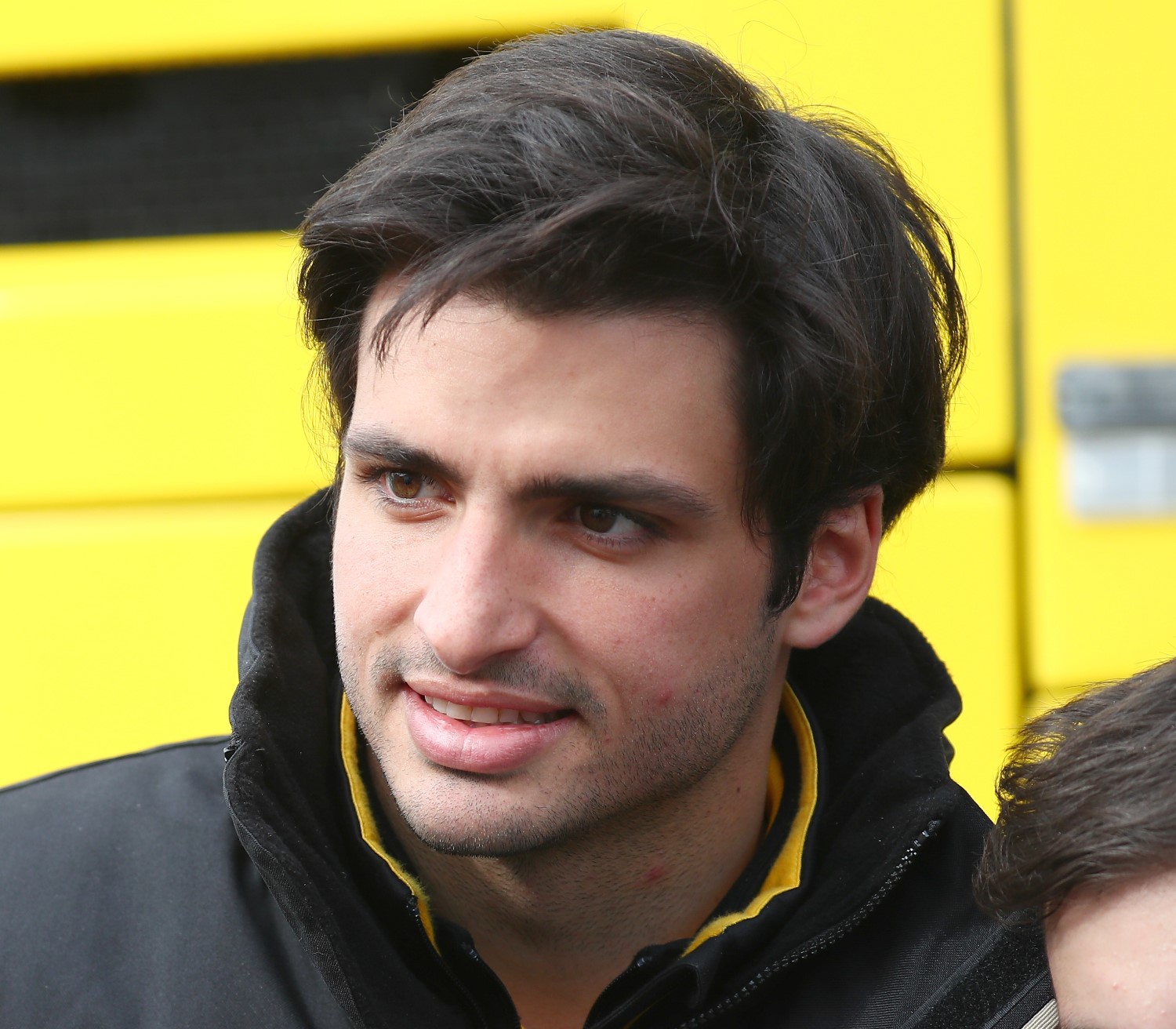 Sainz Jr. wants to be with a works team like Renault
(GMM) Carlos Sainz Jr. says he would be happy to stay at Renault in 2019.
Actually, the Spaniard is merely 'on loan' to the French team this year, as Red Bull has contractual control of his career.
And if Daniel Ricciardo leaves Red Bull for 2019, it will probably be Sainz who is appointed to replace him.
At the same time, while Nico Hulkenberg has been faster this year, Renault seems happy to keep Sainz for 2019.
But yet another factor could be Red Bull's forthcoming switch from Renault to Honda power.
"We can say that it's unconnected to engine decisions but it's not," Renault boss Cyril Abiteboul said at Paul Ricard when asked about Sainz's future.
Abiteboul said he is "happy" with Sainz, and the 23-year-old driver also sounds keen to stay.
"It would be a pleasure to stay at Renault," he told El Pais newspaper.
"I'm happy where I am. I think this team has a lot of potential and, whatever happens, I'm very proud of how we are doing things here at Renault.
"For me it would be a pleasure to stay," Sainz repeated.
Renault advisor Alain Prost agrees that Hulkenberg alongside Sainz is currently working well.
"Sometimes in a team there are big differences in the attitude of the drivers, or how they work with the engineers," he said. "But from what I see, these two complement each other very well.
"The important thing is that they go in the same direction and push the team to be the best," Prost added.
Abiteboul agrees: "The loyalty that we feel from our two drivers is crucial, because we are still building the team.
"We are not yet at the highest level so we cannot afford to have selfish individuals."
And although a Red Bull seat could be looming, Sainz seems patient about waiting to succeed in a yellow car.
"I have my ambitions and I am very competitive. I like to win," he said.
"But currently in F1, there are three teams that are a second and a half ahead of the rest, and we really are the first of the rest.
"We know that it will not happen overnight as we still have a lot of growing to do, and hopefully that happens in the next year or next couple of years. I think there's no hurry either," Sainz added.
Hamilton: We´re out there putting our lives on the line
Formula 1 world champion and championship leader Lewis Hamilton has defended title rival Sebastian Vettel against charges of being prone to costly mistakes, particularly on the opening lap of races.
The Ferrari driver collided with the Briton's Mercedes teammate Valtteri Bottas at the start of the French Grand Prix, an error that handed the championship lead to eventual race winner Hamilton.
Vettel's 2017 title bid collapsed due to mistakes and misfortune, and Hamilton was asked whether he was surprised his fellow four times world champion was still making them at such a level.
"I´m not really going to get into that," said the Briton, now 14 points clear at the top and with the races coming in quick succession.
"I know what you´re saying but it is really a racing incident in turn one, and those things can happen. We´re all going into that first corner at great speeds.
"I don´t feel that he´s particularly made more mistakes," added Hamilton, who won from pole position without putting a wheel wrong.
The Briton has now gone a record 33 successive races in the points, "We´re all on the edge, we´re fighting for the world championships, we´re not pootling around, we´re out there putting our lives on the line."
"We´re out there putting the cars as far beyond the edge as we can in the safest manner. It´s not like a train track, you don´t just stay on the rails. Sometimes you can go off. We´re only human."
Hamilton, who still felt Vettel should have been given more than a five-second penalty, and his rival have been full of mutual respect since their rivalry took off in earnest last season.
They have also had their spats, notably in Azerbaijan last year when they collided in a 'road rage' incident and Vettel accused the Mercedes driver of 'brake testing' him — allegations he quickly withdrew and apologized for.
The German also jumped to Hamilton's defense in Bahrain last April when the Briton was caught insulting Dutch youngster Max Verstappen in the drivers' room before the podium celebrations.
"I don't know what Lewis did, but we've all been in that situation. We fight someone and sometimes we go wheel-to-wheel and it's close — and we have a lot of adrenaline going," Vettel said at the time.
Wolff: Mercedes, Ferrari and Renault engines are evenly matched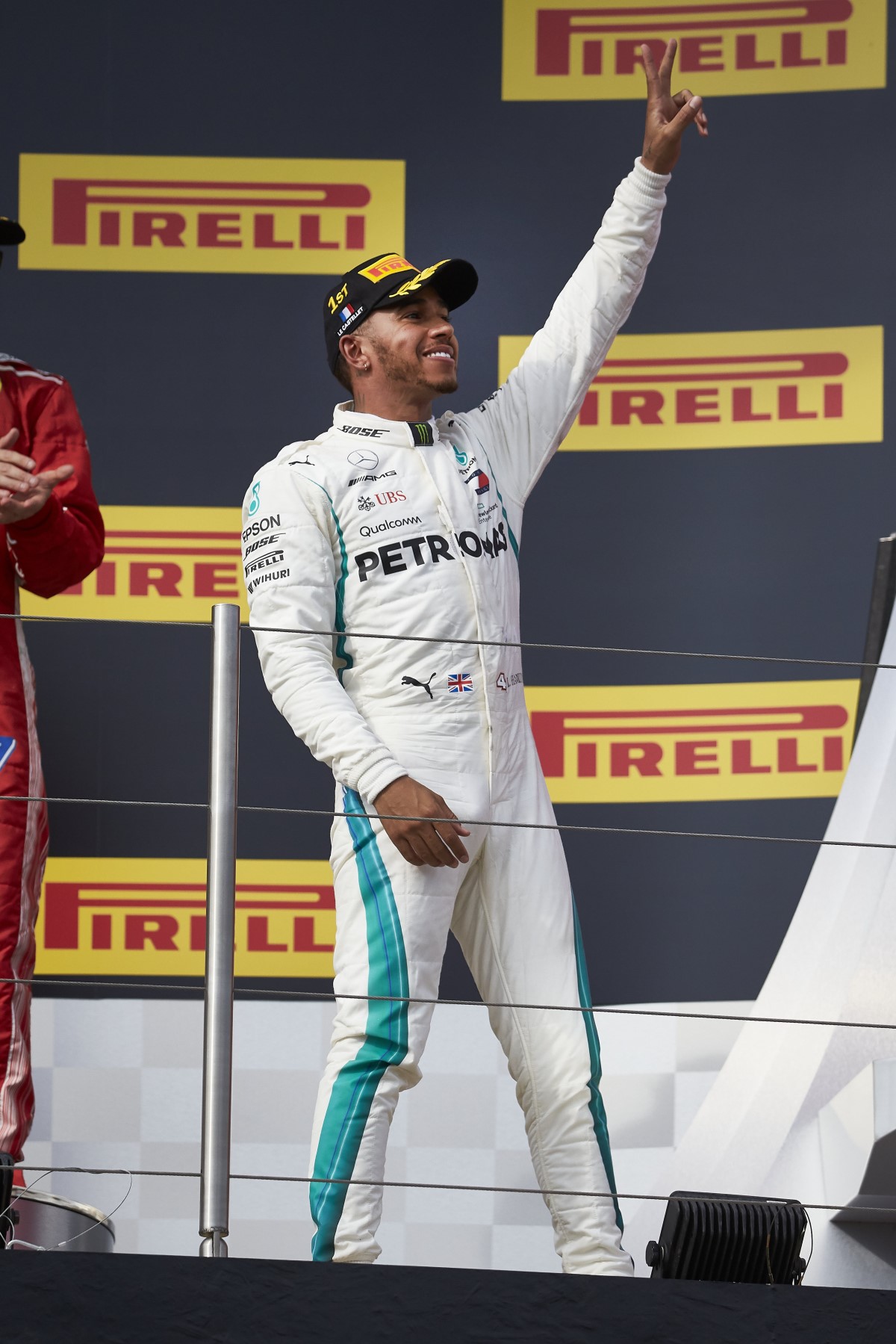 Hamilton used Mercedes newfound power to dominate in France
Mercedes boss Toto Wolff believes the performance between Formula One's three leading engine manufacturers is now "pretty close''.
After delaying the introduction of its new upgraded power unit in Montreal, Mercedes brought its 2.1 specification to Paul Ricard. Lewis Hamilton made the most of its new upgrade as he dominated from pole position to win in France for the first time in his career.
When asked if Mercedes has the best or joint-best engine in F1, Wolff replied: "Very difficult to say, because when you look at yesterday's data, the quickest car on the straight was Kimi, but we believe he was maybe running a different aero configuration. I believe that all three power units are pretty close together, between Renault, Ferrari and ourselves at the moment. It's about finding gains without compromising reliability. That's the trick. That fight is going to continue until the end of the season."