Boccolacci wows home crowd with Le Castellet victory (Update)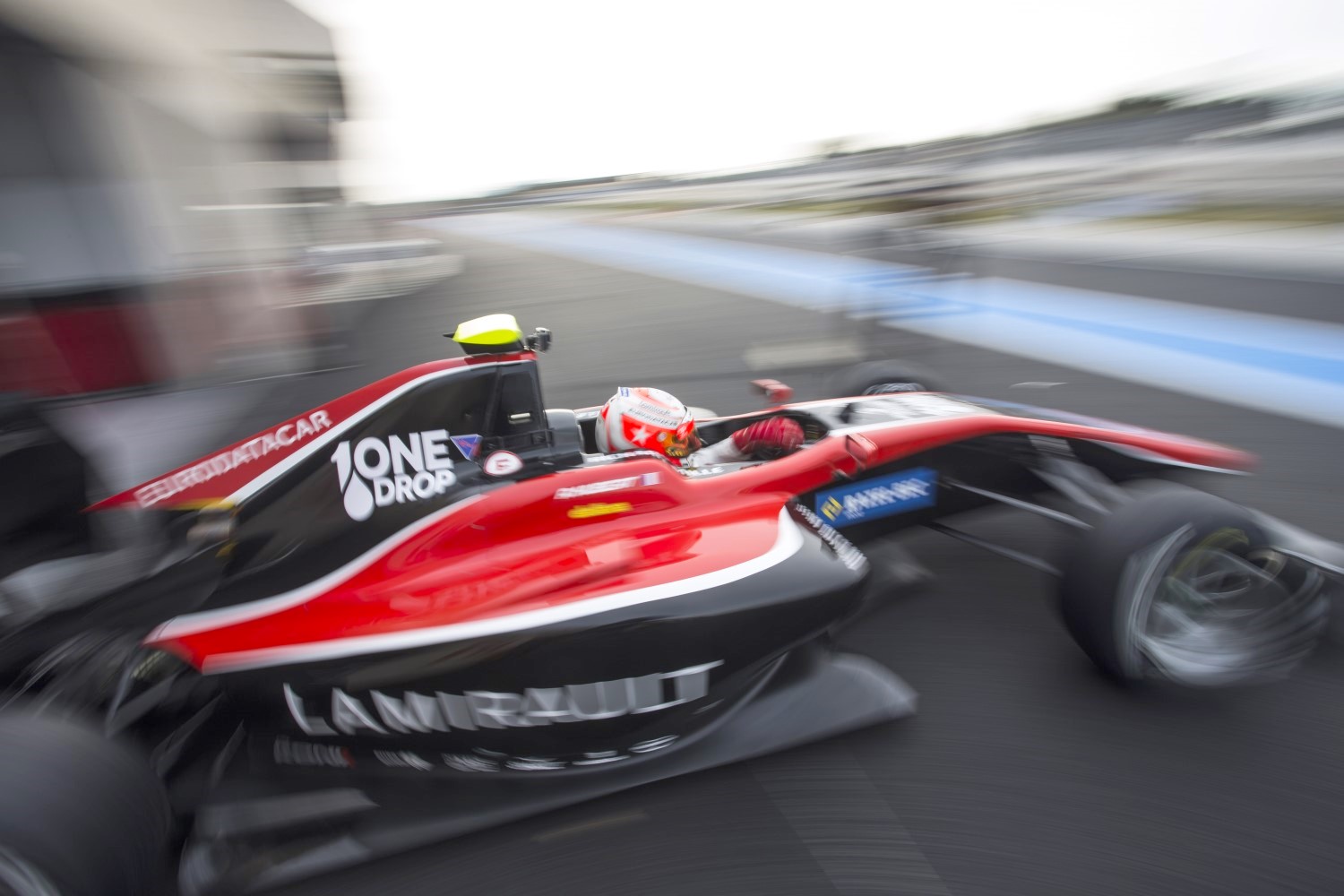 Hubert gets win. In NASCAR the cheater would keep their win, but not in real race series
UPDATE
Dorian Boccolacci has lost his GP3 win after being disqualified from the opening race at Paul Ricard, meaning fellow Frenchman Anthoine Hubert has inherited his first victory in the series.
Boccolacci had converted pole position into a dominant win, but was found guilty of failing to supply an adequate fuel sample post-race. MP Motorsport teammate Niko Kari – who finished fifth – was also excluded for the infringement.
"Following today's GP3 Series race one at Le Castellet, France, it was found that cars #22 and #24 were unable to provide an inadequate fuel sample following post-race technical checks," a GP3 statement read.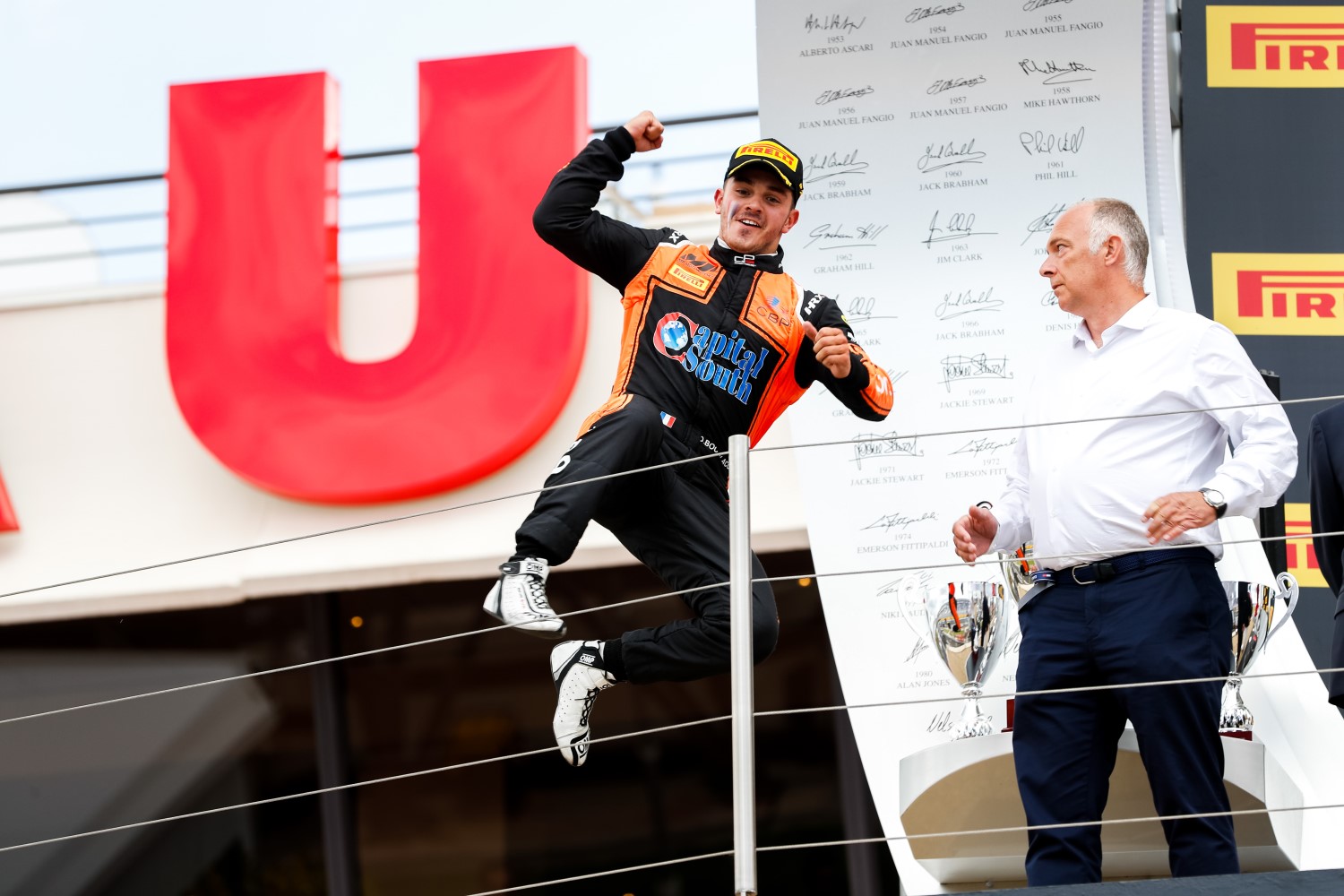 Italian Dorian Boccolacci with French Citizenship
06/23/18 Italian Dorian Boccolacci with French Citizenship enjoyed a dream GP3 Series Race 1 at Le Castellet, France, converting pole position into an emphatic drive to victory in front of his home fans. The MP Motorsport driver finished ahead of compatriot Anthoine Hubert, who beat ART Grand Prix teammate Nikita Mazepin to second.
Unlike the preceding sessions at the Circuit Paul Ricard, the first race took place under overcast conditions, and Boccolacci's spirits were almost dampened on the formation lap having struggled to get off the line; he recovered in time to reassume pole position at the lights. His getaway at the race start was more auspicious, retaining his lead ahead of Hubert and Giuliano Alesi into the first corner.
Boccolacci soon found a buffer over the pair, with Alesi soon coming under fire from Mazepin in the early stages of the race. Behind them, Niko Kari and Leonardo Pulcini battled hard for fifth place – the Finnish driver winning out to put Mazepin under pressure. Boccolacci and Hubert were soon scampering up the road, the former holding a second's lead by the end of lap 2.
Alesi then fell victim to Mazepin on the fourth lap, as the Russian squeezed past the Trident driver into the Mistral chicane to leave his counterpart in the clutches of Kari. Meanwhile, Boccolacci took care to remain out of DRS range from Hubert, building a gap of over two seconds before DRS was disabled for the remainder of the race.
With passing opportunities now at a premium, Alesi continued to frustrate Kari's overtures for fourth, while Hubert used the gap in front of him to set a new fastest lap – eating into Boccolacci's lead. With the action stagnant towards the front, Boccolacci responding to Hubert with a new benchmark time after the midpoint, the battle for ninth place was hotly contested – Joey Mawson clinging onto the position having come under fire from ART pair Callum Ilott and Jake Hughes.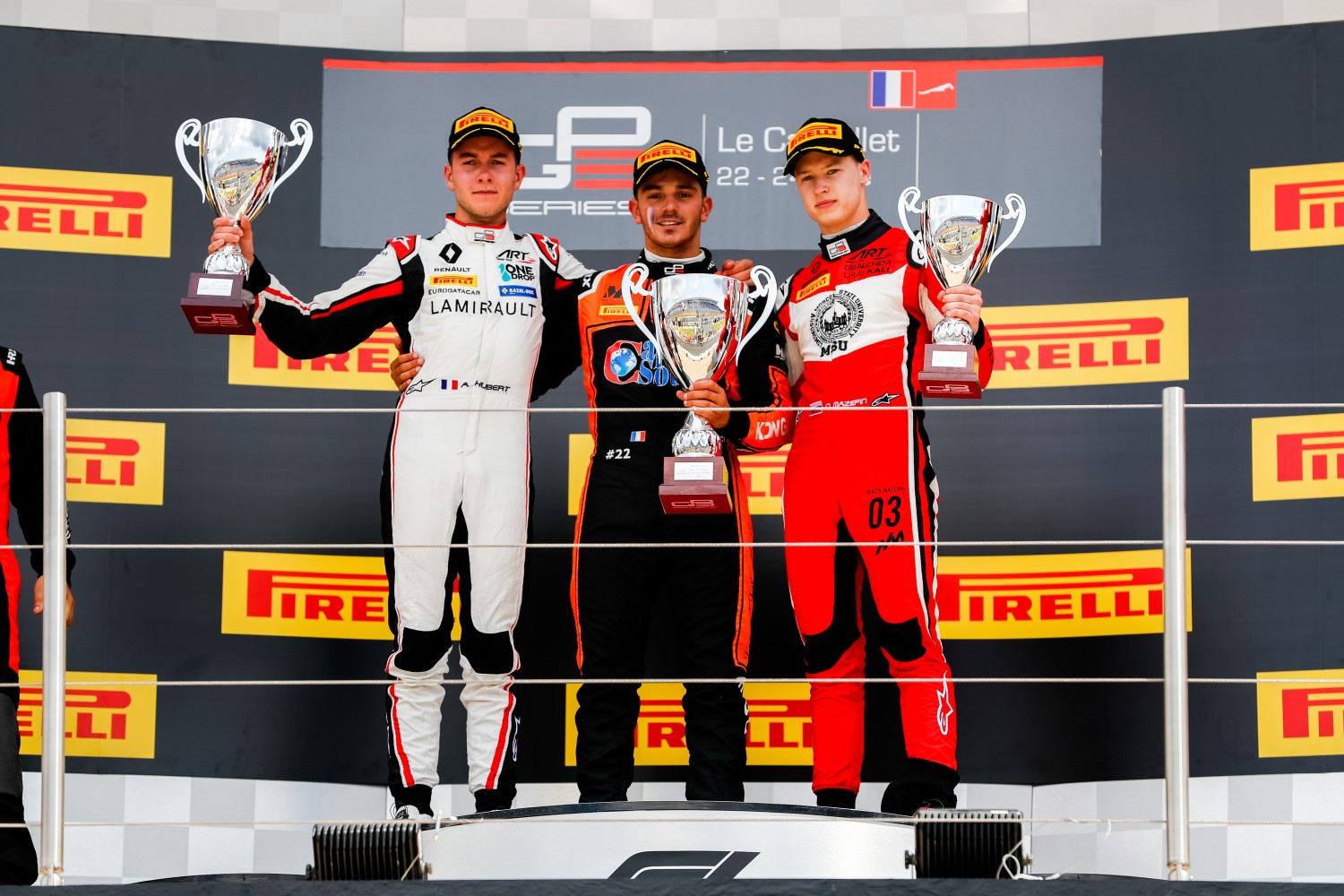 From left Anthoine Hubert (ART Grand Prix), Dorian Boccolacci (MP Motorsport), Nikita Mazepin (ART Grand Prix)
Pushing hard to recoup some lost time, Hubert suffered a small off moment on his 13th lap, going wide at T12 as Boccolacci continued to set fastest laps – building a lead of almost three seconds going into the final five tours of the circuit. Hubert then hit back, eclipsing Boccolacci's pace to take chunks out of his countryman's advantage – ultimately setting the best lap of the race in the process. Meanwhile, Mawson's stern defense of ninth place invited Jenzer Motorsport driver Tatiana Calderon and Juan Manuel Correa into the fight, and Calderon's later attempted pass on Hughes left the two teammates to collide at the Mistral chicane on the penultimate lap.
Hubert continued to chisel away at Boccolacci's advantage down to the final lap, but the local hero's well-executed race left Hubert without enough time to make a play for the lead. With the gap at just 0.6 seconds, Boccolacci secured MP Motorsport's maiden GP3 victory ahead of Hubert, who claims his third consecutive second-place finish this season.
Mazepin enjoyed an otherwise-lonely race to scoop the final podium placing, with Alesi warding off Kari throughout the race to clinch fourth. Italian pair Pulcini and Alessio Lorandi were seventh and eighth, as Mawson managed to bat away a series of late moves from Ilott to score his first GP3 points in ninth, as Ilott held on from Hughes and Correa at the final corner for the last point.
Tomorrow's second race begins with an all-Trident front row, as Piquet takes the reverse-grid pole from Lorandi, and should be a very close-fought affair with today's front-runners having to make their way through the pack.
Race 1 Provisional Results – 20 Laps
| POS | DRIVER | TEAM | GAP |
| --- | --- | --- | --- |
| 1 | Dorian Boccolacci | MP Motorsport | 37m54.388s |
| 2 | Anthoine Hubert | ART Grand Prix | 0.673s |
| 3 | Nikita Mazepin | ART Grand Prix | 5.034s |
| 4 | Giuliano Alesi | Trident | 9.006s |
| 5 | Niko Kari | MP Motorsport | 10.115s |
| 6 | Leonardo Pulcini | Campos Racing | 11.592s |
| 7 | Alessio Lorandi | Trident | 14.379s |
| 8 | Pedro Piquet | Trident | 20.086s |
| 9 | Joey Mawson | Arden International | 26.652s |
| 10 | Callum Ilott | ART Grand Prix | 26.886s |
| 11 | Juan Manuel Correa | Jenzer Motorsport | 27.798s |
| 12 | Jake Hughes | ART Grand Prix | 28.091s |
| 13 | Ryan Tveter | Trident | 28.156s |
| 14 | Christian Lundgaard | MP Motorsport | 28.202s |
| 15 | Simo Laaksonen | Campos Racing | 42.542s |
| 16 | Diego Menchaca | Campos Racing | 43.005s |
| 17 | Gabriel Aubry | Arden International | 43.876s |
| 18 | Julien Falchero | Arden International | 48.045s |
| 19 | Tatiana Calderon | Jenzer Motorsport | 48.955s |
| 20 | David Beckmann | Jenzer Motorsport | 1m03.053s |