George Russell wins Feature Race in France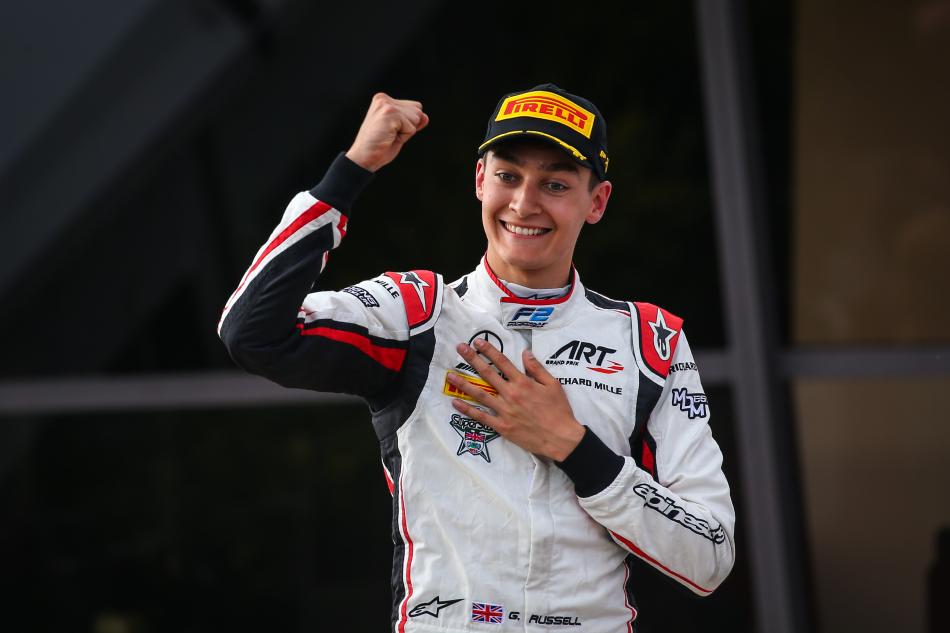 George Russell
George Russell produced a stunning drive in the FIA Formula 2 Championship Feature Race at Le Castellet, France, overcoming tricky conditions and a late assault from Sergio Sette Camara to clinch his third victory of the season. Carlin's Sette Camara pushed Russell all the way to the finish, while MP Motorsport's Roberto Merhi secured his second podium of the year with a third place finish from P15 on the grid.
With the threat of rain looming, the formation lap got underway with Antonio Fuoco requiring a quick jump-start from a mechanic as the lights turned green, earning himself an immediate stop-go penalty in the process. At the lights, Russell produced an immaculate start to maintain the lead into turn 1, as Sette Camara surged into second ahead of Alexander Albon while both Lando Norris and Artem Markelov stalled on the grid.
Immediately, rain started to appear, catching a number of drivers out on the opening lap as the track surface quickly became slippery – Nicholas Latifi having a momentary off before Luca Ghiotto suffered from a spin – luckily pirouetting to face the right way. After just three laps, Russell made his advantage at the front clear, opening a 3 second gap to Sette Camara, with Albon remaining in pursuit of the pair.
With conditions getting more difficult with each passing lap, a number of drivers endured moments off the circuit. Jack Aitken passed Louis Deletraz for fourth place at the start of lap four, but later went off at Signes having lost grip and allowing the Swiss driver to challenge once more – with Nyck de Vries, Sean Gelael and Roberto Merhi joining the same battle. With the cars ahead of him sustaining their own forays off the circuit, Merhi managed to tentatively make his way through the pack– Gelael's spin bringing out the first virtual safety car.
At the front, Russell elected to remain on his supersoft tires, while Norris, Aitken and Roy Nissany made gambles on the wet-weather tires – Norris and Aitken returning for slicks one lap later as the rain began to clear. With the front two yet to stop, Albon pitted for the medium compound, returning to the circuit sixth before a second VSC period – brought out for the stranded Ralph Boschung, who stopped on the start-finish straight.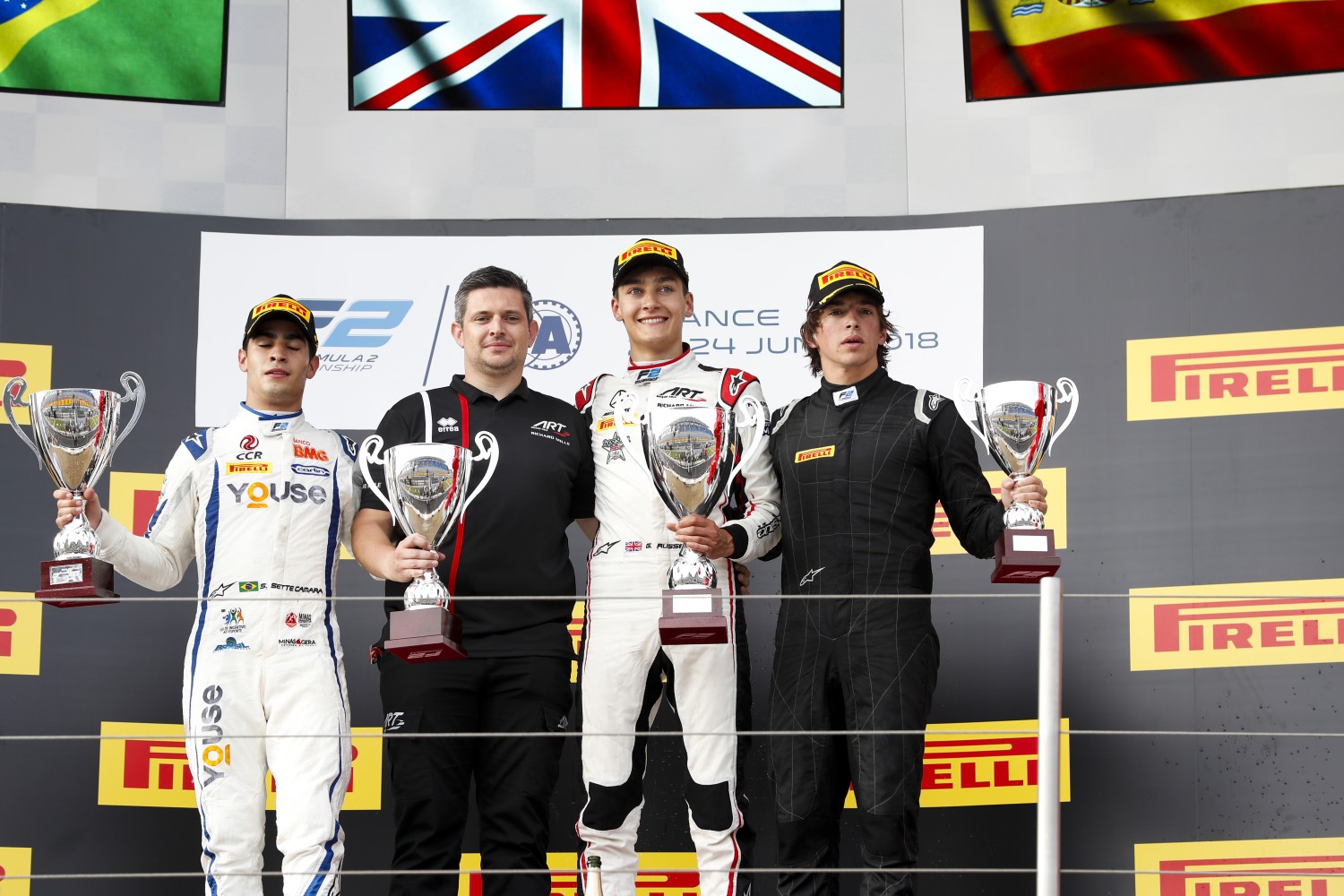 Sergio Sette Camara (Carlin), George Russell (ART Grand Prix) and Roberto Merhi (Later disqualified)
At the end of the VSC, Albon put his fresh tires to work and set about winding Russell and Sette Camara in. Passing Deletraz, the DAMS driver sustained a mechanical issue which ended his progress and left him to retreat to the pits. This left Sette Camara free to challenge Russell, the former pitting at the end of lap 17 to attempt an undercut on the ART driver's advantage. Covering him off, Russell collected fresh mediums on the following lap, retaining the lead with a 3.4s advantage – with the yet-to-pit de Vries in third.
With the stops completed, the pendulum was arguably in Sette Camara's favor, and the Brazilian clocked a new fastest lap to reel Russell in. The British driver hit back, opening up the lead once more, and the two were left unchallenged at the front after de Vries made his pitstop on lap 24 – having opted for an alternate strategy by starting on the medium tires. This shuffled Merhi up to third, with de Vries dropping behind Fuoco – who had battled to fifth despite his earlier penalty.
As the race entered its final five laps, Sette Camara began to turn the screw on Russell, taking chunks out of the race leader's gap before locking up at the Mistral chicane and carrying on. Having been investigated by the stewards, Sette Camara was deemed not to have gained an advantage, leaving him to bear down on Russell once more in the dying stages.
On the final lap, Russell managed to avert being within Sette Camara's DRS range, but struggled to keep him behind; on the final corner, Sette Camara made a last-ditch lunge down the inside, but Russell held on to cross the line to claim his third F2 victory, Sette Camara having to be content with second on his return from injury. Merhi, having kept his nose clean in the early stages, clinched third – albeit 32 seconds further behind – while Ghiotto shook off his early spin to finish in fourth.
Fuoco took fifth place from de Vries – who claimed the fastest lap – with Louis Deletraz leaving the Dutchman in a Charouz Racing System sandwich, while Nicholas Latifi claimed eighth place at the death from Tadasuke Makino; the RUSSIAN TIME driver made a move on Latifi on the final lap at the Mistral chicane, but the Canadian refused to give up and streaked past Makino on the outside of turn 10 to clinch reverse-grid pole for tomorrow's Sprint race, as Nirei Fukuzumi captured the final point.
With further chances of rain in tomorrow's race, and with many of the championship's front-runners occupying places further down the grid, there's certainly everything to play for on Sunday morning.
Results
1. George Russell GBR ART Grand Prix 58m28.750 30 laps
2. Sergio Sette Camara BRA Carlin + 1.108s
3. Luca Ghiotto ITA Campos Vexatec Racing + 37.879s
4. Antonio Fuoco ITA Charouz Racing System + 43.655s
5. Nyck de Vries NED Pertamina Prema Theodore Racing + 45.680s
6. Louis Deletraz SWI Charouz Racing System + 53.226s
7. Nicholas Latifi CAN DAMS + 1m16.951s
8. Tadasuke Makino JPN Russian Time + 1m17.343s
9. Nirei Fukuzumi JPN BWT Arden + 1m20.384s
10. Arjun Maini IND Trident + 1m30.605s
11. Jack Aitken GBR ART Grand Prix + 1m32.469s
12. Maximilian Gunther GER BWT Arden + 1m37.662s
13. Santino Ferrucci USA Trident + 1 lap
14. Artem Markelov RUS Russian Time + 1 lap
15. Roy Nissany ISR Campos Vexatec Racing + 1 lap
16. Lando Norris GBR Carlin + 1 lap
Not classified:
Alexander Albon THA DAMS 14 laps
Ralph Boschung SWI MP Motorsport 12 laps
Sean Gelael IDN Pertamina Prema Theodore Racing 7 laps
Post-race disqualification
Roberto Merhi SPA MP Motorsport
Press Conference
FIA Formula 2: Hello and welcome to the FIA Formula 2 Press Conference following the Feature Race at the Circuit Paul Ricard. Joining me today are: race winner George Russell for ART Grand Prix, in second is Sergio Sette Camara for Carlin, and in third is Roberto Merhi of MP Motorsport. George, coming to you first: it's your third win of the year, and was lights-to-flag, but the changing conditions can't have made it as easy as that. Could you talk us through it?
George Russell: Yeah, it was an extremely difficult race, probably one of the most tricky races I've ever driven in or been a part of. Being at the front is always extremely difficult because you've got no reference to another driver going off or spinning off when the rain is falling. I was always the one approaching the corners first, not knowing how much grip there was going to be, whether it was going to be wet or dry. So, it was really difficult, but I was pushing because I knew it would be an opportunity to build a gap and I think me and Sergio pulled away a lot. Towards the end of the race, I was quite comfortable with the tires and had everything under control, but I just started losing a lot of speed and was really struggling with tire deg. Sergio was catching me a lot, and I was very lucky to keep hold of first position. In the end, for myself and Sergio to finish 30 seconds ahead of P3 meant we had a fantastic race.
FIA Formula 2: Of course, and we also saw the patchy surface over the track that has been mentioned over the course of the weekend, and when the track was drying it was noticeably patchy. Did that affect your tire management?
George: Yeah, it was just trying to find the best bits of track to use. I think there was additional grip, actually, where those new patchy sections were, so in these current conditions it helped us a bit and made it a little bit more easy, but generally it was tricky conditions regardless of the track conditions and surface.
FIA Formula 2: Sergio, coming to you – that was an excellent comeback after your hand injury in Monaco. Did you anticipate your return would be this spectacular?
Sergio Sette Camara: Yeah, the reason I kept calm after the injury in Monaco – I never really got frustrated about it – was because I knew the car was quick. There was nothing really breaking or anything unlucky happening, we were just there. There was no reason to panic, obviously I had to miss out on Monaco which was a shame, a lot of points could be lost, but many other drivers also crashed or spun so it wasn't that bad. I think I expected it, we've always been around the top five, and we had fourth yesterday so I knew we could be among the top today. But I'm really happy with P2, it was a little more than I expected starting from P4.
FIA Formula 2: You had a fantastic stint after your pitstop, and what caught our attention was your outlap. Could you talk me through your closing laps and trying to chase George down?
Sergio: I didn't actually try to push a lot on the outlap, I was trying to warm up the tires. If you go out on cold tires with these compounds and try to push directly, you will grain the front. So what I tried to do is take the outlap and warmed the fronts slowly before then going for a push lap to put pressure on George, and get him to push on his outlap so he grains his tires. I think that happened a little bit, and it maybe wasn't me being quick afterwards but because perhaps he damaged his tires, I can't tell.
FIA Formula 2: Coming to you, Roberto; that was an amazing drive starting from 14th. Did you expect to finish on the podium today after quali?
Roberto Merhi: No! After quali, I was hoping to finish the weekend as soon as possible because the performance for us was terrible in free practice and qualifying. So I thought there wasn't much for us to get out of it, and I was not happy for the race. Everybody said it probably wasn't going to rain for the race, and we started and I said we'd stay out on the supersoft, and if we get a safety car we take a gamble – that was my idea – and when we started the race I was really confident with the car and had more pace compared to the people around. I had managed to do a good first lap, and overtook a few cars, then was fighting with both Charouz drivers – it was hard to overtake them because I overtook Antonio and then went on the inside on the next corner, where you then lose the grip. There's only one proper line on, and if you go out of that line then you pick up more wear to the tires. I was then behind Deletraz, and he spun in front of me and I had to go outside of the track to avoid him. And after that, I was driving along, I had good pace and could match the pace of these guys here. We pitted maybe a bit too early and lost four-five seconds with the rear right, and then I left with nobody in front of me but Ghiotto quite close behind me, and I had to push hard to make a gap to him, and maybe damaged my tires a little bit. After that, it was just trying to survive and not strain the tires. I knew Nyck (de Vries) could overtake us but I think he also destroyed the supersoft at the end and didn't have the pace to attack. At the end it was a really good race, especially after qualifying was a disaster, so I think to finish P3 today was nice.
FIA Formula 2: We saw you overtake almost half the paddock – what was your favorite maneuver?
Roberto: I don't know if they filmed it but there was one that was fantastic – at corner 11, I overtook two cars on the inside. I don't know who the first one was but the second was Gelael – that was in the first couple of laps so yeah, that one was really good.
FIA Formula 2: Coming back to you, George: we've got the reverse grid for the sprint race tomorrow – what are your expectations for tomorrow's race?
George: I'm hoping to move up the grid, but it's obvious that the tire deg is a little bit worse than we all expected. It's going to be tricky for everyone tomorrow, so I don't know to be honest! If we drop off like we did today, then I'm not expecting much – Sergio and I made our gap at the start and started to struggle towards the end, but listening to Roberto it seemed a lot of people were in a similar boat. So I don't know, top four seems possible so I'll just go for it, really.