Ferrari's Mancinelli Steals Pirelli World Challenge GT Pole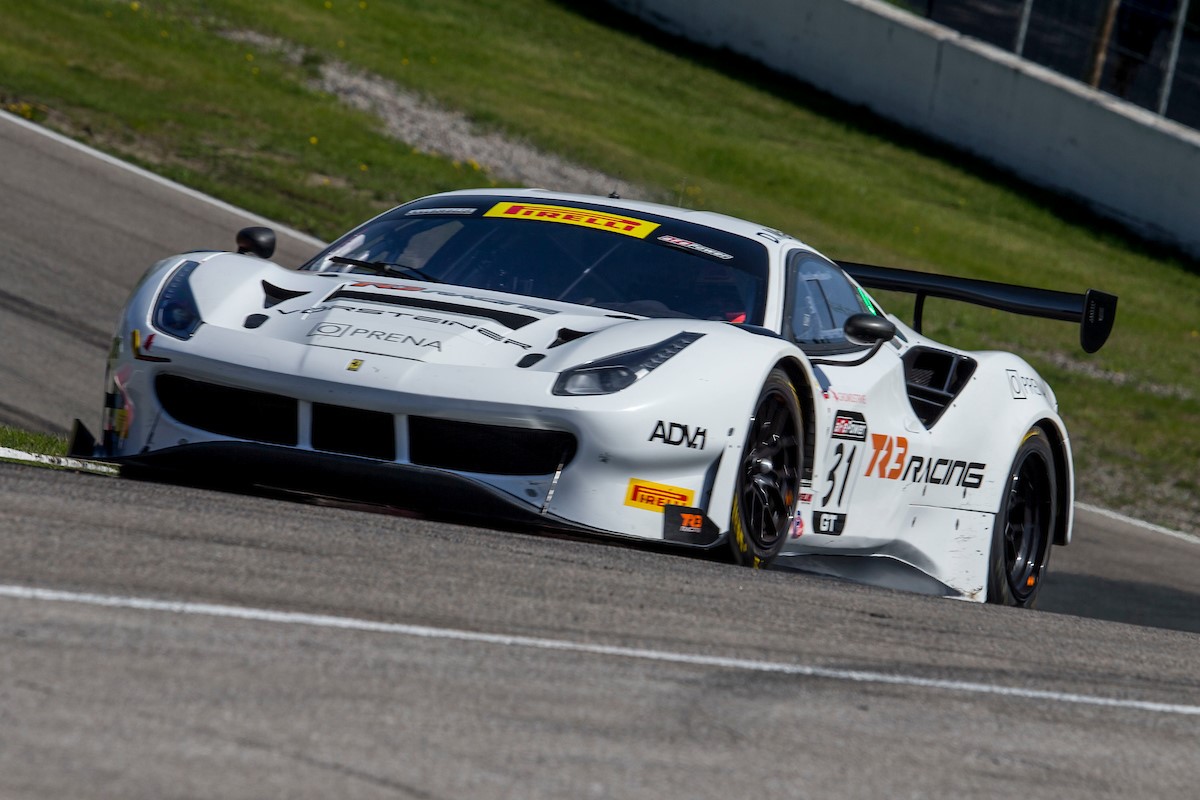 Daniel Mancinelli
Italy's Daniel Mancinelli came back from a Friday crash to steal the Pirelli World Challenge GT pole position Saturday morning at the historic Road America four-mile road circuit for Saturday's 50-minute GT Round 6 event.
Mancinelli the Long Beach GT race winner this year spun his No. 31 TR3 Racing Ferrari 488 GT3 late Friday afternoon in the fast Carousel section of the Road America course and his Ferrari landed on top of the outside tire barrier in turn nine. Mancinelli walked away from the incident but the TR3 Racing crew worked all Friday night to repair the race car for Saturday morning's qualifications.
In the 20-minute time trials Mancinelli made a late dash to grab the pole position from recent 24 Hours of Le Mans winner Michael Christensen of Denmark with a time of two minutes 4.960 seconds and an average speed of 115.94 miles per hour. Daniel was the only driver to break the 2:05 mark in qualifying.
"In the Friday crash the front splitter was a little bit broken the body work on the right side the rear bumper and a little bit of the front bumper " said Mancinelli. "The mechanics worked all night to repair and fix the car properly and it felt like a new car today. The suspension was fine the mechanical parts were fine so I have to thank the team a lot. They didn't sleep last night. I'm proud that I took the pole here at Road America and this pole is for them
"I felt the second sector was a little bit stronger and we got a little bit of top speed. I changed a few things there and got the pole so we'll see how we do in the race. I love Road America race track. It's an historical track. Last year at PWC was my first year here so I'm glad to be back."
Christensen's time of 2:05.014 (115.89 m.p.h.) in the No. 24 Alegra Motorsports Porsche 911 GT3 R secured the outside of the front row for Saturday's afternoon GT event set for 4:35 p.m. CDT.
Rounding out the top-three in GT qualifying was 2016 GT series champion Alvaro Parente of Portugal in the No. 9 K-PAX Racing Bentley Continental GT3 machine at 2:05.033 (115.87 m.p.h.) as the first three drivers were separated by less than a tenth of a second over the four-mile 14-turn track north of Milwaukee.
"I believe I'm starting on the inside so I would call this a pole and I'm happy with that " said Christensen a GT SprintX race winner last month at Lime Rock Park. "The pace is good and we'll see what the race will bring. For now it's looking good."
"We had relatively good qualifying laps " said Parente. "The car was performing well. So congratulations to the guys in the front because we felt we gave all we had. We'll see what we can do on the race. I thought we had a chance for pole after all of the free practices but there were probably too many free practices and that's why they all got up to speed. Let's see what we have for the race."
Completing the top-five in GT qualifying was GT Sprint point leader Scott Hargrove of Canada in the No. 96 Pfaff Motorsports/Castrol Porsche 911 GT3 R at 2:05.250 (115.67 m.p.h.) and young Rodrigo Baptista of Brazil in the No. 3 K-PAX Racing Bentley Continental GT3 at 2:05.299 (115.63 m.p.h.). Current GT Overall point leader Toni Vilander of Finland will start sixth Saturday in his No. 61 R. Ferri Motorsport Ferrari 488GT3 with 2:05.467 (115.47 m.p.h.).
Leading the GTA division in Saturday's qualifying was 2016 GTA champion Martin Fuentes of Mexico in the No. 07 Squadra Corse Italia Ferrari 488 GT3 at 2:06.445 (114.58 m.p.h.) breaking the previous GTA record of 2:06.566 (114.173 m.p.h.) set by Frankie Montecalvo in 2015.
Second in GTA was 17-year-old Parker Chase of New Braunfels Tex. in the No. 19 TruSpeed Autosport Audi R8 LMS at 2:06.506 (114.52 m.p.h.) with third going to Anthony Imperato of Brooklyn N.Y. in the No. 91 Wright Motosports Porsche 911 GT3 R at 2:06.734 (114.32 m.p.h.)
Saturday's combined GT/GTS 50-minute event is set for 4:35 p.m. CDT. On Sunday the GT/GTS combined 50-minute race will begin at 2:45 p.m. CDT.
Results
Pos PIC Class Name Hometown Car Laps Fastest Lap Time Fastest Lap Avg. Speed
1 1 GT Daniel MANCINELLI Fabriano Italy ITA Ferrari 488 GT3 6 2:04.960 115.9 m.p.h.
2 2 GT Michael CHRISTENSEN Karlslunde DNK DNK Porsche 911 GT3 R (991) 7 2:05.014 115.8
3 3 GT Alvaro PARENTE Porto Portugal PRT Bentley Continental GT3 5 2:05.033 115.8
4 4 GT Scott HARGROVE Tsawwassen BC CAN Porsche 911 GT3 R (991) 6 2:05.250 115.6
5 5 GT Rodrigo BAPTISTA São Paulo BRA Bentley Continental GT3 5 2:05.299 115.6
6 6 GT Toni VILANDER Kankaanpää FIN Ferrari 488 GT3 5 2:05.467 115.4
7 7 GT Daniel MORAD Toronto ON CAN Mercedes-AMG GT3 5 2:05.798 115.1
8 1 GTA Martin FUENTES Mexico City MX MEX Ferrari 488 GT3 6 2:06.445 114.5
9 2 GTA Parker CHASE New Braunfels TX USA Audi R8 LMS 6 2:06.506 114.5
10 3 GTA Anthony IMPERATO Brooklyn NY USA Porsche 911 GT3 R (991) 5 2:06.734 114.3
11 4 GTA Yuki HARATA Narita JP JPN Lamborghini Huracan GT3 3 2:09.067 112.2
12 5 GTA David ASKEW Salt Lake City UT USA Mercedes AMG-GT3 7 2:10.889 110.6
13 6 GTA Andy WILZOCH Denver CO USA Porsche 911 GT3 R (991) 5 2:11.092 110.5
14 1 GT Cup Ryan HARDWICK Atlanta GA USA Lamborghini Huracan Super Trofeo 4 2:12.105 109.6
15 7 GTA Lawrence DEGEORGE Jupiter FL USA Lamborghini Huracan GT3 0 No Time