Wickens tops IndyCar practice 3 at Road America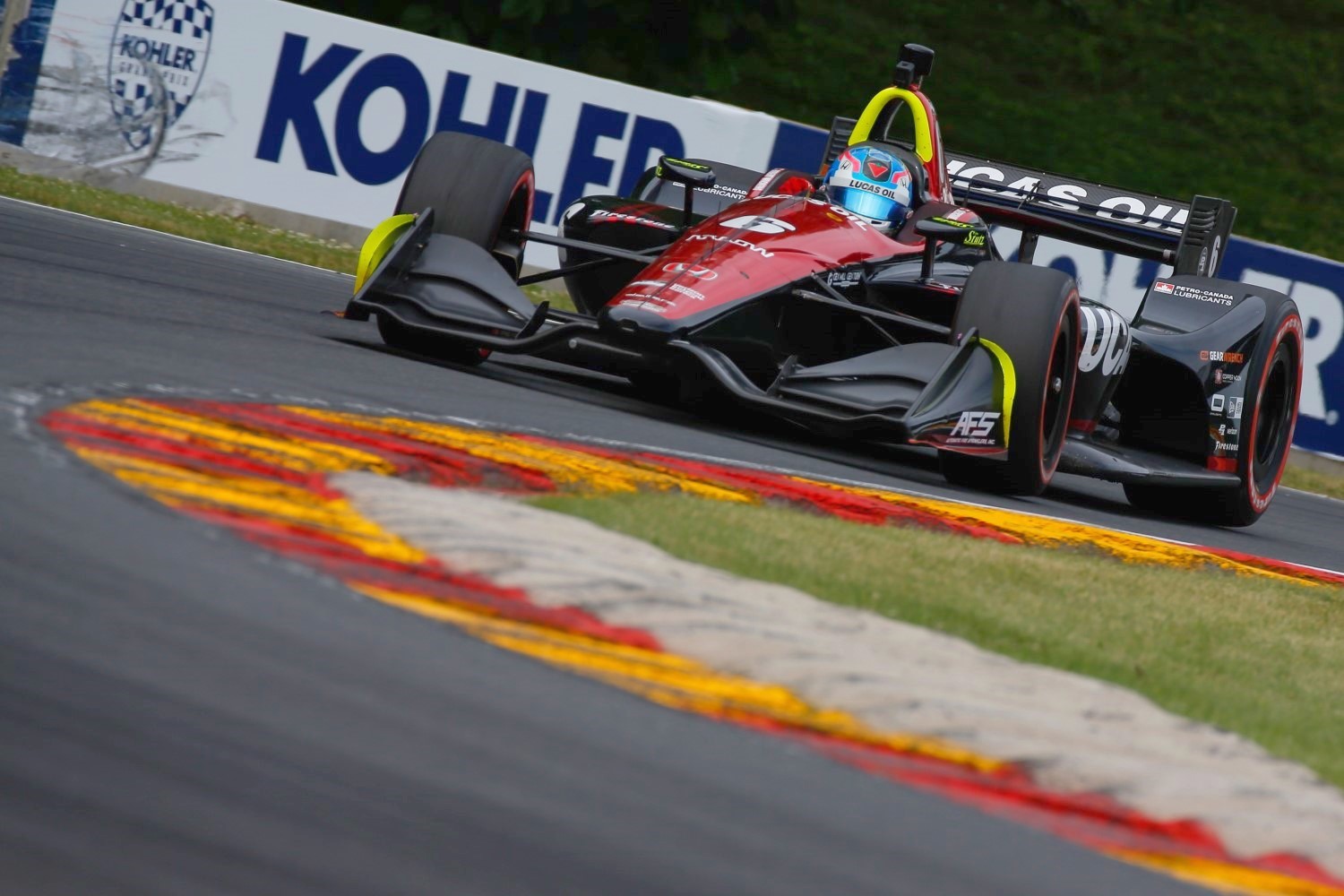 Running low downforce Wickens is quickest on Saturday morning
Zach Veach ran out of talent and spun at Road America just when all the drivers were on their fast lap, which brought out the red flag and all the fast laps were ruined. As a result, Robert Wickens was the only driver to get in the 1m42s range to lead the session at 1m42.99s on Firestone blacks. His time was over 3 seconds per lap slower than the CART IndyCar record set for this track by Dario Franchitti 18 years ago at 1m39.866s in his Honda, also on hard black race tires.
Ryan Hunter-Reay was 2nd quick in his Andretti Honda, 0.1810s back to give Honda a 1-2 for the session.
Simon Pagenaud (Chevy) was third, Alexander Rossi (Honda) 4th and Graham Rahal (Honda) 5th to round out the top-5.
Honda cars were 8 of the top-10 and the biggest surprise was Josef Newgarden – fastest in both sessions Friday – could only muster 13th best time this morning.
Results
| | | | | | | | | | | |
| --- | --- | --- | --- | --- | --- | --- | --- | --- | --- | --- |
| Pos | No | Name | FTime | Diff | Gap | FL | Laps | FSpeed | Engine | Team |
| 1 | 6 | Robert Wickens | 1:42.992 | –.—- | –.—- | 6 | 11 | 140.307 | Honda | Schmidt Peterson Motorsports |
| 2 | 28 | Ryan Hunter-Reay | 1:43.172 | 0.1810 | 0.1810 | 7 | 11 | 140.061 | Honda | Andretti Autosport |
| 3 | 22 | Simon Pagenaud | 1:43.179 | 0.1878 | 0.0068 | 12 | 12 | 140.051 | Chevy | Team Penske |
| 4 | 27 | Alexander Rossi | 1:43.183 | 0.1917 | 0.0039 | 3 | 10 | 140.046 | Honda | Andretti Autosport |
| 5 | 15 | Graham Rahal | 1:43.197 | 0.2051 | 0.0134 | 14 | 14 | 140.028 | Honda | Rahal Letterman Lanigan Racing |
| 6 | 9 | Scott Dixon | 1:43.548 | 0.5564 | 0.3513 | 9 | 14 | 139.553 | Honda | Chip Ganassi Racing Teams |
| 7 | 26 | Zach Veach | 1:43.584 | 0.5928 | 0.0364 | 12 | 13 | 139.504 | Honda | Andretti Autosport |
| 8 | 5 | James Hinchcliffe | 1:43.597 | 0.6059 | 0.0131 | 7 | 11 | 139.486 | Honda | Schmidt Peterson Motorsports |
| 9 | 18 | Sebastien Bourdais | 1:43.601 | 0.6098 | 0.0039 | 10 | 14 | 139.481 | Honda | Dale Coyne Racing with VS |
| 10 | 12 | Will Power | 1:43.720 | 0.7282 | 0.1184 | 13 | 13 | 139.322 | Chevy | Team Penske |
| 11 | 30 | Takuma Sato | 1:43.928 | 0.9364 | 0.1687 | 4 | 13 | 139.043 | Honda | Rahal Letterman Lanigan Racing |
| 12 | 10 | Ed Jones | 1:43.932 | 0.9401 | 0.0037 | 10 | 16 | 139.038 | Honda | Chip Ganassi Racing Teams |
| 13 | 1 | Josef Newgarden | 1:43.981 | 0.9891 | 0.0490 | 3 | 12 | 138.972 | Chevy | Team Penske |
| 14 | 98 | Marco Andretti | 1:44.122 | 1.1301 | 0.1410 | 7 | 11 | 138.784 | Honda | Andretti Herta Autosport with CA |
| 15 | 21 | Spencer Pigot | 1:44.302 | 1.3100 | 0.1799 | 11 | 12 | 138.545 | Chevy | Ed Carpenter Racing |
| 16 | 20 | Jordan King | 1:44.307 | 1.3155 | 0.0055 | 5 | 11 | 138.537 | Chevy | Ed Carpenter Racing |
| 17 | 14 | Tony Kanaan | 1:44.340 | 1.3484 | 0.0329 | 6 | 11 | 138.494 | Chevy | AJ Foyt Enterprises |
| 18 | 19 | Zachary De Melo | 1:44.396 | 1.4048 | 0.0564 | 6 | 12 | 138.419 | Honda | Dale Coyne Racing |
| 19 | 4 | Matheus Leist | 1:44.502 | 1.5104 | 0.1056 | 8 | 15 | 138.279 | Chevy | AJ Foyt Enterprises |
| 20 | 23 | Charlie Kimball | 1:45.115 | 2.1239 | 0.6135 | 9 | 11 | 137.472 | Chevy | Carlin |
| 21 | 59 | Max Chilton | 1:45.300 | 2.3086 | 0.1847 | 5 | 11 | 137.231 | Chevy | Carlin |
| 22 | 32 | Alfonso Celis Jr | 1:45.361 | 2.3693 | 0.0607 | 13 | 13 | 137.152 | Chevy | Juncos Racing |
| 23 | 88 | Gabby Chaves | 1:45.699 | 2.7077 | 0.3384 | 4 | 12 | 136.712 | Chevy | Harding Racing |