Rain hits French GP practice 3 (Update)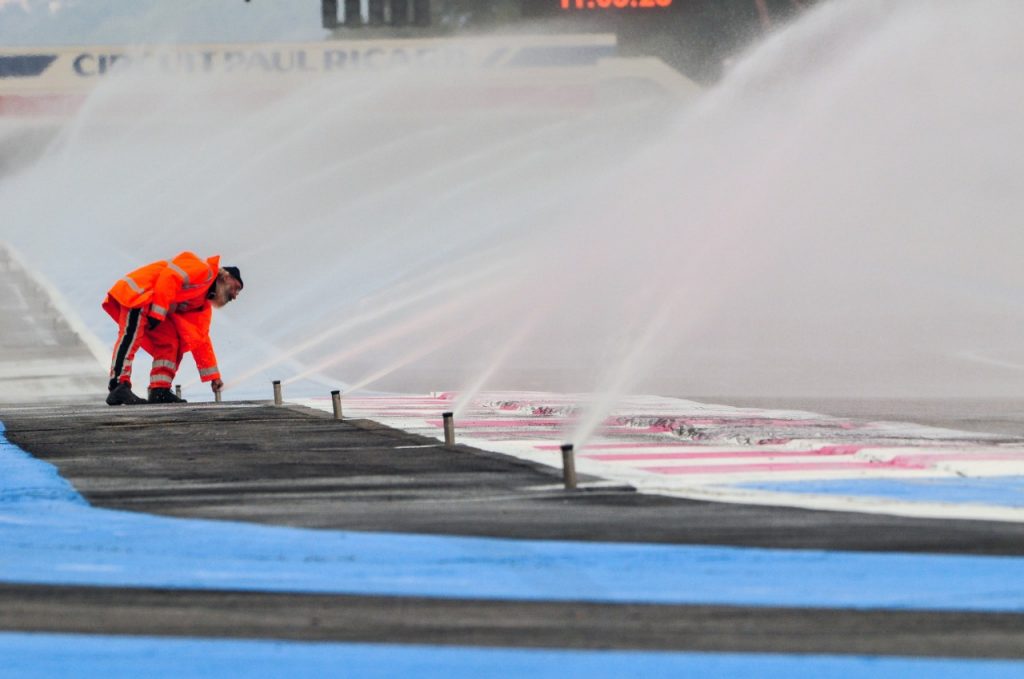 It typically does not rain at Paul Ricard and they even installed lawn sprinklers to wet the track for wet weather testing
UPDATE Valtteri Bottas put Mercedes on top in the rain hit third practice session for the French GP with very few laps tuned. Bottas was right out on the track as soon as the track went green and snuck in a decent lap just as the rain drops started. Times listed below.
Renault's Carlos Sainz was over 1.2s behind the Finn in second, followed by Sauber's Charles Leclerc, McLaren's Fernando Alonso and Ferrari's Sebastian Vettel.
With further rain expected for both qualifying and race, most teams chose to conserve their wet-weather tire allocation and kept their cars in the garage.
Only in the final 10 minutes did a handful of drivers venture out in the very wet conditions: Alonso and McLaren team mate Stoffel Vandoorne, the Williams of Lance Stroll and Sergey Sirotkin, the Toro Rossos of Brendon Hartley and Pierre Gasly, and Sauber's Charles Leclerc.
If the weather stays like this, qualifying could be a real lottery!
06/23/18 Heavy rain has hit the Paul Ricard circuit Saturday morning and halting all running. Drivers got a few laps in but the track was beginning to get wet within minutes of it going green so the times are meaningless so far.
Because the track is so flat it does not drain well. We do not expect anymore running this session.
Practice 3 Results
| | | | | | | |
| --- | --- | --- | --- | --- | --- | --- |
| POS | NO | DRIVER | CAR | TIME | GAP | LAPS |
| 1 | 77 | Valtteri Bottas | Mercedes | 1:33.666 | +0.000s | 3 |
| 2 | 55 | Carlos Sainz Jr. | Renault | 1:34.953 | +1.287s | 3 |
| 3 | 16 | Charles Leclerc | Sauber Ferrari | 1:35.012 | +1.346s | 5 |
| 4 | 14 | Fernando Alonso | McLaren Renault | 1:36.365 | +2.699s | 4 |
| 5 | 5 | Sebastian Vettel | Ferrari | 1:36.756 | +3.090s | 5 |
| 6 | 2 | Stoffel Vandoorne | McLaren Renault | 1:37.547 | +3.881s | 4 |
| 7 | 10 | Pierre Gasly | Toro Rosso Honda | 1:38.317 | +4.651s | 5 |
| 8 | 9 | Marcus Ericsson | Sauber Ferrari | 1:38.450 | +4.784s | 3 |
| 9 | 11 | Sergio Perez | Force India Mercedes | 1:39.641 | +5.975s | 4 |
| 10 | 3 | Daniel Ricciardo | Red Bull Racing | 1:39.738 | +6.072s | 3 |
| 11 | 31 | Esteban Ocon | Force India Mercedes | 1:40.087 | +6.421s | 4 |
| 12 | 44 | Lewis Hamilton | Mercedes | 1:40.743 | +7.077s | 3 |
| 13 | 7 | Kimi Raikkonen | Ferrari | 1:49.711 | +16.045s | 3 |
| 14 | 18 | Lance Stroll | Williams Mercedes | 2:02.399 | +28.733s | 4 |
| 15 | 35 | Sergey Sirotkin | Williams Mercedes | 2:04.093 | +30.427s | 5 |
| 16 | 20 | Kevin Magnussen | Haas Ferrari | No Time | No Time | 1 |
| 17 | 28 | Brendon Hartley | Toro Rosso Honda | No Time | No Time | 3 |
| 18 | 8 | Romain Grosjean | Haas Ferrari | No Time | No Time | 1 |
| 19 | 27 | Nico Hulkenberg | Renault | No Time | No Time | 2 |
| 20 | 33 | Max Verstappen | Red Bull Racing | No Time | No Time | 3 |