Hamilton easily fastest in Practice 2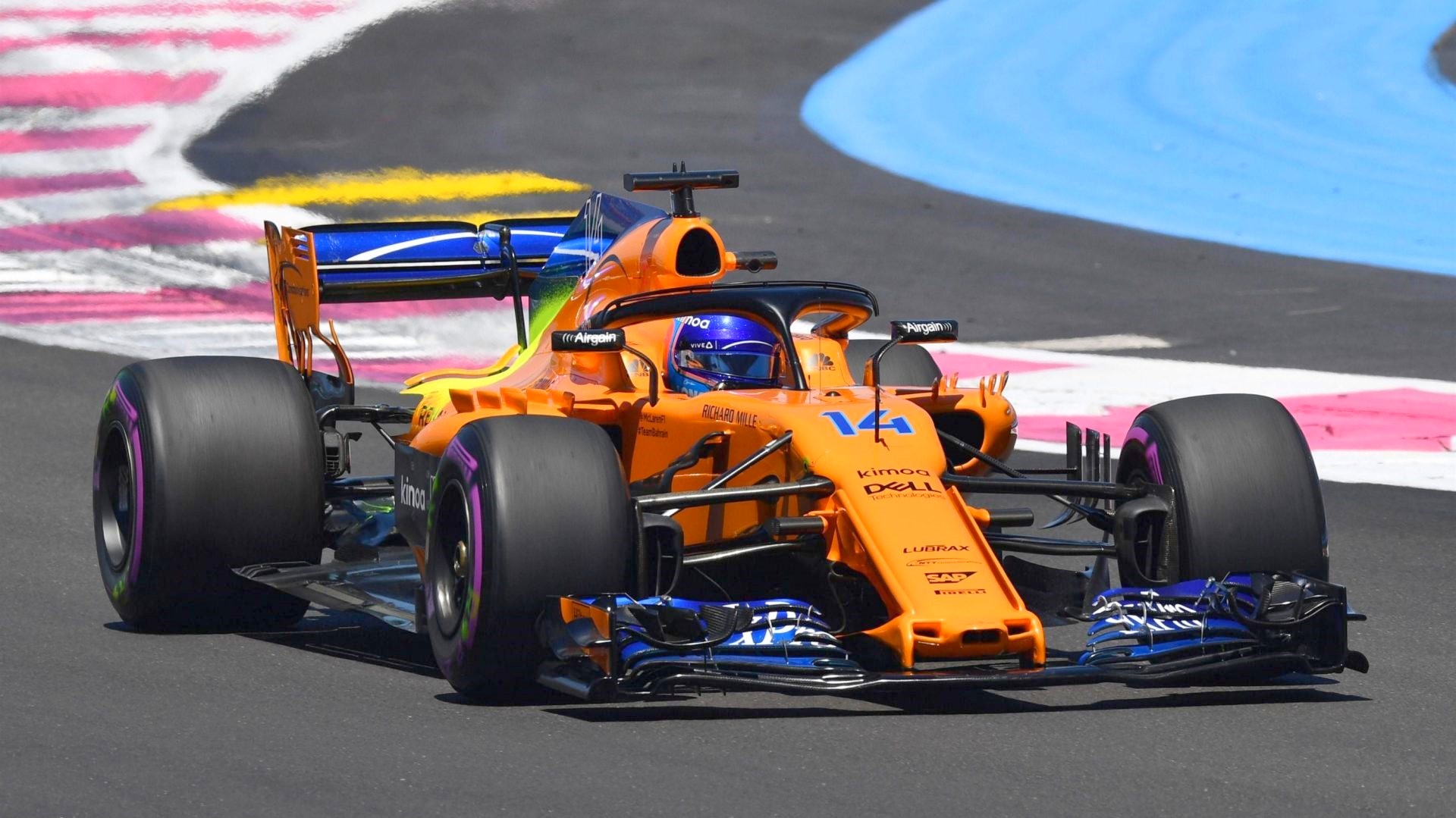 Alonso spun to end the session
Lewis Hamilton put his Mercedes power advantage to good use on the long Paul Ricard straights to easily top practice 2 for the French GP. Hamilton's time of 1m32.539s was a full 7/10ths quicker than the Red Bull duo of Daniel Ricciardo and Max Verstappen.
The two Ferraris were 4th and 5th, Kimi Raikkonen was 0.89s behind while Sebastian Vettel was a full 1.15s behind and focusing on long runs
Romain Grosjean, Valtteri Bottas (only 7 laps, water leak), Fernando Alonso (who spun to bring out a yellow to end the session), Kevin Magnussen and Pierre Gasly rounded out the top-10.
Valtteri Bottas might have been able to match Mercedes team mate Hamilton, but an issue with a water leak that meant the floor had to come off his car put paid to the Finn's session before the end of the first hour, with Bottas watching the rest of the running in the garage.
Ferrari looked to be their usual cards-close-to-their-chest-on-Friday selves, with Kimi Raikkonen and Sebastian Vettel going fourth and fifth fastest, with Vettel over a second behind Hamilton. Expect to see some more competitive times from the Scuderia during Saturday's running.
With conditions in FP2 potentially the most similar to how they'll be in qualifying on Saturday, it looks like Lewis Hamilton is sitting very pretty at Paul Ricard.
Quotes
Mercedes AMG Petronas Motorsport
Lewis Hamilton (1st, 1:32.539): "This place is beautiful, it's really stunning down here. It's always a challenge when you come to a new circuit, but you're constantly learning new things and I love the challenge of trying to get into the swing of it before everyone else. There's a lot of different lines you can take and it's tricky to find reference points out on the track. Apart from the colourful lines, it's difficult to tell where you are. There's a couple of places for example on the back straight where you're trying to find out where the corner is – it's really hard to see. The new engine feels clean and fresh, but we won't really know its full potential until tomorrow when everyone gets to turn their engines up. I'm grateful for the hard work that everyone put into it back in Brixworth. They've been pushing so hard to get this engine and do it in the right way, so a big thank you to everyone back at the factory – I hope that we can do something great with it! Overall, it was a good session today – now we need to carry on this performance through the weekend."
Valtteri Bottas (7th, 1:34.156): "I enjoy being back in France for a race; I've only been racing here in junior formulae, so it's cool to have a Grand Prix here. I like the circuit, but it's a difficult and very technical track, especially going into the back straight around Turns 6 and 7. FP1 was decent for us, but FP2 was a little tricky. I only got a few laps in, then we had a water leak which we're currently investigating. Unfortunately, that meant that I didn't really get a lot of long runs in. We were running the new spec engine today which felt fresh and good, but we didn't run it yet in full power, so there's more to discover. We need to identify the cause of the water leak, but we're confident that we continue to run the new engine. We looked competitive in both sessions today, but we know that Ferrari has performance in hand on Fridays, so let's wait and see what tomorrow and Sunday hold for us."
James Allison, Technical Director: "It was a relatively good day that was marred by a water leak on Valtteri's car which we are currently investigating. Otherwise the car seemed reasonable in both sessions and on all the tires. We've introduced new spec Power Units for France. The team in Brixworth have moved mountains to deliver the updated unit in time for France and we are looking forward to racing it in anger both here and in the races that follow thick and fast in the weeks ahead. The car is behaving well, the tires seem to be in decent shape and the pace looks alright. However, we've had good Fridays before and were then disappointed Saturday and Sunday, so we need to make sure we take nothing for granted and carry this form into the days that really count."
Scuderia Ferrari
Kimi Raikkonen (4th, 1:33.426): "It was a good day" commented Kimi "and it's fun to be in a new place, I enjoyed it as it's something different. In the afternoon session, the weather conditions made it quite tricky. It was not the easiest situation on track, but overall it was ok. From the tire point of view I think it was also pretty ok. Obviously we cannot compare what we saw today with the past, as this is a new track for everyone, but I think that we had no particular issues."
Sebastian Vettel (5th, 1:33.689): "The long-runs felt pretty OK, quite consistent, although I haven't seen much of what the other teams did. I think the car has more potential here, especially on the fast laps, which we need to unlock for tomorrow and then we'll be fine. The wind was quite an issue at the beginning of the session, but then it calmed down and it all started to come together. In the end I was reasonably happy with today's run".
Maurizio Arrivabene, Team Principal:
Aston Martin Red Bull Racing
Daniel Ricciardo (2nd, 1:33.243): "This track is quite fun, normally when you come to such an open circuit it loses some character but actually the layout here is fun and fast so I'm enjoying it more than I thought. It is always going to feel different coming here from tracks like Monaco and Canada where the walls are so close, but I've enjoyed it. Turn 1 and 2 are good, it's the start of the lap so obviously important to get right but I enjoyed those especially. We were relatively fast today, in the long runs we looked a bit up and down so definitely a bit of work to do tonight, but not a bad Friday. We got a lot of information today, the downforce is a question mark so maybe we can change that and hopefully we can keep improving and be strong all weekend. Between the two cars we went in different directions today which I think is really good to help learn how the car will work and get the best possible setup direction for tomorrow."
Max Verstappen (3rd, 1:33.271): "The first practice was a bit compromised because after a few laps I sustained some damage to my wheel. As it is a new track you want to be out there as much as possible so missing so much time wasn't ideal. After a tricky first session we changed a lot on the car and it felt good. We still have a lot to improve setup wise but I would say it has been a good start to the weekend. I enjoyed my first experience of the track, I wouldn't say it is my favourite track but it's definitely not my worst. I do not know yet how this circuit will be for overtaking, in practice you obviously try to give yourself as much room as possible, so I haven't followed anyone yet so we will wait to find that out during the race but there are a lot of long corners which means it will be hard to follow. The tires are very sensitive to the heat, with it being so warm here it is going to be important to get them switched on before Qualifying to extract the most out of the car. Tonight I'll go away and look into the lines a bit more and think about the tires and hopefully comeback with some improvements for tomorrow."
Christian Horner, Sporting Director:
Sahara Force India F1 Team
Esteban Ocon (16th, 1:35.705): "Driving a Formula One car at home felt very special. I have been looking forward to this moment for a long time and I really enjoyed those first few laps. Unfortunately it wasn't the smoothest day for us. I lost about 20 minutes of track time in first practice because I flat-spotted my tires. Then, in second practice, we had to understand what happened to Sergio's car before I could go back out. There is quite a lot of work to be done before I can say I am happy with the car. On a new track you need as many laps as possible and we suffered a bit today. We need to try and make up for the lost time and find a good direction for tomorrow."
Sergio Perez (19th, 1:36.080): "It was not the easiest Friday for us. Unfortunately we lost a lot of time this afternoon with the issue I had on my car. We lost a bit of track time in the morning so we are missing some information ahead of the race, especially on the tires. However, we still have some practice tomorrow so we will see what we can do. Despite these problems, I like the new circuit. I wasn't very positive about it until today, but now that I drove it for the first time I quite like it. The wind is a big issue: it changed between the two sessions and it took a lot of time to get used to it. I had a couple of moments on my soft runs, but I wasn't the only one. It's hard to tell where we stand but our target for tomorrow is definitely to be up there fighting to be best of the rest."
Otmar Szafnauer, Chief Operating Officer: "It wasn't the most straightforward day. The conditions were tricky with a strong wind that changed direction between FP1 and FP2, making it hard for the drivers to adapt. We lost some track time in both sessions, in particular in the afternoon when an issue on Sergio's car cost us time with both cars while we investigated and fixed the problem. There appeared to have been an issue with the bolt. Sergio didn't get any long runs done and neither of the drivers posted representative times in second practice. We have left ourselves with plenty of work to do so we will work hard to try and play catch up tonight."
Williams Martini Racing
Lance Stroll (17th, 1:35.936): "That was just another Friday, but the track conditions certainly changed a lot from FP1 to FP2. We will have a briefing now, go through everything and try and sort out a few issues and see what we can do for tomorrow. We have the usual stuff to do to try and find more lap time, but the car's performance was more or less as expected. We are where we are, and I will just drive as fast as I can. Anything can happen, and maybe a bit of rain will come up."
Sergey Sirotkin (18th, 1:35.970): "It was a long, difficult day. I had predicted it would be tough. We still managed to go through some interesting things and we collected some reasonable data. Putting it all together, we would expect some progress for tomorrow, but at the same time we need to be realistic that what we put together isn't going to deliver an impressive step in performance. It's going to be hard tomorrow, but it is what it is."
Paddy Lowe, Chief Technical Officer: "In FP1 we ran several tests and experiments across the cars on both aerodynamics and brakes. In FP2 we conducted our normal programme of tire evaluations on both low and high fuel, split across the drivers with the soft and supersoft tire compounds. We had no issues and both drivers achieved what they set out to complete today. FP2 was more difficult for balance and pace due to the changing wind direction, so we lost some ground between sessions. However, we have a lot of fascinating data to study both tonight in order to make decisions for qualifying and the race, and to take back for further analysis for our ongoing development programme."
Renault Sport Formula One Team
Nico Hulkenberg (11th, 1:35.067):
Carlos Sainz (12th, 1:35.086):
Alan Permane, Sporting Director:
Nick Chester, Technical Director:
Cyril Abiteboul, Managing Director:
Red Bull Toro Rosso Honda
Pierre Gasly (10th, 1:34.535): "It feels amazing to be driving in France for my home race, especially in my first full Formula 1 season! It's been a really positive start to the weekend, finishing eighth in the first practice session and 10th in the second one, so we are looking reasonably fast. I think we still have some performance in our pocket, we need to work well and try to keep up the pace for tomorrow. The conditions were quite difficult early today, with strong winds changing between sessions, it was challenging to find the right setup. I think we've found the right balance and hopefully we can get a good result in qualifying, which would be great for my home race."
Brendon Hartley (15th, 1:35.697): "It was a disappointing end of the first practice day for me here in Le Castellet, as something happened with the PU in the final minutes of FP2. I don't have the exact details yet, but we had to cut the session short. Now the team needs to investigate and try to find out what exactly the problem was. However, I think it was a relatively smooth day before that. The pace has been pretty good across the two cars and Pierre has done competitive laps on the softer compounds in FP2. We definitely have potential in the car and we will work hard overnight to maximise everything for tomorrow."
Jonathan Eddolls, Chief Race Engineer: "It's always exciting to come to a new track on the Formula 1 calendar, and it's great to be back in France after so many years away. Since it's a new track, there's an awful lot of pre-event work that the team has done across all factories in Faenza, Bicester, Milton Keynes and Sakura, to come here as well prepared as possible – which overall has paid off. We had a minor segment issue on the first run, meaning the track didn't necessarily match all of our simulation work, therefore the energy management wasn't optimum, so we lost a little bit of track time because of that. The team recovered well and we managed to get back out within the 40 minutes. Unfortunately, luck was against us, because we then had an issue with the power in the garage, which meant we lost all of the telemetry and timing, but most importantly we lost the radio. So coming up to the end of the 40 minutes, we weren't able to communicate with the drivers that they needed to box. Brendon luckily came in, but Pierre was focussed on getting the timed laps in, and unfortunately we broke the 40-minute P40 tire rule. After that we had a good session, being a new track you want to focus on lots of laps, and you also need to complete more setup work than normal. Although we covered a large amount of pre-event work it's not quite the same as being on the track and experiencing the track temperatures and the wind, so FP1 was spent mainly focussed on setup work and trying to find an optimum balance. In FP2 we made some further improvements to the car, but the most significant thing was the wind changed 180 degrees between sessions, so what was a headwind became a tailwind and the balance changed completely. The wind was more like it should be on Sunday, so FP2 was much more representative conditions of what we will have in the race and that's positive. In terms of our tire choice, Brendon had the harder of the three tires for his long run, that meant his first qualifying practice was on the harder tire, so that compromised him slightly going into his qualifying run on the ultrasoft, because he'd done his warmup on the soft compound – which is quite a step in grip. Therefore, he wasn't able to maximise the full potential of the car. On the other hand, Pierre did his baseline run on the supersofts and progressed onto the ultrasofts, and managed to extract much more from the car, setting a competitive lap time. We've had a PU issue on Brendon's car which is still to be fully understood, and that ended his session early. Unfortunately, he'd only just gone out on the soft tire, so we will head into Sunday with limited understanding on that tire. That will have a bit of an impact on our understanding but shouldn't be significant. We will take all of the data gathered today and come up with the best strategy for Sunday."
Toyoharu Tanabe, Honda F1 Technical Director: "The first thing you look at when running at a new track is to see how the data from the circuit correlates with data from the simulation programmes that we run for the PU. Therefore we spent the morning session optimising energy management and we feel there is still some more work to do on this aspect of our performance. Pierre's pace looked quite good, which is positive for the rest of his weekend. However, we encountered a problem on Brendon's PU in the last few minutes of the second session and we will now have to investigate the cause and how bad is the damage, before deciding how to proceed for the rest of the weekend."
Haas F1 Team
Romain Grosjean (6th, 1:33.699):
Kevin Magnussen (9th, 1:34.457):
Gene Haas, Owner:
Guenther Steiner, Team Principal:
McLaren F1 Team
Fernando Alonso (8th, 1:34.400): "Conditions were a bit tricky today – the wind played a big role in FP1, then changed direction this afternoon. The track is close to the seas, so we'll get changeable winds all the time. It was a fairly regular Friday, spent trying to understand and learn the circuit and develop a good base set-up. The track is good; very smooth, the new asphalt is very grippy, which is always a help for a driver. I quite like the last sector, Turns 11 and 12 are quite challenging, so we may well see some action there on Sunday. There might also be a possibility to alter your racing line to follow the car ahead a little bit more closely. Let's see if that results in some overtaking during the race. Due to the VSC at the end of FP2, we're still missing a little bit of long-run info about the tires – but we'll try to recover that in tomorrow's practice. There are a couple of set-up possibilities still to explore tomorrow, so hopefully we'll be a bit more competitive."
Stoffel Vandoorne (13th, 1:35.172): "To be honest, the first day back at Ricard was a bit of a mixed bag for us. The winds made it tricky for everyone – we saw a lot of cars spinning off – but we also weren't very competitive in FP1. Then I had a much better feeling with the car this afternoon – the wind direction changed, and everything came together a little bit more for us. Our tire degradation also looked okay; there was a lot of track evolution during FP2, which was probably related to the temperatures and the cars being able to put a bit of rubber down on the track. That's something I think we'll see continue to develop across the weekend. More than anything this weekend, we want to make some progress with the car. The last few races have been a bit tricky for us, so hopefully we can show something this weekend."
Eric Boullier, Racing Director: "It's great to be back at Paul Ricard for the return of the French Grand Prix. And it's fantastic to see so many enthusiastic spectators already lining the tracks – despite the difficulties that many of them faced driving in to the circuit this morning. Let's hope the organisers can iron out those problems for the rest of the meeting. For the team, this was always going to be a day spent focusing on testing and correlation as we work to improve our understanding and knowledge of the MCL33. That work was positive, and both drivers reported that they were satisfied with the car and its balance. Clearly, we've got plenty of work to do this evening, and over the forthcoming races, to close the gap to the front, but it's satisfying to be making steady, reliable progress. This has been a solid start to a busy and important weekend."
Alfa Romeo Sauber F1 Team
Charles Leclerc (14th, 1:35.583): "It was an interesting day for us here at the Circuit Paul Ricard. With the venue coming back to Formula 1 after such a long time, it has been a challenge to all teams to find a way in which to master this track today. The two free practice sessions went quite ok for me. The wind played a big role in terms of how it affected our balance, and it was difficult to have a consistent performance during the sessions. We will now analyse the collected data and work hard to find a way to maximize our performance for the rest of the weekend. It will be important to put everything together in FP3 tomorrow, and have a satisfying qualifying result. I like a challenge, and look forward to being back on track again."
Marcus Ericsson (20th, No Time): "It is a disappointing outcome for me, as I did not participate in the second free practice session today. FP1 looked quite promising. We had some updated parts on the car, and it felt like we made another step forward there. As we were starting to feel more and more comfortable on track. The wind was affecting the balance but I was coping with it when I suddenly lost the rear of my car entering T11 and crashed into the barriers. We are currently analysing our data to understand what exactly happened. Unfortunately, the incident has compromised our weekend quite a bit. We lost precious time and the mechanics have a lot of work ahead to change the chassis. I look forward to having a more positive day tomorrow."
Practice 2 Results
| | | | | | | |
| --- | --- | --- | --- | --- | --- | --- |
| POS | NO | DRIVER | CAR | TIME | GAP | LAPS |
| 1 | 44 | Lewis Hamilton | Mercedes | 1:32.539 | +0.000s | 27 |
| 2 | 3 | Daniel Ricciardo | Red Bull Racing | 1:33.243 | +0.704s | 31 |
| 3 | 33 | Max Verstappen | Red Bull Racing | 1:33.271 | +0.732s | 24 |
| 4 | 7 | Kimi Raikkonen | Ferrari | 1:33.426 | +0.887s | 29 |
| 5 | 5 | Sebastian Vettel | Ferrari | 1:33.689 | +1.150s | 35 |
| 6 | 8 | Romain Grosjean | Haas Ferrari | 1:33.699 | +1.160s | 30 |
| 7 | 77 | Valtteri Bottas | Mercedes | 1:34.156 | +1.617s | 7 |
| 8 | 14 | Fernando Alonso | McLaren Renault | 1:34.400 | +1.861s | 24 |
| 9 | 20 | Kevin Magnussen | Haas Ferrari | 1:34.457 | +1.918s | 33 |
| 10 | 10 | Pierre Gasly | Toro Rosso Honda | 1:34.535 | +1.996s | 35 |
| 11 | 27 | Nico Hulkenberg | Renault | 1:35.067 | +2.528s | 30 |
| 12 | 55 | Carlos Sainz | Renault | 1:35.086 | +2.547s | 33 |
| 13 | 2 | Stoffel Vandoorne | McLaren Renault | 1:35.172 | +2.633s | 28 |
| 14 | 16 | Charles Leclerc | Sauber Ferrari | 1:35.583 | +3.044s | 33 |
| 15 | 28 | Brendon Hartley | Toro Rosso Honda | 1:35.697 | +3.158s | 31 |
| 16 | 31 | Esteban Ocon | Force India Mercedes | 1:35.705 | +3.166s | 25 |
| 17 | 18 | Lance Stroll | Williams Mercedes | 1:35.936 | +3.397s | 34 |
| 18 | 35 | Sergey Sirotkin | Williams Mercedes | 1:35.970 | +3.431s | 35 |
| 19 | 11 | Sergio Perez | Force India Mercedes | 1:36.080 | +3.541s | 13 |