Mercedes team dominate opening practice at Paul Ricard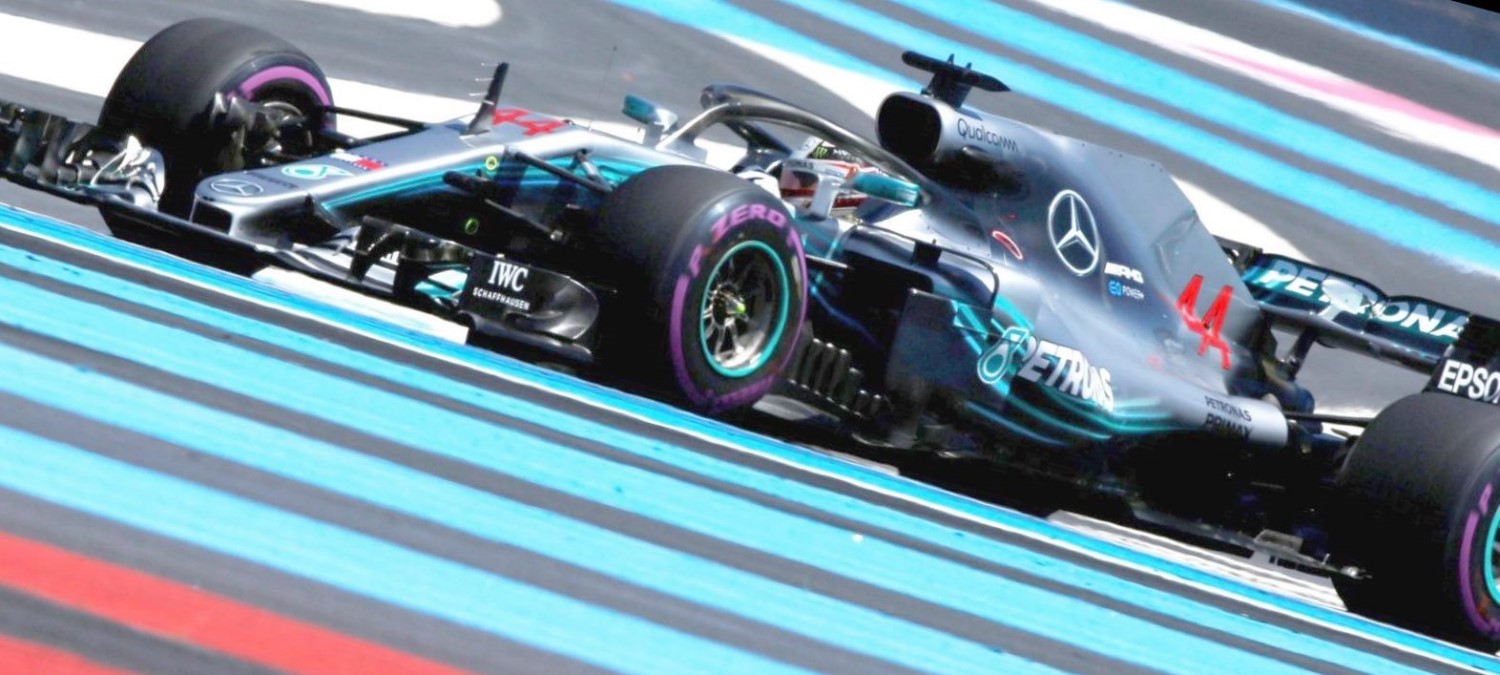 Hamilton fastest
In the Friday morning track cleaning session at the Circuit Paul Ricard, it was Lewis Hamilton who had the upper hand in Practice 1 for the French GP, finishing fastest as many of the drivers suffered spins on the dusty track surface.
Hamilton finished the session 0.14s ahead of Mercedes teammate Valtteri Bottas, with the Red Bull of Daniel Ricciardo in third.
Kimi Raikkonen was the fastest Ferrari driver in P4, ahead of team mate Sebastian Vettel in fifth but not trying hard.
Romain Grosjean was the quickest Frenchman in sixth place, with Red Bull's Max Verstappen, Toro Rosso's Pierre Gasly, Force India's Sergio Perez and the second Haas of Kevin Magnussen rounding out the top 10.
Meanwhile, a late spin for Sauber's Marcus Ericsson saw the session finish under a red flag. Fortunately, the Swede was unhurt, although there were dramatic scenes as flames licked out of the back of his C37 racer.
In windy conditions, the session also saw spins for Toro Rosso's Brendon Hartley, Ferrari's Kimi Raikkonen and McLaren's Stoffel Vandoorne, among others, as the drivers searched for the limits at the track that hasn't held a French Grand Prix since 1990.
Practice 1 Results
| | | | | | | |
| --- | --- | --- | --- | --- | --- | --- |
| POS | NO | DRIVER | CAR | TIME | GAP | LAPS |
| 1 | 44 | Lewis Hamilton | Mercedes | 1:32.231 | +0.000s | 25 |
| 2 | 77 | Valtteri Bottas | Mercedes | 1:32.371 | +0.140s | 29 |
| 3 | 3 | Daniel Ricciardo | Red Bull Racing | 1:32.527 | +0.296s | 25 |
| 4 | 7 | Kimi Raikkonen | Ferrari | 1:33.003 | +0.772s | 23 |
| 5 | 5 | Sebastian Vettel | Ferrari | 1:33.172 | +0.941s | 19 |
| 6 | 8 | Romain Grosjean | Haas Ferrari | 1:33.318 | +1.087s | 22 |
| 7 | 33 | Max Verstappen | Red Bull Racing | 1:33.331 | +1.100s | 15 |
| 8 | 10 | Pierre Gasly | Toro Rosso Honda | 1:33.685 | +1.454s | 23 |
| 9 | 11 | Sergio Perez | Force India Mercedes | 1:33.719 | +1.488s | 26 |
| 10 | 20 | Kevin Magnussen | Haas Ferrari | 1:34.108 | +1.877s | 23 |
| 11 | 55 | Carlos Sainz | Renault | 1:34.258 | +2.027s | 25 |
| 12 | 31 | Esteban Ocon | Force India Mercedes | 1:34.484 | +2.253s | 14 |
| 13 | 16 | Charles Leclerc | Sauber Ferrari | 1:34.513 | +2.282s | 21 |
| 14 | 9 | Marcus Ericsson | Sauber Ferrari | 1:34.592 | +2.361s | 21 |
| 15 | 28 | Brendon Hartley | Toro Rosso Honda | 1:34.664 | +2.433s | 25 |
| 16 | 14 | Fernando Alonso | McLaren Renault | 1:34.862 | +2.631s | 20 |
| 17 | 18 | Lance Stroll | Williams Mercedes | 1:34.881 | +2.650s | 28 |
| 18 | 27 | Nico Hulkenberg | Renault | 1:34.993 | +2.762s | 24 |
| 19 | 2 | Stoffel Vandoorne | McLaren Renault | 1:35.021 | +2.790s | 24 |
| 20 | 35 | Sergey Sirotkin | Williams Mercedes | 1:35.105 | +2.874s | 25 |