Latest F1 news in brief – Tuesday
Helmut Marko convinced Honda power is right choice

Renault forced early Honda decision – Marko

Toro Rosso to keep 'works' Honda status
Renault: We will make Red Bull regret this decision
F1's overtaking changes gather support
Tires selected for Austria
Renault forced early Honda decision – Marko
(GMM) Dr Helmut Marko says Renault forced Red Bull into making an early call about its 2019 engine supplier.
Red Bull wanted another race to assess existing supplier Renault's new specification of power unit against Honda's.
Instead, the announcement was made slightly unexpectedly on Tuesday.
"Actually we wanted to announce the decision after France," Marko, Red Bull's motor racing consultant, told Auto Bild.
"But Renault set an ultimatum that ended on Sunday. We had no choice."
Marko, though, said Red Bull was already convinced that Honda is the right choice, particularly after the progress made by the junior team Toro Rosso.
"The new update, which could not be properly used in Canada due to unfortunate circumstances, brought three tenths of laptime," he said.
"So the deal with Honda is extremely positive for us in every way. Sport, technical and financial," added Marko.
The Red Bull-Honda contract is set to run for two years, amid rumors Porsche might enter F1 under the new engine regulations for 2021.
Team boss Christian Horner says the decision to switch to Honda was made for sporting reasons, but also clear is that the Japanese marque will be a 'works' partner.
He said Red Bull got enough information in Montreal to make the call.
"Based on Montreal, the decision for us was unambiguous and it's the right time," said Horner.
"As for expectations, we want to further reduce the gap to the others. Honda has the infrastructure and the resources to help us with that," he added.
Toro Rosso to keep 'works' Honda status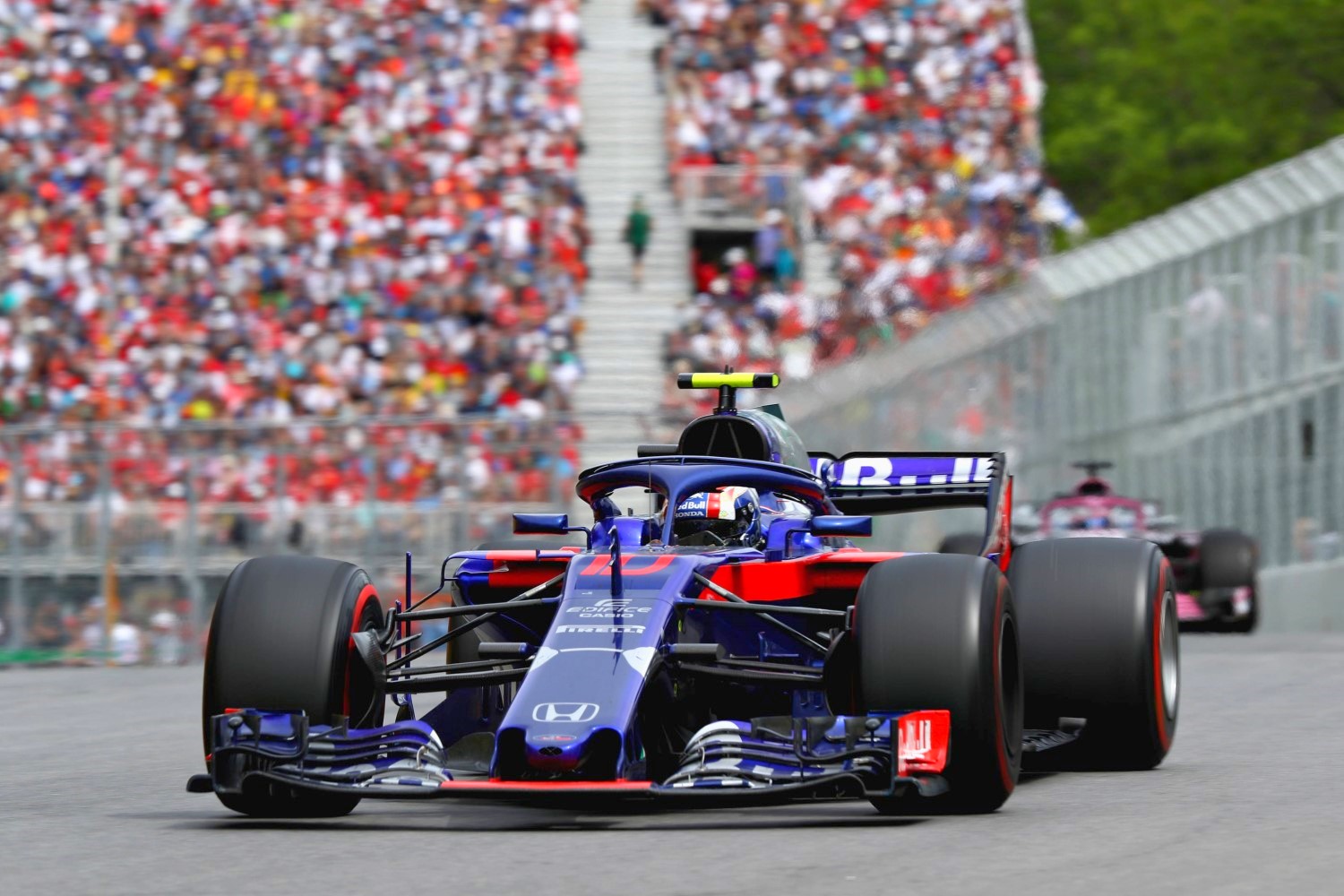 Toro Rosso to have equal engines
(GMM) Toro Rosso will not lose its works status now that senior team Red Bull has signed up to also be powered by Honda engines from 2019.
That is the news from Honda's F1 general manager Masashi Yamamoto, following Tuesday's official announcement.
Toro Rosso, a smaller team, has been reveling in its so-called 'works' status this year, but from 2019 might be seen as little more than a customer or secondary partner.
But Yamamoto insisted: "We'll supply the same specification to both Red Bull and Toro Rosso.
"From a manufacturer's point of view, it doesn't make sense to identify either team as either works or customer as current regulations oblige us to supply the same power unit to all our teams.
"In that sense, this contract puts the three parties into an equal position," he added. "There won't be a change in the current relationship between Honda and Toro Rosso."
Indeed, Auto Bild claims that Toro Rosso – and Red Bull – will be much better off financially with Honda, as Renault was asking for EUR 18 million per season.
Yamamoto continued: "Though we are not going into further details of the contract than shown in the press release, I should say the condition is very fair for both parties."
He admitted, however, that supplying Red Bull puts a lot of pressure on Honda, particularly after the failure of the McLaren collaboration.
"It is one of the top teams," said Yamamoto says. "This gives further motivation to all the members of Honda, but at the same time, it is a huge pressure and responsibility for us.
"However, it is Honda's nature to always aspire to a very high target, and I think that's what makes us Honda.
"As a starting point, we do not want to see Red Bull's performance drop below its current level. But our target is to go further and do better than they are doing at the moment."
Renault: We will make Red Bull regret this decision
A bitter Cyril Abiteboul aims to bury Red Bull. If they steal Adrian Newey as rumored, they might
In the aftermath of the official announcement confirming Red Bull and Renault splitting as partners at the end of this season, the French manufacturer's Formula 1 chief Cyril Abiteboul is vowing to make Red Bull suffer for their decision to take on board Honda power from 2019 and beyond.
The perpetual decline in relations between Red Bull and Renault bosses made this divorce inevitable, animosity often bubbled over in a war of words often waged through the media.
True to form Abiteboul has launched nothing short of a vendetta by declaring in an interview, "We will do everything we can to make them regret this decision."
"What I mean by that is simply doing the best we can on track with our own team under our own colors. I am really extremely excited by the performance improvement to come, in particular with Spec C which we will introduce later this season."
"At this point in time there is no reason to think that Red Bull will not be receiving it, although we are yet to confirm details of engine allocation plan, but I hope that we will make them regret."
Abiteboul knew that the writing was on the wall for quite some time now, "Not surprised whatsoever, frankly, I think first we tend to forget this is a confirmation – it is more a status quo actually."
"Last year in Singapore we announced a comprehensive set of agreements with both the Red Bull group and McLaren."
"This was featuring a termination of Toro Rosso at the end of 2017 and termination of Red Bull at the end of 2018, even though Red Bull had requested to be a bit more vague about that topic.
"It is more that it went in a different direction when Red Bull requested to us an offer, as there was a bit of indecision about which way to go."
"For us it is more a confirmation of what was in the air, and which is also a strategic and commercial decision more than purely a technical or sporting decision from Red Bull."
Nevertheless, Abiteboul was big enough to understand the call from Red Bull's perspective, "Just like when we returned to the sport as a works team, it was important for Red Bull to renew and get back to a position of being a works team.'
"It could not be with Renault, it had to be with another entity and they found in Honda a perfect match. So I am sure it is a mix of factors and parameters. I am sure that there something related to performance, but it is very clear there is much more than this."
"And there are a number of things that we could not offer, like financial support, like access to core facilities, because our priority and focus is on the consolidation of the performance of Renault Sport F1."
Abiteboul explained, "It is good for us because it will allow us to really focus on what we have to do for our own team, Renault Sport Racing, and also in preparing for 2021."
"Obviously when you supply Red Bull Racing, which is a high maintenance team, because of their ambition and their expectation, it is always a bit of a distraction for the rest that we have to do. And we have a lot to do either for this cycle of engine regulations or for the next one."
In the wake of a silly deadline spat between the two outfits, Renault finally got their way with an early call by their colleagues as Abiteboul highlighted, "It was making our life difficult with the supply chain and the development of parts for next year, plus there is also some sensitivity related to intellectual property (IP)."
"It was always our baseline assumption that they would be switching to another engine supplier for next year and we were becoming more and more concerned about IP. It was important for us to get clarity of their plans for next year so we could take appropriate measures."
"Equally if they were not going somewhere else, we could slightly change the way we were working together both for the remainder of this season and the preparation of next season."
"So there were a number of factors that were requiring some clarity and if anything I could like to thank them for appreciating that there was no point in delaying a decision," concluded Abiteboul.
Red Bull and Renault was once a dream partnership, winning four straight F1 drivers' and constructors' championships with Sebastian Vettel behind the wheel from 2010 to 2013.
F1's overtaking changes gather support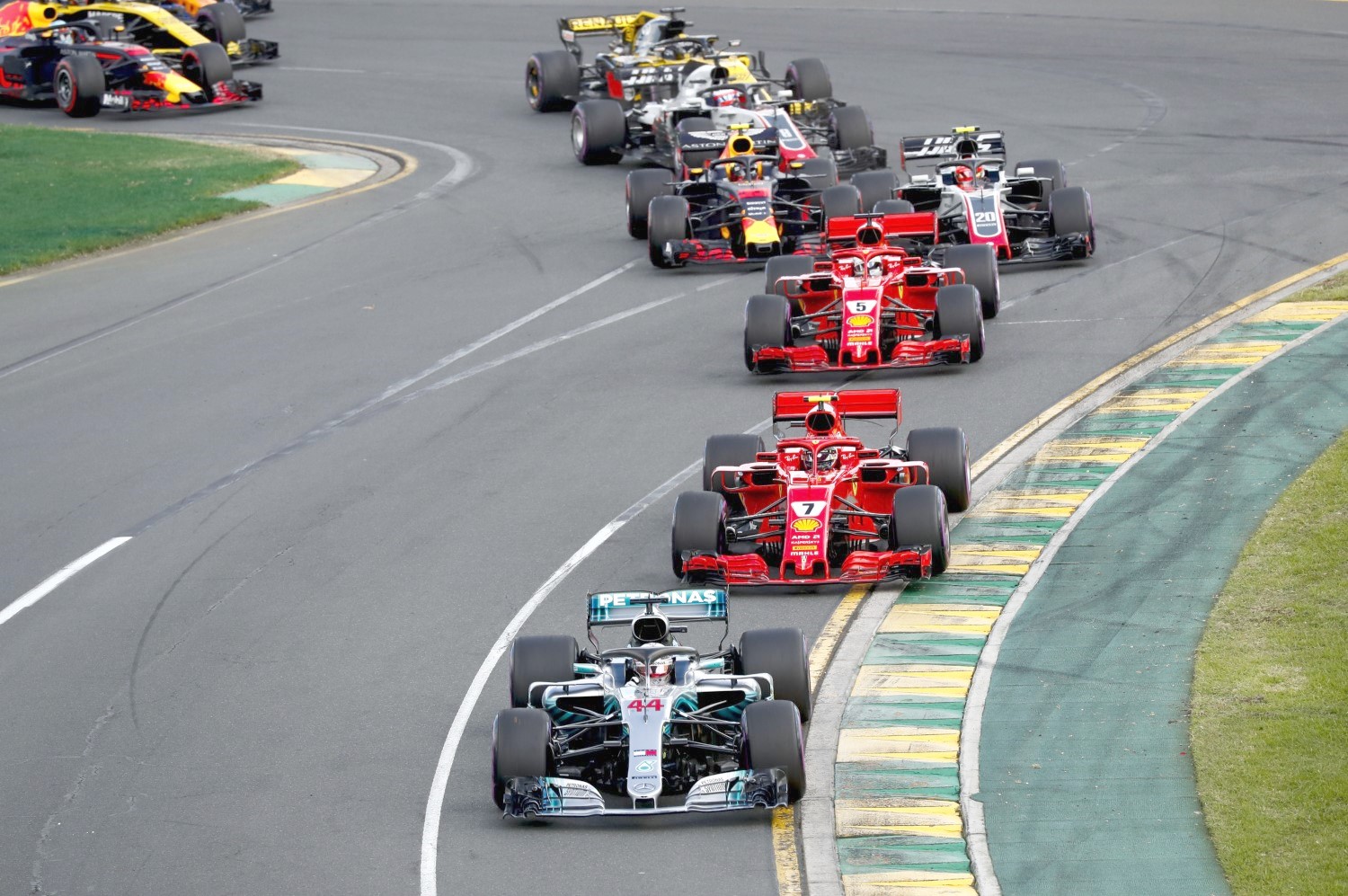 Will the changes break the follow-the-leader F1 parades?
After two boring races in succession, Bob Fernley believes Formula One has made the right decision in agreeing technical changes to assist with overtaking in 2019.
Next season the teams will run simpler front and rear wings with changes to the brake ducts and bargeboards as well.
This is being implemented in the hope of improving overtaking, something the new generations struggle with.
"I think it's very important to get (a budget cap), and I think it's also important that the step we took in voting in the regulation change for next year has proven to be correct as that steppingstone to 2021," Fernley told RACER.
"To try and do it all in one go is difficult. We make mistakes – even next year there will be mistakes, but it's much better to make a few smaller ones and then get the package right from 2021 and learn from it."
The Force India deputy team boss also urged F1's owners Liberty Media to take a stand on the 2021 regulations, revealing that the teams all seem to "be on board" with the proposals.
"I think the first thing they have to do is to draw a line in the sand with the engine regulations.
"So they need to issue the sporting and technical regulations for the engines; once that's done then that's giving us a clear direction that they're actually going in the direction that we want them to go in – or that they're saying they are going to go in, more to the point.
"I see no reason why they won't be, so I think it's just a case of them delivering now.
"I think by the end of July they're looking to get that done. And it would need to be done by then anyway in order for the manufacturers to be able to take that forward.
"I think everybody seems to be on board. There was nothing in the meetings that we had in Monaco that was showing any difference from that point of view, so I think we're OK."
Tires selected for Austria
Pirelli's ultrasoft tire dominates the 10 Formula 1 teams' choices for the Austrian Grand Prix, with Ferrari and Mercedes splitting their drivers on the harder tires.
Sebastian Vettel and Kimi Raikkonen will take nine sets of the softest-compound Pirellis to the Red Bull Ring, one more than the Mercedes and Red Bull drivers.
Mercedes' Valtteri Bottas has the most supersofts of the leaders with four sets, compared to three for team-mate Lewis Hamilton, Raikkonen and Red Bull's Max Verstappen and Daniel Ricciardo.
Vettel only has two sets of the supersofts which leaves him with two sets of softs, one more than Bottas and Raikkonen and the same as Hamilton and the two Red Bulls.
Austrian GP Tires