LeMans Hour 21: Toyotas 12 laps ahead, Alonso still out front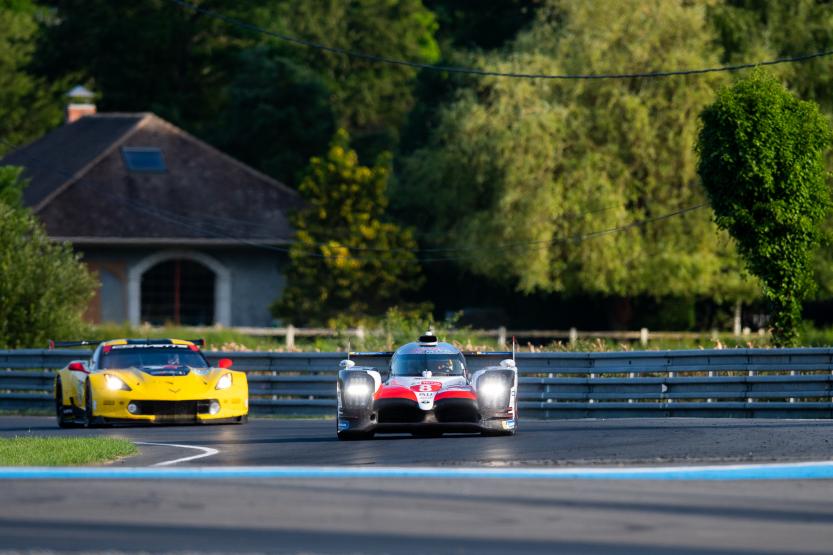 Alonso laps the #63 Chevy Corvette for the 40th time
After 21 hours of racing the two Toyota TS050 HYBRIDS are still out in front with Fernando Alonso is still at the wheel and poised to win the 24 Hours of LeMans according to plan.
The two Toyotas are 98 miles ahead of the 3rd and 4th place LMP1 Rebellions. Not taking anything away from Alonso, but when the rules mean you win by over 98 (soon to be 100) miles, something is wrong with the rules, or the fix was in. With Porsche no longer competing Toyota will finally win the 24 Hours of LeMans after failing against real competition so many times.
The two Rebellions have swapped positions again during the previous hour, Gustavo Menezes is now in an outright third place in the #3 car.
The #1 Rebellion-Gibson R-13 with Neel Jani at the wheel is 4th only 4.8 seconds behind and gaining. The Rebellions are putting on a real race, too bad it's 100 miles behind the Toyotas because the rules are so biased.
Porsche continues to dominate LMGTE Pro with the No.92 Porsche GT Team 2m23s ahead of the No.91 911 RSR as the clock went past the 21-hour point. The No.68 Ford GT of Joey was lying in third position, but losing ground to the second placed Porsche and ahead of the sister #67 Ganassi Ford GT car of Andy Priaulx.
Jan Magnussen was a lap down in fifth in the sole remaining Corvette entry, the #63.
G-Drive Racing's No.26 ORECA 07 Gibson holds the lead in the LMP2 class with Andrea Pizzitola still in the car. The Russian team is over 3 laps ahead of the second placed car in this class, the No.36 Signatech Alpine A470.
The No.77 Dempsey-Proton Racing Porsche 911 RSR is still out in front of the LMGTE Am class, but now only 30 seconds ahead of the No.85 Ferrari 488 GTE of Luca Stolz, whereas it was 2 laps an hour ago.
Hour 21 Standings
| | | | | | | | |
| --- | --- | --- | --- | --- | --- | --- | --- |
| POS | NO. | DRIVER | CAR | GAP | LAPS | PITS | CAT. |
| 1 | #8 | ALONSO Fernando | Toyota TS050 – Hybrid | 0.000s | 337 | 33 | P1 |
| 2 | #7 | LOPEZ Jose Maria | Toyota TS050 – Hybrid | 1m44.82s | 337 | 32 | P1 |
| 3 | #3 | MENEZES Gustavo | Rebellion R13 – GIBSON | 12 Laps | 325 | 34 | P1 |
| 4 | #1 | JANI Neel | Rebellion R13 – GIBSON | 4.841 | 325 | 35 | P1 |
| 5 | #26 | PIZZITOLA Andrea | Oreca 07 – Gibson | 16 Laps | 321 | 31 | P2 |
| 6 | #36 | NEGRAO Andre | Alpine A470 – Gibson | 19 Laps | 318 | 32 | P2 |
| 7 | #39 | CAPILLAIRE Vincent | Oreca 07 – Gibson | 20 Laps | 317 | 36 | P2 |
| 8 | #32 | MONTOYA Juan Pablo | LIGIER JSP217 – Gibson | 14.596 | 317 | 31 | P2 |
| 9 | #28 | VAXIVIERE Matthieu | Oreca 07 – Gibson | 49.988 | 317 | 32 | P2 |
| 10 | #48 | LAFARGUE Paul | LIGIER JSP217 – Gibson | 25 Laps | 312 | 35 | P2 |
| 11 | #37 | TAN Weiron | Oreca 07 – Gibson | 15:25.783 | 312 | 34 | P2 |
| 12 | #31 | MALDONADO Pastor | Oreca 07 – Gibson | 26 Laps | 311 | 35 | P2 |
| 13 | #29 | VAN DER GARDE Giedo | Dallara DALLARA P217 GIBSON | 28 Laps | 309 | 31 | P2 |
| 14 | #44 | BERTOLINI Andrea | LIGIER JSP217 – Gibson | 44.986 | 309 | 32 | P2 |
| 15 | #33 | CHENG David | LIGIER JSP217 – Gibson | 29 Laps | 308 | 31 | P2 |
| 16 | #38 | AUBRY Gabriel | Oreca 07 – Gibson | 30 Laps | 307 | 31 | P2 |
| 17 | #35 | NATO Norman | Dallara P217 – Gibson | 32 Laps | 305 | 30 | P2 |
| 18 | #23 | BURET Timothe | LIGIER JSP217 – Gibson | 34 Laps | 303 | 30 | P2 |
| 19 | #92 | VANTHOOR Laurens | Porsche 911 RSR | 39 Laps | 298 | 21 | Pro |
| 20 | #91 | MAKOWIECKI Frederic | Porsche 911 RSR | 2:23.270 | 298 | 21 | Pro |
| 21 | #68 | HAND Joey | Ford GT | 2:40.656 | 298 | 21 | Pro |
| 22 | #67 | PRIAULX Andy | Ford GT | 40 Laps | 297 | 23 | Pro |
| 23 | #63 | MAGNUSSEN Jan | Chevrolet Corvette C7.R | 1:23.143 | 297 | 21 | Pro |
| 24 | #69 | WESTBROOK Richard | Ford GT | 1:41.515 | 297 | 21 | Pro |
| 25 | #51 | PIER GUIDI Alessandro | Ferrari 488 GTE EVO | 41 Laps | 296 | 22 | Pro |
| 26 | #52 | DERANI Luis Felipe | Ferrari 488 GTE EVO | 0.658 | 296 | 23 | Pro |
| 27 | #66 | PLA Olivier | Ford GT | 42 Laps | 295 | 21 | Pro |
| 28 | #47 | LACORTE Roberto | Dallara DALLARA P217 – GIBSON | 43 Laps | 294 | 32 | P2 |
| 29 | #95 | TURNER Darren | Aston Martin VANTAGE AMR | 1:50.603 | 294 | 21 | Pro |
| 30 | #71 | MOLINA Miguel | Ferrari 488 GTE EVO | 44 Laps | 293 | 23 | Pro |
| 31 | #77 | ANDLAUER Julien | Porsche 911 RSR | 46 Laps | 291 | 21 | Am |
| 32 | #85 | KEATING Ben | Ferrari F488 GTE | 30.158 | 291 | 22 | Am |
| 33 | #54 | CASTELLACCI Francesco | Ferrari F488 GTE | 47 Laps | 290 | 21 | Am |
| 34 | #56 | PERFETTI Egidio | Porsche 911 RSR | 2:26.089 | 290 | 22 | Am |
| 35 | #81 | ENG Philipp | BMW M8 GTE | 48 Laps | 289 | 24 | Pro |
| 36 | #99 | LONG Patrick | Porsche 911 RSR | 24.260 | 289 | 22 | Am |
| 37 | #93 | BAMBER Earl | Porsche 911 RSR | 1:05.444 | 289 | 22 | Pro |
| 38 | #61 | GRIFFIN Matthew | Ferrari F488 GTE | 2:30.538 | 289 | 21 | Am |
| 39 | #80 | MARIS Erik | Porsche 911 RSR | 2:35.842 | 289 | 22 | Am |
| 40 | #84 | MACNEIL Cooper | Ferrari F488 GTE | 49 Laps | 288 | 20 | Am |
| 41 | #50 | DAGONEAU Thomas | LIGIER JSP217 – Gibson | 52 Laps | 285 | 29 | P2 |
| 42 | #90 | EASTWOOD Charlie | Aston Martin VANTAGE | 53 Laps | 284 | 20 | Am |
| 43 | #97 | ADAM Jonathan | Aston Martin VANTAGE AMR | 54 Laps | 283 | 20 | Pro |
| 44 | #11 | PETROV Vitaly | BR ENGINEERING BR1 – AER | 55 Laps | 282 | 28 | P1 |
| 45 | #70 | BERETTA Olivier | Ferrari F488 GTE | 57 Laps | 280 | 21 | Am |
| 46 | #86 | DAVISON Alexander | Porsche 911 RSR | 67 Laps | 270 | 23 | Am |
| 47 | #5 | ROUSSEL Leo | Ginetta G60-LT-P1 – MECACHROME | 73 Laps | 264 | 30 | P1 |
| 48 | #25 | PATTERSON Mark | LIGIER JSP217 – Gibson | 100 Laps | 237 | 25 | P2 |
| 49 | #22 | DI RESTA Paul | LIGIER JSP217 – Gibson | 49 Laps | 288 | 28 | P2 |
| 50 | #64 | GAVIN Oliver | Chevrolet Corvette C7.R | 78 Laps | 259 | 21 | Pro |
| 51 | #10 | HANLEY Ben | BR ENGINEERING BR1 – GIBSON | 93 Laps | 244 | 26 | P1 |
| 52 | #88 | CAIROLI Matteo | Porsche 911 RSR | 112 Laps | 225 | 17 | Am |
| 53 | #82 | SIMS Alexander | BMW M8 GTE | 114 Laps | 223 | 17 | Pro |
| 54 | #40 | GUTIERREZ Jose | Oreca 07 – Gibson | 140 Laps | 197 | 20 | P2 |
| 55 | #34 | LEDOGAR C̫me | LIGIER JSP217 РGibson | 142 Laps | 195 | 20 | P2 |
| 56 | #6 | ROWLAND Oliver | Ginetta G60-LT-P1 – MECACHROME | 200 Laps | 137 | 15 | P1 |
| 57 | #17 | ISAAKYAN Matevos | BR ENGINEERING BR1 – AER | 214 Laps | 123 | 11 | P1 |
| 58 | #94 | DUMAS Romain | Porsche 911 RSR | 245 Laps | 92 | 8 | Pro |
| 59 | #98 | DALLA LANA Paul | Aston Martin VANTAGE | 6:08.912 | 92 | 7 | Am |
| 60 | #4 | KRAIHAMER Dominik | ENSO CLM P1/01 – Nismo | 272 Laps | 65 | 6 | P1 |